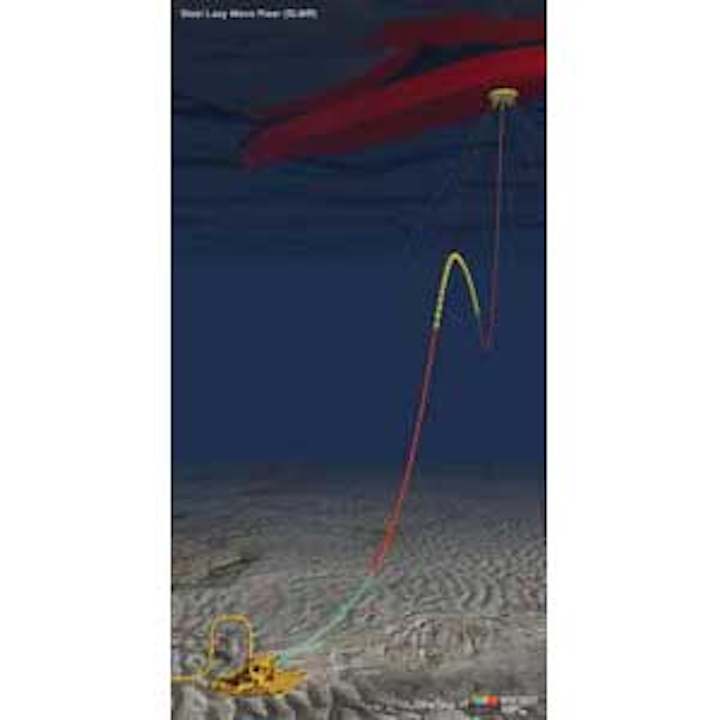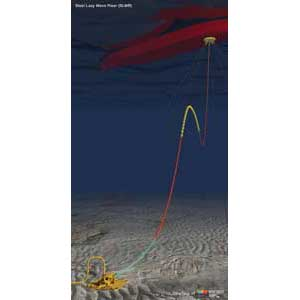 The first steel lazy wave risers in the Gulf of Mexico were installed at the Anadarko-operated Caesar-Tonga development. (Photo courtesy Wood Group Kenny)
Johann Melillo
Wood Group Kenny
This issue ofOffshore magazine includes an update to the Deepwater Production Riser Systems & Components Poster. Nearly five years have passed since the last edition of this poster was published, and there have been several advances related to riser technology over this short period of time.
Most of the advances are due to the constant push to develop oil fields in deeper waters, and with higher temperatures and pressures. The three traditional manufacturers of unbonded flexible pipe using metallic armor wires, GE Oil & Gas, NOV, and Technip, have all qualified risers up to and beyond 2,000 m (6,562 ft) water depth. Flexible pipes have to date been installed in water depths up to about 2,250 m (7,382 ft). However, a limitation of these traditional unbonded flexible pipe designs is the requirement for additional tensile armor wires to withstand the higher tensile loads due to deeper waters and longer riser lengths. This means more steel area and more steel armor wires to withstand this load, which in turn means additional weight. Hence, all the manufacturers are now starting to develop pipe designs with lighter composite and carbon fiber armor wires.
In terms of temperature, all unbonded flexible pipe manufacturers now offer designs with PVDF internal pressure sheaths qualified up to 130°C (266°F), and one manufacturer recently qualified its PVDF sheath up to 150°C (302°F). In discussing pressure, a useful method to determine the limits of flexible pipes is to use the term design pressure x ID, for example using the units psi-in. This is because the larger the internal diameter of the pipe, the more challenging is the design for a higher pressure rating. The approximate industry limit is about 70,000 psi-in. This would mean a 4-in. ID pipe rated to 17,500 psi (121 MPa) or a 16-in. pipe rated to 4,375 psi (30 MPa). There are already some installed riser examples beyond this limit, e.g., 7.7-in. pipe with a design pressure of 10,000 psi (77,000 psi-in.), 12-in. pipe with a design pressure of 6,525 psi (78,300 psi-in.), and also 10-in. pipe with a design pressure of 8,526 psi (85,260 psi-in.).
Advances in technology can also be witnessed in steel riser design. Similar to unbonded flexible risers, there is a drive for larger diameter steel catenary risers (SCRs) in deeper waters and solutions able to withstand higher pressures and temperatures. Cladding and Inconel welding techniques have advanced to provide better protection against corrosion. In terms of diameter, the present industry limits are 24-in. SCRs installed at fields such as Holstein, Mad Dog, Thunder Horse, and Atlantis. A number of SCRs have also been installed in water depths up to about 2,400 m (7,874 ft) such as at Perdido and Independence Hub.
Probably the most significant advance for steel risers in recent years has been the development of steel lazy wave risers (SLWRs) which allow a better fatigue performance and the ability to use steel risers on projects where a "simple" SCR is not technically feasible. The first SLWRs in the Gulf of Mexico were installed at Caesar-Tonga. Shell is planning to use SLWRs in order to develop what will be the deepest field in the world. The Stones development is in a water depth of about 2,900 m (9,514 ft). The use of SLWR technology at Stones will enable the steel risers to be hung-off an FPSO with a disconnectable turret.
It is also worthwhile to mention that hybrid risers have also been proved feasible for ultra-deepwater developments. The most notable example is the Cascade-Chinook development which made use of free-standing hybrid risers to enable the first FPSO development in the Gulf of Mexico in a water depth of about 2,500 m (8,202 ft).
Thus the use of hybrid risers as well as the development of SLWRs provides riser solutions for the industry as it looks to exploit reserves in even deeper waters. With the development of lighter unbonded flexible pipes, flexible pipes might also soon become a feasible solution for water depths in excess of 2,500 m (8,202 ft).
Riser ancillary components have also seen major advances to keep up with the demand for deeper water as well as higher temperature and pressure applications. The Deepwater Production Riser Systems & Components Poster lists some examples of new concepts and emerging technologies in Table 1. A few examples are further highlighted here:
The combination of greater water depths and increased buoyancy module volumes has demanded significant upgrading of foam systems for buoyancy modules. Balmoral has developed lower density foams under its trademark Superlite-X and Durafloat HT names that allow the use of buoyancy modules for drilling and production risers at water depths beyond 3,000 m (9,842 ft).
Thermal insulation materials are also becoming more sophisticated in order to cope with higher temperatures and hydrostatic pressures. Trelleborg Offshore's Vikotherm S1 thermal insulation is based on non-syntactic silicone technology and is designed for operating temperatures between -40°C to 135°C (-40°F to 275°F) and depths up to 3,000 m (9,842 ft).
Oil States has continued developing its ancillary components for steel risers. The Gen-2 FlexJoint technology provides extended service life at high-pressure/high-temperature conditions. In addition, the Oil States diverless Barracuda rigid riser pull-in connector, SLWR I-tube hang-off adaptors and integrated FlexJoint collet-connector units for submerged buoy SCR installation are enabling the use of steel risers for new applications such as deployment off disconnectable turrets.