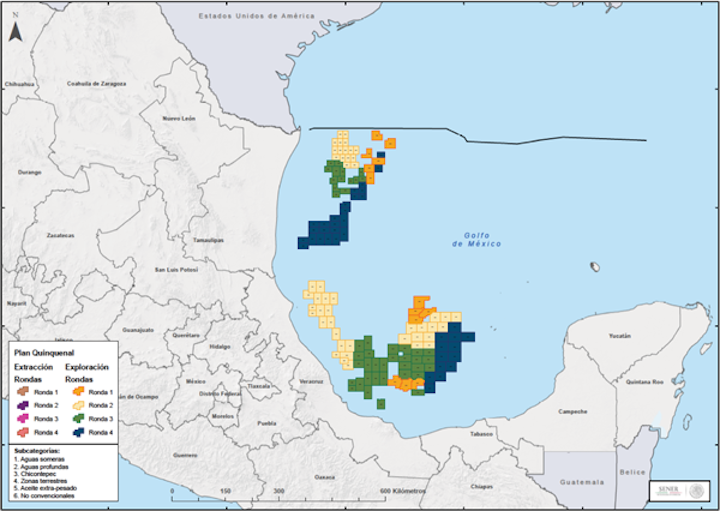 Ricardo Martínez
Mexico City
Despite enjoying high offshore yields for many years, there is still plenty of untouched potential in Mexico's offshore acreage. After the discovery of Lakach in 2007, other important finds paved the way for Mexico's deepwater exploration for the next five years. Then, just across the maritime border from Shell's Perdido play, PEMEX had a discovery that could signal a new era of prosperity.
In 2012, Trion-1 was drilled to a total depth (TD) of 6,119 m (20,075 ft) about 40 km (25 mi) south. Seen as a landmark discovery, the national oil company (NOC) PEMEX went on to explore for more deepwater prospects. To date, out of the six wells PEMEX has drilled in the area, five have proved fruitful primarily containing light oil and wet gas. Supremus, Maximino, and Exploratus were drilled through 2014 proving the commercial value of the Mexican Perdido play.
Given that PEMEX was given only a part of Perdido's total 26,892km2 prospective area before auctioning it off, plenty of potential is up for grabs. Productive Cretaceous carbonates and Tertiary sequences have been found according to the NOC's exploration reports. However, the extent of the exploratory program has not allowed for much delineation yet.
The potential is vast, and while current oil price conditions may pose challenges to investment commitment, the future reward should be looked at more closely. According to the country's Ministry of Energy (SENER), a total of 9.7 Bboe of P50 resources will be tendered in four rounds through 2019. Of these, Round One will see 654 MMboe of P50 resources in 13 blocks, six of which are located in Perdido offering 515-698 km2 areas.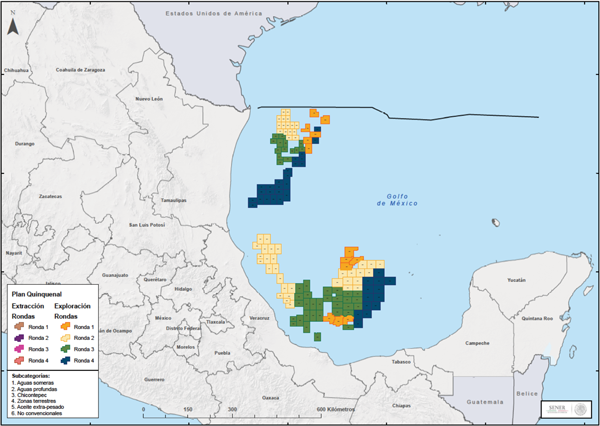 All areas to be tendered through 2019 per distinctive round (i.e. Round One exploration areas colored in dark yellow). Source: "Plan Quinquenal 2015-2019," SENER, 2015.
The other seven blocks are located north of the southern coast of the state of Veracruz with areas ranging from 770-1,000 km2. Denominated as Salina del Istmo basin, the area has barely been explored. According to PEMEX's findings through a couple of wells, Neogene traps are thought to hold gas and condensate. Nevertheless, the location is still not well characterized yet.
Fortunately, the National Hydrocarbons Commission (CNH) has recently awarded numerous exploration contracts to carry out 2D and 3D seismic among other geological studies in practically the whole Mexican side of the Gulf. TGS AP Investments AS, PGS, Spectrum ASA, and Dolphin Geophysical will survey a total of 2,163,802 km2 in the coming two years - over 50% of what PEMEX has done over the past 45 years.
Similarly, just this past May, Norwegian MultiClient Geophysical ASA and Houston-based GX Technology were authorized to also acquire 2D seismic; and CGG, EMGS, and Schlumberger will be carrying out 3D seismic throughout the Gulf. The purpose of these exploratory efforts is to build up data to sweeten the opportunities ahead. By July of this year, 12 out of 21 exploration projects had been approved, and were scheduled to be completed by the end of 2016.
In addition to the current efforts, roughly 36,500 km2 of 3D seismic have already been collected in the Mexican Perdido play, while the deepwater portion of the Salina del Istmo basin almost reaches 52,500 km2.
Essentially, the country's subsequent tenders will become a very attractive option for private investment given increased data availability. Also, in opening opportunities to carry out additional surveys by specialized firms, the market for seismic collection and additional studies will bloom over the next few years.
Apart from the upcoming rounds, boasting over 960 MMboe of 3P reserves combined, Trion, Exploratus, and Maximino are expected to be included in PEMEX's farm-outs over the next two years. Similarly, two gas giants in the vicinity of Lakach - Piklis and Kunah - will offer a chance for private players to develop a total of 771 bcf and 1.7 tcf of 3P reserves with the NOC.
With 3P reserves reaching 300 MMboe, production at Trion is expected to reach 80,000 b/d of 25° to 29°API crude. Current development plans include 16 wells, three subsea production centers, one floating production system (FPS), and one fixed platform at 100 m depth to pump production inland via two flowlines to Matamoros, Tamaulipas.
Regarding Exploratus, current 3P reserves stand at 234 MMboe, which may increase to 279 MMboe once delineation well Exploratus 1-DL is completed next year. Current estimates cap future production of 23° to 36° API crude at 45,000 b/d - a figure that may be increased by 2016. According to PEMEX, a direct tieback to Trion's FPS through two subsea flowlines will allow production to be transported onshore. Eight additional wells have also been projected.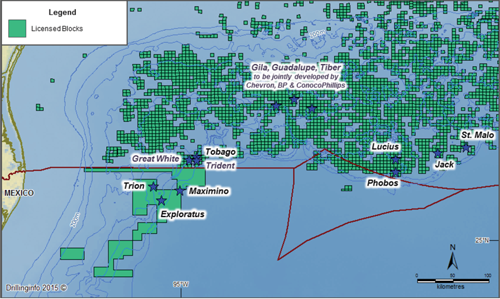 Relative location of Mexican Perdido (Trion, Maximino, and Exploratus) with respect to developments in the US. Source: DrillingInfo, 2015.
Located close to Exploratus, Maximino is thought to hold 430 MMboe of 3P reserves. Production may reach 93,000 b/d of 43° API crude. This prospect's productive horizons are the same as Trion and Exploratus - Lower Miocene. The Maximino 1-DL well was recently completed, proving further potential in Middle Miocene formations. The conceptual development design is very similar to Trion, where an FPS should receive outputs to be sent to a shared fixed platform and then be delivered to shore.
Located in an area where no exploration blocks will be awarded during Round One, Piklis and Kunah expect massive developments that could be paired up with Lakach's production in the coming years. Both are in an area that is called Cordilleras Mexicanas, just southeast of Salina del Istmo basin and east of the Veracruz port.
Production at Kunah is due to be online by the first half of 2017 and may reach up to 600 MMcf/d. On the other hand, Piklis is expected to produce 260 MMcf/d on average and will have a tieback to Kunah's FPS, which will route outputs to Lakach and then to shore.
While the timeline of these opportunities has not really been defined, PEMEX has revealed that it is seeking partners that can bring expertise and operating experience in similar deepwater developments. In this case, key players in the US GoM are certainly the best candidates. According to the NOC, the farm-out petition to SENER for these five assets was expected to take place this past August.
Fundamentally, enticing world-class operators is the goal, which in return will haul specialized service companies into the country. Although oilfield services giants like Schlumberger, Halliburton, and Weatherford have been key players in the country for decades and leading offshore drilling companies such as Seadrill and Grupo R are well-positioned in the market, bringing in the wide array of products and services designed for deepwater operations will usher in more opportunities in the future.
While the assets and oil potential are there, Mexico's first out of five phases of its historic licensing round did not signal what most were expecting. After having only awarded two of 14 shallow-water exploratory areas up for bid, it seems that something else went wrong beyond the current oil price environment. Some claim that rescission terms in the contracts, as well as the sizes of the blocks, had a significant discouraging effect on interested parties.
In the case of the deepwater acreage, blocks are significantly larger. However, the contract's specific terms have yet to be announced. Production-sharing contracts (PSCs) were deemed the most suitable regime for the first shallow water areas already tendered - as well as the upcoming five production blocks to be awarded by Sept. 30. Nonetheless, many analysts have said that profit-sharing agreements may be used for deepwater contracts.
To date, the Mexican PSC has been modified two times to adapt to industry's commentary and criticism. Now, the bodies in charge of administering contracts - the Ministry of Finance (SHCP), SENER, and CNH - have come up with the final PSC version. While it is possible that a slight variation of this contracting regime may be used for deepwater, the nuts and bolts have not been defined yet.
Moreover, the newly created agency that will oversee all offshore production procedures - Safety, Energy and Environmental Protection Agency (ASEA in Spanish) - is still in its early days as an organization.
All in all, and despite delays in the projected timeline caused by the first tender's underwhelming 14% interest, Round One's deepwater tender should be out by the end of September.
With only 17.5% of Mexico's deepwater prospective resources held by PEMEX, the rest awaits to be tamed by foreign stakeholders. Tapping into the untouched Mexican Gulf will surely be the national oil and gas industry's renaissance, but it will depend upon how successful the Mexican government is in its efforts to woo private investors and E&P firms with deepwater experience. In the end, foreign companies will demand very attractive terms to put Mexico at the top of their international portfolios.
The author
Ricardo Martínez Díaz Francés is a Latin America oil and gas analyst. With a BD in geology from the University of Texas, he has combined technical knowledge with industry expertise to deliver specialized reports for different media sources. For the past two years, he has worked for energy consultancies and other related outlets to assess Mexico's hydrocarbon potential, both from a resources perspective and a business-oriented outlook. Also, he has been closely involved with the implementation of the country's unprecedented energy reform and has studied the effects, both positive and detrimental, to the overall state of the national oil and gas industry. Currently, he lives and works in Mexico City.