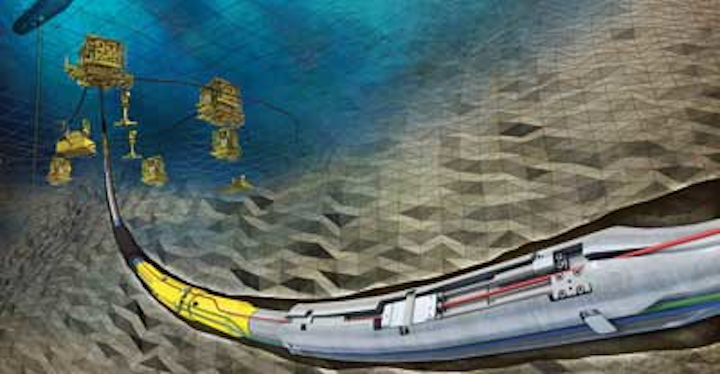 Jeremy Beckman
Editor, Europe
Deepwater engineering contractors outlined their visions of the way forward at the recent Offshore Northern Seas exhibition in Stavanger, Norway.
Representatives of Aker Solutions and Baker Hughes detailed some of the goals behind the companies' newSubsea Production Alliance, announced in April, which is official after clearing all regulatory hurdles. It combines Aker Solutions' offerings in subsea production and processing with Baker Hughes' strengths in well completions and artificial lift. The duo will work to deliver integrated, in-well and subsea production systems to improve the yield from, and extend the lives of subsea fields; and enhanced well intervention to optimize efficiency and lessen the risks in subsea projects.
Ian Ayling, subsea production business development director at Baker Hughes, said there was potential for growth subsea worldwide, and the industry was looking to achieve the same returns as from dry tree developments. "But subsea capex is increasing, while resultant revenues are staying the same or are in decline."
Ayling noted that such challenges are becoming much more difficult: "Development is extending into geologically more complex formations – presalt, deeper, hotter, higher pressure – and in more remote locations, all of which require more innovative developments." The onus is on service companies to address these issues, he added, while at the same time finding ways of reducing the costs. Challenges for production include boosting the performance and recovery factor of subsea wells. "Often recovery is below 10%, and that's not acceptable – we must find ways to improve it."
Jonah Margulis, Aker Solutions' director of business development, said the alliance would look to steer subsea well management planning away from heavy workover systems to light intervention, with easier access to subsea trees. Earlier engagement with clients during concept evaluation would make a difference, he added, long before the decision is taken on the completion system. As for boosting subsea recovery, the alliance can offer a wide range of single or multi-phase pump solutions combined with different types of intelligent completion and artificial lift solutions, he pointed out.
Margulis also said the alliance would work on technologies including subsea-optimized downhole electric submersible pumps; integration of ESPs into subsea well jumpers for single-well boost or dual-boost applications, potentially in existing brownfield wells; medium-cost light intervention risers deployed from a rig, and ultimately riserless intervention; and on ways of lifting oil longer distances to platforms, "although we will need the power to do that."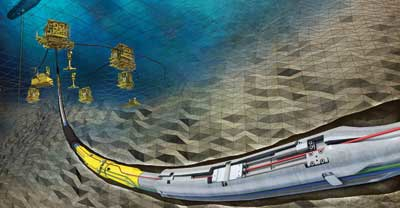 Aker Solutions and Baker Hughes are combining their strengths in subsea technology. (Illustration courtesy Aker Solutions)
Adaptable deepwater tree
GE Oil & Gas introduced DVXT, a 5- x 2-in., 10,000-psi (689-bar) deepwater monobore vertical tree with tubing head spool (THS), designed to operate in up to 3,000 m (9,842 ft) of water, in a temperature range of -18°C to +151°C (-0.4°F to +304°F), and with a design life of 30 years. Mike Lenham, GE's subsea trees senior applications engineer, said the new system incorporates various advances that came out of dialogue with the company's major customers, but at the same time relies on proven technology, i.e. valves and connectors.
"DVXT can be deployed on drill pipe, wire, or the completion/workover riser string," said Lenham. "Or you can run the BOP on top of the tree and the landing string to do workovers instead of using a completion intervention riser. We can customize flexibility into the design according to the customer's requirements."
The new tree is also fully integrated with GE's latest generation SemStar5-R controls system, pressure sensors, and ModPod subsea control module. "We could add virtual flow metering," Lenham said.
Other features include 5.25 MMft/lb bending capacity connector; standard alloy 625 clad pipe overlay for the production bores, sealing surfaces, and valve pockets – "this allows the system to operate in a broader range of temperatures than super duplex," Lenham said. A compact design allows the tree to pass through a 16 x 16-ft (4.8 x 4.8-m) moonpool.
Depending on the specs, the typical weight is 52 metric tons (57 tons) for the tree and 32 metric tons (35 tons) for the THS which houses a wellhead adapter and tubing hanger – "we can take tooling from our horizontal trees and attach it to this," Lenham added, "and the running tool for the hanger is provided with a soft landing." In line with emerging requirements, the DVXT also incorporates a 130-in. valve block, which compares with 98-in. for horizontal tree valve blocks.
GE foresees demand for the new tree range in most established and emerging deepwater regions, and off northwest Europe. The company is establishing a new facility in Batam, Indonesia, to build and test these trees. It is expected to be operating within two years, Lenham said.
Chris Phebus, GE's engineering director, subsea products and projects, said the company expected subsea production to grow between 9% and 15% during 2012-2020. "Deepwater is putting tremendous loads on our equipment," Phebus explained. "Current pressure limits are 15,000 psi [1,034 bar], with 20,000 psi [1,379 bar] to come – we are developing BOPs and wellheads for these conditions." Higher-temperature downhole environments will also have to be taken into account. "For a while we were designing equipment for 250°F [121°C]," Phebus added. "Today it's for 350°F [177°C], and there's talk now of 450°F [232°C]. To this end, we are looking at materials issues such as increased creep and higher yield strength. This could mean either changing equipment internals or enhancing them with improved geometry."
GE is also considering requirements for ultra-long offset subsea production – out to 220 km (137 mi) – using fiber optic technology; ice interaction with subsea equipment in arctic environments; and lifting recovery from subsea wells using GE equipment from the global average of 35% to 60%. "We can refine intervention to clean up wells and get more out of them," Phebus said, "combined with subsea compression and pumping. But it's also critical to get more power from the surface to the seabed to do this – the main challenge is the HV connectors."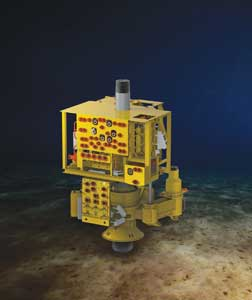 GE vertical tree. (Illustration courtesy GE Oil & Gas)
Displaying 1/2 Page 1,2Next>
View Article as Single page