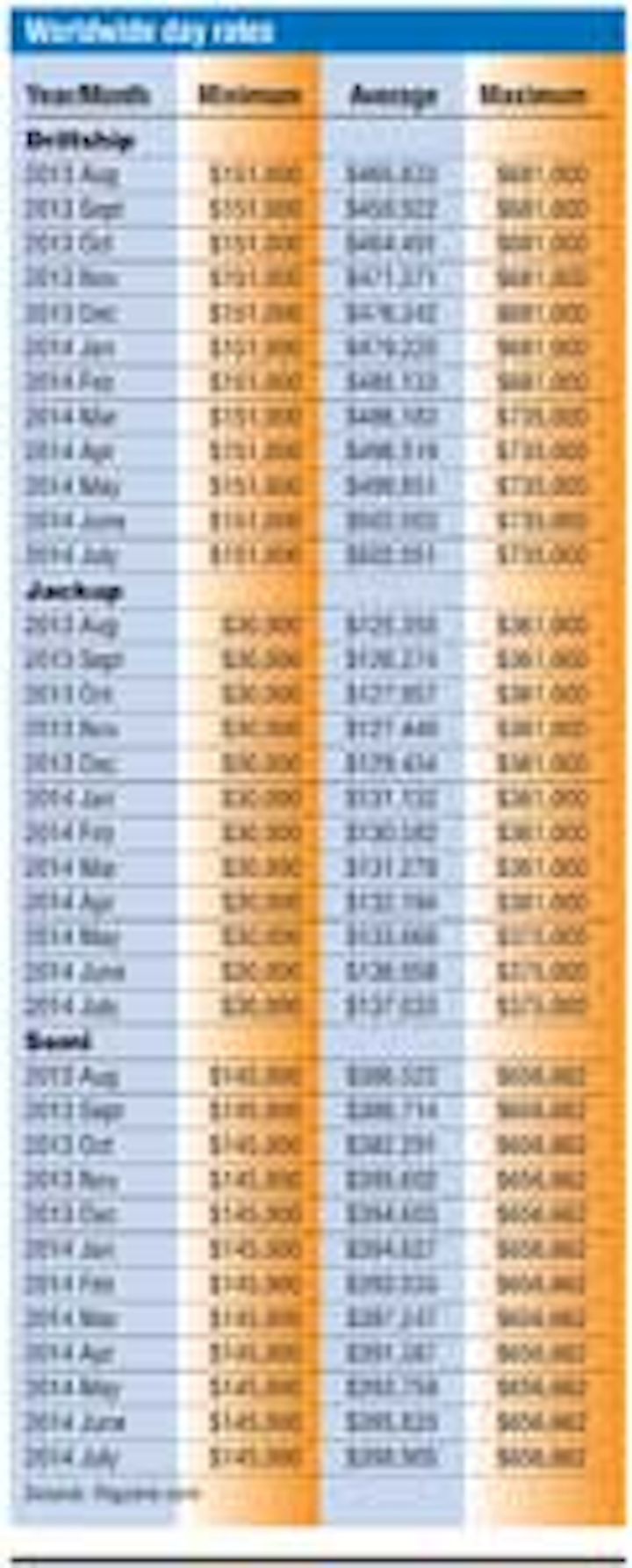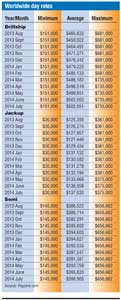 Click to Enlarge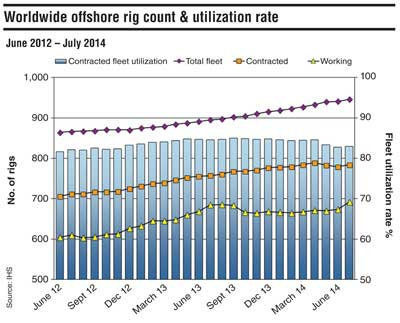 Click to Enlarge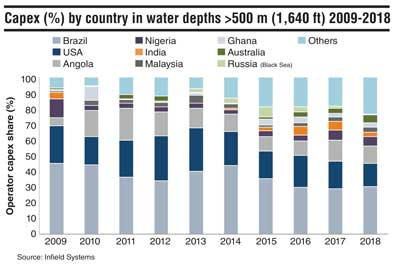 Click to Enlarge
This month Infield Systems examines the global distribution of investment by country inwaters deeper than 500 m (1,640 ft). The deepwater triangle of Latin America, West Africa, and the Gulf of Mexico (GoM) dominates capex. Brazilian spend accounts for the largest proportion of investment in every year of the forecast, peaking in 2014 at 44% of total global deepwater spend. Key developments driving deepwater demand offshore Brazil over the forecast timeframe are expected to include: Lula, Marlim Sul, and Buzios. Over the next five years, deepwater developments in the GoM are expected to comprise 18% of expenditure, with key projects including Heidelberg, Appomattox, and Shenandoah. Significant spend is also expected offshore Angola and Nigeria where Infield Systems expects projects including Kaombo, Chissonga, and Egina to drive deepwater demand. The latter years of the forecast show a decreasing market share for these countries due to stronger increases in investment elsewhere, with emerging deepwater producers including Norway and Israel. However, despite a decrease in market share; Brazil decreasing from a 44% share in the historical period to 30% over the 2014-2018 timeframe, an increase in deepwater investment in absolute terms is anticipated across Brazil, the GoM, and offshore Angola and Nigeria.
Elsewhere, the second phase of the Shah Deniz development offshore Azerbaijan is expected to require significant capex. Operated by BP, the development will also be the largest field investment within the 500-999 m (1,640- 3,277 ft) water depth category over the next five years. Within the 1,000-1,499 m (3,280-4,917 ft) category the giant Aasta Hansteen spar field development offshore Norway will require the largest capex spend globally over the timeframe. Offshore India, capex is expected to increase toward the end of the forecast period; driven by the Krishna-Godavari complex and the continued development of the Dhirubhai fields. Offshore Malaysia, Infield Systems expects a significant capex requirement from the Rotan field, where thePFLNG-2 facility is expected to be installed in 2018.

− Kieran O'Brien, Energy Researcher, Infield Systems Ltd.