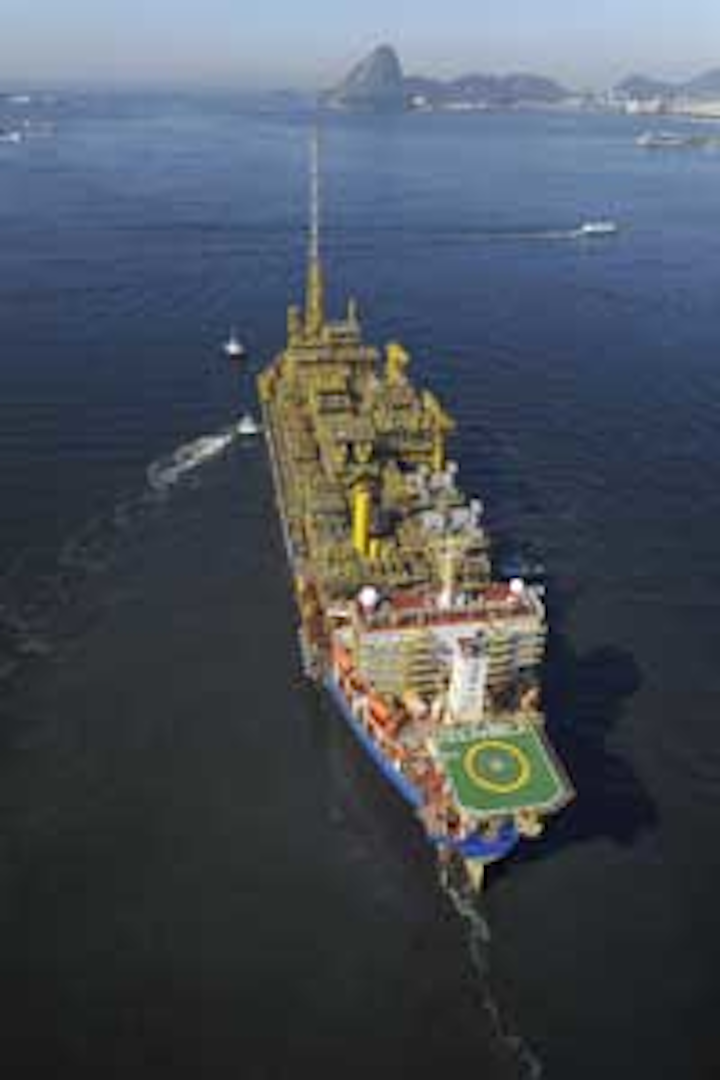 Doug Gray
Contributing Editor
Future trends and innovations to help reignite Brazil's offshore industry were the focus of the 2014 Rio Oil & Gas Expo and Conference held in Barra da Tijuca in September. Hosted by the Brazilian Petroleum Institute (IBP), the event looked to underline the country's future within the global industry during a shift in the geopolitical landscape, as well as try to allay fears surrounding the viability of its presalt reserves in the face of mounting competition.
IBP President João Carlos de Luca was keen to reassure global oil and gas companies that, after several false starts, long-term planning would now be put in place to help stabilize the future ofexploration and production in Brazil, something that has been absent in the past. While his opening comments might have emphasized the "worrying situation" that Brazil is in, saying that despite "huge, promising reserves, the sector is not doing well," he hinted at the likelihood of a 13th bid round for offshore acreage in 2015.
The underlying theme discussed by National Petroleum Agency (ANP) chief Magda Chateaubriand was the need for the industry's global players to help Brazil realize its potential.
"World-class products are the goal and we are building a bridge to help us reach that point," she said. "There is an exponential increase in costs with the shift from shallow to deepwater exploration, so technology has to follow. This is a challenge so enormous that Brazil cannot do it alone."
Chateaubriand pointed to the ongoing agreement betweenPetrobras and FMC Technologies, with the latter set to deliver five subsea manifolds in the latest and final part of the $1.5-billion contract signed in 2012 as a prime example of the opportunities for international technology to find a willing market in Brazil.
At the heart of the expansion lies a huge growth in the number of offshore vessels and platforms that will be required over the coming decade. In September, the FPSOCidade de Ilhabela sailed out of SBM Offshore's Brasa shipyard in Niteroí. It is heading for the Sapinhoá field in the Santos basin, where its 150,000 b/d capacity will help Petrobras' push for a 7.5% increase in production in 2014. However, the critical shortage of pipelay support vessels (PLSV) could keep the company from reaching the production target. While the country currently has 15 PLSVs, that number is forecast to double by 2017, an essential leap in order to connect, among others, the five wells that will feed into the Ilhabela and six that will feed into another recent arrival, the FPSO Cidade de Mangaratiba in nearby Iracema.
Seadrill continues to support Petrobras' PLSV newbuild program, and the five-year contract of itsSapura Diamante vessel, the first of six due for delivery by 2016, began earlier this year. The contract, worth an estimated $445 million, is for a period of five years with an extension option for an additional five. Since start-up, the first vessel already has about a 99% utilization rate.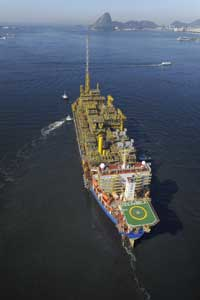 TheFPSOCidade de Ilhabela is the first FPSO to be integrated at Brasa's Quay No. 2. (Photo courtesy Steferson Faria)
The FPSOIlhabela was the two-year-old Brasa yard's first successful topsides integration and is part of a countrywide push to close the gap with Asia's shipyards, still the principle supplier for Brazil's FPSO fleet. Recent Petrobras contracts for floaters through OOG-Teekay and Schahin-Modec may still be looking east with FPSO conversions destined for the Santos and Campos basins being carried out in Singapore's Jurong yard. However, the Brazilian shipbuilding industry is gathering momentum.
Those same consortiums are likely to enter the race for two more FPSO tenders scheduled for launch at the end of 2014. The vessels will be contracted for 20 years from 2018, with Queiroz Galvão Oil and Gas among those reported to be looking for partners. The opportunities will continue with at least two more tenders scheduled for 2015, and this two-at-a-time tender format looks to become something of a new strategy for Petrobras moving forward.
While the Brazilian shipbuilding sector continues to progress, a critical bottleneck remains when it comes to repairs. The growing fleet of offshore support vessels (OSVs) is placing heavy demands on what was already an under-served and fragmented repair industry. In response, Embradoc announced its first floating drydock for the country's OSVs is expected to begin operations in 1Q 2015.
Displaying 1/2 Page 1,2Next>
View Article as Single page