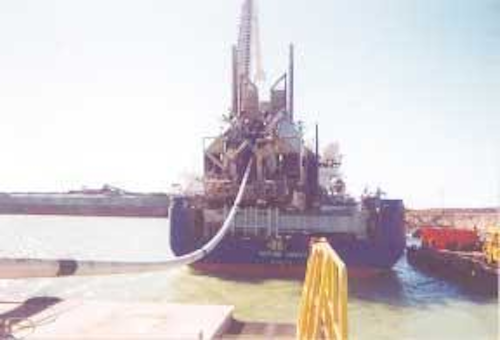 Challenges for riser, flowline coatings
Enrico Berti
Socotherm Group
The growing development of deep-water and ultra deepwater fields poses new technological challenges for riser and flow-line coatings. Thermal insul-ation must accompany anti-corrosive protection to prevent the loss of temperature that takes place in deepwater and avoid the formation of paraffin and hydrates or a decrease in flow speed.
Thermal coatings have to be designed to withstand water pressure and at the same time remain flexible. This not only facilitates installation and obtains a better fatigue-related performance, but also ensures that the product will remain stable over time, and light in weight, to avoid overburdening the platforms. This combination of conditions is not easy to achieve, given that insulation materials are not generally pressure-resistant, and if they are, may lack flexibility or be too heavy.
Socotherm Group's coating solution is its new Syntactic Polypropylene Thermal Insu-lation, which was applied for the first time in 2003 in Shell's Nigerian Bonga field development. Socotherm, based in Vicenza, Italy, and with plants also in Argentina, Brazil, Vene-zuela, Australia, Malaysia, China, and Nigeria, provides anti-corrosion coatings and thermal insulation systems for water depths to 3,000 m. The company also participated in Ron-cador, Brazil's first truly ultra-deepwater project, in 1999.
null
In Nigeria, Socotherm operates a plant in the Free Zone of Port Harcourt, also serving other countries in sub-Saharan and West Africa. The 100,000-sq-m site is manufacturing the Bonga Multypass coating system, in addition to a range of traditional corrosion weight coatings.
The Multypass Deep Water system consists of an anti-corrosion protection and a combination of several polypropylene (PP) layers with different densities and degrees of conductivity, according to the requirements of the project. PP was chosen over other conventionally used materials, such as polyurethane or epoxy, due to its stronger health, safety, and environmental performance.
PP also offers a better mechanical protection, less oxygen, and water penetration, a better long-term aging performance, and good thermal insulation properties. These may be further improved through the use of different types of PP, such as solid, foam, or syntactic, depending on the hydrostatic pressure.
Multypass' multiple layers of different types of PP are applied by a side-extrusion process, which helps secure strong adhesion between each of the layers. There is no limit to the number of layers that may be applied, which makes it possible to obtain thicknesses previously unattainable for this type of coating, with no voids, air inclusions, or other kinds of anomalies. The system also allows for process checks that secure a homogeneous structure and concentricity.
Perfect concentricity in the pipe coating is vital to ensure efficiency in its thermal insulation and to prevent the pipeline from collapsing if hydrostatic pressure does not work in a perfectly radial way. Application of a layer of PP applied by a high-temperature extrusion process, while the pipe rotates uniformly through the coating line, ensures that both longitudinal and radial thickness will be constant.
Anti-corrosion protection, and its adhesion to the thermal coating, are also important in view of the aggressive environment in which they will have to work.
The first step in the system is the application of a three-layer PP anticorrosion coating in accordance with the specifications of the client. Following this, thickness is increased to obtain the required insulating capacity. When this step has been inspected, PP layers are added in close contact with the anti-corrosive coating.
Thermal protection requires several combined properties that are not easy to attain at a reasonable price using a single material. The best way to obtain a satisfactory result is through a variety of combined materials, all of which should be compatible with each other.
Multypass allows for the use of different materials so that together they will cover the needs of the project. The high inter-compatibility of plastics makes it possible to coat the pipeline with different layers of solid PP, foamed PP, syntactic PP, ultra-violet stabilized PP, and so on.
A coating's maximum applicable thickness limits the possibility to reach the required thermal insulation levels. The maximum thickness will be determined by applicability limitations and by the coating's final levels of flexibility and adhesion to the pipe.
The system is based on PP, a very elastic material, and given that the system works by strongly adhering successive layers of this material, thickness considerations do not pose any problems.
Voids and air entrapment are not a significant problem in thermal protection, unless this is subject to pressure, as is the case in deepwater. Thick coatings are vulnerable, due typically to their manufacturing systems and their injection or cooling phases.
The system ensures that no voids or air entrapment will occur, as its application in layers allows for controlled cooling as well as homogeneous adhesion between the layers.
Another problem posed by thick thermal coatings is the difficulty of performing detailed inspections to prevent macro-flaws that could put the whole line at risk.
Multypass gives the possibility of a thorough inspection in all the coating volume, as its application in thin layers helps identify flaws, even if these are minimal.
Strong adhesion between the layers yields mechanical characteristics that will greatly enhance the coating's capacity to withstand the installation requirements, especially if reel or J-lay is adopted.
The system ensures adhesion between its layers through a surface treatment on PP, followed by constant pressure exerted by a roller and a fast contraction by cooling.
null
Finally, cooling flexibility is important, not just during installation (especially if reel lay is used), but also to withstand the constant movement that the risers will suffer, which could result in fatigue cracks. The elasticity of PP is successfully exploited by the Multypass system. Moreover, the side extrusion system of production prevents discontinuities in the pipe length, as such discontinuities would collapse during a bending effort like the one required by reel lay.
For the Bonga project, Socotherm used syntactic PP, consisting of a hollow glass sphere with PP-based anticorrosion and high thickness pipe coating insulation, applied by side extrusion.
The Bonga risers insulation application method followed this sequence:
Pipe pre-heating
Pipe surface cleaning: near white
Pipe heating
Primer: epoxy powder, spray applied by electrostatic guns
Adhesive: side and hot extruded PP based adhesive
Insulation layer: side and hot extruded syntactic PP
Outer layer: side and hot extruded solid PP
Cooling.