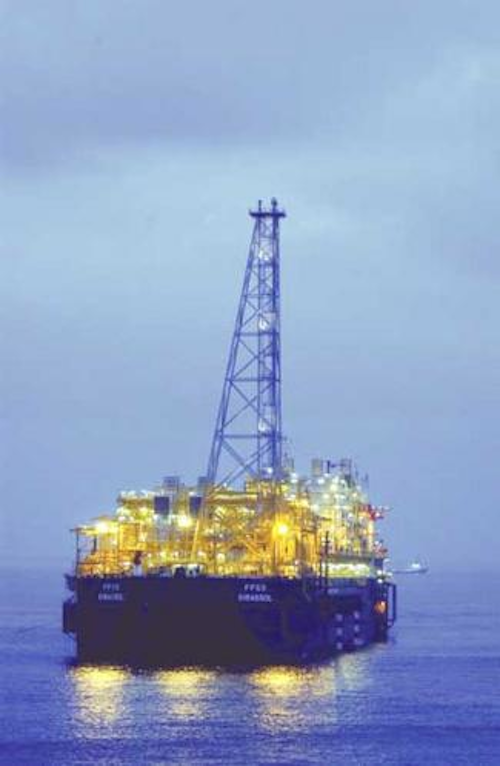 Deepwater drives innovative solutions
ByJaime Kammerzell
Associate Editor
The Offshore Technology Conference annually showcases breakthrough tech-nology for the exploration of global off-shore regions. For the 35th year, the conference brings together offshore oil and gas leaders from around the world to "Envision, Enable, and Enact."
Attendees can expect state-of-the-art technology exhibits with concurrently running technical sessions that include over 340 technical papers. Other presentations include industry breakfasts, eight topical luncheons, and two general sessions, which reflect this year's theme by examining technology, challenges, and developments from the Gulf of Mexico to West Africa, and everywhere in between.
General sessions
Considered "must-attend" programs, the general sessions offer unrehearsed discussion from offshore oil and gas industry leaders. The first of these general sessions will address the challenges and opportunities the West African oil and gas market holds and what the future might bring.
West Africa is an emerging source of deepwater hydrocarbon deposits. The offshore business is productive and the crude is marketable, but West Africa faces major challenges and opportunities for future success. To become a leader, West Africa needs offshore and onshore infrastructure for producing oil and gas, processing facilities, and new technology for ultra-deepwater fields. If national oil companies aspire to succeed in the business and economics of the oil and gas industry, then education and training is a key link in the success chain.
Another concern the oil and gas industry has been buzzing about is sustainable development, which meets present energy needs without compromising future needs. Engineers are studying ways to improve oil and gas drilling methods. They are not alone in this task. Business, government, and society play a crucial part, too. As the demand for energy increases, industry will be forced to drill in deeper water, harsher environments, and more environmentally and socially sensitive areas, while improving performance and liability. Industry experts will address strategies for a successful future and prepare the offshore industry to rise to the challenge at Wednesday's general session.
Industry breakfasts
The presentations continue Tuesday through Thursday mornings with a breakfast from 7 to 9 a.m. The US Department of Commerce will host Business Opportunities in Venezuela's and Trinidad and Tobago's Oil and Gas Sectors, featuring discussions by senior officials from the industry and Venezuelan government.
TotalFinaElf will receive the OTC Distinguished Achievement Award for Companies, Organizations, and Institutions for its Girassol project off Angola. The $2.8 billion project, sanctioned on July 8, 1998, required the qualification of reliable equipment in deepwater. Technical innovations include application of unique free-standing towers, deepest adaptation of the hinge-over subsea template, the largest FPSO in the water depth including the largest module for sulfate removal, industry-first midwater flowlines, and largest catenary leg mooring buoy.
The business opportunity theme carries on Wednesday morning with the Department of Commerce, the State of Texas, and the Sakhalin Administration, who will focus on the requirements of doing business offshore Sakhalin Island. In addition, the US Foreign Commercial service will outline the assistance solutions, provided by the government to assist US exporters in penetrating the Russian market.
Houston Mayor Lee Brown and Michelle Michot Foss, director of the Energy Institute at the University of Houston, will host Thursday's breakfast, World Energy Cities Partnership – Benefits to Emerging Countries.
Topical luncheons
The topical luncheons, scheduled for Monday and Wednesday, include presentations and discussions about current and future offshore developments, industry challenges, best practices, new concepts, case studies, and future opportunities.
This year's schedule includes several crowd pleasers. A presentation by Kerr-McGee from the independent's perspective of worldwide deepwater developments will address past experiences followed by an outlook for independent oil and gas companies in the deepwater developments around the world.
Deepwater exploration is a hot topic, especially in the Gulf of Mexico. Chris Oynes, regional director of the Gulf of Mexico region for the US Minerals Management Service, will discuss the changing trends in exploration, development, and leasing. Oynes will focus on deep gas incentives for shallow water production and discuss deep-water projects, such as Nansen, Boomvang, Nakika, and Canyon Express.
Dialogue of deepwater activity will continue with John Huff's Best Laid Plan presentation considering how applied technology has aided the industry in advancing in deeper waters. Huff also will address the need for intervention planning, which can be applied to deepwater projects and even more challenging physical and economical environments.
A topic on everyone's mind is the future state of the energy industry. Ron Oligney, adjunct professor and director of engineering research development at University of Houston, will examine the emerging national energy strategy focus on supply, oil and gas, and conservation and address the questions of coal and nuclear energy.
ConocoPhillips Senior Vice President of Government Affairs Thomas Knudson's sustainable development talk on Wednesday will expand on the energy-supply question. Knudson will explain how real-world, sustainable development is achievable with energy-producing technology that is reasonably priced and safe for the environment and balances the interests of energy companies, consumers, environmentalists, and government.
While harmony among disciplines is ideal, Ed Merrow, Independent Project Analysis founder and president, will review the oil and gas industry's inability to synchronize the many asset development disciplines and functions, which have led to performance shortfalls.
Simmons & Co. Chairman and CEO Matt Simmons's impact of oil and gas consolidation talk is sure to be well attended. Simmons will explore the consolidation over the last 20 years, which resulted in the world's mega-majors and giant independent oil and gas companies. The presentation will reflect on what has worked and what was lost through consolidation and whether consolidation will continue or divestitures and start-ups will begin.
Also a possible Wednesday sell-out is FMC Technologies Vice President of Energy Sys-tems Group Peter D. Kinnear's talk on subsea system technology. Gulf of Mexico ultra-deepwater high-pressure/high-temperature reservoir discoveries have presented new technological challenges for the subsea industry. Kinnear will give insight as to what direction subsea technology must take to enable economic production.
Technical program
The technical program schedule is packed with topics to pique everyone's interests. Offshore Brazil kicks off the week. The program will feature papers from Petrobras, ChevronTexaco, government of Brazil, Shell Brazil, Unocal, and FMC Energy Systems. Challenges Facing Contractors in the Brazil Offshore Market is one of seven papers that will attract attention on Monday morning. Fran Bobb of FMC Energy Systems will discuss the complexity of the tax situation and how to conduct business in Brazil. He'll also address the topic from a local contractor standpoint and point out the opportunities and successful technological advances in Brazil.
Monday afternoon will be dedicated to the Canyon Express project. This Gulf of Mexico project, in record depths of 7,200 ft of water, represents the cooperative effort of three primary operators – TotalFinaElf, Marathon Oil Co., and BP – and has drawn on the subsea expertise of Intec Engineering for front-end engineering and project management services. The seven presentations will take attendees through the entire project, from conception to completion. The project called for the development of 10 subsea wells from three deepwater fields: Marathon-operated Camden Hills in 7,200 ft of water, TotalFinaElf-operated Aconcagua in 7,000 ft of water, and BP-operated Kings Peak in 6,200-6,400 ft of water. Intec Engineering's contributions included the engineering, design, and assistance with project management for the development of Canyon Express Pipeline, operated by TotalFinaElf and jointly owned by Marathon, BP, Pioneer Natural Resources Co., and Nippon Oil Exploration.
The expandable tubular program on Tuesday morning is for completion engineers who are planning well construction and may need contingency plans when working on an existing well or restoring older wells. Expandable tubulars for the completion engineer or operating company is the primary driver in saving rig time, saving money, achieving greater borehole size at deeper depth for greater production. By using these tubular technologies rather than traditional technologies, operators can place larger tubing at deeper well depths. The panel also will discuss cases using corrosion resistant expandable materials for the first time in highly corrosive environments, well control issues in a gas well, expandable fan screens to control sand production in loosely consolidated parts of the reservoir, and using expandables in horizontal well applications.
On Tuesday afternoon, the spotlight will be on Deepwater Flow Assurance Solutions and the implementation of the technology. This program will focus on production operations, from concept to operations and the integration of flow assurance, which brings together fundamentals from the academic side, building from the engineering side, and operating from the operating side. One of the first papers will look at the issue from the perspective of measuring the pressure, volume, and temperature analysis correctly, and the importance of sampling that fluid during exploration wells and appraisal wells. Its sister flow assurance session, Flow Assurance Design and Remediation, Wednes-day morning, will focus more on the academic side, which is the traditional way people look at flow assurance.
Envision, Enable, Enact
For many regular attendees, OTC is as much of a yearly event as a birthday. Last year was the year for "firsts," as it was the first year in the newly built Reliant Center. But what sets OTC 2003 apart from the previous 34 years is new exhibitors from non-traditional disciplines, coming with new technology in tow. Also for the first time, Thursday's student tour will include a group of handicapped students.
"This is something I've been pushing for a few years," said Charles Richards Sr., OTC .03 chairman. "These students have a lot to contribute to our industry. The offshore industry seems to be an aging one, and we need young people to move into our industry."
Building on the past also is key to this year's success.
"The keynote speaker, Walter van de Vijer, group manager and director of the Royal Dutch/ Shell Group and CEO of Shell Exploration and Production, promises to be a good sequel to last year's presentation by Harry Longwell of ExxonMobil," Richards said.
As for the future of OTC, Richards revealed that a specialized area for new technology will be a highlight of 2004's conference.