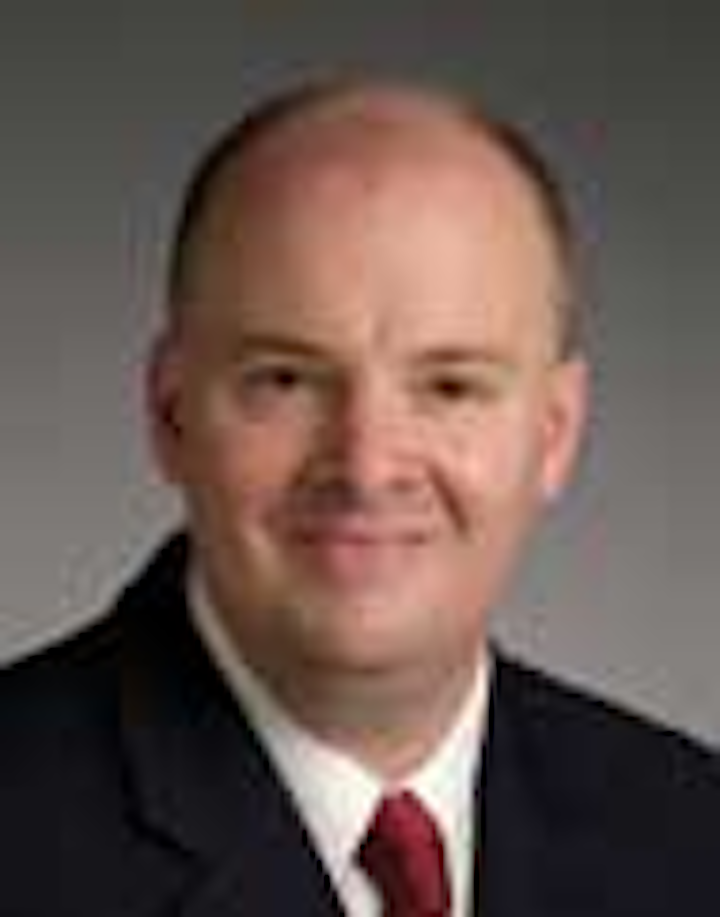 | | | |
| --- | --- | --- |
| | | Bruce Beaubouef Houston |
Operators keep their eyes on offshore Mexico
Despite the market downturn, international oil companies are keeping their eyes on the possible opportunities represented by Mexico's evolving offshore marketplace. In early June, it was reported that 23 oil and gas operating companies had registered to submit proposals for Mexico's Phase 4 Round 1 deepwater auction, scheduled for December.
Several large international oil companies are reportedly among those registered, including Exxon Mobil, Chevron, Shell, BP, Statoil, and Total.
The companies have applied to bid for 10 deepwater exploration blocks - six in the Salina basin of the Gulf of Mexico and four in the Perdido belt - covering a total of 8,250 sq km (3,185 sq mi) and at depths ranging from 500 to 3,000 m (1,640 to 9,842 ft).
The areas being bid out for exploration in Phase Four of Licensing Round 1 are estimated to contain 4 Bboe in reserves - 22% more than in the auction's earlier stages. Technical aspects for qualification require the parties to have specified knowledge and experience in working in at least one deepwater exploration and production project at a depth of 1,000 m (3,280 ft) in the preceding five years, which entails collective capital investments of a minimum $2 billion. According to the bid criteria, contracts will have terms between 35 to 50 years.
There had been some speculation as to whether Phase 4 of Round 1 would meet the original timeline due to the downturn in the market. But speaking at a conference in Houston earlier this year, Mexico President Enrique Peña Nieto announced that the auction for the deepwater blocks would be held at the beginning of December 2016. Commenting on the impact of the low oil price, President Peña Nieto stated that "regardless of what happens in the international context, Mexico will move forward with the energy reform implementation."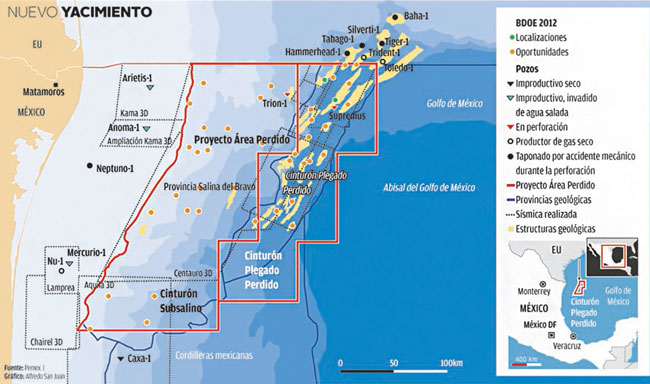 Mexico's deepwater Trion field will be the first in a series of farm-out agreements designed to invite greater international participation in the country's offshore E&P activities. (Courtesy PEMEX)
At the same time, Mexico's state-owned oil company Petroleos Mexicanos announced that it would offer a farm-out arrangement to private firms to join in the exploration of the Trion field in the deepwater Gulf of Mexico.
It would be the first time that PEMEX has formed an association with a private firm for deepwater drilling. PEMEX director Jose Antonio Gonzalez, quoted in an Associated Press report, called it "a watershed moment in PEMEX's history." The Trion field, located in the Perdido belt just 25 mi (40 km) south of the US maritime border, is estimated to hold the equivalent of 480 MMbbl in proved, potential, and possible oil and gas reserves.
PEMEX officials say that the offer will be put up for bid in coming days, and a winner will be announced on Dec. 5. Gonzalez did not specify what compensation the farm-out scheme would involve.
Officials estimate it will take $11 billion in investments to develop the field in waters about 8,200 ft (2,500 m) deep.
Following on the heels of this announcement, it was reported that Statoil may seek to partner with PEMEX in Mexico's deepwater fields, as the producer looks to gain a foothold in the country's recently opened energy market.
"We see opportunities to bid on deepwater farm-out agreements with PEMEX if the terms and conditions are right," said Tore Loseth, vice president of Statoil Exploration in the US and Mexico, as quoted in a Bloomberg report. "But we need to know more about how the process will run before we can properly evaluate these." Loseth declined to say whether Statoil plans to bid on the Trion field, which will be the first in a series of long-delayed farm-out agreements for areas that PEMEX was assigned in Mexico's so-called "Round Zero" auction.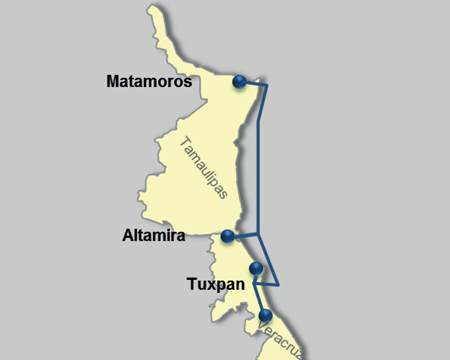 The Sur de Texas-Tuxpan natural gas pipeline will include 690 km (428 mi) of 42-in. pipe that will run offshore in the Gulf of Mexico, along the Mexican coast. (Courtesy Sempra Energy)
Statoil, which failed to win areas in Mexico's shallow-water auctions last year, is among the 23 companies that have registered to pre-qualify to participate in the deepwater oil auction on Dec. 5. The list includes deepwater operators such as Chevron, Exxon Mobil, and Total, all of whom are now in talks to secure partnership deals with PEMEX. The Mexican company said in May that it might also start similar discussions with Statoil.
Blocks up for grabs in Mexico's deepwater auction are "potentially attractive" in spite of low oil prices, Loseth said. "The Mexican side of the Gulf of Mexico is very attractive because it is relatively under-explored."
Meanwhile, TransCanada says that it has been selected to build, own, and operate the $2.1-billion Sur de Texas-Tuxpan natural gas pipeline in Mexico. Plans call for this system to run 800 km (497 mi) with 42-in. pipe, with at least 690 km (428 mi) of it to run offshore.
TransCanada expects to invest approximately $1.3 billion in the pipeline, which will begin in the Gulf of Mexico at the border point near Brownsville, Texas, then run offshore along the Mexican coast. The system will have three laterals that extend onshore to power generation markets in Matamoros in Tamaulipas state, and Altamira and Tuxpan in the state of Veracruz.
The bid for the Sur de Texas-Tuxpan project was presented in partnership with IEnova, a subsidiary of Sempra Energy. The project will be supported by a 25-year natural gas transportation service contract for 2.6 bcf/d with the Comisión Federal de Electricidad, Mexico' state-owned power company.
The joint venture, Infraestructura Marina del Golfo, is targeting a late 2018 in-service date for the pipeline.