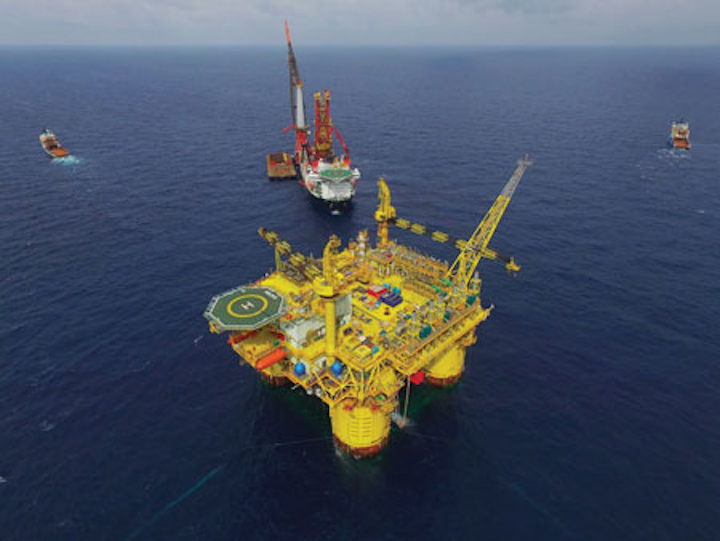 Sarah Parker Musarra
Editor
Shell recently celebrated several major milestones for Malikai as it moves closer to entering production, when it will become the company's second operated deepwater project in Malaysia after Gumusut-Kakap.
In June, the Technip-Malaysia Marine and Heavy Engineering (MMHE) joint venture (TMJV), contracted by Shell in February 2013, concluded onshore fabrication and commissioning operations. The 27,500-metric ton TLP then began its 1,400-km (870-mi) excursion from the MMHE West fabrication yard at Pasir Gudang in Peninsular Malaysia to the Malikai field, which lies in the South China Sea some 100 km (62 mi) off Sabah.
The TLP was transported by the Dockwise heavy-lift vesselWhite Marlin, according to fellow contractor InterMoor, which was responsible for the marine aspects of its float-off and tow.
These milestones behind it, a spokesperson for Shell based in Kuala Lumpur recently toldOffshorethat it anticipates first oil in 2017.
Tophole drilling was completed last year, and Shell has slated the primary drilling campaign to take place this year. This campaign will be conducted from aboard the platform using a separate tender-assisted drilling (TAD) unit, helping to keep project costs down by skipping the need for a bigger platform. In doing so, the operator has claimed it is the first to couple a TLP and a TAD.
Yun Yun Teo, principal analyst, Asia-Pacific rigs for IHS Markit, toldOffshorethat the tender-assist unit SKD Esperanza is set to start development drilling very soon - possibly departing KFELS by the end of August - on a charter of 18 months plus options.
Malikai consists of two main reservoirs, Kinarut and Kamunsu-2, in water depths of around 500 m (1,640 ft). Located in the block G PSC, awarded by Petronas in 1995, a peak annual production of 60,000 b/d is anticipated.
Shell (35%) and partners ConocoPhilips Sabah (35%) and Petronas Carigali (30%) took the final investment decision (FID) for Malikai in 2013.
Although a deepwater project, it will produce through the shallow-water Kebabangan (KBB) platform, located about 50 km (31 mi) away. The TLP is designed to partially process the gross production before it moves on to KBB, where it will be further processed before being sent onshore to the Sabah Oil & Gas Terminal.
Malikai TLP
Shell says the TLP is believed to be the first to be fabricated and installed in Malaysia. It also marks its first such platform outside the Gulf of Mexico.
Beyond these firsts, the TLP comprises several specific, unique types of technologies that are designed to enable cost-control and simpler operations.
Production wellheads are on deck and connected directly to the subsea wells by what Shell describes as rigid risers. The company believes this will allow for simpler well completion; better production control from the reservoir; and easier access for downhole intervention operations. Malikai's risers are also multiuse, instead of requiring two differing sets for drilling and production.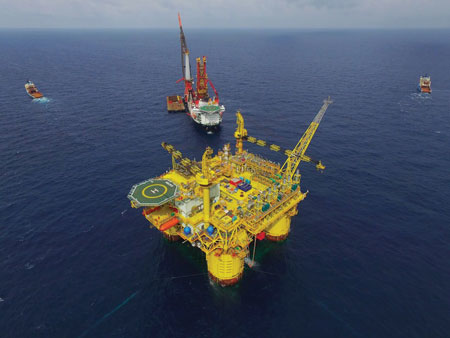 The Malikai development's tension leg platform is a first for Malaysia, and Shell's first such platform outside of the GoM. (Image courtesy Shell)
TheNorshore Atlantic, then on its second campaign, began drilling Malikai's topholes in September 2014, finishing last January. During this operation, a riser-less mud circulation system by IKM Group was installed to remove drilling fluids at the well openings.
Also to control costs, Shell said that the Malikai project team reused eight tendon support buoys from its Mars B project in the Gulf of Mexico. The buoys temporarily hold the ends of mooring tendons, or tethers, in place until they can be connected to the platform during installation.
Dril-Quip was awarded a contract to supply subsea wellheads, tensioner systems, risers, production trees, injection trees, and tieback connectors shortly after Malikai's final investment decision was taken in 2013.
The TLP's 13,800-metric ton (15, 212-ton) topsides were skidded onto the platform legs in the MMHE West yard last summer. For this, Shell, Petronas, and TMJV partnered with ALE, which had been responsible for the platform assembly operation (Offshore, August 2016). The operator said the "Superlift" was the world's highest jacking and skidding operation for a platform of its scale.
Driven to deepwater
While only a short time has passed since the Malikai FID, those few years are significant.
In early February 2013,Brent indexed at more than $116/bbl. At the time of this writing, it has settled at a wan $48/bbl, dipping once again below the $50/bbl tipping point to which the industry has struggled to adapt as its new breakeven price.
Despite this, most of the entities with a stake in Malikai's success remain firmly committed to deepwater development. A recent PWC report entitled "The Malaysian oil and gas industry: Challenging times, but fundamentals intact," named deepwater as one factor in Malaysia's three-pronged approach to unlocking local reserves as it continues to establish itself as a regional oil and gas hub. Along with Petronas, PWC noted that Malaysia "remains poised to continue exploiting its yet-to-be fully tapped deepwater potential."
Shell has actually strengthened its focus on deepwater despite the market crisis. In June, Shell CEO Ben van Beurden said that it would significantly cut capital spending between now and 2020 - but prioritize deepwater production, with its global output expected to double in that timeframe.