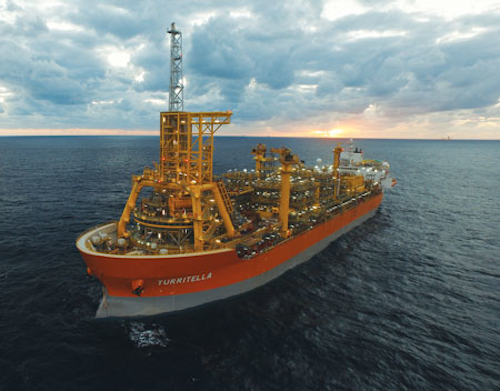 Shell's project features many industry firsts
Jessica Tippee
Assistant Editor
Royal Dutch Shell plc expects first production this year from theStones project in the ultra-deepwater Gulf of Mexico. Discovered in 2005, Stones is located in the Walker Ridge area about 200 mi (322 km) offshore Louisiana in about 9,500 ft (2,896 m) of water. Sanctioned in May 2013, Stones consists of an FPSO connected to subsea infrastructure located in the Lower Tertiary play.
The development will start with two subsea production wells tied back to the FPSO with six more production wells to be added later on. The reservoir depth is around 26,500 ft (8,077 m) below sea level and 17,000 ft (5,181 m) below the mudline. First phase production is expected to reach 50,000 boe/d with recoverable reserves of 250 MMboe out of 2 Bboe of oil in place. Multi-phase pumping is planned for a later phase. Shell is 100% owner and operator of the Stones project.
In July 2013, Shell commissioned SBM Offshore to supply and lease an FPSO. The initial contract is for 10 years with options to extend to 20 total years. The total asset value of the FPSO is estimated at $1 billion.
The converted Suezmax FPSO features a turret with a disconnectable buoy (buoyant turret mooring) that allows it to weathervane in normal conditions and disconnect from the FPSO upon the approach of a hurricane. According to SBM Offshore, not only is this the world's largest disconnectable buoy, but also it is the first with steel lazy wave risers - steel pipe with in-line buoyancy that absorbs the vessel's motion and boosts riser performance at extreme depths.
The mooring system also incorporates the ability to adjust line tension during operations by use of an in-line mooring connector.
In November 2015, construction of the FPSOTurritellawas completed and the vessel set sail from the Keppel Shipyard in Singapore. The vessel is a typical Generation 2 design with a processing capacity of up to 60,000 b/d of oil and 15 MMcf/d of gas treatment and export. No water injection facilities are specified, and the Suezmax hull is able to store 800,000 bbl of crude oil with total topsides weight reaching 7,000 tons.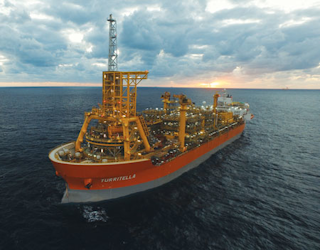 Turritella is Shell's first FPSO in the Gulf of Mexico. (Photo courtesy InterMoor)">
TheTurritella is Shell's first FPSO in the Gulf of Mexico. (Photo courtesy InterMoor)
The FPSOTurritellais owned and operated by a joint venture owned by affiliated companies of SBM Offshore (55%), Mitsubishi Corp. (30%), and Nippon Yusen Kabushiki Kaisha (15%).
While theTurritellais not Shell's first FPSO in the world, it is the operator's first FPSO in the Gulf of Mexico.
In January 2016, the vessel arrived in the Gulf. In June, InterMoor completed the final tensioning and chain cutting operations on the FPSO. On July 29, the United States Coast Guard's Certificate of Compliance was issued. Ready for start-up is the next necessary step in supporting well operations, according to SBM Offshore, before commercial production and first oil. At first production theTurritella will be the world's deepest floating production unit at 9,500 ft.
As for Stones' subsea infrastructure, in May 2013, the operator ordered eight subsea trees, a subsea manifold, topsides and subsea controls, and associated equipment from FMC Technologies.
In August 2013, Technip secured an engineering, procurement, and installation contract. The company installed the subsea production system which consists of dual 8-in. insulated flowlines associated with pipeline end terminations (PLET), and dual 8-in. steel lazy wave risers. It also installed the Stones lateral gas pipeline which consists of a single 8-in. gas pipeline associated with PLET, in-line sled, and a single 8-in. steel lazy wave riser. Two years later, Technip was contracted for engineering of the required second PLETs; fabrication of the PLETs and piles; installation of the subsea production system; and inclusive of associated project management, engineering, and stalk fabrication.
In August 2015, Shell commissioned OneSubsea to supply subsea processing systems. Following a technology qualification program, the company will deliver the industry's first 15,000-psi subsea pump system, which will be tied back to the FPSOTurritella. The subsea processing systems scope includes a dual pump station with two 3-MW single-phase pumps and two subsea control modules, a topsides power and control module, a barrier-fluid hydraulic power unit with associated spares, as well as installation and maintenance tools. Manufacturing and testing will take place at OneSubsea's facility in Horsøy, Norway, for delivery in early 2018.