Deepwater development in Golden Triangle down but not out
The goal here is to examine the status of some deepwater developments and related rig activity in the Golden Triangle region.
Sep 12th, 2016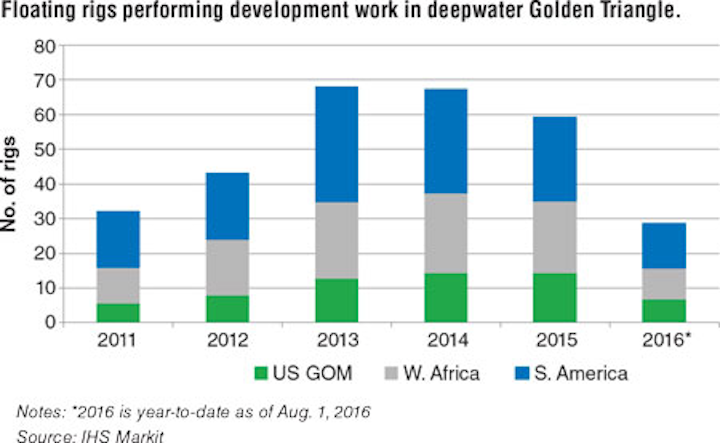 Brazil, West Africa among those with decreased exploration
Cinnamon Odell, Justin Smith, Sarah McLean

IHS Markit
Although this may seem surprising, but because deepwater projects are many years in the making, they are not as sensitive to changes in commodity prices as are exploratory projects. These complex projects are planned with a wide range of possible pricing scenarios.
With that in mind, many exploration and production companies are battening down for a long market downturn and either postponing or canceling certain projects. The goal here is to examine the status of some deepwater developments and related rig activity in the Golden Triangle region.
While deepwater development activity in the US Gulf of Mexico has definitely slowed since the market downturn began, it has not come to a stop. Many projects are still proceeding, albeit in many cases at a delayed pace from what was originally planned. As of early August, seven floating rigs are working on development wells. Compare that to this time last year, when 13 deepwater wells were assigned to development work, and one can tell how much the downturn has deepened.
Normally, a look back five years ago is what would be expected in a market analysis. However, in this case, it would put the comparison right in the middle of the aftermath of the Macondo accident, which was often referred to as the "permatorium" period when no new drilling permits were being issued. Instead, here, this piece will look back to this time in 2008, which is the month after the Brent crude oil price exceeded $145/bbl. In August 2008, five floating rigs were conducting deepwater drilling.
One project that will not go forward at this time is the Chevron-operated Sicily project. The decision was attributed to the current price environment and the limited time remaining on the leases. The Sicily discovery well was drilled in late 2014/early 2015.
Other projects, however, continue to move forward. Hess' Stampede project is scheduled for first production in 2018. Total recoverable resources are estimated at around 300-350 MMboe. The start date for the three-year rig program with the Diamond Offshore drillshipOcean BlackRhino, which had been scheduled to begin in December 2016, has recently been moved slightly to January 2017. However, drilling will continue with the drillship. Meanwhile, the hull for the tension leg platform (TLP) has departed the manufacturing facility, and topsides fabrication and precommissioning continues.
Another project also earmarked for a 2018 production start is Chevron's Big Foot field. The operator was forced to delay its projected 2015 start following damage to subsea installation tendons was discovered after several tendons lost buoyancy while preparing for connection to the TLP. The latest estimate for start-up is now the second half of 2018.
Meanwhile, appraisal work continues at Anadarko's Shenandoah field. This field has garnered much attention from rig contractors, as market sources have indicated the operator has been considering the need of a rig with a 20K psi BOP should the project move to the development phase. This would be a step-change for the industry, as the standard BOP on most high-specification floaters today is a 15K BOP. An additional appraisal well is scheduled to spud later this year. A final investment decision is not expected this year.
One bright spot for future potential projects is Shell's recent confirmation of a discovery at its Fort Sumter prospect. Initial estimated recoverable resources are over 125 MMboe. Shell is planning additional appraisal drilling. DrillshipNoble Globetrotter Idrilled the discovery well along with an appraisal side track. This discovery is in the vicinity of Shell's Appomattox, Vicksburg, and Rydberg fields.
While activity overall has been on a downward trajectory in South America, a trend that will not be ending anytime soon, the region has experienced a wide array of highs and lows of late. Exploration and appraisal successes in a number of frontier areas, like in the northern part of the continent, are generating greater interest among operators and will lead to more exploration and development opportunities. Additionally, some areas, like Uruguay and northeastern Brazil, are looking forward to their first substantive exploration programs.
Bearish Brazil
However, as Brazil is far and away the biggest player in the region, its struggles over the last few years tend to be a large hurdle to overcome. State-run operator Petrobras, the most indebted company in the world, has taken drastic measures to change course. The company's major focus will be on developing the huge presalt areas in Brazil, although even the scope of those developments has gone under the knife for some trimming. Exploration activities within Brazil will be minimal as the firm concentrates on just meeting the minimum exploratory program for each block. Meanwhile, Petrobras has altered the production targets to reflect the postponement of less mature projects, as well as delays in the delivery of production units.
On the upside, though, arguably the most attractive area in the country, the aforementioned presalt areas, may soon start having an easier time drawing suitors. Aside from the high cost of developing these massive fields, Brazilian law currently mandates that Petrobras holds a minimum of 30% interest in and act as the operator of each field. However, the Senate is close to removing this restriction in hopes of luring in other operators and relieving some of the pressure on Petrobras.
All of these factors have combined to see a mass exodus of rigs from the country. At its peak in March 2012, the marketed contracted rig count in Brazil stood at 87 units. Over the next year, that number had only fallen by three to 84 rigs. Another year later, to March 2014, and the count had dipped to 75 as nine more units had been released, followed by another 14 units rolling off contract to make it 61 in March 2015. By March of this year, 16 more rigs were let go, taking the contracted count to 45. That pace has only accelerated further in the subsequent months to now, as only 36 rigs were under contract in the country at the end of July, plus there were at least another four currently on standby. At least on a positive note, this pace must slow down soon, as there just are not that many rigs left in the country to roll off contract so rapidly.
The wild frontier
Despite those primarily negative events in the Brazilian market, there are still a number of exploration plans going forward off the country's northeastern coast, with the program closest to becoming a reality being the Premier Oil-led rig share. It is understood a rig selection may be in place shortly from Premier's tender, but due to environmental considerations, commencement is now scheduled for late 2017 or early 2018, rather than late 2016 as previously planned. The requirement covers seven firm wells plus four optional wells, and work will involve two wells each for Premier Oil and QGEP, and one well a piece for ExxonMobil, Total, and Chevron. Perhaps not so coincidentally, Atwood Oceanics received a letter of intent late last year from an undisclosed operator for a drilling program offshore Brazil. The program, which will commence in 3Q 2017, is likely to be fulfilled byAtwood Admiral, although the contractor has said the process is taking longer than expected due to the difficult market conditions and the number of parties involved. Meanwhile, Total is planning to drill nine exploration wells across three blocks in the Foz do Amazonas basin offshore northern Brazil in the Atlantic margin, while BP is looking to drill two in its block located in the same area.
Over in Colombia, the most recent highlight was last year when Anadarko drilled two exploration wells, with the Kronos-1 well encountering between 40 m (130 ft) and 70 m (230 ft) of natural gas pay. The operator's second well, Calasu-1, intersected non-commercial quantities of pay, but Anadarko is planning to take drillshipBolette Dolphin back to Colombia later this year for an appraisal campaign. Meanwhile in Suriname, following a two-well drilling campaign on block 53 last year, Apache has awarded a one-well contract with options to drillship Noble Bob Douglas to work on blocks 53 and 58 commencing in April 2017.
Not to be outdone, ExxonMobil made a large oil discovery with the Liza-1 well in the Stabroek block offshore Guyana. The operator encountered more than 90 m (295 ft) of high-quality, oil-bearing, sandstone reservoirs. The magnitude of this find was confirmed in July when the Liza-2 appraisal well encountered more than 58 m (190 ft) of oil-bearing sandstone reservoirs in Upper Cretaceous formations. The results confirm an oil discovery with estimated gross recoverable resource for Liza of between 800 MMboe and 1.4 Bboe. The operator is continuing to appraise the discovery with drillshipStena Carron, while also exploring nearby prospects. ExxonMobil and its partners have indicated that they would likely fasttrack any development and first oil could be achieved early in the next decade. The Liza discovery has sent ripples through the plans of the operators of neighboring blocks. Both Repsol and Tullow, which respectively operate the nearby Kanuku and Orinduik blocks, are now factoring ExxonMobil's success into their exploration plans, and both companies have requested more time to hammer out their programs.
Finally, to the south, at the end of March, Total began drilling a well with the record for the deepest water depth in the world. Drilled by drillshipMaersk Venturerin 3,411 m (11,191 ft) of water, the Raya-1 exploration well was also the first well to ever be drilled off Uruguay, but the results have not yet been released despite operations on the location wrapping up in mid-June. Watching closely are Shell and Tullow, which also have interests in Uruguay. Shell holds five blocks, three of which it recently picked up through its merger with BG, while Tullow operates one. All of these have had at least some 3D seismic data already acquired. Previously, BG had planned on drilling in Uruguay this year, a plan that does not appear to have been completely sidelined by Shell's acquisition of the company, although an adjustment to the timeline seems probable.
In line with global trends, West Africa has also seen a significant decrease in the amount of offshore exploration programs since the beginning of the downturn. Currently, only two deepwater exploration drilling projects are under way: Anadarko in Cote d'Ivoire and Eni in Angola. DrillshipBolette Dolphin has been undertaking the exploration and appraisal program at the Paon field since late January. It is anticipated that the rig will also drill two further exploration prospects, Rossignol and Pelican at blocks CI-528 and CI-527, respectively, before returning to Colombia to continue operations for Anadarko. Meanwhile in Angola, drillship Ocean Rig Poseidon has been undertaking exploration drilling for Eni at blocks 15/06, 15, and 35 since mid-2013. The rig is firm with the operator until June 2017.
On the other hand, a steady amount of development drilling continues in the sector with 14 floater units working. Angola has the vast majority of activity with eight rigs working there. Development drilling programs are also under way in Ghana, Congo, and Nigeria. In Angola, drillshipDiscoverer Luandais drilling at block 31, currently at the Venus field, under a seven-year charter that will keep the rig occupied until early 2018. Total is undertaking the most development drilling off Angola at present with drillships ENSCO DS-7 and Ocean Rig Skyrosworking at block 32, while drillshipsENSCO DS-8 and West Gemini are working at block 17. ExxonMobil has two rigs working in Angola at present, semi West Eclipse, which kicked off a two-year charter earlier this year, and drillship West Polarisare working on the Kizomba project. Nigeria has seen a major slow-down of activity across all sectors due to political instability with drillships Pacific Bora and West Saturn the only floaters in the country at present. These are working with Chevron and ExxonMobil, respectively.
While the general market remains quiet, West Africa has made the two largest worldwide discoveries so far in 2016, which is promising for future exploration prospects. Kosmos Energy made the largest discovery, at the Teranga-1 well offshore Senegal, with a total recovery of 838.3 MMboe. Following that is the Zalophus-1 exploration well offshore Angola, which made a 433.3 MMboe find for Cobalt International.
In terms of upcoming work in West Africa, shorter-term programs dominate the horizon. The supermajors and majors have all deferred their longer-terms plans to at least 2018 and beyond with Shell's Bonga development program arguably the most high-profile of these deferrals. Maersk Oil has also put its development plans on the back burner with uncertainty remaining over when the Chissonga program is likely to go ahead offshore Angola. There are two longer-term tenders still outstanding, however, with Chevron seeking a floater for a two-year development program in the Gulf of Nigeria to commence in 4Q 2016. It is understood that Transocean, Rowan, Ocean Rig, and Pacific Drilling have all placed bids on this work. DrillshipPacific Bora is currently undertaking development drilling for the operator at this location with the charter due to conclude in 3Q 2016. For upcoming exploration work, Cairn Energy is out to tender for a semisubmersible or drillship for a program that may stretch to as many as 11 wells (two firm wells with nine one-well options). Again, this program is mooted for 4Q 2016.
Availability continues to rise in West Africa with the majority of floater units berthed in the Canary Islands. There are a total of 16 floaters spread between Tenerife and Las Palmas, six of them cold stacked: semisWest Taurus,West Eminence, Sedco Express, Sedco Energy, Cajun Express, and Ocean Confidence. Warm-stacked rigs include drillships ENSCO DS-4, ENSCO DS-5, Pacific Scirocco, and West Capella, as well as semis GSF Development Driller I andSSV Catarina. In addition to warm-stacked rigs not under contract, increasing numbers of rigs are on standby while under charter including drillshipsStena DrillMAX, Ocean Rig Athena,Ocean Rig Mylos, and Atwood Achiever.
Although development activity remains low, the huge supply of available rigs means operators will have plenty to choose from when they are ready to restart their development programs. That is, assuming they are one of the early takers. With drilling activity so low and the rig oversupply so high, rig contractors are being forced to retire units in order to bring supply more in line with demand. When demand does begin to pick up once again, the worldwide supply will look different from what it does today, with far fewer older rigs, and more higher-specification units than before.