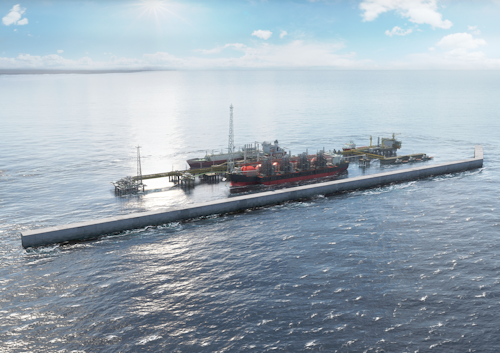 (Courtesy BP)
The Greater Tortue/Ahmeyim LNG project represents Africa's deepest offshore project to date, and its development scheme is incorporating some of the industry's latest digital products and technologies. And, the project developers are hoping to benefit from the advantages that can be derived from greater cooperation and coordination from and within the project's supply chain.
Based on gas production in waters down to 2 km on the maritime border of Mauritania and Senegal, the project is being jointly developed by BP, Kosmos Energy, Societe des Petroles du Senegal (Petrosen), and Societe Mauritanienne des Hydrocarbures (SMHPM), with BP as the operator.
It will produce gas from an ultra-deepwater subsea system and mid-water FPSO vessel, which will process the gas, removing heavier hydrocarbon components. The gas will then be transferred to a floating liquefied natural gas (FLNG) facility at a nearshore hub located on the Mauritania and Senegal maritime border. The FLNG facility is designed to provide circa 2.5 MM metric tons of LNG per annum on average, with the total gas resources in the field estimated to be around 15 tcf.
Tortue/Ahmeyim's initial subsea infrastructure will be designed to connect the first four wells through production pipelines to an FPSO. From there liquids will be removed and the gas transported via a pipeline to the FLNG hub terminal where the gas will be liquefied.
The Tortue field is 120 km (75 mi) offshore in 2,850 m (9,350 ft) water depth. The subsea system will include four wells at first gas, clustered at one drill center, while the production system will be tied back 70 km (43 mi) to a spread-moored FPSO at the shelf edge in 100-120 m (328-393 ft) water depth.
Following pre-treatment, the gas will then be exported 35 km (21.7 mi) to a nearshore hub and terminal facility for liquefaction and offloading to LNG carriers.
The development is in the C-8 block offshore Mauritania and the Saint-Louis Profond block offshore Senegal.
Planned to be developed in phases, the Greater Tortue/Ahmeyim project will produce up to 10 MM metric tons of LNG a year. BP and its partners have made the final investment decision (FID) for Phase 1 of the project, and this first phase is due to come onstream in the first half of 2022.
The project, the first major gas project to reach FID in the basin, is designed to provide LNG for global export as well as make gas available for domestic use in both Mauritania and Senegal.
The parties will continue to finalize agreements and obtain final regulatory and contract approvals, following which Phase 1 of the development will move into a detailed design and construction phase.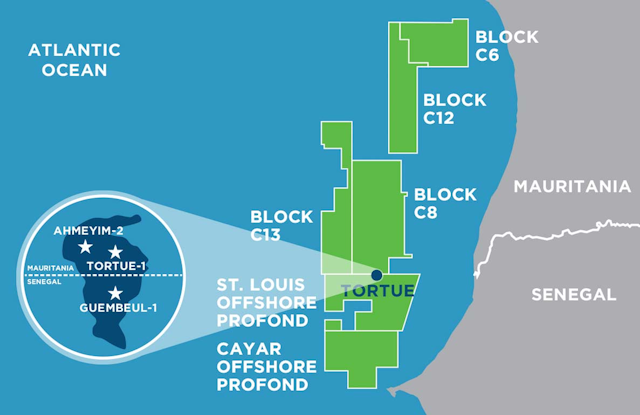 The Greater Tortue/Ahmeyim development area offshore Senegal and Mauritania.(Courtesy Kosmos Energy)

Contract awards
In March 2018, it was announced that McDermott and BHGE would perform front-end engineering design (FEED) studies for the project, with the aim being to define the technology and equipment scope for a four-well development. During this initial engineering phase, McDermott will define the subsea umbilicals, risers and flowlines scope, while BHGE will focus on the subsea production system scope. Later, the two companies' involvement could be converted to a lump-sum EPCI contract.
McDermott said that it expected to employ the Project Lifecycle Management module from its new digital platform Gemini XD, to deliver a digital twin of the complete system.
BHGE said that its RealTrack digital collaboration tool would be employed to provide live, real-time reporting of schedule progress, document status, and issues management to improve the efficiency of the project's execution. RealTrack is said to help clients optimize their operations, respond quickly to any emerging issues, and plan for changing requirements as projects evolve.
McDermott added that it would work jointly with BHGE to provide an optimized, integrated solution. The two companies' teams will undertake project management and FEED work at McDermott's offices in Epsom, near London.
Scott Munro, McDermott's vp Americas, Europe and Africa, said: "Our integrated approach with BHGE will bring the best total solution to BP that we believe will provide schedule and budget certainty."
Graham Gillies, vp, Subsea Production Systems and Subsea Services at BHGE, said: "Increasingly, industry players are looking for commercially-innovative business models and integrated offerings that help reduce costs, while increasing efficiency and productivity. This is an excellent example of how the industry has evolved its approach, with global operators now embracing the benefits of early engagement with OEMs and service providers."
More recently, BP awarded the main subsea equipment contracts to McDermott and BHGE, who will be responsible for the subsea umbilicals, risers, and flowlines and subsea production system. All three parties say they are working closely to achieve efficiencies, synergies, and improved delivery times where possible.
McDermott says it plans to deploy its upgraded Amazon vessel, as well as the DLV 2000, the North Ocean 102, and other third-party vessels to support the installation program, which is due to start in late 2020. The Amazon modifications, which should be completed before the campaign gets under way, will include a multi-joint (hex) J-Lay system for ultra-deepwater installations, dual pipe-loading cranes, and additional power generation. McDermott will fabricate the pipeline and riser structures at its yard in Batam, Indonesia.
BHGE will supply five large-bore deepwater horizonal xmas trees, a six-slot dual-bore manifold, a pipeline end manifold, subsea distribution units, three subsea isolation valves, diverless connections, and subsea production control systems. This equipment will be designed to facilitate future integration of additional wells under the first development phase.
Tareq Kawash, McDermott's svp for Europe, Africa, Russia and Caspian, says that the award is the company's first significant subsea EPCI project off West Africa. Project management and engineering teams from BP, BHGE, and McDermott will be based at McDermott's London offices for this next phase.
FPSO vessel
BP has commissioned TechnipFMC to perform FEED studies for the FPSO portion of the field development project. Under the agreement, the contract could be converted to an EPCI contract award at a later stage. In the meantime, TechnipFMC will define the technology and equipment scope, and plans to draw on its experience with fabrication in China.
FLNG vessel
BP and Golar LNG have entered into a 20-year lease and operate agreement for the charter of the FLNG vessel Gimi, which will be purposed for the project. The Gimi will begin liquefying gas in 2022 as part of the first phase development, at a near-shore hub location. The vessel is designed to produce an average of 2.5 MM metric tons/yr (2.75 MM tons) of LNG using Black & Veatch's Prico liquefaction process.
Gimi MS, a Golar subsidiary, will construct, own, and operate the vessel. Conversion works of the LNG carrier Gimi will take place at the Keppel Shipyard in Singapore. Golar estimates the cost of construction at around $1.3 billion, excluding financing.
In April, Golar LNG secured a firm $700-million underwritten financing commitment for the conversion and development of the FLNG vessel. Gimi MS has sent Keppel Shipyard in Singapore a final notice to proceed with converting a Moss LNG carrier into the FLNG Gimi under a $947-million contract. Keppel Shipyard's scope includes design, detailed engineering, and procurement of the marine systems and other construction services. This will be similar to the work done on the company's first FLNG vessel Hilli Episeyo. Delivery is scheduled for the first half of 2022.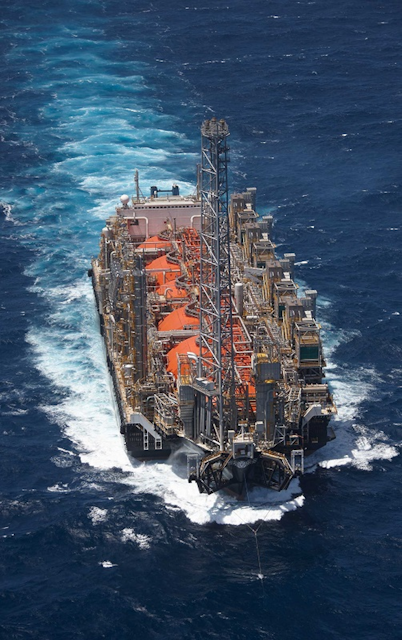 The conversion process for the LNG carrier Gimi will be similar to that performed on Golar LNG's first FLNG vessel Hilli Episeyo.(Courtesy Golar LNG)

Black & Veatch has contracted BHGE to supply four compressor trains for offshore gas liquefaction onboard the Gimi. Each of the four trains will comprise a PGT25+G4 aeroderivative gas turbine driving a centrifugal compressor, a solution based on a model developed previously by B&V and BHGE for a similar application. BHGE factories in Italy will manufacture and test all the turbines and compressors.
Other contracts
BP has awarded KBR's UK subsidiary an engineering, procurement, and construction management contract that covers facilities integration and terminal quarters and utilities (QU) management for the project's hub/terminal. KBR will supervise the hub/terminal QU contractor, provide services for the QU integrated control and safety system and telecoms systems, and system engineering, support and verification for the marine and civil elements of the hub/terminal.
McDermott has contracted Nexans to supply around 100 km (62 mi) of subsea umbilicals and components for the project. Nexans' scope covers management, procurement, engineering, manufacturing, and testing activities for the consignment. Nexans says it will manufacture electrical cables and fiber optics at the Nexans Norway plant in Rognan, while the umbilicals will be developed, constructed, and tested in Halden. Delivery will take place in 2021.
More gas discovered
In July, BP and Kosmos Energy reported that they had discovered more gas in the Greater Tortue development area, offshore Senegal. The ENSCO DS-12 drilled the Greater Tortue Ahmeyim-1 well (GTA-1) in 2,500 m (8,202 ft) of water on the eastern anticline within the unit development area, 10 km (6.2 mi) inboard of the Guembeul-1A and Tortue-1 wells, and to a TD of 4,884 m (16,023 ft).
The well, which encountered around 30 m (98.4 ft) of net gas pay in an Albian reservoir, will be retained as a future gas producer for the project, due to come onstream in the first half of 2022.
Kosmos chairman and CEO Andrew G. Inglis said: "The GTA-1 well confirms our expectation that the gas resource at Greater Tortue Ahmeyim will continue to grow over time and could lead to further expansion of this world-scale 10-MTPA LNG project."
The ENSCO DS-12 will next drill the Yakaar-2 appraisal well off Senegal, followed by the Orca-1 exploration well off Mauritania, expected to spud in late-September.
Next phases
BP has awarded KBR Inc.'s UK operating subsidiary the pre-FEED services contract for phases 2 and 3 of the project. These next phases will expand capacity to deliver additional gas from an ultra-deepwater subsea system, tied back to mid-water gas processing platforms. The gas will then be transferred to pre-treatment and offshore LNG facilities located at the established Phase 1 hub. •