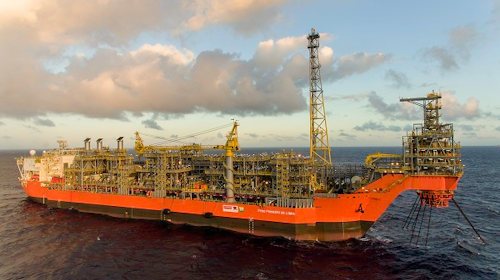 (Courtesy Petrobras)
Development of one of Brazil's largest oil discoveries is in full swing in the presalt Santos basin. Located about 180 km (112 mi) offshore Rio de Janeiro, the 1,550-sq km (598-sq mi) Libra block features high-quality carbonate reservoirs that are among the country's most productive, with oil columns up to 400 m (1,312 ft) thick. However, the high flow rates and pressures, high gas-oil content, and carbon dioxide have all necessitated implementation of the latest-generation solutions to facilitate production. As a result, Petrobras and its partners in the Libra consortium have responded by developing new technologies to operate in these environments, where water depths range from 1,700-2,400 m (5,577-7,874 ft), with subsurface depths of up to 6,000 m (19,685 ft).
The Libra consortium is led by Petrobras (40% interest), in partnership with Shell (20%), Total (20%), CNPC (10%), and CNOOC Ltd. (10%). Pré-Sal Petróleo manages the Libra production-sharing contract, which was signed in December 2013.
In October 2018, the consortium completed a nearly one-year extended well test (EWT) program on the Mero field in the northwest portion of the Libra block. This had started in November 2017 from the FPSO Pioneiro de Libra, Petrobras' first EWT-dedicated unit equipped to re-inject the gas produced.
The FPSO's gas re-injection capability eliminates continuous flaring of gas, helping to minimize carbon dioxide to the atmosphere while allowing wells to produce at their maximum potential. During the tests, the production well delivered 58,000 boe/d, which the operator described as "a great result in ultra-deepwaters."
Re-injection of gas was one of five new technologies deployed for the test program.
In addition, being able to produce during the EWT without restrictions helped optimize the acquisition of dynamic data from the reservoir. This arrangement also involved the first pre-launch of flexible lines with floats in ultra-deepwaters in advance of a production start 43 days later. Use of 8-in. flexible risers in a lazy wave configuration allowed high-volume production in this water depth. Due to the loads imposed on the lines, the FPSO has an external turret anchoring providing the strongest support of a vertical load in the offshore industry's history, Petrobras claimed, with a capacity of 700 tons for each of the nine risers in water depths of up to 2,400 m (7,874 ft).
The turret mooring system incorporated a robust swivel, which allows the vessel to rotate in relation to the turret. According to Petrobras, it supports the largest operating and design pressures – respectively 550 bar and 605 bar (7,977 psi and 10,080 psi) – for gas injection anywhere in the oil industry.
The other aims of the program, all achieved, were to obtain high-quality data and reduce uncertainties about the reservoir to allow accelerated deployment of up to four full-scale 180,000-b/d capacity production systems on the Mero field in the next few years.
The FPSO Pioneiro de Libra will remain in service conducting early production systems at other Mero wells. The FPSO, which was converted from the 1995-built shuttle tanker Navion Norvegia at Jurong Shipyard in Singapore, has a production capacity of 50,000 b/d of oil and compression capacity of 4 MMcm/d of gas.
Petrobras added the test program should contribute to the safe and efficient development of upcoming projects throughout the global ultra-deepwater oil and gas industry.
Later this month, the company will receive the Distinguished Achievement Award at OTC Brazil for innovations developed during the Libra long-term testing program.
Carlos Alberto Pereira de Oliveira, Petrobras' director of Exploration and Production, said: "Since there were no similar scenarios in the industry, our technicians and partners developed innovative solutions. For instance, we used all carbon dioxide produced to increase the productivity of the reservoir. We were bold when conducting the pre-launch of operations of flexible lines with floats in the deep sea - before even hiring the platforms."
In November 2017, the consortium launched the first full phase of the Mero project. Mero 1 consists of an FPSO and up to 17 wells. First oil is planned for 2021. Estimated recoverable volume is 3.3 Bbbl of oil.
MODEC received the supply, charter, and operations contract for the FPSO Guanabara, which will have a processing capacity of up to 180,000 b/d of oil, 12 MMcm/d of gas, 225,000 b/d of water injection, and storage capacity of 1.4 MMbbl of crude oil. SOFEC Inc., a MODEC group company, is supplying the spread mooring system. The firm charter period of the contract is 22 years. The company said it will deliver the vessel with Brazilian local content. This will be MODEC's 14th FPSO/FSO vessel in Brazil, and its seventh FPSO in the presalt.
Petrobras commissioned Aker Solution to provide the subsea production system which will consist of 12 vertical subsea trees designed for Brazil's presalt, four subsea distribution units, three topsides master control stations for the FPSO, and spare parts. All work will be managed by the company's subsea manufacturing complex in São José dos Pinhais and its subsea services base in Rio das Ostras. Equipment deliveries are scheduled for 2020, with installations spread between 2020 and 2023.
TechnipFMC won an EPCI contract for all rigid lines and installation and pre-commissioning of the infield riser and flowline system for interconnecting 13 wells (six producers and seven water alternate gas injectors) to the FPSO. It also includes installation of rigid pipelines (including corrosion-resistant alloy and steel lazy wave risers), flexible risers and flowlines, steel tube umbilicals, and other subsea equipment.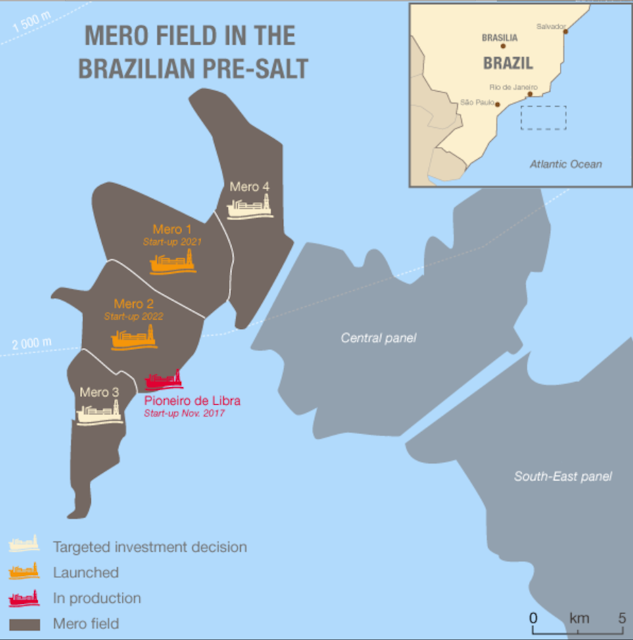 With the declaration of commerciality in November 2017, the northwestern portion of the Libra block officially became a field and was named Mero.(Map courtesy Total)

In June 2019, the consortium sanctioned the second full phase of the project.
Arnaud Breuillac, president Exploration & Production at Total, said: "The decision to launch Mero 2 comes as a new milestone in this large-scale project that will develop the giant oil resources of the Mero field, estimated at 3-4 Bbbl.
"The Libra consortium can leverage the excellent productivity of the field to develop a major oil project with technical costs below $20/bbl and low breakeven…Once the full potential of the field is developed, production should reach more than 600,000 b/d."
SBM Offshore has signed a letter of intent with Petrobras for a 22.5-year lease and operate arrangement for the second Mero FPSO. This will be designed and constructed using SBM's Fast4Ward program, also applied to the ExxonMobil-operated Liza field development in the Stabroek block offshore Guyana. It involves provision of a newbuild, multi-purpose hull combined with various standardized topsides modules. This award marked SBM's return to the Brazil market.
The FPSO Sepetiba will have a processing capacity of 180,000 b/d of oil, 12 MMcm/d of gas, 250,000 b/d of water injection, and storage capacity of 1.4 MMbbl of crude oil. Total weight of the topsides modules is expected to be around 33,000 tons. The FPSO will be spread moored in 2,000 m (6,562 ft) water depth and link up to 16 wells. Delivery is due in 2022.
Following the launch of Mero 2, Total added, the partners expect to add two further FPSOs of similar capacity, with all four production units deployed on the Mero field in the northwestern part of the Libra block. The central and southeast panels will remain under exploration until 2020. •