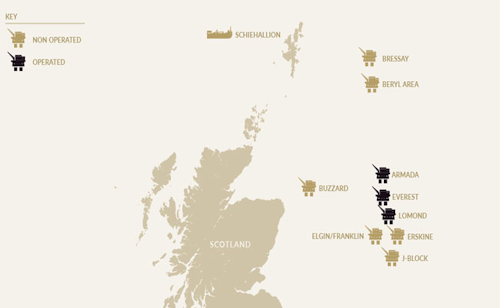 Offshore staff
THE HAGUE, the Netherlands – Shell has agreed to sell various UK North Sea assets, most inherited from the company's takeover of BG Group, to Chrysaor under a deal that could total up to $3.8 billion.
The initial consideration is $3 billion with a payment of up to $600 million to follow during 2018-2021 subject to commodity price, and further payments of up to $180 million for future discoveries on the acreage.
The package comprises Shell's interests in the producing Buzzard, Beryl, Elgin-Franklin, J-Block, Greater Armada cluster, Everest, Lomond and Erskine fields in the UK central North Sea; 10% of its 55% share of theBP-operated Schiehallion redevelopment west of Shetland; and a further stake in the undeveloped, Statoil-operated Bressay heavy-oil field in the East Shetland basin.
Shell will retain a fixed liability of $1 billion for the anticipated total decommissioning costs of the facilities of $3.9 billion, with Chrysaor liable for the remainder.
The deal is subject to partner and regulatory approvals, but is expected to be completed in the second half of this year.
Chrysaor will gain production of around 115,000 boe/d, based on Shell's share from the fields last year. This amounts to more than half the oil major's total UK North Sea production during 2016 of 211,000 boe/d.
Shell says it will retain a more focused and strengthened presence in the sector, with production set to rise as BP brings the Schiehallion redevelopment and Clair Ridge projects onstream.
Around 400 personnel are set to transfer to Chrysaor, subject to consultations.
Andy Brown, Shell's Upstream Director, said: "We believe this deal is a vote of confidence in the UK North Sea and offers proof that the industry's increasing competitiveness, and improvements to the fiscal and regulatory regime, are starting to produce positive results. It will deliver value to Shell, Chrysaor, and the UK as a whole, enabling us to continue to strengthen and optimize our UK portfolio and providing a springboard for Chrysaor to bring new investment and growth into the basin.
"It also contributes to the UK's goal of maximizing economic recovery of oil and gas from theUK North Sea, which will continue to be a source of energy, and revenue, for the country for many years to come."
Shell will make a payment to Chrysaor of up to $25 million annually between 2018-21 should the average oil price over the period fall within or below the range of $47.50-$52.50/bbl.
In addition it is providing a vendor loan to Chrysaor and has signed hydrocarbon lifting and sales agreements for oil and gas produced from the assets being sold.
Shell's stake in each of the assets is as follows: Buzzard (21.73%), Beryl (39.4%), Bressay (18.4%), Elgin-Franklin (14.1%), J-Block (30.5%), the Greater Armada cluster excluding Gaulpe (76.4%), Everest (100%), Lomond (100%), Erskine (32%) and Schiehallion (10%).
The company operates Armada, Everest, and Lomond – on completion of the sale, Chrysaor will assume operatorship in each stake.
Chrysaor says the deal will make it the UK's leading oil and gas independent company focused on theNorth Sea.
It intends to grow production and extend field life via numerous early incremental opportunities. This will involve drilling and investment in the key operated hubs, and encouragement of third-party business.
The company will receive an investment of up to $1 billion from Harbour Energy, an investment vehicle of EIG Global Energy Partners, alongside funds managed by EIG, to support the acquisition and provide future growth capital.
Linda Cook, managing director of EIG, CEO of Harbour Energy, and a former board director at Royal Dutch Shell, has been appointed Chrysaor's chairman.
Other additions to the board are G. Steven Farris, former chairman and CEO of Apache, and Dr. Andrew Jamieson, former executive vice president Gas and Projects for Shell.
01/31/2017