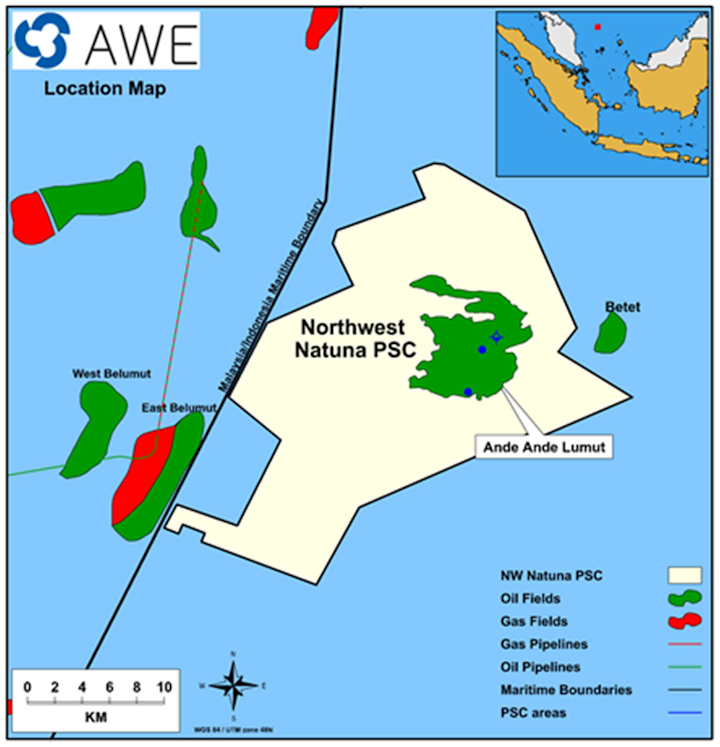 Offshore staff
SYDNEY, Australia –AWE Ltd (ASX:AWE) has agreed to sell 50% interest in the Northwest Natuna PSC offshore Indonesia, which includes the Ande Ande Lumut oil project, to a subsidiary of Santos Ltd. (ASX:STO) for $188 million.
The Ande Ande Lumut oil field was discovered in April 2000 andtwo subsequent appraisal wells were drilled in 2006.  The proposed development plan contemplates a wellhead platform and permanent FPSO. A final investment decision is expected in 2014. Santos estimates gross proved and probable reserves in the interest at 100 MMbbl of oil.
The sale is pending Indonesian regulatory approvals.
AWE increased the estimated recoverable oil in the K-Sand reservoir from 76 MMbbl to 101 MMbbl, with an additional 35 MMbbl (gross 2C contingent resources) assessed in the underlying G-Sand reservoir.
"By leveraging the technical and operating experience gained from Tui and other AWE projects, we improved the facilities design and we were able to reduce the number of wells from 43 to 33 and improve oil recovery by utilizing longer reach horizontal wells," said Bruce Clement, AWE managing director. "Similarly, the estimated initial production rate has the potential to increase well beyond the 25,000 b/d of oil in the original plan of development."
"Our Jakarta based team has successfully delivered three offshore developments in recent years – Maleo, Oyong, and Wortel – and is presently working on a fourth at Peluang," said Martyn Eames, VP Asia/Pacific for Santos.
"Santos also has considerable experience in developing and operating FPSO-based oil projects, most recently with the successfulFletcher Finucane development in Australia, which was delivered ahead of schedule and under budget.
"We are pleased to partner with AWE, which has made good progress in maturing the Ande Ande Lumut opportunity since acquiring a 100% interest in the PSC in early 2012."
8/21/2013