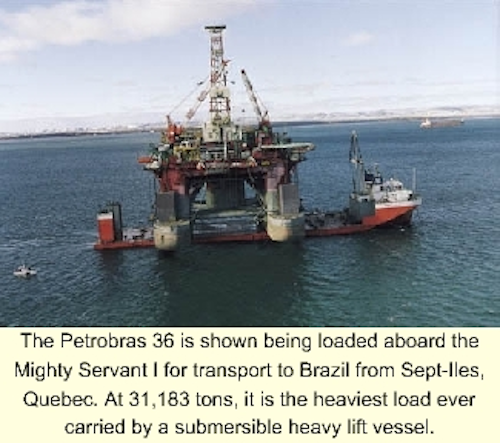 Contracts
Superior Fabricators was awarded a contract by Global Marine to supply cantilever beam extensions for the Glomar Baltic I to allow the jackup to drill 60 ft over the stern.
Friede Goldman Offshore was awarded a contract by Oceaneering International for conversion of the firm's Marine 7 jackup for production in the Legendre North & South Fields (Australia).
Development Engineering International was awarded a three-year contract from Enterprise Oil to provide conditional monitoring management and operations on Enterprise's Nelson platform in the North Sea.
CRC-Evans Concrete Services has been awarded a contract from Henkels de Mexico to apply a concrete outer jacket for part of the Rosarito gas pipeline.
Mustang Engineering has a contract from Conoco to conduct a 12-month conceptual study for the Balanak Field Development, Block B, off Indonesia, leading to the design of a contract for an FPSO, fixed platform, and jackup facility.
People
Lorin Brook has been named Director of Business Development Support for Shell Inter national Exploration and Production (London), succeeding Linda Cook, who has become Shell Gas and Power CEO.
Baker Process has appointed Timothy L. Davis as President.
Transocean Sedco Forex has announced the firm's management team: Victor Grijalva is Chairman of the Board; Michael Talbert is President and CEO; Robert Long is Executive Vice President and CFO, Jean Cahuzac is Executive Vice President and President - Europe, Middle East, and Africa; and Dennis Heagney is Executive Vice President and President - Americas and Asia.
The UK Offshore Operators Association (London) has announced that Francis Gugen, Managing Director of Amerada Hess Ltd, will succeed Chevron's Bob Connon as UKOOA's President. The Vice President is David Smith of Marathon Oil.
Ryder Scott Petroleum Consultants has announced the association of Dr. Grant Robertson and Kenneth R. Whaley with the firm.
Nabors Industries has elected James L. Payne as a Director. Payne is currently the chief executive officer of Santa Fe Snyder Corporation.
Statoil has announced a new corporate management team. The company has appointed Olav Fjell, president and CEO, Henrik Carlsen, Senior Vice President, Exploration & Production Norway, Rolf Magne Larsen, Senior Vice President, International Exploration & Production Peter Mellbye, Senior Vice President, European Gas, Erling
Noble Drilling Corporation announced that Jack E. Little, recently retired as Pesident and CEO of Shell Oil Co., has joined the firm's board of directors.
Mergers, Acquisitions & New Companies
Repsol-YPF and Petrobras has signed a letter of intention to extend existing cooperation between the companies in the joint development of business lines common to both groups.
Schlumberger Ltd has agreed to purchase the global assets and business of Secure Oil Tools from Stellarton Corporation (Calgary).
Apache Corporation is acquiring producing properties and assets in Canada with proved reserves of 87.5 million boe from Shell Canada Ltd.
ABB has acquired Danco Talleres Metalurgicos S.A., which is based in Buenos Aires, Argentina and manufactures valves and wellheads.
Endress + Hauser Ltd has acquired Thermo Devices Ltd.
ECL and Everest-Tecnologia em Servicos (Brazil) have formed an alliance to conduct geoscience business in Brazil.
Projects update
Coflexip Stena Offshore has completed welding on Elf's Elgin/Franklin project in the North Sea using its new automatic hyperbaric welding system. CSO says this is the first hyperbaric welding system to be designed and used in the North Sea in 10 years.
Global Divers & Contractors has rerouted a 20-in. pipeline through an in-line booster pump station platform in Main Pass Block 69 in the Gulf of Mexico for Equilon Enterprises. This is believed to be the largest series of mechanical pipeline connectors ever used in one project application.
Global Industries has installed 8.5 miles of 8 5/8-in. diameter pipe from the Virgo production platform (Viosca Knoll 823) to a location at Main Pass 281 for BP Amoco Pipeline. The reel barge Chickasaw was used for the project.
Company News
Aker Maritime opened a new engineering office in Luanda, Angola to bring engineering and delivery experience covering the full range of floater and subsea technologies to the local engineering market in Angola.
CRC-Evans Concrete Services and Pipeline Induction Heat have announced the development of a concrete weighting business to be located on the Isle of Bioko, Equatorial Guinea, West Africa. The first contract for the facility will be anchors to dual 1,600 mm polyethylene water intake lines.
Veritas has opened an office in Rio de Janeiro, Brazil.
NKK Corporation of Japan and Siderca S.A. of Argentine have agreed to build a strategic alliance that combines marketing and technological capabilities in the manufacture of seamless steel pipe.
Reservoir completions center opens
Schlumberger's new Reservoir Completions Center has opened on a 500-acre site near Rosharon, Texas (near Houston). The center will develop new techniques that optimize reservoir performance, as well as continue longstanding research in shaped charge design and completion products. The center will employ 400 specialists from Schlumberger, Camco, and Merak. Schlumberger Reservoir Completions Center opened in October.