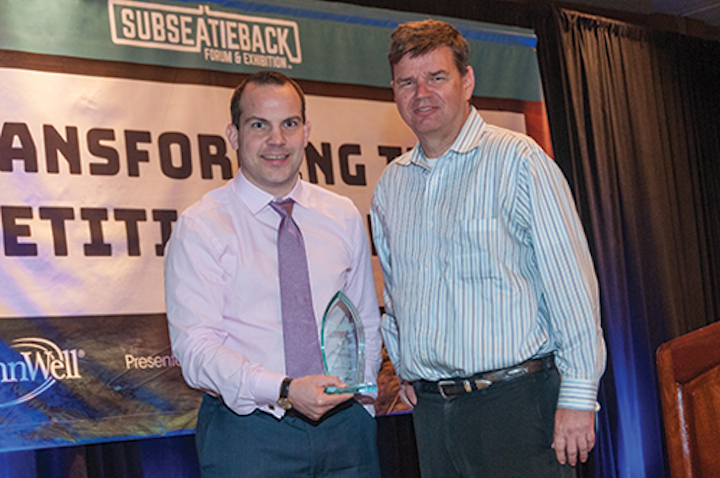 Subsea Tieback Forum & Exhibition
The 18th annual Subsea Tieback Forum & Exhibition attracted more than 1,600 attendees and 98 exhibitors. The event took place March 13-15, 2018, in Galveston, Texas, at the Moody Gardens Hotel & Convention Center. "Transforming the Competitive Landscape" was this year's event theme. Tyler Visco, Riser & Flowline Engineer; ExxonMobil, and presenter of "Guyana Liza Phase 1 – A Challenging Lazy Wave Riser Design in Frontier Waters" received the best presentation award. Bryan Arciero, Process Engineer; Murphy E&P Company, USA won the best presenter award for his presentation, "Hurry Up & Wait: Executing Successful Hydrate Remediation Projects and Effective Mitigation of Hydrate Formation in Subsea Flowlines."
The event is scheduled for March 5-7, 2019, at the Henry B. Gonzalez Convention Center in San Antonio, Texas. It will be hosted by Shell.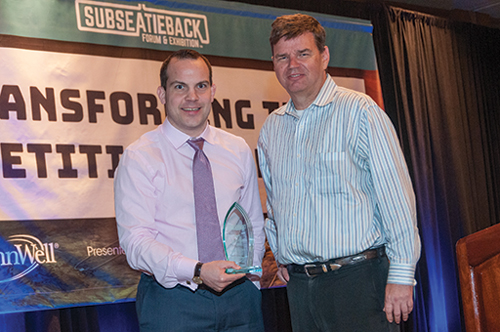 The 2018 Subsea Tieback Forum Advisory Board Chairman Jon Sonka, ExxonMobil with best presenter award winner Bryan Arciero of Murphy E&P Company, USA.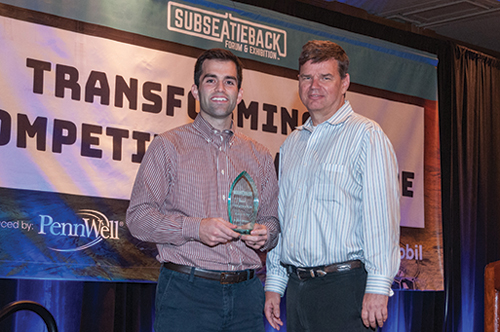 Advisory Board Chairman Jon Sonka with best presentation award winner Tyler Visco of ExxonMobil.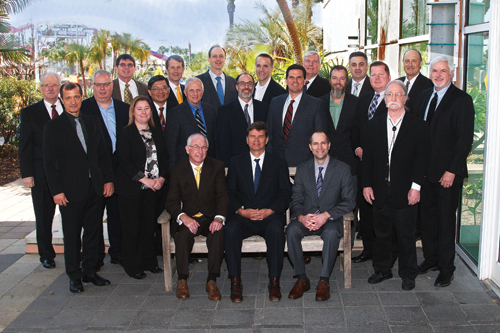 Sitting from left to right: Jim Macklin, InterMoor; Advisory Board Chairman Jon Sonka, ExxonMobil; Conference Director David Paganie, Offshore Front row standing from left to right: Antonio Critsinelis, Chevron Energy Technology Co; Lisa Winfrey, Baker Hughes, a GE Company; Mason Wu, DMAR Engineering; Bruce Crager, Endeavor Management; James Wiseman, Noble Energy; Eric Hevle, Ecopetrol America; Chris Egan, TechnipFMC; John Smiley, Shell; Chuck Horn, NanoRidge Materials; Mark Carter, OneSubsea Back row standing from left to right: Bob Carter, Vaela Resources; Ian Ramsay, Murphy Oil Corporation; Jon Fitzgerald, Universal Subsea; Mark Zitterich, Hess Corporation; Mike Ellis, Oceaneering International; George Zener, BP; Randy Seehausen, INTECSEA; Eric Stutes, Anadarko Petroleum Corporation; Karl Schnakenburg, BHP Not pictured: Pete Stracke, Equinor; Christopher Curran, CJC Enterprises; Jay Hursh, Aker Solutions
People
Scott Gutterman, president and CEO of LLOG, has announced his intension to retire on Sept. 1.
Nexans has appointedChristopher Guérin as CEO.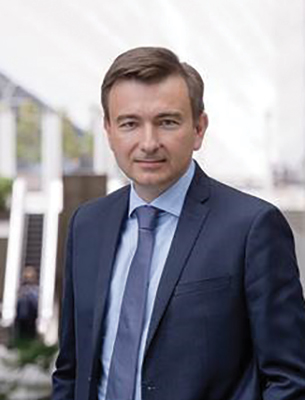 Guerin
McDermott International Inc. has appointedSamik Mukherjee as executive vice president and COO.
Mukherjee
Decom North Sea has appointedJohn Warrender as chief executive.

Warrender
Diamond Offshore Drilling Inc. has appointedScott Kornblau as senior vice president and CFO.
Aker BP has appointedEvy Glørstad-Clark as senior vice president Exploration and will be part of the Executive Management Team.
Clark
DEA Deutsche Erdoel AG has namedSameh Sabry as general manager of DEA Egypt.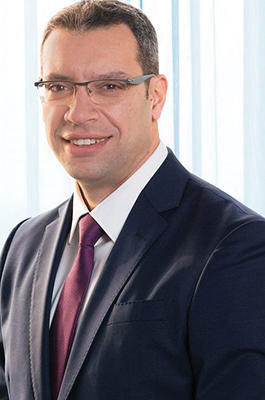 Sabry
Astrid de Bréon has resigned as CFO of Bourbon Corp.
DNV GL has appointedNeil Jamieson Fraser as its new head of Noble Denton marine services in the UK and West Africa. The role will focus on marine warranty, marine advisory/assurance, technical assurance, and advanced engineering services.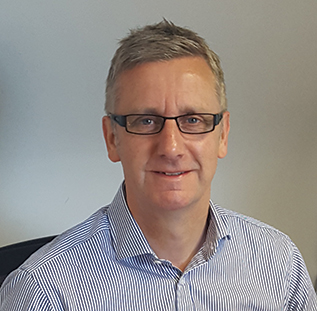 Fraser
Wood has namedDarren Martinas chief technology officer.
Dr. Tao Zhao has joined Xodus Group as advanced engineering lead.
TETRA Technologies Inc. has appointedGina A. Luna as a member of the board of directors. She will serve as an independent director and a member of the audit and the nominating and corporate governance committees of the board.
Cooper Energy has appointedElizabeth Donaghey as a non-executive director.
Texo Group has appointedRobert Dalziel as Group managing director and Garry Kennie as engineering director, Texo Engineering.
Tim Tarpley has joined the Petroleum Equipment & Services Association as vice president Government Affairs.
The International Marine Contractors Association has appointedAlan Melia as technical adviser – Diving.
Hardide Coatings has appointedMark Hanania as business development engineer based in Houston.
Kevin Giles has joined READ Cased Hole Ltd. as sales and marketing director.
Deep Casing Tools has appointedNeil Hathaway as Middle East region manager.
PJ Valves has hiredNeil Kirkbride as non-executive director.
The National Ocean Industries Association has promotedTim Charters to vice president of Governmental and Political Affairs.
Jeffrey A. Joerres has joined the ConocoPhillips board of directors.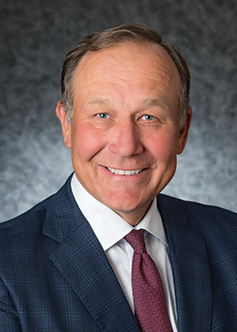 Joerres
Tom Leeson has joined HydraWell as chief commercial officer.
Kreuz Subsea has appointedThomas Liew as CFO and Jerry Starling as director of diving and ROV operations.
Liew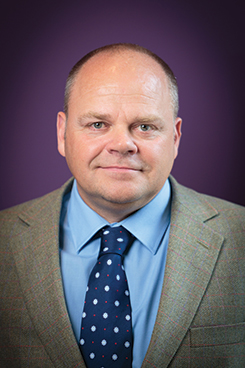 Starling
BMT has appointedRichard Westgarth as head of campaigns.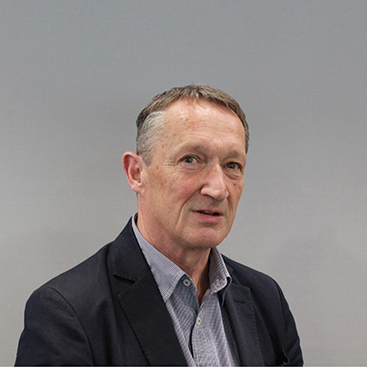 Westgarth
Dräger Safety UK has hiredKelly Murray as general manager of its North Sea operations base in Aberdeen.
Murray
Hans Van Peet has joined N-Sea as survey authority.
Peet
Danos has appointed two executive team members to new roles:Reed Peré will serve as vice president of business development, sales and marketing, and James Callahan as the vice president of operations.
Pere
Callahan
BCCK Holding Co. has hiredBob Swann as director of project management and controls.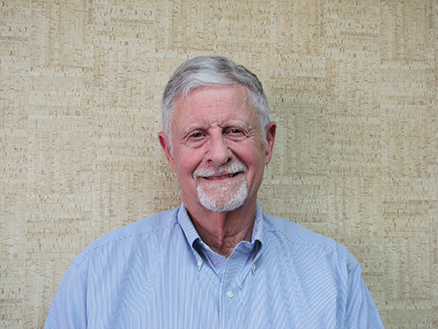 Swann
Company News
TheTidewater Inc. and GulfMark Offshore Inc. boards of directors have unanimously approved a definitive agreement to combine the two companies in an all-stock transaction. The combined company will operate under the Tidewater brand and will be led by Tidewater CEO John Rynd. Upon the closing of the combination, the Tidewater board of directors will be expanded to 10 seats by adding three directors selected by GulfMark. The transaction is expected to close in 4Q 2018, subject to customary closing conditions, including stockholder approval of the merger (by GulfMark's stockholders) and of the share issuance (by Tidewater's stockholders).
Total has completed its acquisition of Engie's upstream LNG assets for $1.5 billion. These include two floating storage and regasification units.
Rolls-Royce has agreed to sell its Commercial Marine business to Kongsberg for an enterprise value of £500 million ($661 million). This follows a review of the division's operations in January. Commercial Marine, which has around 3,600 employees, had an operating loss last year of £70 million ($92.6 million). The sale includes propulsion, deck machinery, automation and control, a service network across more than 30 countries and ship design capability. To date the division has worked on around 1,000 ships of Rolls-Royce design to sectors including offshore. Rolls-Royce's Ship Intelligence activities, which develop technologies to enable remote and autonomous operation of commercial vessels, is also included. Via a trading arrangement, Kongsberg will retain access to diesel and gas medium-engines from Bergen Engines, which remains part of Rolls-Royce Power Systems.
Petrobras has awarded TechnipFMC a three-year master (subsea) services agreement for projects offshore Brazil. This covers components for subsea equipment and flexible pipelines. The scope of work includes maintenance services, technical assistance, inspection and end-fitting re-termination of flexible pipes and umbilicals, installation support and engineering analysis of operations and installation conditions
Aker Solutions has secured a three-year contract extension, with two one-year options, from Perenco UK to continue operations and maintenance services on its southern North Sea assets. The three-year contract extension, effective through to 2021, will see Aker Solutions continue to provide core crew operations, maintenance and craft construction personnel, as well as electrical, instrument and production technicians.
Holding OOS International Group (OOS International) is teaming up with Forship Engenharia to jointly pursue offshore maintenance projects, mainly in the Brazilian region. The companies plan to provide a turnkey service combining OOS' heavy-lift/floatel units with Forship's FPSO maintenance offering. They have already identified a cooperation project and have submitted a joint bid.
AFG Holdings Inc. has commenced an initial public offering of 18,200,000 shares of its common stock at an anticipated initial offering price between $15.00 and $18.00 per share pursuant to a registration statement on Form S-1 filed with the US Securities and Exchange Commission.
Eni and private equity investor HitecVision have agreed to merge Point Resources with Eni Norge, and will rename the company Vår Energi AS. The portfolio of the combined group will have a wide geographical coverage from the Barents Sea to the Norwegian North Sea, with reserves and resources totalling more than 1,250 MMboe.
The 50:50 decommissioning joint venture betweenMaersk Drilling and Maersk Supply Service has been named Maersk Decom. Established in April 2018, the company offers bundled solutions for up to 80% of the decommissioning process including project management, plug and abandonment of wells, towage of floating units and removal of subsea infrastructure. Long term, it plans to provide the full end-to-end process of decommissioning.
FairfieldNodal has changed its name to Fairfield Geotechnologies (Fairfield Geo). The name change is said to reflect its strategy and continuing evolution as a provider of life-of-field technology, data and solutions. Also, the company has reached an agreement with a geophysical services company for the purchase of an additional 3000 Z100 nodes. Fairfield Geotechnologies and Ikon Science have formally signed a joint venture agreement to offer complete geoprediction services to the oil and gas industry in North America. The joint venture leverages Ikon Science's geoprediction technology, which includes innovative workflows for unconventional and conventional reservoirs and RokDoc Ji-Fi inversion software, with Fairfield Geotechnologies' seismic acquisition, processing, and multi-client data library. Together, the two companies will be able to offer their clients customized, high-quality geotechnical solutions designed for comprehensive reservoir characterization.
Danos' construction service line has reached 1 million man-hours without a recordable incident as classified by the Occupational Safety and Health Administration.
CORTEC and Louisiana Economic Development have announced a $2.5-million expansion of CORTEC's industrial coatings facility in Port Allen, Louisiana. The expansion is expected to be completed in 2Q 2019.
Kosmos Energy Ghana HC has successfully challenged Tullow Oil's claim related to expenditures arising from termination of a drilling contract for Seadrill's semisubmersible West Leo. The tribunal's Final Award in the arbitration was delivered by the International Chamber of Commerce on July 17, 2018. It means that Kosmos will not have to fund its portion of Tullow's liability to Seadrill, estimated by Tullow at around $50.8 million, and Tullow will also have to reimburse Kosmos for around $14 million plus interest, related to amounts previously paid under protest, rig mobilization costs, and legal costs and fees for pursuing the arbitration.