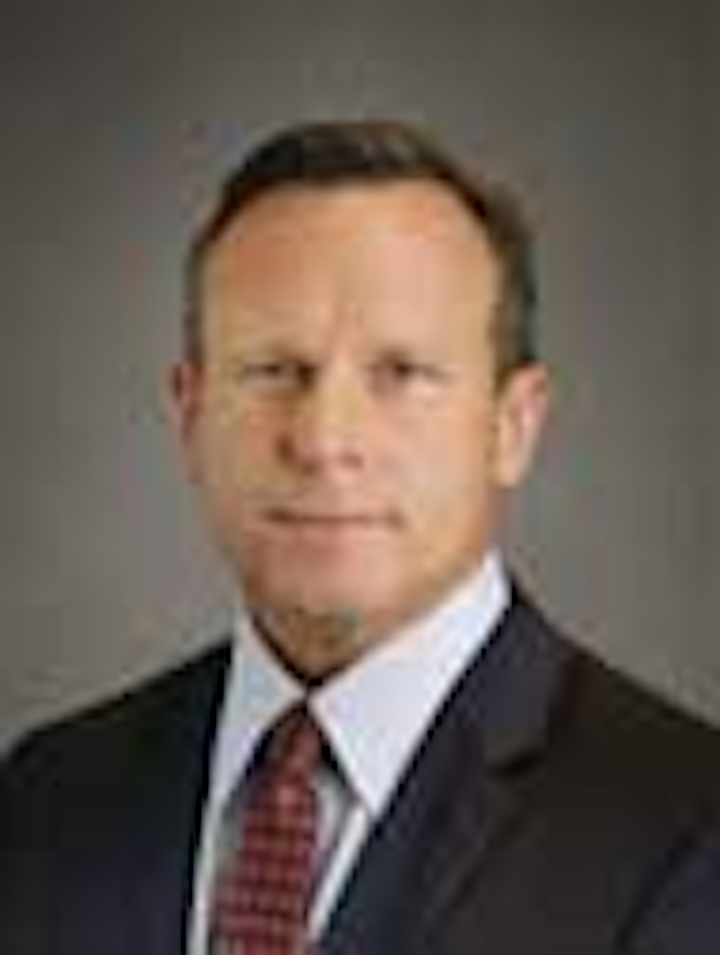 Clarence P. Cazalot Jr. chairman, president, and CEO of Marathon Oil Corp. has elected to retire on Dec. 31, 2013, after almost 14 years leading the company and 41 years in the oil and gas industry. The Marathon Oil board of directors has elected Lee M. Tillman to the board of directors and to succeed Cazalot as president and CEO effective Aug. 1.
Encana has appointedDoug Suttles as president and CEO, and as a director of the company.
Suttles
Encana has appointedDoug Suttles as president and CEO, and as a director of the company.
Hugo Sandal has been appointed managing director of RWE Dea Norge.
Cairn Energy has appointedIan Tyler as an independent non-executive director.
George Canjar has replaced Philip Loader as non-executive chairman of Chariot Oil & Gas Ltd. Matthew Taylor has been appointed to the board as technical director.
Gulfstream Services Inc. has appointedFred Bailey as operations manager at the Sealy, Texas, facility.
Hoover Container Solutions has promotedArash Hassanian to vice president of international sales.
BMT Scientific Marine Services has hiredPhil Hart as vice president of operations, and has promoted Jeffrey Lewis to vice president of client support operations.
Hart
GDF SUEZ E&P UK has appointedRob Buchan as Aberdeen general manager. He succeeds Mike Robertson, who is relocating to Norway as head of assets at GDF SUEZ E&P Norge.
Buchan
David D. Dunlap, president and CEO of Superior Energy Services, was honored as the 2013 Transformational CEO at the recent Ernst & Young Entrepreneur of the Year Awards Gala for the Gulf Coast Area.
David Smith has joined SOR Inc. as Gulf Coast regional sales manager. Tom Geissler has joined the company as western regional sales manager.
Ron Milam has joined Industribrand as senior account manager.
Milam
Newfield Exploration has appointedSteven W. Nance and John W. Schanck to its board of directors.
Steve Wayman, CEO of Wood Group Kenny, has been elected president of the Pipeline Industries Guild.
Devin International has promotedJ.H. (Trey) Miller III as US sales manager.
Miller III
Chris Higgins has joined CETCO Oilfield Services as projects engineering manager.
Altor Risk Group has promotedMatthew Wardner to UK/Europe business unit leader and Rona Young to group head of business development.
David Howe has joined Bibby Remote Intervention Ltd. as project director and Robin Longstaff has joined as survey manager.
ASD Global has appointedSonali Singh as president and Robert Glasier as vice president of strategy and business development.
Claxton Engineering Services Ltd. has appointedGerry Miller as vice president of sales, marketing, and commercial.
Park Brown International has appointedJoy Brown as managing partner of the Houston base and will take a lead role in the international development of the company.
Brown
Donizeti Carneiro has joined Tesla Offshore as area manager for South America.
Ashtead Technology has hiredTim Sheehan as commercial director.
Ian Marchant has been appointed president of the Energy Institute.
Greene's Energy Group has promotedMark Yuille to CFO of the testing and services business unit.
Chris Finlayson and Ellis Armstrong have been appointed as non-executive directors on the board of Lloyd's Register Group Ltd.
Senergy has appointedIan Williamson and Dave Reed to the respective vice president roles in contracts and commercial, and business efficiency.
Pellerin Energy Group has namedEdward Godeaux as general manager of its water solutions business unit.
Godeaux
Zahid Yoosufani has assumed the role of director and unit leader for the Petroleum Extension Service at the University of Texas at Austin.
Tube Tech International has appointedJohn M. Webb as business development manager.
Swift Worldwide Resources has promotedKyli Perez to regional manager - Gulf of Mexico.
CSL has appointedSteve Rolfe as projects manager and will help in the development of the subsea projects division, Roddy Brown as business development and acquisition manager, and John Montague as resource manager.
Arnaud Surpas has been appointed executive vice president of global operations for Sercel, CGG's equipment division.
Company news
Vallourec has inaugurated a new Research Center that is scheduled to open in Rio de Janeiro by October. Located adjacent to Petrobras' CENPES research center, the facility will focus on presalt and the challenges of high pressure and temperature, and corrosion.
Halliburton has opened its new Technology Center at the Federal University of Rio de Janeiro Technology Park, in Ilha do Fundão, Rio de Janeiro, Brazil. The company says the center will collaborate with Brazil's universities and research groups to establish a global center of expertise for deepwater and mature fields. The 7,062-sq m (76,015-sq ft) technology center is located on three floors and includes specialized laboratories, a collaboration room, a testing area, and conference and training rooms.
Rosneft and ExxonMobil have signed the final agreements to establish a joint arctic research center in Russia. Formally the Arctic Research and Design Center for Continental Shelf Development, the center will provide the Rosneft and ExxonMobil joint ventures a full range of research, development, and technical services, with near-term focus on the Kara Sea.
Cameron and Schlumberger have received regulatory approval to complete the formation of the joint venture OneSubsea. Cameron and Schlumberger have 60/40 ownership, respectively, of the joint venture to manufacture and develop products, systems, and services for the subsea oil and gas market.
MacGregor has won from BOURBONan order for a 150-metric ton (165-ton) active heave-compensated subsea crane. This crane will be delivered in August 2014 for a Bourbon Evolution 800 multi-purpose support vessel under construction at Zhejiang Shipyard in China. MacGregor has also secured a contract that will see eight cranes fitted on board a new series of four compact semisubmersible offshore accommodation vessels for Marine Assets Corp. Each vessel, under construction at Fujian Mawei Shipbuilding Ltd. in China, will feature a 60-metric ton (66-ton) and a 12-metric (13-ton) offshore crane. Crane deliveries are scheduled to begin in August 2014 and finish by the end of February 2015.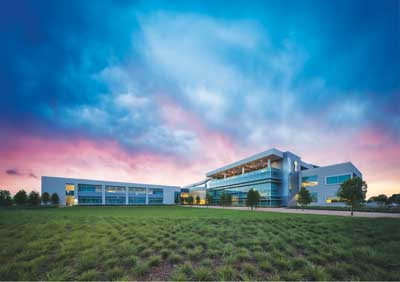 Newpark's new facility is located on 11 acres along Houston's I-10 Energy Corridor.
Newpark Drilling Fluids has opened its new world headquarters and laboratory facility in Katy, Texas.
DSL Singapore has completed the move from Jurong to its new facility in Loyang Offshore Supply Base on Loyang Crescent, Singapore.
Centrica Energy and Centrica Storage Ltd. have awarded CHC Helicopter a three-year contract for helicopter services in the North Sea. The $45-million contract has a two-year extension option.
Foster Wheeler has acquired Ingen Ideas, an upstream consultancy company based in Aberdeen, UK.
Hydrasun invested about £100,000 ($152,000) to install an eSmart Voice Control system in its warehouse to enhance productivity and aid customer service.
Proserv has acquired Perth, Australia-based subsea engineering firm Velocious.
Bosch Rexroth has opened its new Marine and Offshore Technology and Service Center in Houston.
IHS Inc. has acquired PFC Energy, a provider of information, insight, and analytical products and services for the oil and gas value chain.
Hertel Offshore has achieved ISO 29001 accreditation.
Omega Well Monitoring has opened a new repair and calibration center in Houston as part of a company-wide investment to support growth in the Americas.
Park Brown International has opened a new office in Houston.
Crane Worldwide Logistics has opened an office in Pemba, Mozambique.
TheAlcumus Group has opened a new office in Aberdeen.
ETAP has opened a new regional office in Houston.
ABS Quality Evaluations has obtained provisional accreditation status from the Center for Offshore Safety.
Seatronics Pte Ltd. has moved its Singapore operations to a facility with triple the capacity of its previous spot, within the recently upgraded Toll Offshore Supply Base. The new location offers about 1,000 sq m (10,764 sq ft) of specialist engineering and electronic preparation workshops and warehousing. The new facility includes a cable moulding operation, hydraulic test facilities, CTD and sound velocity calibration equipment, as well as a training room.
Dresser-Rand has reached an agreement with Honeywell to combine Dresser-Rand centrifugal compressor knowledge and experience with the Honeywell Experion process knowledge system. Under the agreement, Dresser-Rand will embed its proprietary anti-surge control and load sharing programs into the Honeywell Experion C300-20 controller. It will also allow Dresser-Rand to design and manufacture turbomachinery control systems using the C300-20 controller.
Delta Rigging & Tools has acquired Morgan City Rentals, a provider of offshore rental equipment and rigging supply in the Gulf of Mexico. The company has also standardized its sales hiring across multiple offices with a job candidate assessment tool from Rise Performance Group. The Rise sales assessment tool measures how well a person fits specific sales jobs in a company.
3sun Group has opened an office in Esbjerg, Denmark.
Ikon Science has acquired geomechanics software and services company JRS Petroleum Research.
Solomon Associates has opened a new office in the Kingdom of Bahrain.
Sercel-GRC has reintroduced the AMERADA brand for permanently installed electronic downhole monitoring systems.
Large Diameter Drilling (LDD) has launched LM Handling, a new business unit that has been established as a joint venture between Acteon companies LDD and MENCK. LM Handling offers global coverage in the field of offshore lifting and handling equipment and services on a sales and rental basis.
The following Robbins & Myers businesses are now part of theNOV Mono business: Springfield, Ohio-based Moyno Inc., Dayton, Ohio-based Chemineer Inc., and Claremore, Oklahoma.-based Tarby Inc.
Dron & Dickson has opened an office in Rio de Janeiro. Dron & Dickson Servicos de Equipamentos Electricos Ltda is the company's first registered office in South America.
Reamco Inc. was presented with the President's "E" Award for Exports by US Acting Secretary of Commerce Rebecca Blank at a ceremony on May 20, 2013, in Washington, D.C. The "E" Awards are the highest recognition any US entity may receive for making a significant contribution to the expansion of US exports.
Acteon has opened a new offshore marine center in the Tuas industrial area of Singapore.
Bureau Veritas Certification has received provisional accreditation as an official Safety and Environmental Management Systems audit service provider for the Center for Offshore Safety.
Shell Global Solutions International BV has awarded Tyco an enterprise framework agreement for fire protection products, engineered systems, and lifecycle services in the Americas, Asia, and Australia/New Zealand. The agreement includes making Tyco's Williams Hazard and Response services available to Shell.
BP has contracted Maritime Assurance and Consulting to provide marine services in support of its UK offshore operations. The three-year agreement covers provision of vessel assurance, engineering, marine and HSSE consultancy, and offshore personnel.
GE plans to expand its Batam manufacturing facility with a high bay for construction of a new line of subsea wellhead equipment. The production of vertical subsea trees will be a first for the company in the Asia/Pacific region.
Intertek has opened a new energy exploration and production center in Kuala Lumpur, Malaysia.
PTTEP has awarded Bond Helicopters Australia Pty Ltd. a five-year contract to provide three Eurocopter EC225 helicopters to support PTTEP's operations in the Timor Sea. Flight operations are scheduled to begin in November from Mungalalu-Truscott, Western Australia.
Strainstall has opened a mooring production facility in Bembridge, Isle of Wight.
EnerMech has established a new 50,000-sq ft (4,645-sq m) workshop, office, and storage facility near Houston's Energy Corridor and spent $14 million on new process, pipeline and umbilical equipment, and in opening a base in Villahermosa, Mexico.
DSL has achieved API accreditation for its derrick inspectors training course and associated exam, in accordance with API 4G and 4F. This is the first recognized training course for derrick inspectors in the industry.
Ameriforge Group Inc. has changed its name to AFGlobal Corp.
Quickflange has appointed INTEGRA Services Technologies as a local North American partner for nominated customers. The partnership will provide a local support and manufacturing base to selected Gulf of Mexico-based operators with the storing, maintaining, and deployment of the full range of topside Quickflange pipe connection solutions.