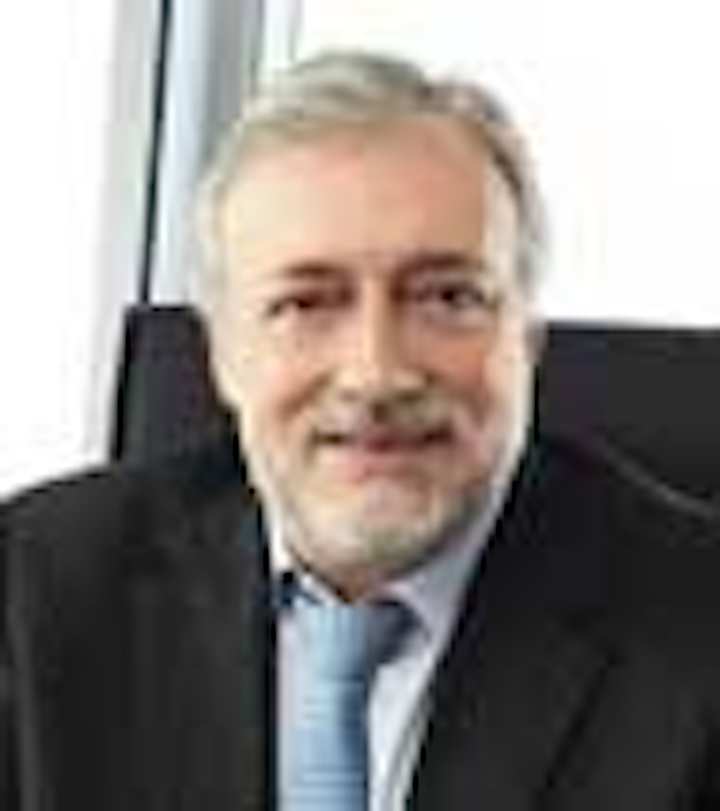 Baker Hughes has namedDavid Gallagher vice president, production enhancement. He will lead the global stimulation strategy for the Pressure Pumping business. Archana Deskus has joined the company as chief information officer.
Secretary of the InteriorKen Salazar has announced that he intends to leave the department by the end of March.
Andrew L. Cochran has joined Coastal Energy as an executive director and will be based in London.
Samsung Engineering has appointedMichel Lainé as COO of its newly established offshore division.
Laine
Randall K. Eresman has retired as president and CEO of Encana Corp. Clayton H. Woitas has been appointed interim president and CEO.
Chevron Corp. has appointedMaria Lindenberg as chief procurement officer. She succeeds Leo Lonergan, who has retired from the company after 36 years of service.
Greene's Energy Group has appointedBrad Farnsworth as CFO, and Maury Dumba as senior vice president of business development.
Dumba
Farnsworth
Noreco has appointedJohn Bogen as COO and vice president HSE. He succeeds Ellen Sandra Bratland.
Jim Martin has joined RSI as COO. He has more than 30 years in the upstream geology and geophysics sector, with commercial experience in seismic data acquisition, processing, software and multi-client business models.
EPC Offshore has appointedJonathan White as head of business development.
White
MacArtney Inc. has appointedScott Allen as items sales manager. He will head the SubConn support team.
Songa Offshore SE has appointedArnaud Bobillier and Steven James McTiernan as independent directors.
ENGTEQ has namedInnes Walker as commercial director, Grant Wallace as business development director, Adam Byrne as operations director, and Simon Hurst as engineering director.
Hurst, Walker, Byrne, Wallace
Chris Edens has joined Offshore Design Engineering Ltd. as senior projects manager.
SIGMA3 Integrated Reservoir Solutions has appointedJohn Ughetta as executive vice president of sales and business development. He will be responsible for directing the company's global sales initiatives, operations, and resources.
Ughetta
Ambrey Risk has namedMick Clifford as full-time training director.
Nessco Group has appointed Phil Goodall as business development manager for MetOcean, the company's offshore weather monitoring business.
Timothy J. Nedwed, Ph.D., has received the Edith and Peter O'Donnell Award for Technology Innovation for his work in the development of offshore oil spill response technologies. Nedwed leads the oil spill response research program for ExxonMobil Upstream Research Co. in Houston. He conducts research to develop new oil spill response technologies and to study oil spill fate and effects. His primary areas of focus are in situ burning, dispersants, and remote detection.
ITF has namedPatrick O'Brien as CEO and will officially begin April 1. He is a recognized expert in subsea riser mechanics, riser design, and flexible pipe technology.
O'Brien
Majed Abu-Lawi has joined Camco Libya as general manager.
Abu-Lawi
Mentor IMC Group has appointedSimon Bonini as group managing director.
UniversalPegasus International has namedTerry Mienie as business development director UK and international. He will be responsible for the development of the company's subsea market in the UK with a focus on the North Sea.
Mienie
Morningstar has namedMerrill A. Miller Jr., CEO of National Oilwell Varco, as its 2012 CEO of the Year.
John Fletcher has been elected vice president of the Institute of Corrosion. He will serve for two years and then become president elect.
Fletcher
Matt Yacavone has joined Crowley Maritime Corp. as vice president of sales and chartering for the petroleum services team.
Bill Hart Jr. has joined Mayer Brown as a partner in the banking and finance practice.
RWE Dea AG has namedDirk Warzecha as COO.
PIDX International has appointedChristopher H. Carter as CEO.
Helge Eide has stepped down as managing director of DNO International ASA. Bjørn Dale has been appointed acting managing director.
Chris Charman has joined International Marine Contractors Association as CEO.
Dryad Maritime Intelligence has appointedDavid Hunkin as commercial director.
Robin Clarkson has been named a partner at Burness Paull & Williamsons LLP.
Clarkson
Anindya Ray has joined FairfieldNodal systems sales division as the regional sales manager for South and West Asia, and the southern countries of the former Soviet Union.
Company News
RPS has acquired Petroleum Institute for Continuing Education, a Canadian-based business that provides geoscience and engineering training to the oil and gas industry.
GEDA USA's Helideck Transport Platform is the first helideck transport system to be certified by the DNV.
Italian classification societyRINA Group will support development of Tasneef. The aim of the new partnership is to develop Tasneef as an international classification society capable of meeting the technical and classification needs of the United Arab Emirates' maritime industry, the UAE flag, and international commercial shipping.
Aker Offshore Partner has won a five-year frame agreement to work on Talisman Sinopec Energy UK's brownfield projects in the North Sea.
Raytheon Anschütz has launched a containerized version of its SMARTBLUE surveillance system. The container solution is a customizable and ready-to-deploy surveillance system complete with radar, AIS, and a long-range surveillance camera on a buy or rental basis for offshore asset protection.
Trelleborg Marine Systems has acquired Sea Systems Technology Ltd.
Nexen Petroleum UK has awarded Dron & Dickson a five-year contract to perform electrical maintenance on the Buzzard and Scott platforms in the UK central North Sea. A 16-strong team will handle the program, including CompEx qualified electrical technicians, and a rope access team.
Bredero Shaw has introduced a packaged combination of products, expertise, infrastructure, and services to cover each stage of an offshore pipeline coating project, from concept to commissioning.
Maersk Oil UK has contracted Intertek to provide offshore chemists in the North Sea and related onshore laboratory analysis. Services will range from sample gathering and testing to monitoring process systems and chemical injection.
Chemical Flooding Technologies has acquired Tracer Technologies International. The acquisition transfers TTI's oilfield tracer testing services for waterflood optimization and enhanced oil recovery developments to CFT's laboratories in Tulsa, Oklahoma.
Drilling Technological Innovations has received ISO 9001:2008 certification for the design, development, manufacture, and assembly of motion compensation systems, to include riser tensioner systems for the offshore oil and gas industry.
Vallourec's Brazilian subsidiaryV & M do BRASIL and Petrobras have signed a five-year contract to supply Petrobras' operations with premium OCTG products, including seamless pipes, steel grades, and connections using state-of-the art technology.
Unique System FZE has launched a new division - On Site Machine Rental in the UAE.
Shell has relaunched its Technology Center Houston following an upgrade and expansion. The center, the largest of the company's three technology hubs, has more than 1 million sq ft (92,903 sq m) of space and some 2,000 personnel.
Private equity investment firmArcLight Capital Partners has formed North Sea Midstream Partners. The new company targets ownership and commercial development of large-scale midstream oil and gas infrastructure assets in and around the North Sea.
EXP Engineering International has been established to offer offshore engineering, project, and construction management services.
Newpark Resources has acquired Alliance Drilling Fluids, a provider of drilling fluids, proppants, and related services headquartered in Midland, Texas.
Momentum Engineering has achieved ISO 14001:2004 and OHSAS 18001:2007 certification in relation to environmental, health, and safety management systems.
Aquaterra Energy has acquired the business and assets of Hyco Ltd., a hydraulic control system supplier.
CSA International Inc. has changed its name to CSA Ocean Sciences Inc.
Under a three-year global framework agreement,Allseas has contracted Exova to provide coatings testing and consultancy services, immersion ultrasonic testing, mechanical and failure testing, plus other services to be added as required.
Noreco Norway AS has become owner of all the group's licenses on the Norwegian continental shelf, and the Norwegian Energy Co. ASA has discontinued its direct petroleum activities.
NCS Survey, an Acteon company, has opened a second office block at its headquarters in Aberdeen, UK, and new offices in Rio de Janeiro, and Stavanger, Norway.
McDermott International and TH Heavy Engineering Berhad have entered into a joint venture - McDermott Sdn Bhd and TH Fabricators Sdn Bhd - to provide marine construction services such as engineering, procurement, construction, installation, and commissioning solutions to the Malaysian and Asia/Pacific offshore oil and gas industry.
Fendercare Marine has launched a new division, Fendercare Marine Equipment and Lifting Services, which is located at its Great Yarmouth base.
T.D. Williamson has opened its first Seoul, Korea, office.
Proserv has acquired Total Instrumentation & Controls, which specializes in advanced process and control systems equipment.
Churchill Drilling Tools has invested £2.5 million ($4 million) in units adjacent to its existing Crombie Road premises in Aberdeen to create a 1.65-acre site, which will be upgraded over the next three to four years. The refurbishments will include research and development facilities, increased capacity for new product assembly and service lines, and offices.
Damen Shipyards Group has acquired French ship repair yard Arno Dunkerque.
Aker Solutions has acquired Separation Specialists Inc., a California-based provider of produced water de-oiling products and field services. The company's product range includes mechanically induced gas flotation, nutshell filters/walnut shell filters, ASME tank fabrication and repair, and gravity separation equipment. Aker Solutions has also acquired St. John's, Newfoundland and Labrador-based AKCS Offshore Partner.
Fincantieri has agreed to acquire 50.75% in the STX OSV shipyard group from STX Europe. Assuming the deal closes in 2013, Finacantieri will have interest in 21 shipyards across three continents, nearly 20,000 employees, and revenues of €4 billion ($5.3 billion), which will double its present size.
ConocoPhillips has agreed to sell its Nigerian business unit for $1.79 billion plus customary adjustments. The transaction is anticipated to close by mid-2013. The sale to Oando PLC includes two offshore properties consisting of 95% operated interest in OML 131 (Chota field) and 20% non-operated interest in OPL 214 (Uge field). Onshore, the sale involved a power plant and Brass LNG project.
T.D. Williamson has opened its new 144,000-sq ft Global Pipeline Integrity Center in Salt Lake City, Utah.
Reef Subsea has secured a new regional headquarters in Aberdeen, Scotland. The company has moved its three main activity bases into the new premises called Reef Subsea House.
Eni and PetroVietnam have signed a memorandum of understanding for the development of business opportunities in Vietnam and abroad.
CSnet International has reached a service level agreement with Radius Oceanic Communications Inc. to connect its offshore communications backbone to the POSEIDON system. As an anchor tenant on POSEIDON, CSnet will be able to provide secure, low-latency broadband oceanographic, seismic, and metocean data.