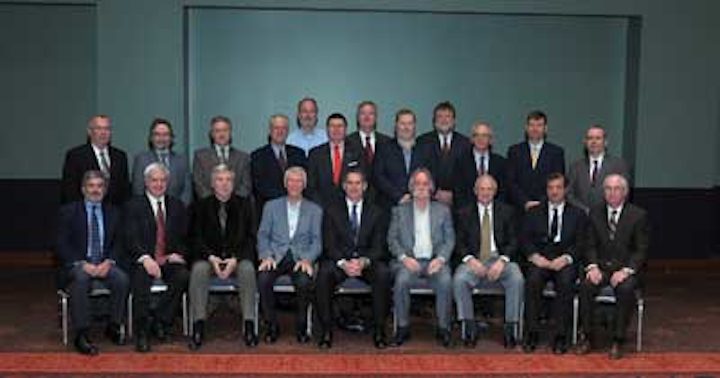 Marius Kloppers will retire as CEO and a director of BHP Billiton on May 10, and will retire from the group on Oct. 1, 2013. Andrew Mackenzie has been named his successor.
Rialto Energy has appointedRobert Shepherd as managing director, and Andrew Bartlett as chairman of the board.
Black Elk Energy Offshore Operations has appointedMarizza Piché as its first general counsel.
Lloyd Hajdik has resigned as chief accounting officer of Helix Energy Solutions Group. He is succeeded by Marty Hall.
Charles Durr has joined Wood Group Mustang as vice president - LNG.
Randy Johns has joined FairfieldNodal as the director of new ventures.
HB Rentals has promotedJohn Nagel to vice president of product development.
IMV Projects, a Wood Group Mustang company, has appointedSandra Hall as vice president, business development and strategy.
SIGMA3 Integrated Reservoir Solutions Inc. has appointedTodd Deering as director of software quality.
Troy Coker has joined American Electric Technologies as director of sales for the upstream oil and gas market.
Atkins has appointedKim Weninger as operations director of its US oil and gas division.
TAM International has appointedMike Machowski as COO of the company's international operations, and Francisco Suarez as vice president of the Western Hemisphere.
Xodus Group has appointedAlistair Porter as operations director for London to drive forward business across the company's technical and commercial activities.
Dana Petroleum has appointedReidar Hustoft as managing director for its Norwegian activities.
The International Association of Drilling Contractors has presentedMike Hoyle of GL Noble Denton with its Exemplary Service Award in recognition for his contribution to new ISO Standards for the site-specific assessment of mobile offshore units.
STATS Group has hiredCarl-Petter Halvorsen as business development director, and has appointed Dave Shand as COO.
Superior Performance Inc. has promotedBenjamin Roth to sales representative.
Seatronics Ltd., an Acteon company, has appointedAdil Ali as international product sales manager.
Devin International has namedBuck Evans as special operations coordinator.
Flexlife has appointedAndy Lake as director - flexible pipe technology.
Greene's Energy Group has namedRichard Ramos regional operations manager, Gene Garber chief integration officer, and Jaret Garber financial manager of testing and services.
Martin Morrison has joined UniversalPegasus International as senior vice president of offshore operations.
Trond Christensen has resigned as COO of Songa Offshore SE.
PII Pipeline Solutions has namedJohn Collis sales manager for Australia and New Zealand.
Enterprise Products Holding has electedRanda Duncan Williams as non-executive chairman of the board.
Chris Usher has joined ION Geophysical as executive vice president and COO of its geoscience division. Mike Mellen has been promoted to vice president of ION's GX Technology business unit, and Paul Farmer has been promoted to vice president, ION Innovation, a new company-wide geophysical R&D organization.
Ocean Installer has appointedOle Sanne as chief commercial officer, and Jim Dåtland as CFO.
Bjørnar Iversen has been named president of Songa Rig AS.
BG Group has appointedFabio Barbosa as chairman of BG South America.
Company news
CNOOC Ltd. has completed the $15.1-billion acquisition of Nexen Inc. The Calgary headquarters will continue to be responsible for managing all of Nexen's existing assets as well as CNOOC's North and Central American assets.
WorleyParsons has agreed to buy fabrication specialist Bergen Group Rosenberg for $190 million.
Aker Solutions has acquired Managed Pressure Operations International Ltd., a company that has developed the next generation of continuous circulation, riser gas handling, and managed pressure drilling systems. Aker also has confirmed that the transaction to buy a majority stake in Enovate Systems Ltd. has been closed.
Cameron has started operations of its centrifugal compression business at the Gaomi manufacturing and repair center in the Shandong province of China.
Woodside has contracted Asset Guardian Solutions Ltd. to provide programmable systems management for the critical software used across Woodside's operations.
Petrofac Training Services has launched Introduction to Oil & Gas, a new eLearning course that was developed by Oilennium.
Statoil has awarded AAK a global frame agreement for dropped objects prevention services. The company will provide inspection and survey services, and will train personnel in dropped objects inspection and observation techniques to prevent dropping objects at Statoil's oil installations. In addition, Statoil has signed a frame agreement with MAN Diesel & Turbo for the supply of turbomachinery equipment and services for five years with extension options.
In the 2012 Oilfield Products & Services Customer Satisfaction Survey,Ensco received the first place ranking for total customer satisfaction among offshore drillers. In the survey conducted by EnergyPoint Research, Ensco received top honors in 10 of 16 categories including job quality; performance and reliability; technology; special drilling applications; non-vertical wells and shelf wells. The company earned the top ranking among multinational customers and was rated first internationally overall and specifically in the North Sea.
SBM Offshore has awarded a global frame agreement to Dron & Dickson for electrical inspection and maintenance services. The agreement also allows the provision of additional services such as condition monitoring and traces heating maintenance.
Tenaris says that it will build its first U.S. seamless pipe mill in Bay City, Matagorda County, Texas. With an estimated investment of $1.5 billion, the new facility will have an annual production capacity of 600,000 tons of seamless pipe.
Cameron has been named global distributor for Napier turbocharger units and parts, as well as an authorized provider of services, unit exchanges, and emissions upgrades to operating Napier units.
Global Tubing opened a service center in Red Deer, Alberta, Canada. This facility will stock a range of coiled tubing inventory and provide specialty coiled tubing services, including spooling, welding, hydro-testing, preventative maintenance, asset management, repair, and wireline injection.
Iremis, Integrated Subsea Services and Andrews Survey have merged to form one group, Harkand, focused on the subsea inspection, repair, and maintenance market.
Glacier Energy Services has created offshore and engineering divisions. Glacier Offshore comprises the Roberts Pipeline Machining and Site Machining Services businesses, while Glacier Engineering is focused on its Wellclad business, which delivers weld-overlay, welding engineering services, and turnkey manufacturing for surface and subsea wellhead equipment.
Sodexo Remotes Sites has earned the ISO 9001:2008 Quality Management certification for provision of services of labor, catering, laundry, equipment, food, and supplies.
Mentor IMC Group has opened an office in Ulsan, Korea, with a further site to open in Geoge.
Wild Well Control Inc. has received ISO 9001:2008 Quality Management Systems certification.
Offshore equipment rental specialistFerguson Group has launched a new division - Ferguson Middle East LLC - in Abu Dhabi, UAE.
Logan International Inc. has opened its facilities on Cutten Road in Houston.
GE Oil & Gas has established a new technology and service center near Basra City, Iraq. In addition to being a base for the supply of pressure control equipment, the new center provides a range of services including installation and maintenance, testing, inspections, repair, and storage. Future services will include complete non-destructive testing, machine, welding and heat treatment, blasting and painting, and API certification and recertification.
Varel International has opened a state-of-the-art technology center and laboratory in Houston. The site, dedicated to the testing, characterization, and development of advanced materials for PDC and roller cone drill bits, utilizes the company's patents pending Acoustic Emissions Toughness Testing technology for PDC.
Jee Ltd. has opened its first office in London. The firm plans to create 150 jobs in the UK over the next four years, spread across its bases in London, Aberdeen, and Tonbridge.
Dryad Maritime has opened a new office development in Hastings, UK.
---
Subsea Tieback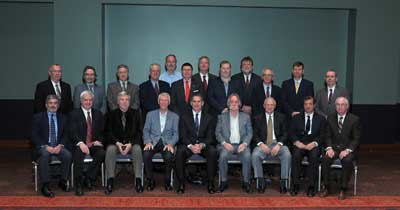 Members of the 2013 Subsea Tieback Forum Advisory Board in San Antonio.
The 2013 Subsea Tieback Forum attracted nearly 2,700 attendees and 214 exhibitors. Held March 5-7 in San Antonio, PennWell Corp. would like to express its gratitude to the 2013 Advisory Board for making this year's event a success: Don Beesley, Eni Petroleum; Barry Brasher, Anadarko Petroleum Corp.; Bob Carter, Vaela Resources; Mark Carter, Cameron; Richard Case, Granherne Inc.; Bruce Crager, Endeavor Management; Antonio Critsinelis, Chevron Energy Technology Co.; Christopher Curran, BP E&P; John Fitzgerald, Granherne; Steve Frantz, ERT GOM; Clyde Hewlett, Oceaneering International Inc.; Chuck Horn, Genesis; Jay Hursh, Aker Solutions; David LaCaze, Shell International E&P; Jim Macklin, InterMoor; Russell McCulley, Offshore Magazine; Sergio Porciuncula, Petrobras; Gene Raborn, Technip; Tony Ray, ConocoPhillips; Randy Seehausen, INTECSEA; Jon Sonka, ExxonMobil Development Co. (2014 chairman-elect); Pete Stracke, Statoil; Bobby Voss, GE Oil & Gas; Steve Whitaker, HESS Corp.; Michael Williams, FMC Technologies; Bob Writt, BHP Billiton (2013 chairman); and Mason Wu, McDermott Subsea Engineering.
Sergio Porciuncula of Petrobras America received the award for Best Presentation for his speech on the measures taken to resume production at the Cascade and Chinook development after problems were discovered in the FPSO's tether chain system.
Sergio Porciuncula was awarded Best Presentation.
Francisca Ogundele of Shell Brasil received the award for Best Presenter for her lecture on the challenges faced by the subsea field operations and surveillance tram at the BC-10 field offshore Brazil.
Francisca Ogundele was awarded Best Presenter.
The Subsea Tieback Forum will return to San Antonio's Henry B. Gonzalez Convention Center March 4-6, 2014.
---
Offshore Middle East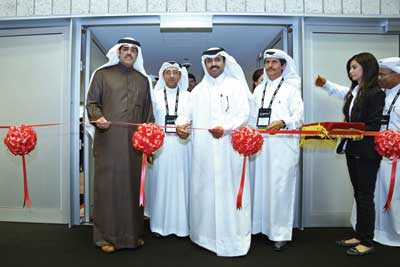 HE Dr. Mohammed bin Saleh Al-Sada, Minister of Energy & Industry of Qatar (middle) officially opened the exhibition at the Offshore Middle East Conference & Exhibition, Jan. 21-23, 2013, held at the Qatar National Convention Center in Doha, Qatar. Pictured to the left of HE is Nasir K. Al-Naimi, Vice President of Northern Area Oil Operations, Upstream, Saudi Aramco; and to his right is Mubarak A. Al-Hajri, Operations Manager - Offshore Fields, Qatar Petroleum and Advisory Board Chairman of OME 2013. The next edition of Offshore Middle East will be in January 2015, once again in Doha.
More Offshore Issue Articles
Offshore Articles Archives
View Oil and Gas Articles on PennEnergy.com