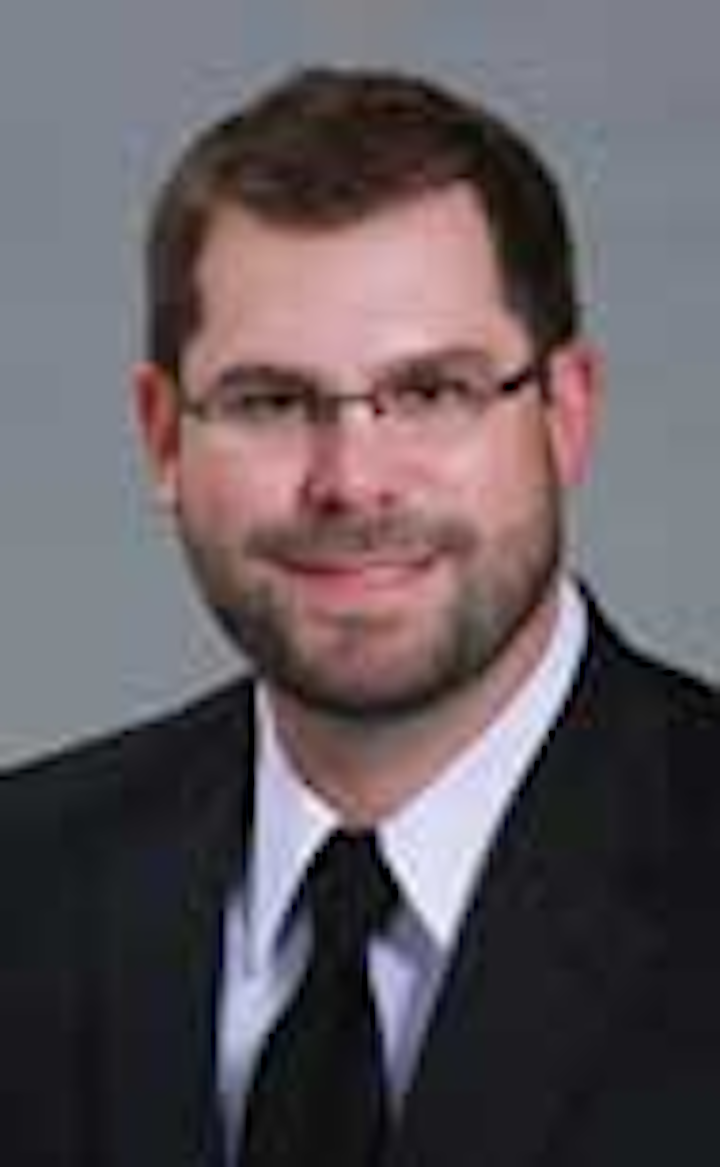 GE has appointedLorenzo Simonelli as president and CEO of GE Oil & Gas. He succeeds Dan Heintzelman, who has been appointed vice chairman of GE.
PA Resources has appointedMark McAllister as president and CEO.
Susan Carter has resigned as CFO and executive vice president of KBR.
Eric D'Argentre, Luke Farajallah, Martin Rune Pederson, Andy Samuel, and Doug Sedge have been appointed to the Oil & Gas UK board of directors.
GulfMark Offshore has electedSteven W. Kohlhagen and Charles K. Valutas to its board of directors.
Applied Weather Technology has appointedHaydn Jones as CEO.
Patrick Lagrange has joined Continental Shelf Investment Capital as managing director.
Roknoddin Javadi has been appointed managing director of National Iranian Oil Co. and deputy oil minister.
The board of directors of African Petroleum comprises:Charles Matthews, independent non-executive chairman; Karl Thompson, CEO and executive director; Mark Ashurst, CFO and executive director; Gibril Bangura, non-executive director; Jeffrey Couch, independent non-executive director; Gordon Grieve, independent non-executive director; David King, independent non-executive director; James Smith, independent non-executive director; and Anthony Wilson, independent non-executive director.
Niko Resources Ltd. has electedEdward Sampson, William Hornaday, Jim Cummings, Conrad Kathol, Wendell Robinson, Norman Louie, Murray Hesje, and Charles Leykum to the board of directors.
Lankhorst Ropes has appointedNeil Schulz as sales director deepwater mooring.
Dr. Mingqiu Luo has joined Geotrace Technologies Inc. as chief geophysicist and manager of the Imaging Group within Technology.
Occidental Petroleum has namedMarcia E. Backus vice president and general counsel.
John E. Murphy has been selected to lead Black & Veatch's global construction and procurement operations.
Oilgen has hiredLisa Casteleyn as a geologist.
DNB Bank has appointedVidar Andersen as head of Asia, based in Singapore, and Mats Wermelin as head of China, based in Shanghai.
AGR Enhanced Drilling has appointedSvein Egil Steen as vice president for Europe.
Jorunn Sætre has joined AGR to lead the Norway Rig Team and the company's Stavanger office.
Hess Corp. has namedEric Fishman vice president and treasurer.
Jay Bhattacherjee has joined Aminex as CEO, and Philip Thompson has joined as COO.
Paul C. Reinbolt has retired as executive vice president and CFO of Hyperdynamics Corp. He will remain with the company through Dec. 31, 2013.
The Penspen Group has appointedPeter O'Sullivan as CEO.
The Marathon Oil board of directors has electedJohn R. Sult as executive vice president and CFO.
Pacific Drilling has appointedRobert Schwed and Sami Iskander as independent directors.
Karen Penrose has been named an independent non-executive director of AWE Ltd.
Guardian has hiredPatrick Keenan as CEO.
AGR has appointedPetter Mathisen as vice president of its global Software Solutions team.
Greene's Energy Group has addedPierre Domingue to its training team and has promoted Dwayne Doucet to corporate HSE manager, and Steven Langlinais to global QHSE manager.
Domingue
Doucet
Langlinais
Mike Fraser has joined BHP Billiton's Group Management Committee as president, human resources.
Fine Tubes has appointed John Rooney as director of engineering and technology.
HB Rentals has namedJohn Trahan director of quality and supply chain.
Trahan
Erik Henriksen and Marika Svärdström have resigned from the board of directors of Noreco.
John Reed as joined Harkand as CEO.
Jason Tay has been named director of Faststream Recruitment Group.
The Ferguson Group has appointedDerek Penny as corporate development director.
NES Global Talent has appointedAndrew Carr as lead search consultant in Houston.
Company News
The competition authorities in South Korea, the US, the European Union, and China have cleared the merger betweenDNV and GL. The new company, DNV GL Group, will be the world's largest ship and offshore classification society to the maritime industry, a provider of technical assurance, and risk management services to the oil and gas industry.
Commander Drilling Technologies has been established to provide turnkey drilling and completion services in the Gulf of Mexico.
Nor-Ocean Offshore has opened its first office in Houston.
Fugro has agreed to acquire Abu Dhabi-based DCN Global LLC, a specialist in subsea engineering and diving services, mainly in the Middle East.
Private equity investorHitecVision has provided $150 million of backing for Oyster Petroleum, a new North Sea oil company headquartered in the London area.
Spike Exploration Holding has offered to acquire Oslo-based North Sea E&P independent Bridge Energy for $164 million.
Layne Christensen Co. has moved into its new, permanent corporate headquarters in The Woodlands, Texas.
Exova has unveiled its £3-million ($4.8-million) corrosion center in Dudley, West Midlands (UK).
PetroSA has become the first company to establish what it terms a "state-of-the-art" geoscience collaboration, visualization, and technology center in South Africa. The R15-million ($1.45-million) Ulwazi (Knowledge) Collaboration and Visualization Center presents seismic and geological data in detailed, 3D views of subsurface formations. All disciplines of PetroSA's upstream asset teams use the facility to assist exploration and development of oil and gas prospects.
Halliburton'sLandmark Software and Services has acquired UReason Solution Environment for real-time analytics. The USE software combined with Landmark's existing drilling software will enable operators to capture, process, and interpret high-speed data to help better understand the causes and effects of drilling system behaviors, and to allow real-time adjustments while drilling.
Tejas Tubular Products says it plans to construct a new facility in New Carlisle, Indiana. This facility will focus on the heat treatment and manufacturing of well casing for the oil and gas industry.
Delta Rigging & Tools has been named the exclusive Redaelli distributor for both onshore and offshore in the US Gulf of Mexico region.
Robert Gordon University (RGU) and Russian oilfield educational and engineering services company Oilteam have invested more than £1.2 million ($1.9 million) to train the next generation of Russia's offshore oil and gas professionals. Oilteam's Academy and RGU will deliver a master of science degree in offshore oil and gas engineering in Sochi.
TEAM Oil Tools has acquired Chancellor Oil Tool.
3sun Group has been appointed as an agent of Outreach Ltd. The contract will see 3sun Group carry out service and maintenance on hydraulic cranes and loading equipment manufactured by Palfinger, a partner of Outreach. 3sun Group also has acquired RRC Controls Services Ltd., a subsea control systems manufacturer.
Citec has acquired Norwegian engineering company m7 Offshore.
Seaway Heavy Lifting has signed an enterprise framework agreement with Shell Global Solutions for offshore installation. The five-year contract covers engineering, project management, and offshore installation of fixed and floating facilities.
Seatronics Ltd. and Zetechtics Ltd. have signed a global representative agreement for the Jupiter range of subsea ROV intervention control systems and associated products.
TDW Offshore Services has signed a frame agreement with Centrica Storage Ltd. to provide pipeline isolation services with its SmartPlug tool.
Oil States International has sold Sooner and its subsidiaries to Marubeni-Itochu Tubulars America for $600 million in aggregate cash consideration.
Excalibar Minerals LLC has announced plans to add a new, fully automated 66-in. Raymond Roller Mill to its grinding facility in Corpus Christi, Texas. The new milling system is slated to be operational during 1Q 2014.
FoundOcean has opened an office in Houston.
Saab Seaeye has acquired manipulator and ROV tooling maker, Hydro-Lek.
Stork Technical Services has signed an agreement with Snap Ring Joint Ltd. in relation to the distribution and installation of the company's flagship products; the SRJ pipe connector and the TSRC pipe repair clamp.
AXON Energy Products has set up a specialist research and development facility in Team Valley, Gateshead.
InterMoor UK Operations, part of Acteon's foundations and moorings business, has operated for more than six years without a lost time incident. InterMoor UK Operations includes Acteon companies InterMoor Ltd., InterMoor Marine Services Ltd., and ChainCo.
Trelleborg has signed and finalized an agreement that will see its Trelleborg Industrial Solutions business area acquire cutting-edge cryogenic hose system technology from SBM Offshore.
Harkand has confirmed the acquisition of the main assets and business of Veolia Marine Services. The acquisition adds 150 onshore and offshore staff, three dynamically positioned multi-purpose vessels, and six work-class ROVs to its workforce and fleet.
PG Marine Group - Ing Per Gjerdrum AS has selected W&O Supply as its exclusive sales agent in the US and Canada.
TheInternational Association of Drilling Contractors has formed the Well Control Institute (WCI), a new industry body that will provide the drilling industry with a single, universal well control training and assessment standard. The WCI is expected to be fully operational by mid-2014.
HB Rentals has officially opened its new Eastern Hemisphere headquarters in Sauchen, Aberdeenshire.
ABS has formed the ABS Global Gas Solutions Team to leverage the organization's LNG and LPG capabilities. This group will work alongside owners, shipyards, and equipment manufacturers to provide a range of services to this growing market.
Intertek has launched asset integrity management surveying services in Australia and Brazil.
Ennsub has secured a 14,000-sq ft (1,300-sq m) production and office facility within the Tees Valley One Twenty scheme in the Teesside area of northeast England.
Glacier Energy Services has acquired Aberdeen-based Ross Offshore.
Fine Tubes has opened a new facility in Houston.
Atlas Services Group Geophysics BV has acquired Geomotive.
Viking SeaTech has signed a definitive agreement to be acquired by Actuant Corp. for approximately £150 million ($225 million).
Moore Industries-International has signed BBP Sales as a manufacturer's representative for Louisiana and areas of southern Arkansas and southern Mississippi.
KW International has opened its new, state-of-the-art manufacturing facility in Columbus, Texas.
T-REX Engineering + Construction has unveiled its newly redesigned website and launched a social media initiative.
Tritex NDT Ltd. has opened an office in Newark, New Jersey.
HSB Solomon Associates has acquired Ziff Energy Group, an international energy consulting firm. The transaction adds global energy exploration and production benchmarking and North American natural gas forecasting to Solomon's suite of products and services.
Halliburton, Gazprom Neft form R&D group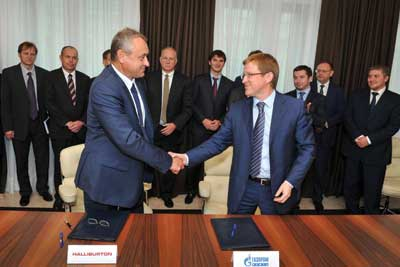 Konstantin Schilin, general director of Halliburton's Russia operations, shakes hands with Gazprom Neft first deputy general director Vadim Yakovlev after signing the technology agreement. (Photo courtesy Business Wire)
Halliburton and Gazprom Neft have agreed to cooperate on introduction of new technologies to improve efficiency in Gazprom Neft fields. Representatives of the two companies will collaborate on technological solutions for hard-to-recover reserves, unconventional resources, deepwater, and other projects. Gazprom Neft specialists will provide Halliburton with updated data on implementation of specific projects and Halliburton experts will offer technological solutions.