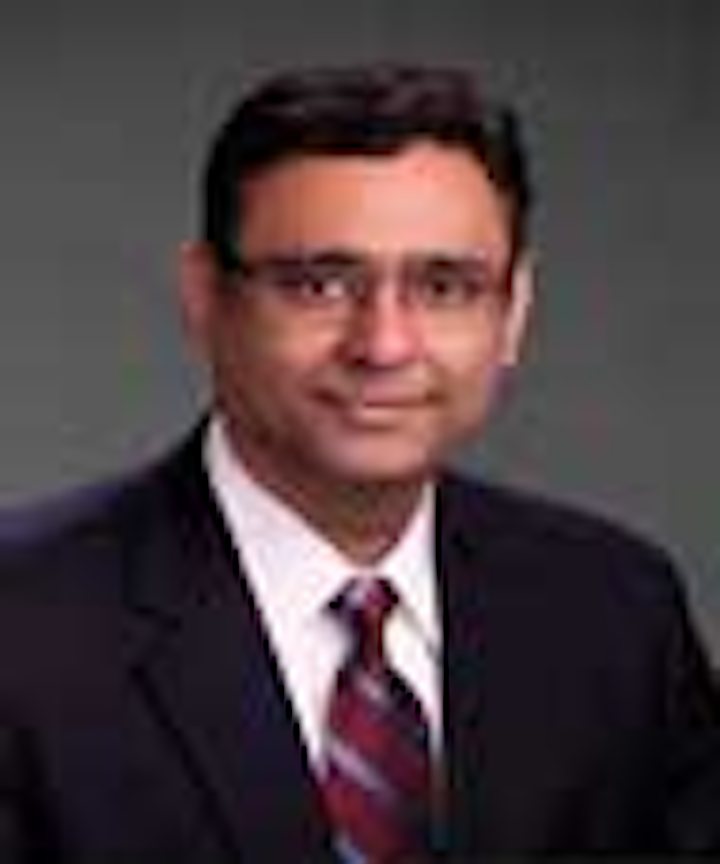 Songa Offshore SE has appointedBjørnar Iversen as CEO and he will relocate to Limassol, Cyprus. He recently joined the company as president of Songa Rig AS. The company also has appointed Jan Rune Steinsland as executive vice president.
Svein Arild Killingland has become CEO of Norwegian Energy Co. ASA.
Christopher J. Wiernicki has been elected chairman of ABS and ABS Group of Companies Inc. Tony Nassif, Robert G. Clyne, James G. Gaughan, and Maria F. O'Neill have been elected to the ABS Council. Chow Yew Yuen and Dr. Jen-Hwa Chen have been elected for a three-year term on the ABS Offshore Technical Committee.
Peter Voser has chosen to retire as CEO of Shell in the first half of 2014.
Paradigm has appointedArshad Matin as president, CEO, and a member of the board of directors.
Matin
Aker Solutions has appointedNicoletta Giadrossi as head of operations, Per Harald Kongelf as regional president Norway, Roy A. Dyrseth as head of drilling technologies, Tom Munkejord as head of umbilicals, Rolf Leknes as head of well intervention services, Bunny Nooryani as head of group communications, Øyvind Christian Rohn as head of drilling riser business unit, Rune Fanetoft as head of process systems Norway, and Einar Wahlstrøm as head of umbilicals Norway.
Mark Preece has joined Ceona as executive vice president commercial and business development.
BMT Scientific Marine Services has namedAndy Brown vice president of business development.
Inocean has appointedLeiken Dahl Aasbø as vice president for mobile offshore drilling.
Aasbø
MEO Australia Ltd. has appointedPeter Stickland as exploration manager. He succeeds Dave Maughan.
Michael W. Palmer has resigned as senior vice president of operations at Hyperdynamics.
Wood Group PSN has appointedDavid Kemp as CFO.
Mark A. Reese has resigned as president – rig technology of National Oilwell Varco.
Jim Hepburn has joined Coretrax Technology Ltd. as operations manager to focus on the planning, development, and execution of wellbore cleanup and displacement.
Barclays has appointedColin Couchman as a relationship director within its oil and gas team.
Noble Energy has appointedJ. Keith Elliott as senior vice president for the Eastern Mediterranean region, Susan M. Cunningham as senior vice president for the US GoM, Africa and Frontier region, John T. Lewis as senior vice president for Corporate Development, Charles J. Rimer as senior vice president for global operations services, and Rodney D. Cook and Ted D. Brown as senior vice presidents and advisors to the president and the CEO.
Forrest Wylie has been named a non-executive director of Coastal Energy.
Allan Denholm has joined Zilift as business development manager.
Offshore Installation Services, an Acteon company, has namedMike Earlam president.
Earlam
Sarah Hutcheon has joined etpm as engineering manager, and Kerry Hadden as specialist ROV recruiter.
Seadrill has electedBert Bekker and Paul Leand Jr. to its board of directors.
Steve Hanson has joined Hydrasun as business development manager.
Black Elk Energy has appointedBruce Koch as CFO.
Fugro GeoServices has appointedTed Hampton as president, and Adam Jackson as senior vice president. The company's Lafayette office has promoted Lon Guillory, controller; Bill Bridges, operations manager; Kerry Behrens, senior consultant; Melissa Jeansonne and Jack King, commercial managers; Jim Grady, assets manager; André Prejean, conventional survey manager; Marc Harris, AUV supervisor; John Boudreaux, party manager; and Chad Pastor, technology manager.
Aquaterra Energy has appointedKen Crawford as general manager (Asia-Pacific), based in Kuala Lumpur, Malaysia, and Richard Gosling as principal analyst in Aberdeen.
ABB has appointedRamachandra Karamongikar as head of the company's newly formed electrical systems group.
BMT has appointed Shane Amaratunga as director of internal affairs, andWilfred Aaldriks as director of external affairs.
UniversalPegasus International has namedBobby Hitt as senior vice president of quality.
Det norske has electedSverre Skogen as executive chairman.
IHS Inc. has appointedScott Key as president and CEO, and Jerre Stead as executive chairman.
SIGMA3 Integrated Reservoir Solutions has promotedKevin McKenna to vice president, technology solutions.
Petrofac Training Services has hiredFiona Wallis as senior business development manager; Jim McKay, Allan McEwan, and Jennifer Hall as business development managers; and Karen Scott as Europe marketing manager.
Terry Loftis has been appointed chairman of DNV's Rig Owners' Committee.
Loftis
CGG has appointedDavid Dragone as executive vice president, human resources.
Peter Coates has retired as chairman of Santos. He is succeeded by Ken Borda.
AMETEK SCP has addedDave Jenkins as vice president of business development, Phillip Pilweski as director of programs, and Steve Thumbeck as sales director of oil and gas products.
G4S has appointedBrian Christie as global director of its oil and gas business.
Christie
Swire Oilfield Services has namedDan Davies commercial manager for East Africa.
Davies
Ocean Installer has appointedMichael Newbury as president for its US office in Houston.
Greene's Energy Group has appointedElroy Schaub as technical sales representative, David Lang as mid-continent regional manager, Ray Naquin Sr. as senior advisor, and Shawn Ellis as director of sales – North America for the Testing and Services business unit.
Schaub
Lang
Naquin Sr.
Ellis
Peak Well Systems has appointedTim Williams as business development director, and Laura Cooper as commercial analyst.
Williams
Cooper
Hamish Stewart has joined Schilling Robotics as senior sales manager for the Eastern Hemisphere.
Columbus McKinnon Corp. has appointedLawrence Gavin as executive director and chief procurement officer.
Senergy has appointedAllan Mathieson as global technical head of project management and carbon capture and storage, Andrew Jones as Asia/Pacific energy services manager in power engineering, Don DiBenedetto as subsurface manager for the Middle East and India region, and Ronald Hoogenboom as subsurface manager for the Asia/Pacific region.
Jennie Morrison, Simon James, and Thomas Cassidy have joined Amor Energy as information management consultants. Rogan Milne has joined the company as an information management business analyst.
Company news
Tenaris plans to invest $70 million to build a sucker rods mill in Conroe, Texas.
Contango Oil & Gas Co. and Crimson Exploration Inc. have signed a merger agreement for an all-stock transaction pursuant to which Crimson would become a wholly owned subsidiary of Contango.
Kongsberg Oil & Gas Technologies has established a new Europe, Africa, Middle East headquarters in Guildford, UK.
Smit Lamnalco has celebrated 14 years of continuous marine and offshore support services with no lost time incident offshore Oman. The 5,100-day record covers support to single-point mooring operations 10 km (6 mi) off Muscat Cove for the petroleum development of Oman.
XPD8 Solutions has achieved ISO 9001 accreditation for quality management.
CareerBuilder has acquired Oil and Gas Job Search.
C-Tecnics has donated a number of its CE-approved JOK Diver Recovery Harnesses to The Underwater Centre in Fort William to aid divers' education and competence.
GE has signed an agreement with Shanghai Maritime University to improve the capabilities of the shipping engineering community in China by providing laboratory facilities and cooperating on research and innovation projects.
Craig International Supplies has formed a strategic partnership with Research Development and Financial Consultants Ltd. to establish Craig International (West Africa) Ltd. in Accra and Takoradi, Ghana.
Logan Oil Tools has opened sales and warehouse facilities in Bogota, Colombia.
Kepware Technologies has established a partnership with Houston–based EnerSys Corp. Under the agreement, EnerSys is approved to promote, distribute, and sell licenses for Kepware's flagship product KEPServerEX v5 Communications Platform, including all electronic flow measurement related products, as well as its LinkMaster and RedundancyMaster solutions.
RPS has acquired Knowledge Reservoir Group in a deal valued at up to $20 million. The company provides reservoir engineering and geoscience consulting services, information databases, and project management services to the oil and gas industry.
Yokogawa has opened a new North Sea headquarters in Aberdeen, Scotland. The 500-sq m (5,382-sq ft) office is based in Westhill.
CGG and Louis Dreyfus Armateurs Group have created a ship management joint venture, GeofieLD Ship Management Services.
Ecolab Inc. has closed its acquisition of Champion Technologies and the related Corsicana Technologies. The transaction value was $2.3 billion. Clariant has signed an agreement with Ecolab Inc. to acquire certain deepwater Gulf of Mexico assets. The divestment of the assets by Ecolab was a prerequisite by the US Department of Justice for the approval of the acquisition of Champion Technologies.
Drydocks World has created a new Global Offshore Services division. The purpose is to mobilize the group's technical teams at short notice to provide repair and maintenance services to vessels in offshore locations, supported by the group's workshops in the Emirates of Dubai and Fujairah.
ABS has announced plans to expand its operational workforce, increase research and development efforts, and establish a Global Performance Center in Singapore. The company says these initiatives will expand the existing workforce, primarily through local recruitment of engineers, surveyors, and researchers.
Proserv has launched a global research and development hub in Trondheim, Norway, to design innovative subsea controls and communications technologies.
Heinen & Hopman has opened a new subsidiary in South Korea.
Ashtead Technology has purchased Sonardyne 6G acoustic positioning equipment for £1.3 million ($2 million).
Trelleborg has acquired Ambler Technology Ltd., a manufacturer of syntactic foam and composite products based in Rochdale, England.
Kongsberg Maritime Ltd. will add a number of AUVs to its rental pool during 2013 and 2014.
Future Pipe Industries Group has signed an agreement with ITT Exelis to acquire 100% of the fibreglass reinforced pipe business, Specialty Plastics Inc.
Abakan Inc. has entered into a memorandum of understanding with Cone S.A. for the construction of a manufacturing facility to suit large-scale clad pipe manufacture inside the new Suape Export Processing Zone in Pernambuco state, Brazil.
InterMoor do Brasil Serviços Offshore de Instalaçao Ltda, an Acteon company, has been awarded a construction license to build facilities at the new Industrial Complex of Açu Superport located in São João da Barra in northern Rio de Janeiro.
New Jersey-headquarteredPine Environmental Services has acquired the North American Instruments business of Ashtead Technology.
CRC-Evans Pipeline International has opened a new comprehensive pipeline supply store and warehouse in Tulsa, Oklahoma.
---
In Memoriam
Former Williams CEOJohn H. Williams recently passed away at his home in Linville, North Carolina. He was 94. Williams worked for the original Williams Brothers as early as 1938. Along with his brother Charlie and cousin David, he was part of the "second generation" of Williams family members who bought the company from founders Dave and Miller Williams in 1949. He served as president and CEO from 1949 to 1971; chairman and CEO from 1971 to 1979; board member from 1949 to 1993; and honorary board member from 1994 until his death.
He is survived by his wife, Joanne S. Williams, and three sons.