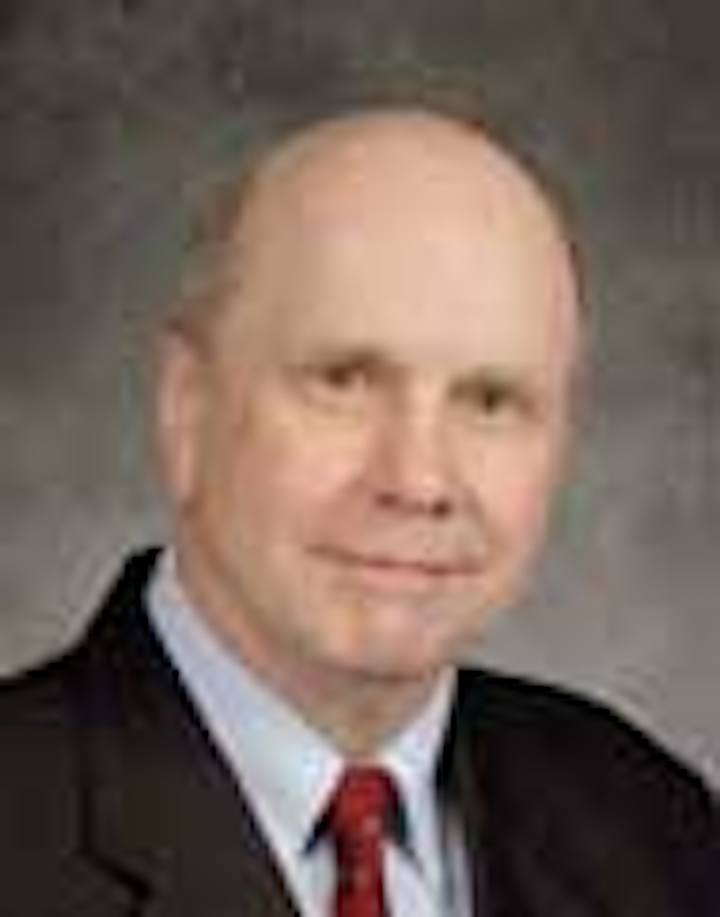 | | | |
| --- | --- | --- |
| | | Gene Kliewer • Houston |
Atlas Copco Rental has purchased Mitcham Industries' fleet of marine air compressors to be used for rental in seismic applications.
Atlas Copco Rental is also investing in the seismic market through the manufacturing, at Atlas Copco Hurricane, of two new compressors: the SBm7, a marine cold seawater-cooled compressor, and the air-cooled SB7.
ION, Polarcus enter survey agreement
In a concurrent move, ION has joined Polarcus with a three-year agreement to jointly develop, execute, and market 3D multi-client projects worldwide.
Polarcus brings expertise in the 3D multi-client space to ION's GeoVentures group's expertise in geologically driven, basin-scale 2D multi-client surveys.
The collaboration will use ION's BasinSPAN data library of over 450,000 km to identify new project opportunities worldwide. Further, the combination of Polarcus' RIGHTBAND acquisition proposition and ION's WiBand data processing technology will benefit from Polarcus' fleet of 3D seismic vessels.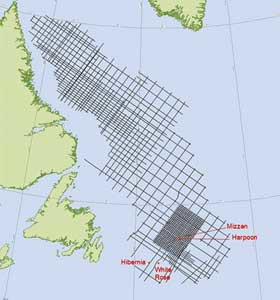 Petroleum Geo-Services (PGS) and TGS are back offshore East Canada for the third year to complete acquisition of a 2D multi-client survey offshore Newfoundland using the GeoStreamer acquisition technology. The program this year aims to acquire additional data over approximately 16,000 line km (9,942 mi) of the Northeast Newfoundland Slope. Statoil's Mizzen discovery (200 MMbbl recoverable) and a recent discovery of light, high-quality oil in the Flemish Pass basin at Harpoon strengthens potential north of the Jeanne d'Arc basin. Final processed data from the 2013 acquisition will be available during the spring of 2014. This will result in a total of approximately 46,000 line km (28,583 mi) of 2D data acquired and processed in Newfoundland and Labrador through the cooperation agreement.
GX Technology center targets Asia/Pacific
ION Geophysical has scheduled the opening of a GX Technology seismic data processing center in Perth, Australia, to serve operators in Australia and throughout the Asia/Pacific region. The new center is to offer a full range of seismic imaging services and technologies, including depth imaging and ION's patent-pending WiBand broadband processing technology.
Economic growth in Asia/Pacific drives the need for dependable energy in the region, prompting industry experts to predict an estimated 20% year-over-year growth in E&P capex in 2013, says ION. In 2012 alone, there were 13 offshore discoveries in the area.
Chris Usher, executive VP and COO of ION's GeoScience division, said: "With the opening of this new center, our 13th around the world, we continue to expand our footprint into global E&P hotspots. The Australian northwest shelf is in transition from an exploration to development phase. Production from these fields will continue for decades, and the challenge will be to monitor and manage field development for optimum recovery. We found that our customers operating there have been underserved in terms of high-end, quality seismic imaging, and we are pleased to open this center with material backlog."
Kelly Beauglehole, the center's managing director, adds, "We have seen a tremendous demand in the region for advanced imaging services, including prestack depth imaging, and high-quality seismic data, including our recently acquired 11,500 km 2D survey of Australia's northwest shelf, known as WestraliaSPAN."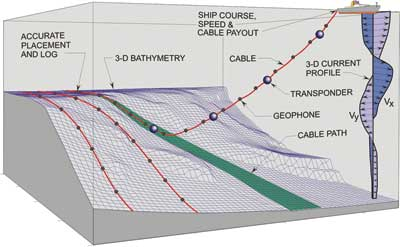 SAIC will use MakaiLay Seismic and MakaiPlan Pro Seismic programs to simulate and control ocean-bottom cable installations and retrievals. Makai Ocean Engineering says MakaiLay Seismic will help accurately install and retrieve seismic arrays. MakaiLay Seismic builds on the MakaiLay engine, but adds tools specifically for the seismic industry to accurately install and retrieve ocean bottom cables (OBC) with many in-line sensors, or node arrays in mid- and deepwater. MakaiLay Seismic is flexible enough to run on laptops and assimilate information from SAIC's collection of cable installation equipment, including Acoustic Doppler Current Profiler (ADCP) and transponders attached to the cable, and then output vessel navigation and cable payout instructions for the operators. SAIC submarine cable projects will now use the latest versions of two different Makai cable software products. MakaiPlan Pro Seismic is a simulation tool to plan installation and retrieval of OBCs in mid- and deepwater. It enables 3D, dynamic simulations of the cable installation and retrieval, and can simulate an entire cable lay to test the feasibility of survey plans. The simulations can be used to test the feasibility of the planned lays, make equipment selection, train cable engineers, pre-lay and post-lay analysis, and create a ship plan for installation.
ExploHUB installs HIIP software
Earthworks Reservoir has agreed with the University of Aberdeen's ExploHUB training center to provide its prospect evaluation HIIP software. ExploHUB plans to use HIIP in its training course for the prospect evaluation module due to begin this month.
ExploHUB director Stuart Archer said, "ExploHUB is delighted to have forged this partnership with Earthworks Reservoir. It provides our trainees with access to leading edge software and technology that will assist with the teaching of volumetric assessment in our exploration workflows."