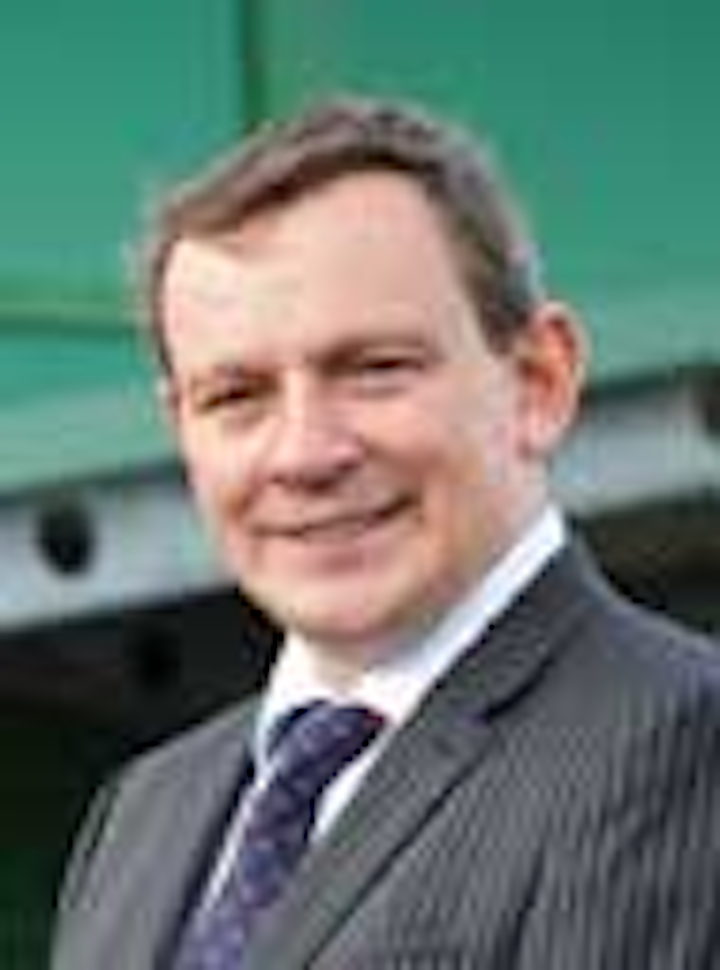 STATS Group has appointedAngus Bowie as regional director for the Middle East North Africa.
Bowie
Ensco plc has promotedJames W. Swent III to executive vice president.
IHS has appointedDr. Daniel Yergin as vice chairman.
Ron Huff has joined Buccaneer Resources as CFO.
Jiang Li Jun has resigned as vice chairman and non-executive director of COSCO Corp.
Anadarko Petroleum Corp. has promotedDoug Lawler to senior vice president, international and deepwater operations, and will join the executive committee.
Broad Cairn Group has appointedTony Robertson as general manager of CairnToul Tubular Services, Bill Walkingshaw as general manager of QTEC International, and Allan Pritt as general manager of CairnToul Well Equipment Services.
Robertson, Pritt, Walkingshaw
The reorganized National Ocean Industries Association staff includesRandall Luthi, president; Faith Burns, executive assistant to the president; Franki Stuntz, senior vice president for administration and membership; Ann Chapman, vice president for conferences and special events; Luke Johnson, vice president for policy and government affairs; Jeff Vorberger, vice president for intergovernmental and political affairs; Nicolette Nye, vice president for communications and external relations; and Robert Myers, director of public affairs.
Independent Oil and Gas Ltd. has namedMehdi Varzi as non-executive chairman.
Subsea 7 has appointedRicardo Rosa as CFO.
Knowledge Reservoir has appointedDr. Sheldon Gorell as vice president of technology.
Quickflange has appointedPål Falch as sales manager for the North Sea, Thomas Karlsen as sales engineer for Norway, Roy Nedrebo as field technician, and Kristin Benjaminsen as administration and operations coordinator.
Reservoir Group has appointedSimon Howes to lead Interica, the company's data management business.
Howes
Gazprom has electedViktor Zubkov as chairman of the board of directors, and Alexey Miller as deputy chairman.
Edward A. Beaumont has assumed the presidency of the American Association of Petroleum Geologists.
MAN Diesel & Turbo has appointedArnd Löttgen as chief manufacturing officer.
OGX has appointedLuiz Eduardo Guimarães Carneiro as CEO.
Tideland Signal Ltd. has appointedJames West as sales manager for Europe, North Africa, and East Asia.
Mermaid Maritime has appointedChalermchai Mahagitsiri as executive vice chairman.
Michel Moreno has resigned as chairman and CEO of Dynamic Energy Services International. Emile Dumesnil will become president and CEO.
William S. Chadwick, Jr. has retired as executive vice president and COO of Ensco plc. He is succeeded by Mark Burns.
Murphy Oil Corp. has appointedSteve Cossé as president and CEO. He succeeds David Wood, who has retired after a 17-year career at the company. Murphy's board of directors also named Roger Jenkins to the newly-created position of COO.
Deloitte has appointedMoray Barber, Shaun Reynolds, and Chris Hunter as directors.
AGR has appointedBill Fletcher as vice president of well management for UK and West Africa.
U.S. Steel has namedEric K. Schomer as general manager- procurement.
Forest Oil has appointedPatrick R. McDonald as interim CEO.
Nina Udnes Tronstad has stepped down as executive vice president for Kvaerner's Jackets business and president of Kvaerner Verdal A/S. Senior VP Sverre Myklebust will serve in both positions until a successor is recruited.
Prospectiuni SA has appointedEric Williams as vice president West Africa, and Rahul Gupta as vice president Asia.
Andy Jones has returned to Xodus Group as operations director of the new office in Perth, Australia.
Jones
USON has appointedDave Foran as president, and Gene Grilli as global sales director.
Foran
Rocksource ASA has appointedChristopher Spencer as permanent CEO.
Ashtead Technology has appointedGraham Philip as group deputy chairman. He will be primarily responsible for the instruments division. In the offshore division, the company has appointed Allan Pirie as CEO, and Mark Derry as COO.
Altor Risk Group has namedMatthew Wardner as director of services, Paul Swinn as team leader for Australia and Southeast Asia, Dominic Webb as business unit leader for the Middle East Africa and Central Asia region, Rona Young as European business unit leader, and Brian Davis will provide line management to the teams across the Middle East, Africa and Central Asia region.
Rocksource ASA has appointedChristopher Spencer as CEO.
The corporate assembly of Statoil has re-electedOlaug Svarva as chair and Idar Kreutzer as deputy chair of the corporate assembly. Svein Rennemo, Grace Reksten Skaugen, Roy Franklin, Bjørn Tore Godal, Lady Barbara Judge, and Jakob Stausholm were re-elected as members of the board of directors. Rennemo was re-elected as chair of the board of directors. Marit Arnstad has resigned as deputy chair and member of the board.
Willbros Group Inc. has appointedMichael Lee as senior vice president of commercial services in its oil and gas segment.
Coretrax Technology Ltd. has appointedScott Laing as business development manager.
GDF Suez E&P UK has appointedOonagh Werngren as business manager (external affairs and supply chain) within its leadership team.
Werngren
Emerson Process Management has namedBret Shanahan president of its Roxar business unit.
Shanahan
Devin International has namedHarold Touchet as operations manager.
Touchet
Reservoir Group has namedDoug Kinsella as managing director of the new Corpro brand.
Company news
HB Rentals has completed the construction of a new 22,000-sq ft (2,044-sq m) facility in Aberdeen, Scotland.
CNR International has contracted Cosalt Offshore for lifting and mechanical handling support services on five platforms in the UK northern North Sea.
Crowley Maritime Corp.'s vessels have received 67 Jones F. Devlin Awards for outstanding safety records from the Chamber of Shipping of America.
Hempel USA has acquired Blome International as part of its strategic goal to quadruple the protective coatings business.
Wintershall has opened a new global drill core warehouse in Barnstorf, Germany.
Hyde Marine has named Scanunit Ab as the exclusive sales agent in Sweden for Hyde GUARDIAN ballast water treatment systems.
Raytheon Anschütz has established Raytheon Anschuetz do Brasil Sistemas Marítimos Ltda. to expand its sales and service activities in South America.
Fairfield Energy has agreed terms for new injection of equity from funds sponsored by Riverstone Holdings LLC. Initially, Riverstone will make a $150-million equity commitment with the option of subscribing a further $200 million.
Hallin Marine has signed a long-term strategic alliance agreement with Romona Inc. for projects throughout the Russian Federation.
Stork Technical Services has secured a three-year contract from CNR International for integrated caisson integrity management services across the company's UK continental shelf assets. Stork also has opened an in-house fabric maintenance training center at its facility in Aberdeen, UK.
Oil States Industries Inc. has entered into a definitive asset purchase agreement to acquire Piper Valve Systems Ltd.
MacDermid Offshore Solutions has started construction of the MacDermid Offshore Fluidos do Brasil manufacturing plant in Cambe, Parana, Brazil.
Allied Training Services has partnered with Maersk Training Aberdeen to provide working at height and rigging and lifting training courses to Maersk's customers.
EnerMech plans to open its first office in Mumbai, India, and a workshop and storage facility in Kakindada, Andrah Pradesh region.
J. Lauritzen A/S and HitecVision have formed a 50/50 joint venture to focus on ordering high-end semisubmersible ASVs capable of serving customers in the North Sea.
Clarus Technologies has named American Pollution Control Corp. the official Gulf Coast distributor of the Oil-CAT and Oil-CAT II fuel blending systems. AMPOL also has added the Tornado Tank Cleaning System to its service range.
Wood Group PSN has introduced a project delivery arm to its business. The move is designed to enhance WGPSN's ability to secure and deliver large-scale North Sea projects.
InterMoor has launched MoorVision, a software system that provides clear, up-to-date photos of the infrastructure in any defined area in the Gulf of Mexico using Google Earth.
Siemens has acquired the connectors and measurement division of Expro Group.
Glacier Energy Services has acquired Site Machining Services Ltd.
Aker Solutions is making a $100-million investment to expand its production, assembly, and testing capacity in Brazil to support the country's rig-building plans.
Bureau Veritas has acquired TH Hill, which provides oil and gas drilling failure prevention and analysis.
Tendeka plans to move its headquarters to Abercrombie Court, Arnhall Business Park, Westhill. The company will retain its current premises in Peterseat Drive, Altens, Aberdeen, and convert them into high-end research and development, testing, and assembly facilities.
Weatherford has acquired Petrowell Ltd.
Thrane & Thrane has expanded its workboat and fishing vessel VHF radio portfolio with the launch of the new SAILOR 6217 VHF DSC Class D AIS Receiver.
Coretrax Technology Ltd. has expanded its range of services and products with the launch of its wellbore chemical division.
Penspen has announced plans to open a new office in Mexico City.
Liquid Robotics Inc. and Schlumberger have jointly created Liquid Robotics Oil & Gas to supply wave-powered AUVs to the oil and gas market. The venture aims to supply Wave Glider technology combined with Schlumberger's upstream technology services.
H2O Inc. has added the Monsoon self-cleaning filtration system to its product line.
Expro has opened an operations base in Paradise, Newfoundland.
Polar Star Consultants has been appointed oilfield marketing services provider for VeruTEK Technologies.
Apax Partners and JMI Equity have agreed to acquire Paradigm Ltd. for $1 billion in cash.
Rosneft and ExxonMobil have agreed to establish a joint Arctic Research Center for Offshore Developments.
Cairn Energy subsidiary Capricorn has made an agreed offer for London-based independent Nautical Petroleum. The proposed share transaction values Nautical at around £414 million ($644 million).
Subsea 7 has won the Tremendous Training and Development Award at this year's Cherries ceremony in recognition of its innovative Engineering Conversion Program and Graduate Engineering Development Scheme.
Aker Solutions has opened a lifecycle services workshop in Songkhla, in the Gulf of Thailand.
Lukoil Engineering and Schlumberger have jointly opened the Center of Geologic Exploration Technologies in Moscow. The center was established to prepare and integrate studies of promising assets in Lukoil's license areas using advanced geological exploration technologies and equipment supplied by Schlumberger.
Kongsberg Oil & Gas Technologies has established a new office in Perth, Australia.
TGS has acquired Arcis Seismic Solutions.
Variable Bore Rams has added a distribution center in Yoakum, Texas.
CGGVeritas has opened a new processing and imaging center in Melbourne, Australia.
Dron & Dickson has expanded into the Middle East market with the opening of a new base in Dubai.
Falmouth Scientific Inc. has added Geomatrix Earth Science to its family of manufacturers representatives.
ABCO Subsea has acquired MPV Corp.
ABB has won an order from Rickmers Group to supply advisory systems for dynamic trim optimization and fleet management solutions for five multi-purpose vessels.
Specialist Services Group has officially launched its hire fleet in Aberdeen, UK.
Swire Oilfield Services has opened two new facilities in the Macaé region of Rio de Janeiro state, Brazil.
Reservoir Group has consolidated all its coring activities under one brand, Corpro.
Steel opens mill to PennWell media

JSW Steel's 650-acre complex is located in Baytown, Texas.
JSW Steel recently provided the editors of Offshore and Oil & Gas Journal with an informational tour of its pipe and plate mills in Baytown, Texas. Located 30 mi east of Houston, the mill first opened in 1971 to manufacture line pipe for the Alaskan pipeline project. Today, the facility is one of only three plate mills in North America capable of rolling widths of 160 in. and thicknesses up to 6 in. The mill provides line pipe to both the onshore and offshore oil and gas market.