Trygve Pedersen has decided to step down as CEO of Rocksource ASA. Christopher Spencer, VP commercial and engineering, will take on the position as acting CEO until a permanent replacement is made.
BHP Billiton Group Executive and CFOAlex Vanselow will retire at the end of February 2012. He will be succeeded by Graham Kerr. Mike Henry, president of marketing, will join the Group Management Committee as group executive and chief marketing officer.
The China National Offshore Oil Corp. has appointedLi Fanrong as CEO.
Ralph Norris has agreed to join the Origin Energy board as an independent non-executive director.
MEO has appointedRobert Zammit as executive manager of business development, Lubing Liu as chief reservoir engineer, and Dean Johnstone as senior geoscientist.
Houghton International has namedJ. Graham Craig as director of Houghton's Global Offshore division.
American Electric Technologies has appointedMatt Walsh as VP, South America business development.
Oil & Gas UK has appointedDavid Ripley as the new supply chain director.
Bill Yuile has been appointed business development director of Apply Altra.
Burrow Global has namedDave Hill as president of Burrow Global Services, Beaumont division; Doug Eckols as VP of quality at the parent company level; Meredith Barnes as CFO and VP of administration; Ron Chapman as civil/structural engineering manager for the Beaumont division; and Donald Moyers as VP of the plant division for Burrow Global Construction.
XPD8 has appointedPeter Saunders as general manager, Jeremy Lai as finance manager, and Ian Cooper as maintenance engineering manager.
Ryan Lance, designated chairman and CEO of the future ConocoPhillips, has selected three members of his executive management team. Matt Fox will become executive vice president, exploration and production. Alan J. Hirshberg will become executive vice president, technology and projects. Don E. Wallette Jr. will become executive vice president, business development and commercial.
Greg Garland, designated chairman and CEO of Phillips 66, has appointed Lawrence M. Ziemba as executive vice president of refining.
Chevron has namedJoseph C. Geagea corporate vice president and president of Chevron Gas and Midstream.
IHC Merwede has appointedDenis Welch as CEO for Southeast Asia.
Sky Petroleum has appointedTobias Gondorf as interim CEO.
COSCO Corp. has appointedWu Zi Heng as president and vice chairman of the board of directors. Liu Guo Yuan has been appointed chairman, non- independent, and non-executive director.
| | | |
| --- | --- | --- |
| | | H20 has namedDavid N. Dixon project manager. |
STATS Group has appointedGraham Thomson as general manager, and Vikas Shangari as business development manager for the Middle East.
Applus RTD has appointedNeil Hannah as regional director for northwestern Europe.
Secretary of the Interior Ken Salazar has namedRear Admiral James A. Watson IV as the director of the Bureau of Safety and Environmental Enforcement (BSEE).
National Oilwell Varco has appointedLoren Singletary as VP of investor and industry relations, and David Reid as senior VP of global accounts and chief sales officer.
Nexen has announced thatMatt Fox, executive VP of the international division, and Eric Miller, senior VP, general counsel and secretary, have left the company.
McCrometer has appointedBruno Santos Pinton as regional sales manager for Brazil.
Marcello Hallake has joined as a partner in the Jones Day law firm's São Paulo office where he will advise on mergers, acquisitions, and project financing.
| | |
| --- | --- |
| | HB Rentals has appointedRami Miled as business development manager for the Middle East and North Africa. |
BG Group has namedChris Finlayson as executive director and managing director of BG Advance, Martin Houston as COO, and Fabio Barbosa will add strategy and portfolio development to his existing CFO and executive director accountabilities.
Swire Oilfield Services has appointedMichael King as UK operations director.
| | | |
| --- | --- | --- |
| | | Exova's global director of corrosion,Dr. Chris Fowler, has been appointed to the board of administrators at the World Corrosion Organisation. |
| | | |
| --- | --- | --- |
| | | Swagelining Ltd. has appointedDavid Piper as business development consultant for the Middle East. |
Socotherm Group has appointedPaul DeWeese as CEO.
Energistics has appointedJerry Hubbard as president and CEO.
The International Petroleum Technology Institute, part of the American Society of Mechanical Engineers, has awarded the Ross Kastor Educator's Award for 2011 toDr. Paul Jukes, president of MCS Kenny in Houston.
Reservoir Group has appointedDan Skibinski as managing director, Omega Well Monitoring, Americas.
Alan Cohen has been appointed chief geophysicist of RSI.
Aqueos Corp. has namedM.A. "Tony" Garcia Jr. as senior executive account manager.
Bill Schumann, executive VP and CFO of FMC Technologies, has chosen to retire after 30 years of service, effective Aug. 31, 2012. He stepped down as CFO on Nov. 30, 2011, to focus on strategic activities for FMC. Maryann Seaman, current VP, treasurer and deputy CFO, will succeed Schumann as senior VP and CFO. Halet Murphy will replace Seaman as treasurer.
| | | |
| --- | --- | --- |
| | | Hydratight has appointedSyed Taqvi as global marketing leader. |
Otto Energy has appointedGregor McNab as CEO.
Sir Robert Wilson has announced his intention to stand down as chairman of BG Group at the conclusion of the company's Annual General Meeting in May 2012. He will be succeeded by Andrew Gould, who is due to stand down in April 2012 as chairman of Schlumberger. In June 2011, Gould was appointed a non-executive director of BG Group.
Subsea UK's board members for 2012 areFrank Bee, Shell; Ian Mitchell, BP; Tim Sheehan, Rotech; Dr. Patrick O'Brien, MCS Kenny; John Mair, Subsea 7; Alan Nicol, Nautronix; Denise Smiles, Optical Metrology Services Ltd.; Geoff Fisher, Technip Offshore Wind; Fraser Moonie, Bibby Offshore; and Geoff Lyons, BPP-Tech.
Fluor has addedAlan M. Bennett to its board of directors.
Veripos has appointedAngus Scott as regional manager of the Europe, Africa and Middle East division.
Company News
Reflex Marine has named EnerMech AS as the accredited service center in Norway.
TheWilliams board of directors has approved the proposed spinoff of its exploration and production business, WPX Energy Inc., through a tax-free dividend involving the distribution of all WPX Energy common stock held by Williams to its stockholders.
Reservoir Group has acquired Mudlogging Services Inc, the US-based developer and supplier of the MLogger series of gas detection systems.
Martek Marine has opened a regional hub office in Singapore.
O'Brien's Response Management and Brazil's EnvironPact and OceanPact have formed a joint venture named O'Brien's do Brasil SA. The joint venture will provide all of each parent company's consulting, emergency and environmental services for international oil companies and other industrial sectors operating in Brazil.
EnerMech has been awarded a £1 million ($1.6 million) crane services contract by Talisman Energy Norge AS.
ABS Group has agreed to acquire Safetec Nordic AS.
Tyco Flow Control has been awarded a contract for about $6 million by India's Oil and Natural Gas Corp. Ltd. to supply several high integrity pressure protection systems.
Litre Meter has become part of the Tasi Group of companies.
MacArtney Norge has officially opened its doors to the newly completed, purposed-built building in Stavanager, Norway.
Hays, a global specialist recruitment group, has opened an office in Houston.
BIS Group has acquired the Neo Group headquartered in Surat, India.
Wärtsilä has reached an agreement concerning a recommended cash offer for pump engineering group Hamworthy. This values the Poole-based company at £383 million ($598.75 million), although the acquisition remains conditional on approval by Hamworthy's shareholders and regulatory approvals in Germany and Norway.
LLX has signed a rental agreement with Technip Brasil for land in TX2 at the Açu Superport, for the installation of a flexible-pipe production plant to support the offshore oil and gas industry.
Technip has formed Genesis, a new worldwide consultancy, subsea, and offshore engineering services company. It will combine Technip's Genesis Oil and Gas consultants with its deepwater engineering team in Houston. Independent of Technip, Genesis will target early phase engineering consulting and full life cycle subsea and offshore engineering services.
Paradigm has been selected by North Caspian Operating Co. B.V. to provide onsite technical services to support NCOC teams working at the Technical Data Center in Astana and Atyrau, Kazakhstan.
Xodus Group has launched a £5 million ($7.8 million) office in The Hague.
Mobile Oilfield Learning Unit completes tour
The Offshore Energy Center recently completed a tour of several states with its Mobile Oilfield Learning Unit, a $1.2-million traveling educational exhibit. The MOLU consists of six self-contained components with curriculum-based, hands-on learning activities about earth science and energy topics.
MOLU manager Michael Nevels helps educate students at Dr. G. W. Carver Elementary School in Richmond Hill, Georgia.
More than 2,500 students experienced the MOLU in 13 cities across Louisiana, Alabama, Georgia, South Carolina, Virginia, North Carolina, and Washington, DC. In an effort to promote the importance of science, technology, engineering, and math as well as the value of the oil and natural gas industry to the US economy, the OEC took the MOLU to Congress and to schools along the route.
The MOLU departed Houston on Sept. 6 and returned Oct. 12, but reached its ultimate destination, the Rayburn House Office Building in Washington, DC on Sept. 22. The Honorary Congressional Host Committee included Rep. Doug Lamborn (R-CO), Rep. John Culberson (R-TX), Rep. Bill Flores (R-TX), Rep. Gene Green (D-TX), Rep. Sheila Jackson-Lee (D-TX), Rep. Pete Olson (R-TX), and Rep. Steve Scalise (R-LA).
The trip was made possible through the contributions of the American Petroleum Institute (API), ConocoPhillips, Deep Gulf Energy LP, Noble Corp., Noble Energy, and the National Ocean Industries Association (NOIA). Through the efforts of API's local affiliates, numerous state and local officials visited the MOLU in their localities.
Deepwater Operations announces award winners
Two speakers won awards for their presentations at the 2011 Deepwater Operations Conference & Exhibition, held at the Moody Gardens Hotel and Convention Center in Galveston, Texas, Nov. 1-3, 2011.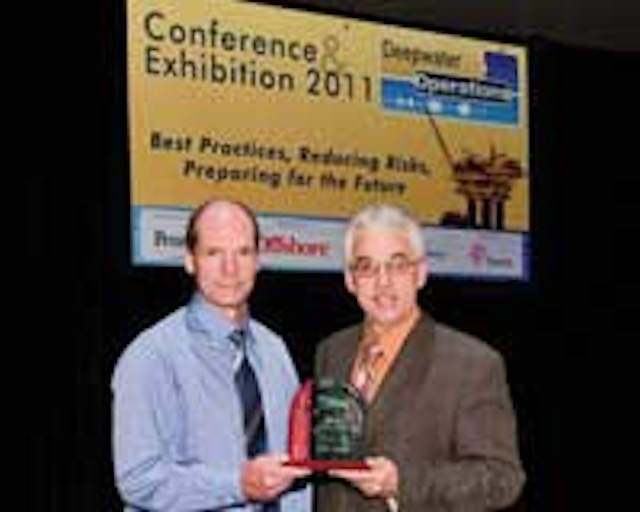 Mike Stark receives Best Presenter award from Walter McDougle, chairman of the 2011 Deepwater Operations Conference & Exhibition.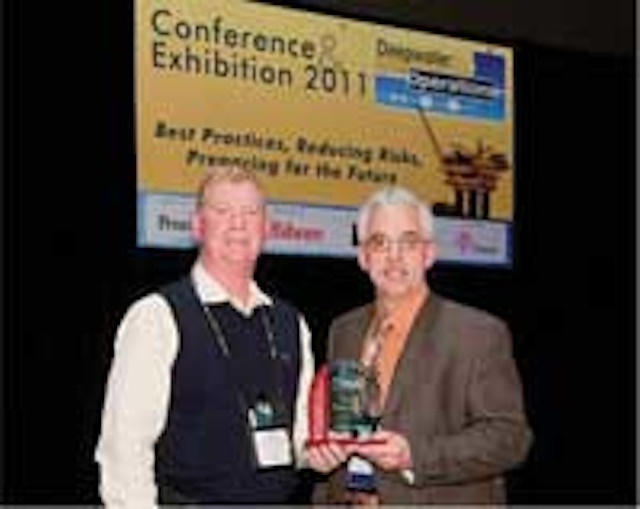 Tony Owen receives Best Presenter award from McDougle.
The award for Best Presenter went to Mike Stark, Enterprise Products, for his presentation on the "Anaconda Pipeline Extension Project."
Stark is the Director, Offshore Pipelines for Enterprise Products Partners. He has overall responsibility for the company's offshore pipelines and facilities installations, including the Anaconda Gas System. Stark has 38 years of experience in the offshore oil and gas construction and subsea industry.
The award for Best Presentation went to Tony Owen, Helix Energy Solutions, for his presentation on "Emerging Technical Developments in Deepwater Operations."
Owen attended Nichols State University and has 27 years offshore production industry experience. He has focused on emerging technologies while serving in leadership capacities on six major deepwater projects since 1998. His professional production and marine operation experience is centered on deepwater conception, designs, fabrication, integration, installation, and testing techniques.
The 2011 Deepwater Operations Conference attracted 792 attendees from 11 countries. The theme of the conference, "Best Practices, Reducing Risk, Preparing for the Future" proved appealing to attendees due to the change the industry has undergone in the last year. The program included presentations on:
Regulatory Issues
New Start-Ups
Safety Environmental Management Systems (SEMS)
First Year Lessons Learned
Oil Spill Response
Operational Solutions
The 2012 Deepwater Operations Conference will be held Nov. 6-8 at the Moody Gardens Hotel and Convention Center in Galveston.