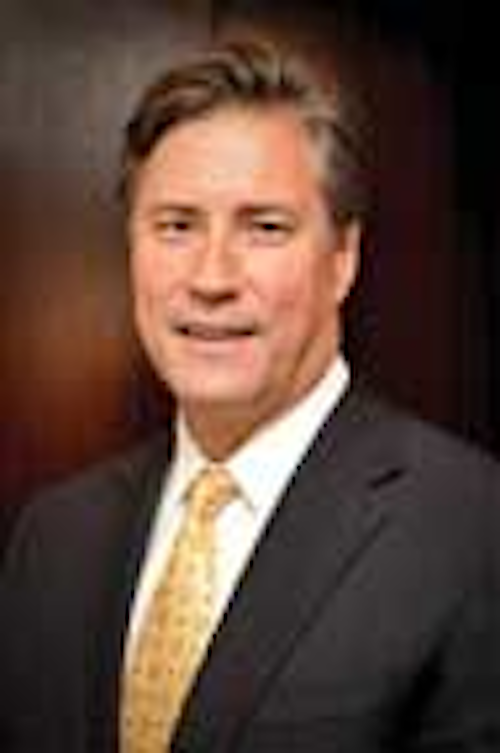 Petrobras' board of directors has electedMaria das Graças Silva Foster as CEO, succeeding José Sergio Gabrielli de Azevedo.
RWE Dea AG has appointedDirk Warzecha as a member of the executive board, effective on Nov. 1, 2012. He will take over as COO on Jan. 1, 2013.
Dragon oil has namedAli Al Hauwaj exploration manager.
S2S IMI Group has appointedRobert Savarese as director of global business development to help establish and drive the expansion of its new engineering solutions division.
Duncan Junor and Steve Roberts have been elected as chair and vice chair, respectively, to the Energistics board of directors.
Zachary Nagle has joined KBR as VP, investor relations and communications.
Forum Subsea Technologies' DPS Offshore group has appointedColin Erskine as global business director, and Mike Grubb as technical manager.
Jan Grimnes has joined the board of ffA as a non-executive director.
Noble Corp. has namedBernie G. Wolford senior VP-operations.
S2S has appointedGraham Walsh as group human resources director.
BG Group has appointedVivienne Cox as a non-executive director.
Schilling Robotics has appointedGeorge Shirreffs as VP of customer service.
Mike Eyre has joined Fugro-Jason as global sales manager.
OPITO International has appointedAlbert Skiba as vice president for the Gulf of Mexico.
Paul Lewis has joined Hoover Container Solutions as president and COO.
Lewis
Siemens Energy has appointedAdil Toubia as CEO of the oil and gas division.
OMV has appointedHans-Peter Floren as an executive board member for gas and power.
Penspen Group has appointedIbrahim Washash as regional manager of integrity services in the Middle East.
Reservoir Group's surface logging business, Empirica, has namedEtienne Roux managing director.
Roux
Sembcorp Marine has appointedAjaib Haridass as chairman of the Nominating Committee, and a member of the Executive Resource and Compensation Committee.
Dag W. Reynolds has resigned as executive VP sales and business development of Electromagnetic Geoservices ASA. Dave Ridyard will serve as acting executive VP sales and business development until a permanent replacement is found.
Murphy Oil Corp. has appointedBill Stobaugh as executive VP, corporate planning and business development, and Tom Mireles as vice president, corporate planning and business development.
Fluor Corp. has elected CEODavid T. Seaton as the chairman of the board of directors.
Seaton
Seadrill's CFOEsa Ikäheimonen has decided to leave the company during the second half of 2012. The company has restructured the CFO role into two and created a new role of chief accounting officer (CAO). Robert Hingley-Wilson has been named CAO and senior vice president, and Magnus Lundetræ as CFO and senior vice president.
Xodus Group has appointedEdward van Kersbergen as executive chairman.
OEG Offshore has appointedTom Boyle as group finance director.
Larraine Boorman has been named UK managing director of OPITO.
Boorman
Clariant Oil Services has namedGraham Gammack head of marketing.
Reservoir Group has appointedWade McCutcheon as COO.
McCutcheon
Glacier Energy Services has namedSandy Smart as rental and service director, and Mark Currie as operations director.
Hoover has appointedAl Kibbe as manager–large format tanks.
Dr. Marianne Rauch-Davies has joined Geomage Ltd. as VP of applied technology.
The Women's Energy Network has electedLori McDowell as president for a one-year term.
Robert S. Shaw has notified Transocean of his resignation as VP, controller and principal accounting officer.
John Andrew Hagg, Steven W. Nance and Murray D. Smith have been elected to the Williams board of directors.
Hardy Oil and Gas has appointedAlasdair Locke as an independent non-executive chairman.
Jon D. Ryan has been named president of Wood Energy Group.
TWMA has appointedRob O'Neill as sales director for the Americas, Norway, Middle East and North Africa.
SBM Offshore N.V. CFOMark Miles will not stand for re-election on May 16, 2012.
Faroe Petroleum has appointedPaul Willcocks as business development manager, Ian Wilson as UK exploration manager, and Bjørn Berntsen as Norway asset manager.
Nautronix has namedAlessandra Bunel as business development manager for the Brazilian region.
Captain Tim Glasspool has been appointed co-chairman of the Step Change in Safety's Helicopter Safety Steering Group.
Glasspool
Jeffrey A. Gorski has joined Tidewater as a senior VP.
Haakon Andersen and Mike Salter have been appointed to the Ferguson Group board of directors.
Salter
Veripos has appointedRichard Turner as global business development manager.
Mobilarm Ltd. has appointedDavid Marshall to its board of directors.
Mermaid Maritime has appointedBruce M. Gemmell as CEO.
Patrick Phelan has been appointed managing director of Aquaterra Energy Ltd.
Total S.A. has appointedGérard Lamarche as director. He has also been appointed to the Audit Committee and the Strategy Committee.
Pasi Lehtonen has been appointed senior VP of Cargotec's offshore business segment.
Lehtonen
Petrofac has appointedRené Médori as a non-executive director, and Marwan Chedid as an executive director on the board.
Wild Well Control has namedJames Tuppen as manager, international well control operations.
Tuppen
GeoResources has appointedRobert J. Anderson as COO (Northern Division), and Timothy D. Merrifield as executive VP–geology and geophysics.
CSA International has appointedGordon Stevens as general manager of the STEP (Scientific Tools and Equipment Pool) Program.
Stevens
Flowserve Corp. has appointedThomas L. Pajonas as COO.
Phillips 66, the future independent downstream company, has appointedC.C. (Clayton) Reasor as VP of investor relations, strategy and corporate affairs. The new ConocoPhillips, an independent, pure-play exploration and production company, has hired Ellen R. DeSanctis as VP of investor relations.
Crosco Integrated Drilling & Well Services Co. has appointedTomislav Tadic as CFO and a board member.
Tadic


Peter Szekely, Crosco's director of corporate services, was also added to the board.
Szekely
Kevin Reinhart has been appointed interim president and CEO of Nexen.
NAVTOR has appointedTor A. Svanes as managing director.
IHS has namedArshad Matin executive VP.
Company News
Star Information Systems has established a Brazilian base in Rio de Janeiro.
KBR has established a new entity to perform general engineering and project management services under the Saudi Aramco GES+ initiative.
Baker Hughes has broadened its pipeline service portfolio to include circumferential magnetic flux leakage inspection technology.
Peak Well Systems has opened its first Malaysian office in Kuala Lumpur.
Schlumberger has made available its new PressureXpress-HT reservoir pressure service and MDT Forte-HT high-temperature formation sampling and pressure system.
Shell Brasil received the "Excellence in Project Integration" Award at the International Petroleum Technology Conference 2011 in Bangkok. The Award was in recognition of the achievements made by Shell Brasil's BC-10 Parque das Conchas team, in successfully managing and directing an integrated oil and gas project from discovery to production, using breakthrough technology solutions.
EPC Offshore has announced plans to expand into the contracts and procurement sector for the North Sea oil and gas industry.
Expro has opened an operations base in Paradise, Newfoundland, Canada, that will support the provision of well testing, subsea, and downhole video services.
Advanced Maritime Transports has acquired Port Logistics, a Brazilian maritime support logistics agency.
Oilennium Ltd. has been awarded a contract by EnerMech to provide an online learning management system for its staff and clients.
Keppel Offshore & Marine Technology Centre and ConocoPhillips are jointly designing a jackup capable of drilling in Arctic Sea ice regions.
SandRidge Energy has entered into an agreement to acquire Dynamic Offshore Resources for an aggregate consideration of $1.275 billion including about $680 million in cash and about 74 million shares of SandRidge common stock valued at $8.02 per share.
NKT Holding A/S and Subsea 7 S.A. have agreed to sell NKT Flexibles to National Oilwell Varco for DKK 3.8 billion ($669 million). Since 1999, NKT Flexibles has operated as a joint venture between NKT Holding A/S (51%) and Subsea 7 S.A. (49%).
Aker Solutions has acquired Norwegian engineering company Sandnessjøen Engineering.
TheWeir Group has agreed to acquire Novatech LLC for $176 million (£113 million) in cash.
Petroleum Development Oman has joined ITF, the UK-based technology facilitator for the global oil and gas industry.
Norwegian E&P independentSpring Energy has signed a framework contract under which Acona will become its emergency preparedness services provider.
Tenaris and CRC-Evans have agreed to offer an integral package of tubular line pipe and welding technologies directed at offshore operations.
Schilling Robotics has opened a service and support operations facility on the FMC Technologies campus in Macaé, Brazil.
TAM International has announced plans to construct a new manufacturing facility in Houston.
Collabro has partnered with West Atlantic Energy Nigeria Ltd. to supply software and support services to the Nigerian government, as part of a safety initiative for the country's offshore workers. The multi-million pound contract will initially run for five years and will see Collabro provide Vantage POB software and associated support services.
Delta Rigging & Tools has been named Limpet Technology's primary distributor in North America and Australia.
Aubin and Nortech have formed a strategic partnership in Brazil.
ASCO has opened a new oil and gas logistics hub in Singapore.
Norbar Torque Tools India Pvt. Ltd. has opened in Mumbai.
OSX was awarded the Oil & Gas Deal of the Year Americas, at the Project Finance International Awards for raising an $850-million loan for the construction and implementation of the FPSO OSX-2.
3sun Group has expanded with the launch of a new inspection division, 3sun Inspection Services.
Ramboll Oil & Gas has won a contract to provide consultancy services offshore northeast Qatar.
Maersk Oil has contracted Expro for surface well testing, clean-up services, and large bore subsea safety systems for drilling rigs operating in the UK North Sea. The three-year contract, with a possible two-year extension, is valued at $5 million.
Statoil has acquired 30.625% working interest in Cairn Energy's Pitu license in Baffin Bay offshore western Greenland.
Six national oil and gas trade associations are strengthening their emergency response arrangements for offshore northwest Europe.Operators' Cooperative Emergency Services is a joint declaration among the associations of the UK, Norway, Denmark, the Netherlands, Germany, and the Irish Republic that allows operating companies to call on each other for support in emergency situations, regardless of national boundaries.
Tullow Oil has signed a non-binding memorandum of understanding with Shell to collaborate in frontier exploration in selected regions and geological plays around the Atlantic basin.
CGGVeritas subsidiarySercel has acquired the assets of Geophysical Research Co. LLC.
Swire Oilfield Services has established an Asia-Pacific regional headquarters in Singapore.
PTTEP has agreed to reduce its interest in three deepwater exploration blocks in the Makassar Strait offshore Indonesia. Total is the beneficiary. The farm-out involves dilution of PTTEP's 33% share in South Mandar block, 10% in Sadang block and 10% in South Sageri block.
Baker Hughes is the first integrated oilfield service company to receive full accreditation of its Competence Management Program from the International Association of Drilling Contractors.
ReThink Energy has opened its first North American office in Houston.
More Offshore Issue Articles
Offshore Articles Archives
View Oil and Gas Articles on PennEnergy.com