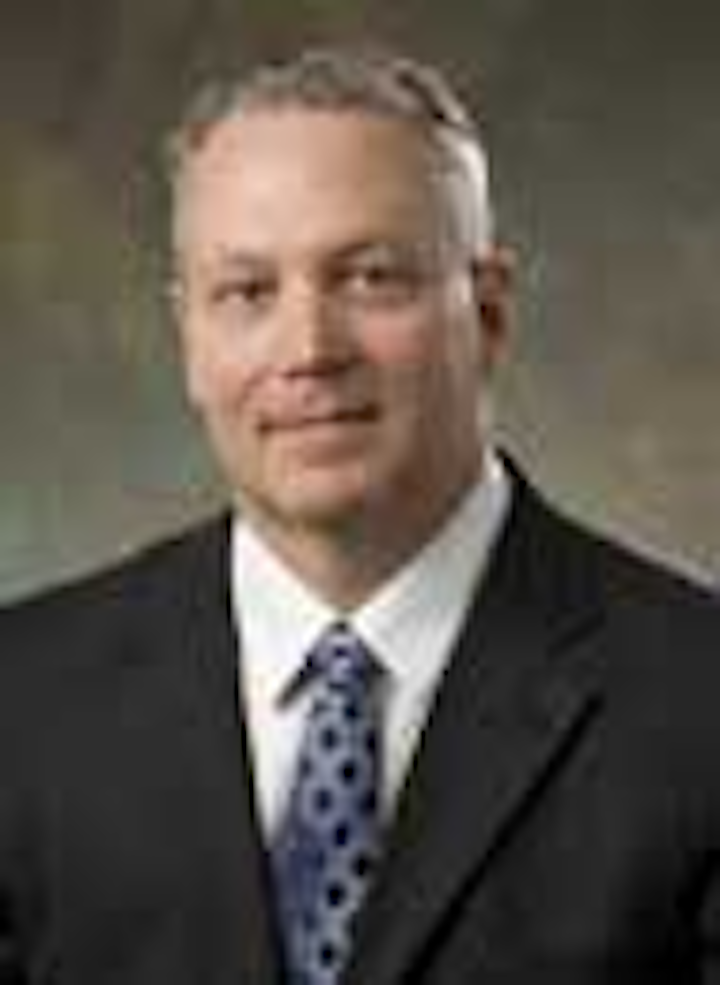 Alasdair Buchanan has been appointed COO of Senergy and managing director of the group's Energy Services division.
Enterprise Products Partners has electedThomas M. Zulim as group senior VP; William Ordemann as group senior VP, Unregulated NGLs, Crude and Natural Gas Assets; Lynn L. Bourdon III as group senior VP, NGL and Natural Gas Marketing, Petrochemicals and Marine; Terrance L. Hurlburt as group senior VP, Operations and Environmental, Health, Safety and Training; Leonard W. Mallett as group senior VP, Engineering; Rudy A. Nix as group senior VP, Distribution Services and Asset Optimization; and Rick R. Rainey as VP, Public Relations.
Bruce Thames has been promoted to senior vice president and COO of T.D. Williamson.
Thames
Marcelo L. Soares has been named vice president for Latin America, GE Energy.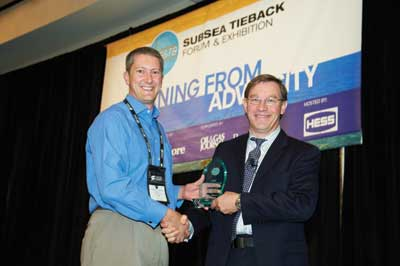 (Above) Subsea Tieback 2012 Chairman Steve Whitaker (right) presents Charlie Tyrrell of Shell with the award for Best Presentation at the 2012 Subsea Tieback Forum. Tyrell presented on "Subsea Sampling – Putting the Concept into Practice."
(Below) Mandi Winter, of ExxonMobil Development Co., received the award for Best Presenter at the 2012 Subsea Tieback Forum in Galveston recently. She presented on "Subsea Separation Qualification for the Global Portfolio."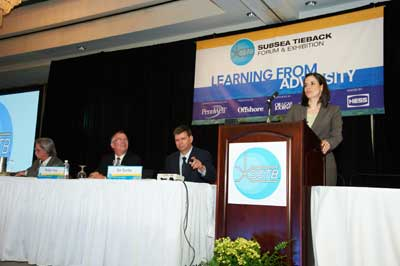 Zilift has namedStuart Ferguson chairman of the board of directors.
Charles W. Moorman has been nominated to Chevron's board of directors.
GL Garrad Hassan has appointedIan Finch as business development manager.
Bluefin Robotics has hiredOmer Poroy as VP of business development, and Ian Estaphan Owen as director of programs.
Magnus Wardle has become the first engineering director of Wireline Engineering.
Mermaid Drilling has appointedStephen Gregor Lenz as executive director, and James McGhee Nicol has resigned as general manager.
Mermaid Maritime Plc has appointedNathan Williams as group operations director.
Pavel Fedorov has been appointed Deputy Minister in the Ministry of Energy of the Russian Federation. He was previously First VP of Rosneft.
Swift Worldwide Resources has appointedClay Jessop as HSE manager.
Tetsushi Agata and Tetsuya Kinoshita have been promoted to managing directors of ClassNK. Executive VP Hiroshige Kitada has retired, but will remain with the society as an adviser.
BIS Salamis has appointedMike McKay to its board of directors.
McKay

Dolphin Geophysical has namedGil Howell as manager multi-client NASA.
Mediterranean Oil & Gas Plc has appointedDr. William George Higgs as CEO.
Apply Altra has appointedBill Yuile as managing director.
Royal Dutch Shell has appointedHans Wijers as deputy chairman and senior independent director. Josef Ackermann has been appointed a member of the Nomination and Succession Committee, and Sir Nigel Sheinwald has been appointed a member of the Corporate and Social Responsibility Committee.
Subsea 7 has appointedEystein Eriksrud as a non-executive director to the board of directors.
Liv Monica Stubholt has joined Kvaerner as senior vice president for strategy and communication.
Ashtead Technology has appointedSteve Williams as regional general manager, Kevin Murray-Taylor as regional sales manager, and Michael Bain as internal technical sales manager at the Singapore facility.
NAVTOR has appointedFrode Klepsvik to its board of directors.
John A. Sydness has been named managing director of Thome Offshore and Thome Oil & Gas. He succeeds Claes Eek Thorstensen, who is moving into a group role in TSMI – the holding company of the Thome Group of companies. The company has also appointed Paul Schaab as general manager, offshore fleet; Manfred Mueller as general manager, commercial; Cynthia Surin Harris as finance manager; and Gaurav Gupta as the new head of marine human resources.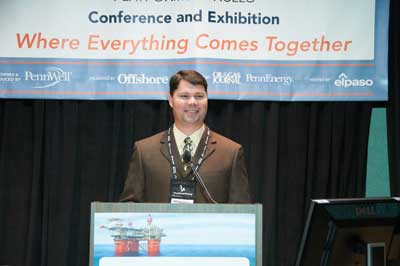 (Above) Brian Rieth of Shell received the award for Best Presenter at the 2012 Topsides, Platforms & Hulls Conference & Exhibition in New Orleans. He presented on "Remote Surveillance of Existing Assets."
(Below) Eldon Ball (right), Conferences Director for PennWell's US Offshore Group, presents the award for Best Presentation at the 2012 Topsides Platform & Hulls Conference to Alan Scott (center) and Bojan Paunovic, both of Chevron. Their presentation was on "Lessons Learned from the Successful Float-over of a 20,000 Metric Tonne Central Processing Platform."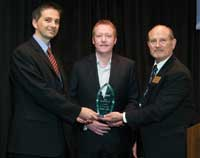 Comex founderHenri-Germain Delauze has passed away at the age of 83.
Simon Eyers has joined Warburg Pincus as managing director.
Fraser Louden has been appointed managing director of Reservoir Group's well intervention and measurements business.
Louden
Malcolm Webb, chief executive of Oil & Gas UK, has accepted the role of chairman for SPE Offshore Europe 2013.
Fluor CFOD. Michael Steuert will retire at the end of May. Biggs C. Porter has been appointed as senior vice president and CFO.
William C. Nolan, Jr., chairman of Murphy Oil, died on March 12, at the age of 72.
Cuming Corp. has appointedMike Dushinske to its Houston sales staff.
Scott Lang has joined CorDEX Instruments as a US sales manager.
Lang
Anders Eldrup will resign as CEO of DONG Energy. CFO Carsten Krogsgaard Thomsen has been appointed as acting CEO.
Lance Bolds has been named chief legal counsel of Greene's Energy Group.
Bolds
PIDX International has appointedTom Lennon as VP, and Suresh Rajamani as chair of the Standards and Guidelines Committee.
Wireline Engineering has appointedRichard Jackson as Middle East, Asia, and Australia divisional sales manager.
Foster Marketing has namedVicki Wyatt vice president of creative services.
Wyatt
Penspen International Director of IntegrityNigel Curson has relocated to the company's Middle East Regional Office in Abu Dhabi.
Curson
Company news
DNV has purchased 12.5% of shares in STRI (Swedish Transmission Research Institute), a consultancy firm providing advanced studies of high voltage power transmission systems and accredited high voltage testing.
TAQA Bratani's Tern Alpha oil platform in the British sector of the North Sea has been completely upgraded with Tideland Signal's Syncrolan LED light and fog stations.
Energy Ventures has signed an agreement to invest up to £6 million ($9.5 million) in 2TD Drilling to support the development of advanced drilling tools for the oil and gas industry. The first 2TD product will be an electro-mechanical rotary steerable drilling tool.
Kongsberg Maritime has acquired 100% of the shares in fleet management software company Jotron Consultas. A new product group consisting of all previous Jotron Consultas employees and based at Kongsberg Maritime's premises in Horten, Norway, will be formed as a result of the acquisition.
CSA has acquired ECOES Consulting, a marine mammals and protected species consulting firm in Florida.
SBM Offshore has awarded Refrigeration Engineering Pty. Ltd. a contract for the design, engineering, and fabrication of a refrigeration and gas dew point control unit. The unit will be installed on the FPSO Cidade de Ilhabela that SBM Offshore is supplying to Petrobras in Brazil for the Santos basin.
Petrofac and Siemens have become members of ITF (Industry Technology Facilitator).
Subtech Ltd. has opened a branch office in Abu Dhabi, United Arab Emirates.
Ferguson Seacabs has announced SDV as a new partner in East Timor. SDV will be in charge of marketing Ferguson Seacabs products in the area, including maintenance and inspection of equipment.
TDW Offshore Services AS has successfully designed and built a customized 48-in. SmartPlug pipeline pressure isolation tool for Nord Stream AG. Weighing about 12 tons, it is the largest SmartPlug tool ever produced.
BB Visual Group has acquired OilTeams SRL. OilTeams of Milan, Italy, develops and delivers data management services and systems according to the WITSML, WITS, and Web services standards to optimize drilling and related activities.
U.S. Steel Tubular Products has opened its Innovation & Technology Center in Houston, a new 10,000-sq ft facility designed to educate both internal and external audiences about the latest tubular products and technologies for the oilfield.
Industry talent recognized at Offshore Achievement Awards

Offshore industry individuals and companies were celebrated at the 26th Offshore Achievement Awards ceremony at the Ardoe House Hotel in Aberdeen, this past March. The awards were re-launched in October by the Society of Petroleum Engineers Aberdeen Section along with the support of main sponsor TAQA Bratani.
2012 Offshore Achievement Award Winners are:
Great Large Company: AMEC
Highly commended: Ace Winches
Great Small Company: Alba Power
Young Professional: Emma Stephenson, Shell UK
Highly commended: Stuart Brand, 3Sun Group
Working Together: Veolia Environmental Services UK
Offshore Renewables: Vattenfall
Export Achievement: Ace Winches
Safety Innovations: 3sun Group
The Innovator: Expro Group
New Idea: Coretrax
Lifetime Achievement: Professor Alex Kemp.
Rock Hill Capital Grouphas closed on a majority recapitalization of Diversified Well Logging LLC, a mud logging services, equipment, personnel, and technology provider based in Reserve, Louisiana.
Intertek has invested £1.5 million ($2.4 million) extending its laboratories in Manchester as part of an expansion of its energy services capability in the UK. The company's specialist corrosion team Intertek CAPCIS has secured new contracts worth more than £2 million ($3.2 million). The Trafford Park laboratory has been expanded by 50% in order to accommodate growth in its testing business, particularly in relation to corrosion fatigue studies.
Swift Worldwide Resources has relocated its worldwide headquarters to Houston. CEO Tobias Read and CFO James Dymott are relocating from London to Houston.
Siemens has agreed to buy Expro's Connectors & Measurements business for $630 million. This includes Tronic and Matre, which design, manufacture, assemble and install subsea electrical power and data connectors, and temperature and pressure sensors.
Kongsberg Evotec has received an order for a second bulk hose securing unit for the LNG vessel Viking Queen from Eidesvik Offshore ASA. The company developed the technology through Statoil's LOOP technology development program in cooperation with Innovation Norway and Eidesvik.
Aker Solutions has taken full ownership of Aker Clean Carbon. The 28 employees will join the company's technology and front-end team in Oslo, Norway.
Caterpillar's Cat 3500C diesel electric propulsion generator sets have entered full production at the Piracicaba, Sao Paulo, Brazil manufacturing facility.
More Offshore Issue Articles
Offshore Articles Archives
View Oil and Gas Articles on PennEnergy.com