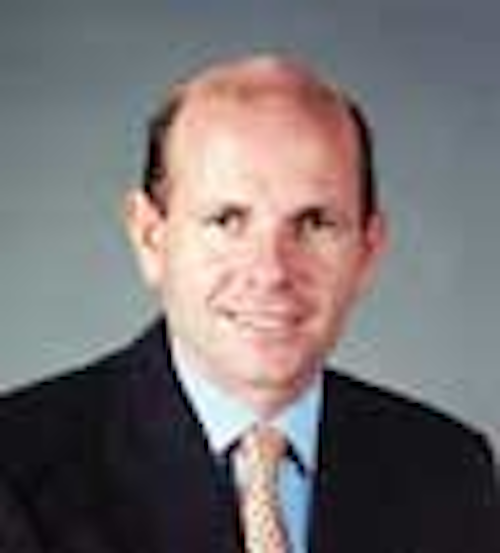 Martin Craighead has assumed the role of president and CEO of Baker Hughes. He succeeds Chad Deaton, who will remain chairman of the board of directors.
Transocean has announced thatRicardo Rosa has stepped down as executive VP and CFO. Rosa is expected to retire from Transocean on April 30, 2012. Until a permanent replacement is named, Gregory L. Cauthen will serve as interim CFO.
DeepOcean Group Holding AS has appointedBart H. Heijermans as CEO.
Heijermans
Ma Ze Hua has been appointed chairman and non-independent and non-executive director of COSCO Corp. He succeeds Liu Guo Yuan.
Mario Kerssens has joined the CargoMaxx team at Van Aalst Offshore & Marine as business development manager.
Dolphin Geophysical has appointedPaul Tollefson as marketing and business development manager for multi-client and processing.
Anita Marie Hjerkinn Aarnæs has been named human resource director for DNO International ASA.
Captain Adarash Kumar has been named Group COO of Ezra Holdings Ltd. Robin Kirkpatrick has been appointed CEO of EMAS Marine, Ezra's offshore support services division.
GDF Suez E&P UK has namedMike Robertson development and operations manager.
Robertson
Rice Global Engineering & Construction Forum board members for 2012 include:Mike Coffey, chairman of the board; Martin Van Sickels, executive director; George Moore, chairman-elect; Al Goethe, chair of the Corporate Membership Committee; Philip Luna, chair of the Finance Committee; Mike Harrison, chair of the 2012 Annual Forum Committee; J. P. Chevriere, chair of the International Committee; Curt Watson, chair of the Marketing Committee; Stan Cone, chair of the Roundtable Luncheon Programs Committee, Liang Chun, chair of the Award for Excellence Committee; and Ed Segner, chair of the Scholarship Committee.
DOYLES has hiredEric Myers as director of engineering.
Neway Valve has appointedRichard Baars as managing director, and Paul Verheij as sales and business development director.
Jim McAleese has been appointed managing director of Alderley Systems.
Kosmos Energy has appointedDarrell McKenna as COO.
Fred. Olsen Production ASA has appointedEirik Barclay as CEO.
Fluor Corp. has announced thatKirk Grimes will assume the role of group executive for operations. Fluor's CEO David Seaton has asked Grimes to lead a business transformation process across all five Fluor Business Groups. Garry W. Flowers has been named group president for global services which includes Fluor's operations and maintenance business, TRS temporary staffing and AMECO equipment rental business.
Delta Rigging & Tools has appointedMitch Hausman as president and COO.
Noble Corp. has namedJames A. MacLennan as CFO and controller.
Jack B. Moore has been elected as a member of the KBR board of directors.
Adrok Ltd. has hiredSean Walker as senior professional geophysicist.
Total has appointedMartin Deffontaines as VP of investor relations. He succeeds Bertrand de La Noue, who has been appointed general representative for Total in China.
Serimax has appointedFrederic Castrec as managing director.
Sarah Taylor has joined Exova as a metallurgist at the company's Sandnes, Norway laboratory.
Atlas has namedNatavan Askerova new account director to drive growth in the Middle East.
Emerson's Roxar Software Solutions has appointedFrode Sedberg as regional manager for Brazil.
Sedberg
Senergy has appointedVivien Broughton as VP of resources.
Broughton
Nancy E. Bowers has joined Fugro Gravity & Magnetic Services as senior geophysicist.
Bowers
Lloyd's Register has appointedJohn Wishart as energy director to lead its global energy business.
Ellington & Associates has appointedVictor Schmidt as manager of marketing and business development.
Petrobras' Director for Exploration and ProductionGuilherme Estrella, won the 2011 Dewhurst award at the 20th World Petroleum Congress in Doha, Qatar.
Chris Harrigan has joined ICON Engineering as general manager finance and commercial, while Robyn Anderson has been appointed general manager HR, safety and environment.
Harrigan
Anderson
Murphy Oil Corp. has electedClaiborne P. Deming chairman of the board of directors, effective May 1, 2012. Deming succeeds William C. Nolan, Jr. who is retiring as chairman but will remain on the board.
Noreco has appointedØrjan Gjerde as CFO.
TWMA has appointedDanny Murray as business development manager for the Middle East and North Africa.
Xodus Group has appointedDirk Van Oostendorp as integrity team lead, and Dave Thomas as subsea manager.
CGGVeritas and Eidesvik Offshore ASA have confirmed thatArnstein Øvsthus has been appointed general manager of their ship management joint venture, CGGVeritas Eidesvik Ship Management AS.
Øvsthus
Fluor Corp. has namedJeffrey Ruebesam as vice president to lead the company's global health, safety and environmental function.
RLC has appointedJoan McCarthy as CFO, and Travis Latiolais as VP of business development.
Company News
DNV has established a Deepwater Technology Centre in Singapore.
Apache North Sea has completed its acquisition of ExxonMobil's Mobil North Sea assets. The company has now assumed operational control of the Beryl, Nevis, Ness, Nevis South, Skene and Buckland fields, the Beryl/Brae gas pipeline and the SAGE gas plant. The transaction also included non-operated interests in the Maclure, Scott, and Telford fields and exploration acreage at Benbecula, west of Shetland.
BigLift Shipping has completed the installation and load testing of a Huisman-Itrec 17 m (56 ft) super fly jib for their heavy lift mast cranes on M/V Happy Buccaneer, thereby increasing the lifting height and outreach by 50% to respectively 59 m (194 ft) above deck and 55 m (180 ft).
Maritime Engineers, the Australian-based ship survey and marine engineering consultancy firm, has opened a new office in Singapore.
GL Garrad Hassan has opened its first office in Cape Town, South Africa.
GAC India has opened a new office in Pipavav, which will serve as a base for operations in the Mumbai High oil field, off the India's west coast.
Parker Hannifin Corp. has signed an enterprise framework agreement for an initial five-year period with Shell as a single source supplier for the provision of instrumentation valves, manifolds, process-to-instrument valves, fittings, tubing, protective enclosures, and related products.
Clover Tool Co. has relocated its world headquarters to a new 10,000 sq ft facility in Fulshear, Texas.
European Rope Services will join Hendrik Veder and RopeQuip to jointly become the leading European group in lifting, towing, and rigging ropes and equipment for the offshore and onshore industries. The group will have full coverage in the region with headquarters in the Netherlands and subsidiaries in England, Scotland, Scandinavia, Germany, France, and Poland. The three companies will be placed under one holding company with majority shareholder Active Capital Company.
GAC has opened a new office in Pointe Noire, Republic of the Congo. GAC Shipping and Logistics Congo Sarl will provide ship agency, husbandry and freight forwarding services for customers operating in the Congo, as well as providing additional support for customers in Angola.
Clough has completed the sale of its marine construction business to SapuraCrest Petroleum Berhad for gross proceeds of about AUD 127 million ($132 million).
Interwell has recorded significant growth since opening its UK facility in February 2011, by more than doubling its pool of expert staff and has announced it is investing more than £2million ($3.1 million) to expand its Aberdeen operations.
Tendeka has secured a major frame agreement with Statoil for the provision of sand screens and inflow control devices and services for use on the Norwegian continental shelf.
Nexus has been acquired by Aberdeen-businessman, Mark Cavanagh. The oil and gas risk mitigation company is now trading as NexusAB Ltd. with a focus on the development and sales of bespoke software aimed at the subsurface sector within the oil and gas industry.
DeepOcean Group has announced a new long-term charter agreement with REM Ship AS for the multi-purpose offshore construction vessel Rem Forza.
Schlumberger has acquired ThruBit LLC to expand its wireline technology reach into horizontal well evaluation.
Statoil has exercised options in its framework agreement with AGR Field Operations for surface management services. The extension is valued at around NOK 60 million ($10 million) over a period of 12 months.
Alpine Ocean Seismic Survey now works with Gardline Geosciences to offer cone penetration testing, heave-compensated drilling, and seabed sampling to 3,000 m (9,842 ft) water depth.
Technip has contracted SPT Energy Group to provide end dimensioning services for Shell's BC-10 Phase 2 project. SPT will use STARR Network Solutions to measure more than 3,700 joints as well as perform pipe groupings and SCR Array Mapping at the Technip Spoolbase in Mobile, Alabama.
Leighton Offshore has launched DPS Leighton Engineering Sdn Bhd, its new engineering business in Malaysia.
GE Oil & Gas has opened its $100 million technology and learning complex in Jandakot, Western Australia, to support the development of skills for the oil and gas sector and provide its first in-country support and maintenance center for the upstream industry.
Dresser-Rand is expanding its Turbine Technology Services facility in Houston to include a center of excellence for F-class rotor repair.
Technip has completed the acquisition of Global Industries ahead of schedule.
Vicinay Marine has acquired 100% of the share capital of chain maker Ramnäs Sweden Holding and its subsidiary Ramnäs Bruk.
Reflex Marine has appointed EnerMech as the first accredited service company and distributor in the Middle East for the FROG and TORO transfer devices.
MAN Diesel & Turbo has signed enterprise framework agreements with Shell for provisioning of rotating equipment and services.
Variable Bore Rams reported a total recordable incident rate of .93 in 2011.
TAM International has opened an office in Shenzhen, China.
Mustang has acquired a majority stake in ISI Solutions for an initial consideration of $5.2 million. ISI Mustang will operate within Mustang's Automation and Control business.
The Bayou Companies, LLC has been awarded a contract to coat approximately 80 mi of 16-in and 18-in diameter oil and gas pipelines for the Shell Mars B deepwater development.
Norbar Torque Tools has launched its new sales and customer support operation in Mumbai, India.
FG International Holland B.V. has combined activities with Linjebygg Offshore AS.
Atlas Copco North America LLC has acquired Houston Service Industries.
Bourbon has opened Bourbon Baltic, an affiliate based in St. Petersburg, Russia, to optimize vessel crew recruitment and continue offering oil and gas clients ship management services for their offshore needs.
Optimarin has signed a framework agreement with DOF for the delivery of Ballast Water Treatment systems. The agreement establishes the terms governing contracts to be awarded within 2012 to 2015, in particular price and delivery. The bulk of the contracts are retrofit, but Optimarin confirms options for newbuildings.
Reservoir Group has acquired The Tool Company, located in Assen, the Netherlands, and the Aberdeen-based firm, Wellbore Intervention.
Ellington & Associates has relocated its corporate headquarters to 1414 Lumpkin Road, Houston, Texas 77043.
Deepwater Corrosion Services has appointed ERIKS bv as the exclusive distributor for its I-Rod brand pipe-support products in the Benelux Region, which encompasses Belgium, the Netherlands, and Luxembourg.
Bumi Armada's subsidiary,Armada TGT Ltd., has signed a facility agreement with seven financial institutions for facilities totaling $341.1 million to finance costs related to the conversion and installation of the FPSO Armada TGT 1 for deployment in the Te Giac Trang field, offshore Vietnam.
Atlas Copco Fluidcon has opened a new, 6,300 sq m (67,800 sq ft) building in Balikpapan, Indonesia.
Global pipe producerTMK IPSCO and Ferrous Metal Processing have entered into an agreement for the installation of the largest slitter in North America, a new .625" x 87" line, at the TMK IPSCO facility in Wilder, Kentucky. Commercial production will start in the fall of 2012.
Plexus Holdings PLC has granted Breda Energia S.p.A exclusive rights to manufacture, sell, rent out and service POS-GRIP exploration and production wellheads and other related POS-GRIP products to Eni.
Marsh Bellofram has acquired King Engineering Corp., Inc. Under the terms of the acquisition, King Engineering manufacturing operations have been moved from Ann Arbor, Michigan, to Marsh Bellofram global corporate headquarters in Newell, West Virginia.
Offshore Inland Marine and Oilfield Services has announced plans to expand operations at the Port of Pensacola thanks to shore-side improvements at the Port allowing more vessel service calls at the company's subsea support base.
More Offshore Issue Articles
Offshore Articles Archives
View Oil and Gas Articles on PennEnergy.com