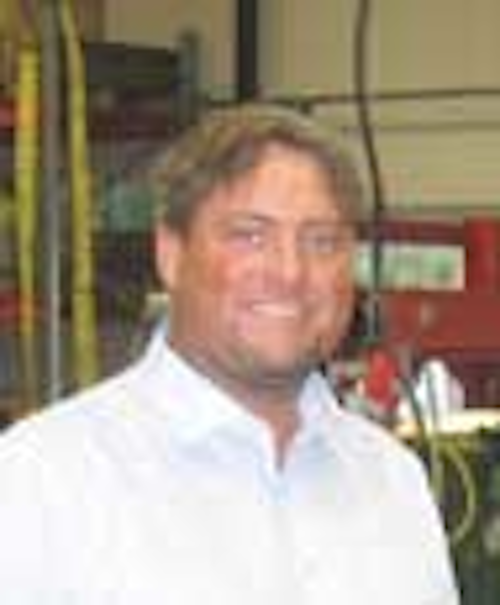 Anadarko Petroleum Corp. has appointedAl Walker as president and CEO.
Torsten Marten has joined NCS Survey as Brazil operations manager.
Exova has appointedHelge Andersland as operations manager.
Andersland
Gene Van Dyke, president and CEO of Vanco Exploration Co., has elected to resign to pursue other opportunities. The company has appointed Jeff Mitchell as interim CEO until a long-term successor is identified.
CAMAC Energy has appointedEarl W. McNiel as interim CFO.
Nexen Petroleum U.K. Ltd. has appointedArchie Kennedy as managing director, UK.
Clare Davidson, Victoria Reid, and Rebecca Masson-Graham, construction graduates at Aker Solutions in Aberdeen, will be the first in the UK to achieve professional approval for their training at the company's development program.
Reid, Masson-Graham, Davidson
The Intervention & Coiled Tubing Association's (ICoTA) European Chapter has namedCallum Munro as chairman, and Michael Taggart as co-chairman.
Mel Fitzgerald has resigned from Subsea 7's board of directors.
The Stewart Group has appointedMichael Braid to launch its specialist subsea and renewables business.
Braid
Offshore Installation Services has appointed Jeremy Punnett to global president. He will be based in Aberdeen, UK, at Acteon's Tern Place facility.
Devin International has promotedJoe Miller to VP and general manager.
Miller
Ridgewood Energy has appointedPeter A. Zwart as executive vice president of the company's commercial division.
Lars Christian Bacher has been appointed executive vice president for Development and Production International in Statoil.
Crane Energy Flow Solutions has hiredJavier Suarez to serve as global business line manager – cast steel valves.
Stéphane-Paul Frydman and Pascal Rouiller have been named senior executive vice presidents of CGGVeritas.
Members of theOffshore Contractors Association have elected Dave Workman, CEO of Stork Technical Services, as the new chairman.
Hardy Oil and Gas plc has appointedIan MacKenzie as CEO designate, and Peter Milne as an independent non-executive director.
DNV Maritime and Oil & Gas has appointedRemi Eriksen as CEO.
Intellian has appointedCarl Novello as VP of product management, and he will also lead the company's Inmarsat GX Terminal program.
Williams has namedJim Scheel to senior vice president of corporate strategic development.
BMT Cordah has appointedNorman Di Perno as managing director. Dr. David Sell will take up the role of technical director.
Di Perno
Mark Tume and Rodger Finlay have been appointed to NZOG's board of directors.
ExxonMobil Corp.'s VP of human resourcesLucille J. Cavanaugh has retired after more than 34 years of service. Malcolm Farrant is expected to succeed. The company has also elected Henrietta H. Fore to its board of directors.
Jeffrey Walter has been named CEO of Adira Energy Ltd. Hezi Kugler transitions from CEO to strategic consultant.
Expro has appointedSir George Buckley as chairman.
Buckley
Rodger Bagwell has retired as president of RLC. Dru Milke will assume the role of president and CEO.
Hamish Wilson has joined SLR Consulting as technical director.
Wilson
Royal Dutch Shell has appointedAndrew Brown as upstream international director.
Offshore Installation Group has appointed Steve Preston as CEO, and John Smith as executive vice chairman.
Arc Machines Inc. has promotedMike Allman to the position of VP, Europe.
Geir Eik has been named VP of internal turret systems at Sigma Offshore.
Foster Marketing has namedDaniel Foster as VP of account services.
Foster
Jeremy Akel has been named senior VP of global operations for Bristow Group Inc.
Woodside has appointedRobert Cole to its board as an executive director.
Xodus Group has appointedStephane Constant to the newly created position of chief technology officer.
Constant
David A. Tonnel has been named senior VP, finance and controller, and principal accounting officer of Transocean.
Cosco Corp. has appointedLiu Lian An as an executive director.
Larry Kilian has joined Industrial Scientific Corp. as senior director of Americas, Australia, and New Zealand sales.
Denis Tomashin has joined FairfieldNodal as a representative in Moscow.
Curt Terje Espedal has been named European regional manager for Roxar Software Solutions.
HornbeckOffshore Services has appointed Nicholas L. Swyka to its board of directors.
Petrobras has namedJosé Miranda Formigli director for exploration and production, and José Alcides Santoro for gas and energy.
Company news
Kvaerner has established Kværner Jacket Technology Trondheim AS, an engineering office in Trondheim, Norway.
Applus+ has been selected as the global inspection services provider for Shell. Under the four-year global enterprise framework agreement, Applus RTD and Applus+ Velosi will provide services related to vendor and quality assurance/quality control inspections, as well as non-destructive testing and related services.
Weatherford International Ltd. has launched a petroleum consulting unit to offer integrated formation evaluation and well engineering support. Weatherford Petroleum Consulting has 300 employees worldwide who encompass field development planning, production optimization, well engineering, project management, geomechanics, and unconventional resources.
Wärtsilä has launched its new medium voltage power drive. The product will enable the delivery of electro and automation systems for large, electric propulsion vessels.
Transocean has opened a training center in Macaé, Brazil. The company says for the first time in Brazil, Transocean personnel will be able to take drilling and crane operations competency assessment classes, D-CAP and C-CAP, using simulators onshore, in addition to Offshore assessments.
ITF has announced a new membership agreement with Thailand's national oil company PTT Exploration & Production Public Co. Ltd..
TheSiemens Drive Technologies Division has combined all of its electric motors into one product family with the name Simotics. The move is designed to integrate the portfolio and improve clarity for customers when selecting motors.
Aker Solutions has received official approval from the Engineering Construction Industry Training Board for its four-year construction graduate development program.
INTECSEA has signed a three-year agreement to roll out global access to the OLGA simulator from SPT Group.
UTEC Survey has opened a new office in Dubai, United Arab Emirates, which will trade under the name UTEC Survey JLT.
Swedish shipyardGötaverken Cityvarvet has changed its name to Damen Shiprepair Götaverken.
MAN Diesel & Turbo Schweiz AG has acquired magnetic bearing specialist Mecos Traxler AG. Mecos will resume its business under its established brand and will continue to serve its existing customer base and develop further partnerships.
Wärtsilä has signed a contract to acquire the assets and business of MMI Boiler Management Pte Ltd., the Singapore-based company specializing in the service and maintenance of boilers for marine and industrial applications. The acquisition is expected to close in 1Q 2012.
DNV's operations will be carried out through three separate companies:DNV Maritime and Oil & Gas, DNV KEMA Energy & Sustainability and DNV Business Assurance.
Moreno Group, LLC has changed its name to Dynamic Energy Services International, LLC.
FMC Technologies has been named the 2012 World's Most Admired Company in the Oil and Gas Equipment, Services industry by Fortune Magazine.
Veripos has established a new reference station facility in Hammerfest in northern Norway.
TheBaker Hughes Dhahran Research and Technology Center has opened in Saudi Arabia to focus on research and development of new technologies to unlock the potential of unconventional resources.
The board of directors ofRowan Companies has unanimously approved a plan to change the company's corporate structure whereby legal domicile would change from Delaware to the United Kingdom.
WellTools Ltd. is the latest member of the Reservoir Group.
BMT Group has opened a new office in Houston.
Holta & Håland Industrier AS has acquired Pro Analysis AS.
Kongsberg Evotec has established a crane and lifting department based in Molde, Norway, with production taking place at the company's headquarters in Gurskøy, Norway.
HB Rentals is expanding its presence in Australia and investing about AUS$1 million ($1.1 million) in the region for its products. The company is introducing four new product lines to the area including A60 Temporary Offshore accommodation and living quarters modules, ATEX Zone one pressurized A60 cabins, refrigerator containers, and workshops to support its growth strategy.
Inchcape Shipping Services has opened an office in Timor-Leste.
Ampelmann Operations has achieved its 100,000th crew transfer to an Offshore platform.
Thailand's state-ownedPTT Exploration and Production Public Co. Ltd. has made an offer to acquire Cove Energy Plc for £1,119.6 million ($1,773.9 million).
TheOil Stop Division of American Pollution Control Corp. has completed phase two of its contract with the US Coast Guard Research and Development Center for the testing of submerged oil recovery equipment. The contract was completed in November after successfully executing a variety of tests at the OHMSETT facility in Leonardo, New Jersey.
Gulf Copper & Manufacturing Corp. has completed the refurbishment and re-naming of its newest dry dock, the Mr. Morris.
Eni has agreed to sell its 16.41% interest in Interconnector to Fluxys G SA, as part of a package valued at €150 million ($199 million).
Shell Bidco has reached agreement to acquire UK independent Cove Energy. The proposed transaction values Cove at $1.56 billion.
University of Georgia marine scientist Samantha Joye, and colleagues Patricia Medeiros and Christof Meile have received a $1.3-million grant from the Gulf of Mexico Research Initiative to further understand the ecosystem impacts of the 2010 Deepwater Horizon oil spill.
Atlas and OPITO have developed the International Minimum Industry Safety Training system, an online global standardized e-learning program.
Dragon Oil confirms that it is in the early stages of a potential offer for the share capital of Bowleven.
Flowserve and Saudi Arabian company S&A Abahsain have inaugurated their jointly owned valve manufacturing plant and training center in the Dammam Second Industrial City. The 55,000-sq ft (5,110-sq m) facility is designed for component machining, valve assembly, and testing.
FMC Technologies has signed a definitive agreement to acquire Control Systems International Inc. Terms of the transaction were not disclosed.
ASCO Group has been awarded the contract to build and operate a marine supply base in Darwin, Australia. Work on the $110 million base will commence in April and be completed by the end of 2013.
Hempel has centralized its global oil and gas activities in Houston, by creating a Global Center of Excellence for the industry.
Intergraph and Skire have entered into an agreement with INPEX for the purchase of Skire's Unifier solution for the Ichthys LNG project.
Navcon Navegacao e Controle Ltda. has entered into a formal partnership with BMT Scientific Marine Services Ltda.
Flexlife has been awarded the ISO/TS 29001 certification for its operations in the UK, US, and Brazil.
Survival Craft Inspectorate has opened offices in Fort Lauderdale, and St John's, Canada.
Howard Weil Inc. and NecesSea LLC have joined the National Ocean Industries Association.
Harris CapRock Communications has been contracted to provide telecommunications systems and infrastructure for Chevron's Big Foot platform project in the Gulf of Mexico.
ABS celebrated its 150th anniversary in Washington, DC, on Jan. 31, and was recognized by members of Congress for the classification society's history and commitment to the American and international maritime community.
Petrofac has acquired KW Limited, a subsea pipeline consulting and engineering services business.
Veripos has won a three-year contract extension for the provision of GNSS positioning facilities to support Siem MelingOffshore's fleet of platform supply vessels.
Omron Oilfield & Marine and Pathfinder have agreed to jointly market Slider technology to the drilling industry.
Titan Torque will deliver torque and bottom-hole assembly equipment and solutions for all AGR well management projects managed by its UK offices. The three-year contract is valued at about £4 million ($6.3 million) and has options for the agreement to be extended.
Subsea 7 and RRC Robotics Submarina have each ordered two 150 hp, 3,000 m-rated HD ROV systems from Schilling Robotics.
Pulse Structural Monitoring is updating its flagship drilling riser monitoring software package with a new online 'back-to-base' link function, which will enable live monitoring data to be sent via the internet to selected personnel.
MoreOffshore Issue Articles
Offshore Articles Archives
View Oil and Gas Articles on PennEnergy.com