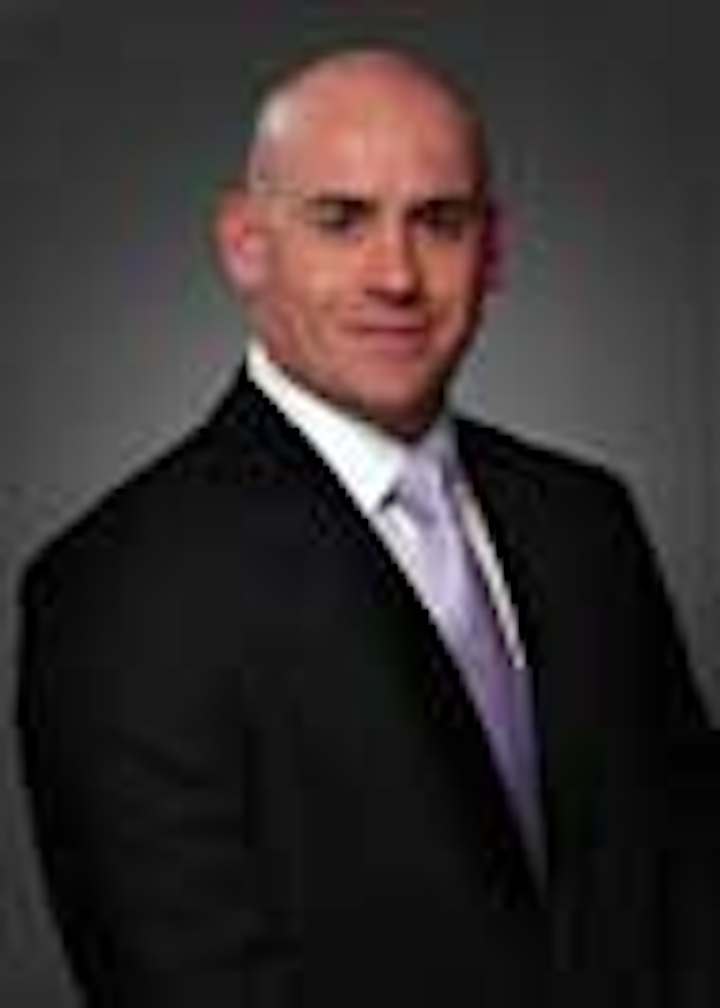 Statoil ASA has electedMarjan Oudeman and Børge Brende as members of the board of directors. Grace Reksten Skaugen has been elected as deputy chairman of the board.
OceanWorks International has namedBilly McKeown as general manager of OceanWorks Aykor in Istanbul, Turkey.
McKeown
Tony Radford has resigned as chairman of the board of New Zealand Oil & Gas. He is succeeded by Peter Griffiths.
Talisman Energy Inc. has appointedHal Kvisle as president and CEO.
Swire Oilfield Services has appointedRichard Sell as COO, and Peter Ellington as chief technical officer.
Scott Ward has joined Jensen Maritime Consultants as a naval architect in the company's new office in New Orleans.
The Energy Industries Council has appointedAimee Marsh as executive director for North and Central America.
Quest Petroleum NL has appointedKenneth Bull as COO.
The International Marine Contractors Association has appointedChris Charman as CEO.
Charman
Forest Oil has namedPatrick R. McDonald president and CEO.
Superior Performance has namedTim Musso as sales representative.
Musso
Carnarvon has namedDr. Stephen Molyneux and Andrew Padman to the management team.
Pat Haggerty has joined Modus Seabed Intervention as head of projects.
BG Group CFOFabio Barbosa has been granted leave of absence in order to undergo medical treatment in Brazil. Den Jones has been named interim CFO, and Sir Frank Chapman will assume the chairmanship of the Investment Committee for this interim period.
Alderley has namedNick Hull COO.
Zenith Oilfield Technology has appointedEddie Moore as sales and operations manager for the Middle East and Africa, and Peter Mark Smith as sales and operations manager for Asia/Pacific.
Endeavour International Corp. has appointedAshok Nayyar as a non-independent director and as a member of the Technology & Reserves Committee. Leiv L. Nergaard has resigned from the company's board of directors.
Esa Ikäheimonen will succeed Gregory L. Cauthen as executive vice president and CFO of Transocean on Nov. 15, 2012.
Acteon has appointedKevin Revere as vice president.
Sverre Myklebust has been appointed executive vice president for the jackets business area and as president of Kværner Verdal A/S.
Solomon Associates has namedCharles Reith to lead the new office in Bahrain.
Nelson Yeo, managing director of Keppel Shipyard, has passed away at the age of 55.Chor How Jat has assumed the position of acting managing director, and takes over the management of Keppel Shipyard's businesses and operations.
Åge Landro has returned to AGR Group as executive vice president of the global petroleum services division.
Landro
Enegi has appointedDerek Cochrane as COO.
Wood Group PSN has appointedFinlay Maclennan as director of its Europe, Russia, and Caspian business.
Maclennan
Baker Hughes Inc. has namedDr. Mario Ruscev as chief technology officer.
Globe Wireless has promotedAlex Van Knotsenborg to senior vice president of sales.
Van Knotsenborg
Daniel Boone has joined UTEC as Louisiana operations manager.
Boone
Helix Energy Solutions Group has appointedJan Rask as a new director.
Intertek has appointedGreg Dinkelman as business development manager to expand the company's calibration and metering service offering in Sub-Saharan and West Africa.
Exova has recruitedAtle Tingvik as project technician, and Michael Andres Saavedra as workshop technician at the company's Sandnes laboratory in Norway.
Apache Corp. has promotedAlfonso Leon to senior vice president and chief of staff, and Brady Parish has joined the company as vice president, investor relations.
GL Garrad Hassan North America has appointedCarole Barbeau as president and CEO.
Barbeau
Andy Manning has joined Opus as operations manager.
Conductor Installation Services has appointedPhil Borley as Middle East and North Africa operations manager, and Jonathan Bullock as business development manager – Asia/Pacific region.
CRC-Evans Pipeline International has appointedScott Funderburk as sales director – North and South America.
Funderburk
Quest Petroleum has appointedAnthony D. Milewski as managing director and CEO.
Marathon Oil Corp. has appointedCarri Lockhart as managing director of its UK North Sea asset team, Gretchen H. Watkins as vice president of North America production operations, and Mitch Little as vice president of international production operations.
Lockhart
Tom Trigg has joined TWMA as global technical advisor.
Trigg
Veolia ES – Offshore Marine Division has appointedTheresa Purdy as EHS director, and Sharon Webb as quality coordinator.
Norbar Torque Tools Pty has appointedMatt Packer as managing director.
Company news
Tenaris has extended its range of TenarisHydril premium connection products to include BlueDock connectors, which are designed to operate in offshore and HP/HT environments.
GE Energy Management's Power Conversion business and the Arab Academy of Science, Technology & Marine Transport have opened a dynamic positioning vessel-control simulator in Abu Qir, northern Egypt.
TheWell Control School has added an IADC WellCAP snubbing course. The competency-based, five‐day course will focus on well control theories and methods of well control in snubbing operations.
Fugro GeoConsulting Inc. has received two research awards from the US Department of Energy to advance the understanding of resource-grade gas hydrates. The first award is for developing plans for a pressure-coring program to sample the gas hydrates that were identified during a DOE-funded drilling expedition in the deepwater US Gulf of Mexico in 2009. The second award is for developing methods and tools to better understand the gas hydrate reservoirs through seismic imaging and rock physics.
Fluor Corp. and AG&P have formed AG&P Fluor Joint Venture Co. Inc. that will provide a range of integrated engineering, fabrication, module assembly, and construction services to Fluor's clients.
Star Information Systems has teamed with StormGeo to develop software solutions for the offshore and shipping industries.
TEAM Energy is continuing its partnership as a global supplier of technical manpower for Total's global drilling, fluids, and well operations.
Perenco UK has contracted BIS Salamis to provide fabric maintenance services for a gas platform complex in the UK southern North Sea. This relates to the Leman 27 Bravo's integrity improvement campaign in 2013.
Oceanteam Shipping has entered a joint venture with WIND B.V. to offer submarine cable storage and handling services to cable manufacturers, contractors, and operators.
The Watermill Group has acquired Fine Tubes Ltd. and Superior Tube Co. Inc.
HB Rentals has delivered and installed housing units and equipment onboard a rig in Guanta, Venezuela. The project included the provision of an 11- x 36-ft (3- x 11-m) fiberglass company man office and sleeper, 11- x 36-ft fiberglass office and change room, 1,500-gal. sewer treatment unit, and a 100-bbl potable water storage tank.
Lamprell is forming a joint venture with Saudi energy services provider Shoaibi Group and Saudi logistics specialist Al Yusr Townsend and Bottum. Based in Al Khobar in eastern Saudi Arabia, Lamprell Arabia will offer newbuild fabrication, ancillary fabrication for Saudi offshore rigs, and refurbishment and repair of Saudi land rigs.
TheASME Petroleum Division Awards Committee has announced that its 2012 Petroleum Industry Awards Gala will be held on Nov. 9, at the Hilton Americas in Houston. The event honors individuals and companies who have made significant contributions to the industry in recent years, and raises funds for scholarship programs that encourage aspiring engineers.
Altor Risk Group will provide modern crisis management facilities and services to BG's North Sea operations and Talisman's West Africa operations from its £250,000 ($406,000) state-of-the-art emergency response hub in Aberdeen.
Swagelok Co. has acquired Innovative Pressure Technologies.
Flowserve Corp. has opened a 15,000-sq m (161,460-sq ft) pump manufacturing plant in Rio de Janeiro.
Schlumberger has released its next-generation Rhino XC on-demand reamer. The tool provides unlimited activation of the flow actuation to reliably enlarge boreholes, says the company.
GL Noble Denton has established a Global Design Centre for floating structures at its offices in Brevik, Norway. The facility brings together a team of more than 50 engineers to provide design services for a range of offshore and floating oil and gas structures, including deepwater units, FPSOs, mobile offshore drilling units, specialized tanker, and OSV vessels.
Pioneer Natural Resources Co. says it has completed sale of its South African holdings to the Petroleum Oil and Gas Corp. of South Africa Ltd. for $52 million.
Foster Wheeler AG has announced plans to open an office in Woking, UK, to provide specialist services to the offshore upstream market.
AETI Alliance Group Brazil has acquired the assets of Assort Services LTDA.Assort provides electrical technical services for the offshore oil and gas market including electrical system commissioning, preventative maintenance services, emergency electrical equipment services, and power system upgrade services.
Sparrows has opened its new premises at Foveran House, at Denmore Road, Bridge of Don. The newly refurbished building, which has more than 1,000 sq m (10,764 sq ft) of office space, 635 sq m (6,835 sq ft) of workshop space, and more than 2,000 sq m (21,530 sq ft) of yard space that will also hold the new specialist mechanical workshop.
Reef Subsea has rebranded Technocean AS as Reef Subsea Norway AS, and Scanmudring-Rotech Subsea as Reef Subsea Dredging and Excavation.
Dril-Quip do Brasil Ltda has received a four-year contract by Petrobras for the supply of subsea wellhead systems and associated tools.
Douglas-Westwood has launched a new oil and gas consulting practice in Houston.
Infotechnics has opened a new office in Warwick, England.
FMC Technologies plans to acquire Pure Energy Services Ltd. for about $285 million. Based in Calgary, Pure is a frac flowback services and wireline services provider.
John Smith, Paul Lavelle, and Scott Macknocher have launchedEnnsub Ltd. to deliver products, equipment, and engineering services to the subsea sector.
TheLafayette Chapter of American Association of Drilling Engineers has awarded $2,500 scholarships to five students studying petroleum engineering at the University of Louisiana at Lafayette. This semester's scholarship recipients are Jennifer Osten, Eric Reyes, Michael Guzman, Crystal Williams, and Alexander Catlin.
TheSchlumberger China Petroleum Institute has opened in the company's China headquarters in the Chaoyang district of Beijing. The Data Services and the Geoscience and Petroleum Engineering teams form the core of the institute. They work in coordination with the domain experts from all other Schlumberger technology segments to deliver integrated petro-technical services to Chinese national oil and gas companies and to international oil companies working in China.
Huisman has announced plans to build a new production facility in Brazil and recently initiated the land fill works. The new facility will be located alongside the river Itajai-Açu in the city of Navegantes in Santa Catarina state.
Senergy is looking to more than double its Edinburgh workforce with the opening of a new city center office. The company has relocated its existing team of 16 staff based in Scotland's capital to 102 West Port, close to the Grassmarket.
Unique Maritime Group has been appointed as the exclusive sales and service distributor for Corilla Marine Products for the UAE, South Africa, and India.
Aker Solutions plans to create up to 100 jobs at its engineering office in northeast England over the next three years. Main occupant of the new premises in Stockton-on-Tees will be the company's drilling technologies division.
Sembcorp Marine subsidiary SOME has acquired UK platform fabricator SLP Engineering from Smulders Group. SLP, based in Lowestoft on the English east coast, will be renamed Sembmarine SLP and will be controlled via a newly incorporated company Sembmarine North Sea, owned 70% by SMOE and 30% by eight members of the SLP management team. The transaction comes to about $4 million for both shares and settlement of SLP's intercompany loans.