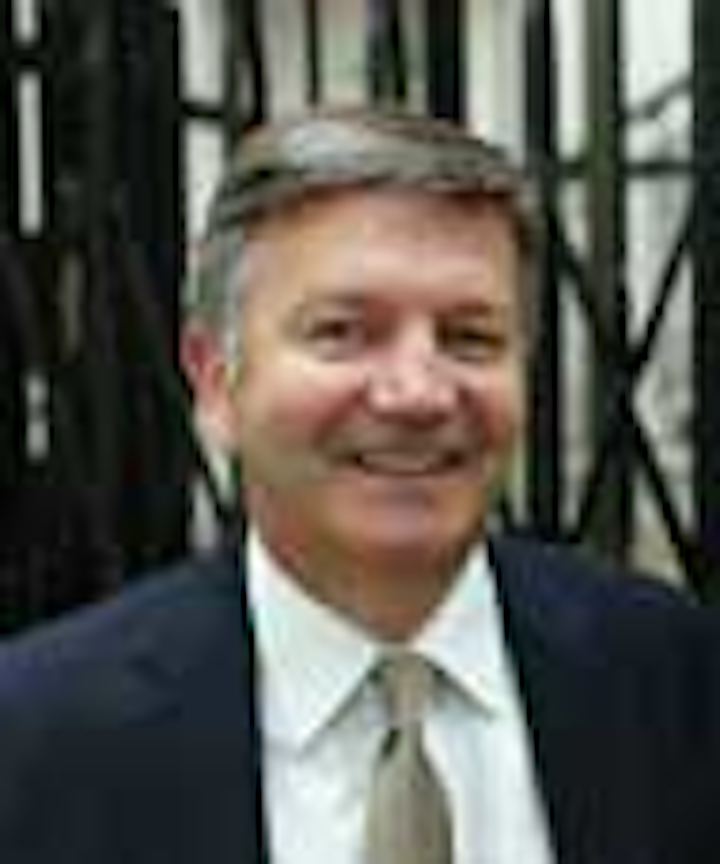 FMC Technologies has appointedRobert L. Potter as president. He assumes the responsibility from John T. Gremp, who remains chairman and CEO. Douglas J. Pferdehirt has joined the company as executive vice president and COO.
Sir Ian Wood will retire as chairman of Wood Group on Nov. 1, 2012. He has been chairman since 1982 and served as CEO from 1967 to 2006. Allister Langlands will become chairman, and Bob Keiller will become CEO. Robin Watson will become chief executive of the Wood Group PSN division, and Mark Dobler will become chief executive of the Wood Group GTS division.
Sky Petroleum has appointedMark Rachovides to its board of directors.
Allen Leatt, senior vice president of engineering at Subsea 7, has been elected a Fellow of the UK's prestigious Royal Academy of Engineering.
Leatt
S2S IMI Group has appointedAlvaro Casas-Cobaleda as integration and change manager for its logistics division.
Fluor has electedArmando J. Olivera to its board of directors.
Vikoma has namedPeter Tyler managing director.
Tyler
Xcite Energy has appointedRupert Cole as CEO. He succeeds Richard Smith. The company has appointed Stephen Kew as COO, and Andrew Fairclough as corporate affairs director. Xcite Energy Resources has appointed Jon Dale as finance director, and Matt Bower as operations director.
Hess Corp. has electedSam Nunn to its board of directors.
Andrew Speers has joined Petroplan as managing director.
Rowan has appointedJ. Kevin Bartol as executive vice president, finance and corporate development.
UTEC has appointedRanald Blair as chief surveyor, and Brendan Ryan as COO.
Martin Grant, CEO of Atkins' energy business, has been elected a Fellow of the Royal Academy of Engineering.
Grant
Jorge Luiz Zelada has resigned as international director of Petrobras. CEO Maria das Graças Silva Foster has been assigned the duties of the international area director.
Malcolm Mackenzie has joined ROMAR International as general manager.
First Subsea Ltd. has appointedJohn Shaw as managing director.
Michael Nofal has joined H2scan as vice president of sales and business development.
Reamco has appointedAshley Lane as CEO.
Lane
Yu Zhang, deputy global research manager, processing, imaging and reservoir, CGGVeritas, has been distinguished with the Society of Exploration Geophysicists' Virgil Kauffman Gold Medal in recognition of his recent innovative research in true amplitude wave equation migration.
Allan Browne has joined Paradigm Flow Services as senior business development manager for the subsea sector. Donald Ballantyne has joined as senior business development manager for topsides technologies.
Devin International has namedDanny E. Watson as U.S. sales manager.
Watson
GL Noble Denton has appointedArthur Stoddart as executive vice president for the Americas.
Stoddart
Camcon Oil has appointedNabil Alalawi as a non-executive director.
Alalawi
Paul Nobel has joined Kosmos Energy as chief accounting officer and senior vice president.
Iremis has appointedTom Ehret as chairman and Jean-Luc Laloë as a board member.
Peak Well Systems has appointedSteve Moir as technical sales manager for the North Sea.
Dr. Richard Shaw has joined the Gulf of Mexico Research Initiative research board.
Company news
ESCO Corp. has entered into a definitive purchase agreement to acquire all of the outstanding equity interests of Ulterra Drilling Technologies for about $325 million in cash.
RLC has earned the Helicopter Association International 2011 Operator Safety Award. The award honors a total of more than 115,000 accident-free flight hours over the two-year period.
Jensen Maritime Consultants has opened its third office in New Orleans.
Noble Energy Inc. has implemented enterprise planning and cost control software from EcoSys. The EcoSysEPC program is in place to manage costs on two offshore gas field developments. The Web-based program is designed to add visibility to project cost and performance management. It provides automated reporting which targets data integrity and frees analysts' time.
EnerMech has teamed with Shoaibi Group to form EnerMech Saudi Arabia to provide crane, hydraulics, valves, process, pipelines and umbilicals, lifting and inspection services, equipment rental, and specialist training to the Saudi Arabian energy sector.
Cooper Energy Ltd. will acquire shares in Bass Strait Oil Co. Ltd., which will bring Cooper's total holdings in Bass to 16.7%. Cooper has committed to an additional plan that would raise the holdings to 19.9%. The companies have agreed in principle to enter a technical services agreement whereby Cooper may supply technical and commercial support to Bass.
TMK IPSCO is moving its corporate headquarters from Downers Grove, Illinois, to Houston.
National Oilwell Varco has agreed to acquire Robbins & Myers, Inc. in an all cash transaction that values Robbins & Myers at about $2.5 billion.
GE has entered into an agreement to acquire Naxys, a provider of subsea leak detection and condition monitoring sensors based on passive acoustic technology. The acquisition will be part of the company's Measurement & Control business, and will expand GE's sensing and condition monitoring offerings and extend its reach into the subsea sector.
BP is committing $100 million to a new program of advanced materials engineering research. The 10-year program is expected to create 25 new academic posts, 100 post-graduate researchers, and 80 post-doctoral fellows. The "hub" of the BP International Centre for Advanced Materials will be at the University of Manchester's Faculty of Engineering and Physical Sciences.
Stork Technical Services and Saudi Industrial Services Co. have formed Stork Technical Services Saudi Arabia to focus on recruitment and training of young Saudis in various technical, vocational, and administrational areas. Based in Jubail, Stork will own 55%, and SISCO 45%.
CEONA has acquired Project Development International Ltd.
WASSP Ltd. has reached a milestone by shipping its 500th multibeam sonar system.
Clydesdale Bank has provided Aberdeen Drilling Consultants with a loan to buy its new 4,500-sq ft (418-sq m) premises.
Senergy has moved into larger premises in Bath.
ICR Integrity Ltd. has acquired Mechanical On Site Services Ltd. (MOSS). Based in Kendal, Cumbria, MOSS supplies a range of on-site mechanical services, including specialist on-site machining, bolt tensioning, and engineering solutions.
T.D. Williamson has opened an office in Kazakhstan to inaugurate its first permanent presence in the country.
BMT Group Ltd. has achieved BS OHSAS 18001 status for its occupational health and safety management program.
Halliburton's Landmark Software and Services has bought Petris Technology Inc. PetrisWINDS products will become available as part of Landmark's DecisionSpace portfolio. This includes Recall, DataVera, DrillNET, and the Operations Management Suite.
Bridon has started to install the world's biggest machine for manufacturing steel wire ropes at the Neptune Quay facility in Newcastle, UK. Produced by the German engineering company SKET, the closer machine is used to form dozens of strands of wire into a single finished rope. The £10-million ($16-million) closer manufactures ropes in package weights of up to 650 metric tons (717 tons).
Reservoir Group has formed a new venture, Wellvention, combining the well intervention services of Saudi Arabia-based Nordic Well Services with those of Wellbore Intervention in the UK, and the Netherlands-headquartered The Tool Co.
GE has acquired Presens, a pressure, temperature, and flow measurement solutions provider.
Calmena Energy Services Inc. and Spectraseis have agreed to jointly offer microseismic acquisition, imaging, and advisory services in Canada.
Wärtsilä Hamworthy has won a contract to supply sewage treatment facilities to the Eiffage Consortium to use on Phase 2 of Total's OFON field development offshore Nigeria.
HB Rentals has completed a contract for the installation of a sleeper and recreation room onboard a vessel in West Africa.
Emerson Process Management and its Roxar business unit are celebrating the 25-year anniversary of providing downhole monitoring solutions.
SeeByte has opened an office in San Diego, California.
FEI has acquired Visualization Sciences Group.
ICR Integrity has entered into a joint venture with ICC Group called IC Integrity Pty Ltd. The company will enable Walker Technical, an ICR owned business, to market its Technowrap range of products in the Asia/Pacific region.
Strainstall Marine has become a subsidiary of Fendercare Marine.
Alcatel-Lucent and the Technip Samsung Consortium will provide a communications system for Shell's Prelude floating liquefied natural gas facility offshore Western Australia.
Qatar Petroleum has joined the global oil and gas technology facilitator ITF.
Logan Oil Tools has invested $8 million to expand its manufacturing facilities in Houston.
IHI has acquired Kvaerner Americas' operations and related assets, known as the EPC Center Houston. The new company will be called IHI E&C International Corp.
Veripos Inc. has announced a formal listing on the Oslo Stock Exchange with commencement of trading in its shares as an independent company.
Champion Technologies has received industry ratings of 9.2 for QHSSE and 9.3 for training and competence from the First Point Assessment Ltd. "Verify" program.
Integrated Drilling Equipment Co. has acquired S&P Drives Automation Controls, and will now be known as International Electric Co. Automation and Controls.
Bardex has won an order for the initial engineering for a moveable chain jack mooring system to be installed on the new Exmar-designed semisubmersible production vessel for an LLOG development in the Gulf of Mexico. The system will comprise four moveable chain jacks, 12 chainstoppers and turndown sheaves, and two HPUs.
Enteq Upstream plc has acquired KM Services and Pro-Flow Fabrication Technologies, Ltd., and will now be known as Enteq KMS LLC.
Lukoil has adopted OPITO IMIST (International Minimum Industry Safety Training) Online; the new global training standard for the oil and gas industry. The training assesses basic safety knowledge in nine subject areas including risk assessment, asset integrity, the use of hazardous substances, working at height, and mechanical lifting.
AGR has been appointed to advise the vice president of reservoir development at Woodside Energy.
Jaya Shipbuilding and Engineering Pte Ltd. has signed an agreement with IHC Merwede Asia Pacific that enables IHC's high-specification offshore vessels to be produced by Jaya at its yards in Singapore and Batam, Indonesia.
ABB has acquired Amarcon BV, a Dutch company that develops and markets software solutions for the shipping industry.
Oilennium Ltd. has completed a series of customized eLearning training programs for Seajacks.
Aker Solutions has acquired Subsea House and SSH Engineering.
ASCO has acquired the remaining 50% stake in Scrabster Port Services in northern Scotland.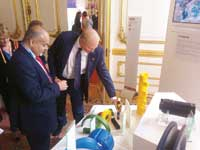 BP Group CEO Bob Dudley and Nylacast CEO Mussa Mahomed at the Global Business Summit on Energy.
At the recent Global Business Summit on Energy,Nylacast represented UK engineering by showcasing its engineering polymer solutions. Held at the historical Lancaster House, the British Business Embassy played host to a wide spectrum of global business leaders and operators who came together to witness and discuss British innovation and technology within the global energy sector. The UK oil and gas supply chain annually exports about $9 billion worth of goods and services.