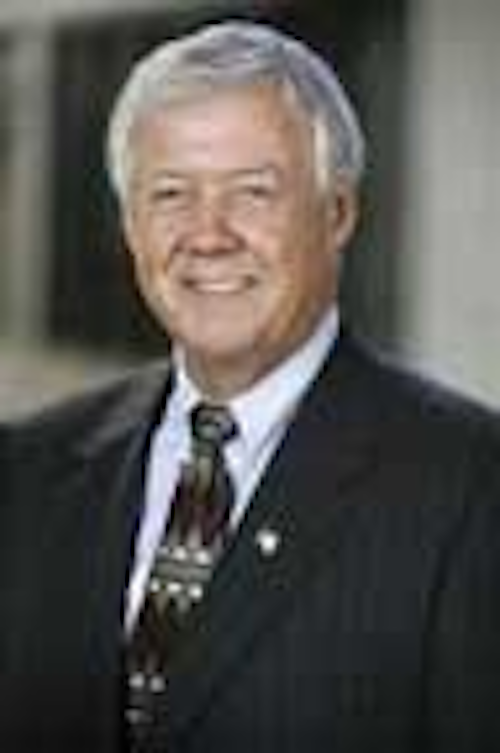 Long ago, I heard the definition of the word "impossible." Simply stated, it is what no one could do until somebody does it.
I know that the oil and gas industry is rich in pioneers who don't believe in the impossible. This pioneering spirit literally transformed our industry into the dominant global player it is today. We look to today's industry leaders for the creative solutions that will continue the tradition of our industry by defying the impossible.
With decades of experience in exploration and production, Kerr-McGee has recorded many industry firsts. In 1947, we were the first company to drill a commercial oil well out of sight of land in the Gulf of Mexico. Kerr-McGee built the first column-stabilized drilling device and forerunner of the semisubmersible in the 1950s. In 1993, the company set a record for fast-track development with the North Sea's first purpose-built, permanently moored FPSO facility. More recently, we pioneered the Spar technology for deepwater development using the world's first production Spar to develop the Neptune field in the Gulf.
This year, we developed two fields using the world's first truss Spars – a new version of the production Spar that is more efficient and cost-effective for developing deepwater fields. We are now in the process of leading another Spar revolution, with construction of the first cell Spar for development of the Red Hawk field in 5,300 ft of water in the Gulf.
Kerr-McGee's employees and others throughout our industry continue to push the limits and challenge the "impossible." Think about the accomplishments of our industry over the past century. We have moved from onshore shallow drilling to drilling and producing in water depths of more than 5,000 ft. This requires leading-edge technology – technology that rivals that used in space exploration.
As we work to meet future global energy requirements, we must use creativity and ingenuity to develop new technologies. At the same time, we must rely on our expertise to leverage these technologies to economically develop reserves.
Future reserves will be found in new frontiers around the world, in environments that will challenge the best in our industry. Innovation and persistence will be the keys to success. Our solutions must be cost-effective and efficient, and safety and environmental stewardship must remain top priorities.
We believe that deepwater holds great opportunities for our company and others in the industry. Nearly three-fourths of Kerr-McGee's deepwater acreage is located along the Atlantic margin, where there are geologic similarities on both sides of the ocean. Others in the industry are moving into the harsh environments of the far north, while still others are drilling for oil below thousands of feet of salt in deep waters. Each of these provides special challenges that will require creative solutions using state-of-the-art technology. And, in accomplishing our goals, we must remain vigilant in our efforts to maximize value for our shareholders.
As Kerr-McGee employees focus on adding value to our projects and to the bottom line, they also measure success in terms of the safety of our people and the protection of our natural environment. As an industry, we have proven around the world that we can produce oil and gas in a clean, safe, and efficient manner while minimizing the impact to our environment.
We know the debate will continue: energy versus the environment. It is a choice that I believe is not mutually exclusive. We must showcase our safety and environmental technology advancements and innovative solutions to prove that our operations and the natural environment can co-exist. Then, we must motivate policymakers to recognize these accomplishments and support sound policies that remove barriers to access and development of energy supplies.
At Kerr-McGee, we will continue to push the envelope in 2003. We are working every day on creative solutions that leverage technology while placing top priority on safety and care for the environment.
Next year and in the years to come, the world will continue to challenge our industry to provide energy in an economical, safe and environmentally friendly manner. I believe we will meet the world's demands because of the "can and will do" attitude of industry pioneers who don't believe in "impossible."
Luke R. Corbett is chairman and CEO of Kerr-McGee Corp. He joined Kerr-McGee's Explor- ation and Production Division in 1985 as vice president of geophysics, became vice presi-dent of exploration in 1986, and was named senior vice president of exploration for the Exploration and Production Division in 1987. Corbett was named a senior vice president of Kerr-McGee in 1991, group vice president in 1992, and president and COO in 1995. He was elected chairman and CEO in February 1997. Following the company's merger with Oryx Energy Co. in February 1999, Corbett became CEO. He was named to his current position in May 1999.