BUSINESS BRIEFS
Bisso Marine's repaired OSV Bass River. The 180-ft. vessel encountered extensive damage after it sank last March. The Total-operated Dunbar platform pictured with the tender support vessel Sedco 706 [17,519 bytes].
Mar 1st, 1999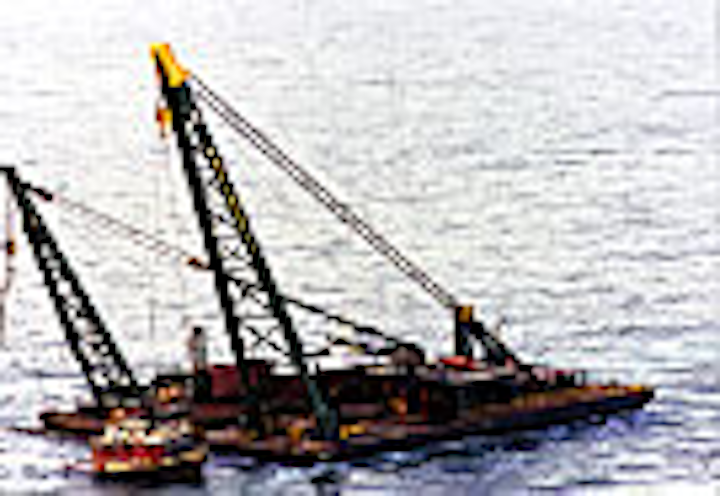 Leslie Bellfore
Houston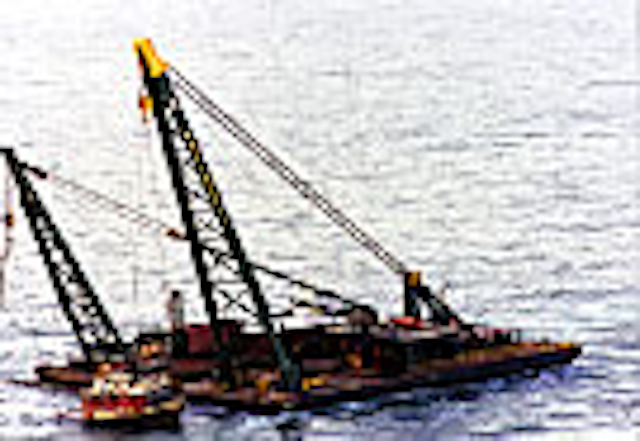 Bisso Marine's repaired OSV Bass River. The 180-ft. vessel encountered extensive damage after it sank last March.
OSV Bass River salvaged
Bisso Marine's salvage team successfully raised and delivered the OSV Bass River after it sank March 15 last year in 62 ft of water eight miles south of the Port of Fourchon. The 180-ft vessel was found upside down with the stern embedded 45 ft below the mud line and the wheel house 30 ft below the mud line, suffering extensive damage to the vessel. Bisso divers had to wet weld plate over the damaged areas before the vessel could be rigged for lifting.
Dunbar platform upgrade
ABB Industrial Systems, in consortium with Sulzer Pumps France, has won a contract from Total Oil Marine to supply two variable speed drive packages for a new type of multiphase pumping system that will boost production on Total's Dunbar platform in the North Sea, 120 km north-east of the Shetland Islands. The drive systems, electrical supply equipment, pumps, and associated auxiliaries will be fitted into one complete module that will be supplied as a fully integrated turnkey unit.
Contracts
In a contract valued at $34.6 million,
ETPM
has received a Letter of Intent and Authorization to proceed from
Chevron Cabinda
for the Area A Waterflood Phase 1 Pipelines project.
OSL Offshore Systems & Deck Machinery (Dallas) has been awarded a major contract from Shengli Petroleum Administration Bureau, for the complete rack and pinion jacking system and associated structural components for the Shengli 3 jackup platform, which is to be constructed in China.
Enercon Engineering (Houston) has been awarded the detailed design, procurement, and project management for Anadarko Petroleum Corporation's Tanzanite Project.
PennzEnergy has named Novistar to provide database monitoring and system administration services for the company's Oracle Financials (TM) information databases.
Aker Maritime (Houston) is one of five contractors selected for Unocal's new alliance for deepwater field developments.
Bouygues Offshore (Montigny-le-Bretonneux, France) announced that Saibos CML, its 50/50 joint venture with Saipem, has awarded construction of its new dynamically positioned vessel to Samsung Heavy Industries.
Dickson GMP International has been awarded a contract with Consolidated Oil, a bareboat charter and a labor support contract by Chevron Nigeria Limited, and a work order from Mobil Producing Nigeria for the services of the Dickson IV jackup barge to provide field support services in offshore Nigeria with an anticipated duration of 19 days.
Texaco and Angola's state owned oil company, Sonangol P&P, announced they have entered into a production sharing contract for Angolan offshore Block 22.
Firstwave/Newpark Shipbuilding has been awarded a contract by Schlumberger/Sedco Forex for upgrades and maintenance work on the offshore semi-submersible drilling rig Shoemaker.
Haskell Company has been selected to design and build a new heliport and support facilities for Petroleum Helicopters, Inc.(PHI).
Oceaneering (Houston) announced it has been awarded a subsea control umbilical contract for Mariner Energy's Pluto development, Mississippi Canyon 674.
Sperry Marine (Charlottesville, Virginia) has won a contract to supply telecommunications systems for two new semisubmersible oil rigs under construction for Ocean Rig ASA.
Nautronix (Aberdeen) confirmed an order for a Subsea Magnetic Pig Signaller to be used in conjunction with Copipe Instrumentation.
People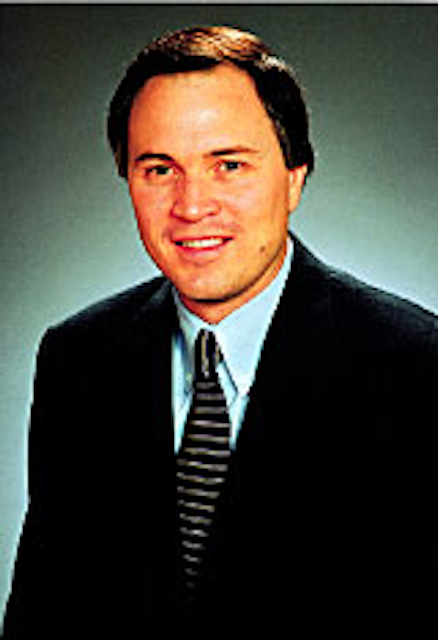 Rick Billings has been appointed Vice President of Ambar's (Lafayette) Research and Development.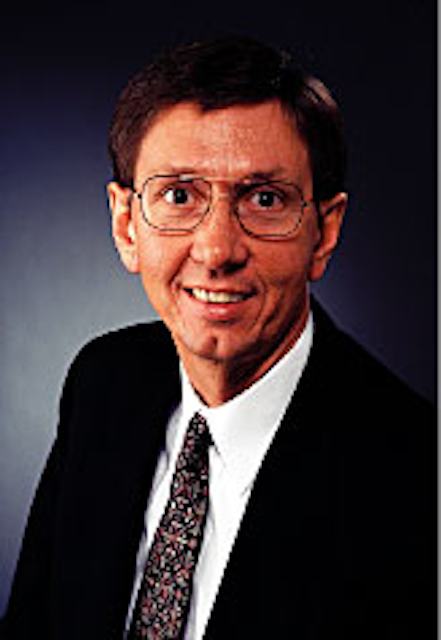 Charles F. Clark has been appointed President of the newly formed ABB Drives & Power Products Group, a unit of ABB Automation (New Berlin, Wisconsin).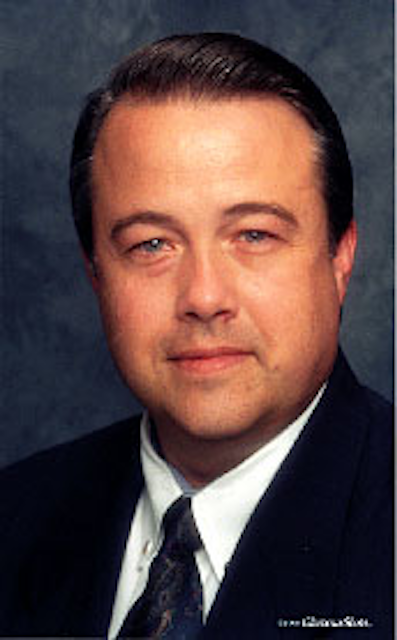 Jack Holmeshas been appointed Director of Environmental Affairs for First Wave Marine (Houston)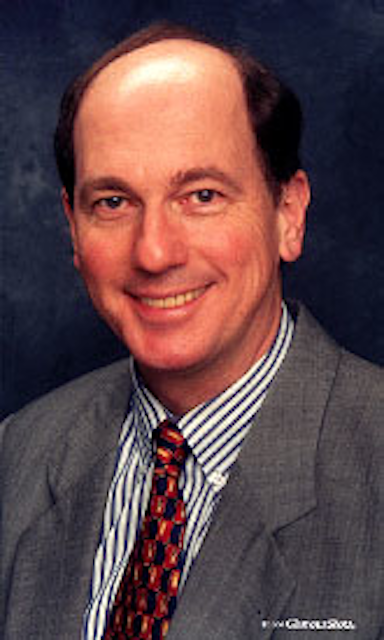 Don Francis has been appointed Director of Marketing for First Wave Marine (Houston)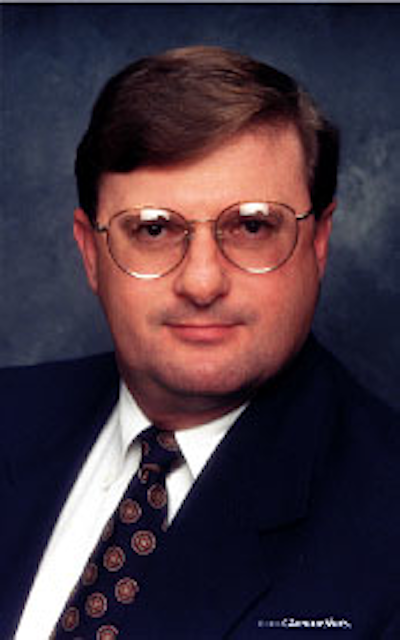 Randy Tigert has been appointed Director of Safety and Risk Management for First Wave Marine (Houston)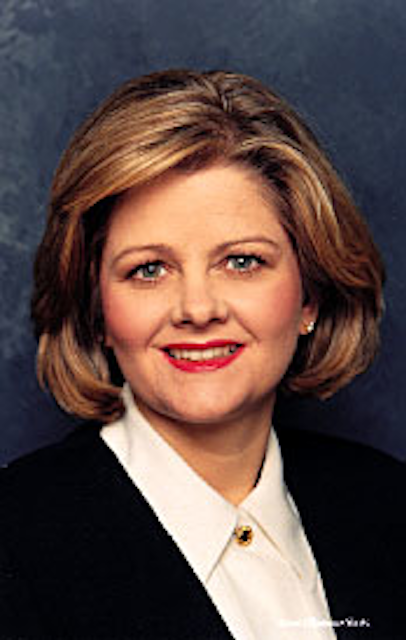 Suzanne Kean has been appointed Vice President and General Counsel for First Wave Marine (Houston)
Lasmo (London) has created a senior management team comprised of:
Joe Darby
, CEO;
Chris Wright
, Group Managing Director; and
Paul Murray
, Group Finance Director.
Oceaneering (Houston) promoted two of its employees:John L. Zachary to Corporate Controller and Chief Accounting Officer; and Dana C. Weber to Director of Corporate Marketing.
Jamie Lumsden has become Managing Director of MTL Instruments Group (Luton, UK).
Kirk Davis has joined Fender Care (Norfolk, UK) as Sales and Marketing Manager for the Middle East and Asia.
Christian Pauchon has been appointed Director of Applied Mechanics division of IFP (France).
Dennis R. Cutcher has joined the engineering staff at EDG Incorporated (New Orleans) as Regulatory Consultant for the Compliance Permitting and Regulatory Services Group.
Duncan Whyte is to become Chief Executive of the Weir Group (Glasgow, UK) this June.
Christian Bonigen has been named Technical Manager and Ludovic Villatte as Operations Manager of ITP InTerPipe (Louveciennes, France).
Daniel Industries (Houston) announced PresidentAlex Newton has resigned from the company. R.C. Lassiter, Chairman and CEO of Daniel will assume the additional office of President.
Aker Maritime (Oslo) has assembled a corporate executive team responsible for business acquisitions, strategy, technology, and other matters. The team includes:Sverre Skogen, President and CEO; David Rayburn, Executive Vice President of Aker Maritime UK.
David Codd has been named Managing Director of Texaco Ltd. (London) and Director of New Business Development for Europe, Africa, and the Caspian.
Stewart Yee has joined Veritas (Houston) as Director of Corporate Marketing.
Able Instruments & Controls (Reading, UK) has recruitedRob Turpin as Southern Area Field Sales Manager.
Mergers, acquisitions & new companies
North Safety Products
was purchased by
Norcross Safety Products
(Oakbrook, Illinois).
HIS Energy Group Data Management Services Division (London) has been formed to unite the skills and experience of four exploration and production data management companies.
Sherry Laboratories (Lafayette) announced the acquisition of two Lafayette-based companies, Veritest and its operating unit Envirotest Bioassy, and the Bioassy Division of Ambar Labs.
Sonsub International announced the acquisition ofTecnomare Industriale S. p.A.
Leviathan Gas Pipeline Partners announced it, along with Coastal Corporation's ANR Pipeline Company subsidiary and Natural Gas Pipeline Company of America have entered into agreements with Exxon Company USA and BP Amoco to own and operate gas pipeline facilities and provide related services for Exxon and BP Amoco's development of the Diana and Hoover deepwater prospects.
Stolt Comex Seaway (Aberdeen) announced it had signed a letter of intent with J. Ray McDermott pursuant to which Stolt Comex Seaway will acquire the Gulf of Mexico Diving Division of J. Ray McDermott.
Company news
Chevron
(San Francisco) said it reached record production of 510,000 b/d of crude oil from its operations located offshore Angola's Cabinda province.
Krebs Engineers (Tucson, Arizona) announced improvements to the world's leading line of large diameter cyclones, the Krebs Super Cyclones.
Coflexip Stena Offshore announced its decision to cease production at its flexible pipe plant, located in Femantle, Western Australia.
Deepwater Consultant Alliance announced the opening of their Houston office.
Chevron inaugurated a new center for its Asia business unit, located in Beijing, China, as its Far-East Hub.
Petroleum Geo-Services announced that its floating production, storage and offloading vessel, Ranform Banff, commenced oil production from the Conoco operated Banff field in the UK.
TheAmerican Society for Testing Materials (West Conshohocken, Pennsylvania) announced the winner in the Impact of Standards contest. Dennis D. Rounds, South Dakota Petroleum Compensation Relief Fund, was chosen as the winner with, The Rewards of Risk Based Corrective Action.
Department of Interior's Bureau of Land Management (Washington, D.C.) is seeking comments on a proposed new oil and gas rule aimed at reducing overlap among current regulations, giving operators increased flexibility in meeting agency requirements, ensuring appropriate bond amounts. Comments can be submitted electronically to: WoComment@wo.blm.gov and should include the regulation identifier number AC94, commenter name, and return address.
Amoco Chemical (Chicago) has brought on stream a major expansion of its purified isophtalic acid (PIA) unit at Joliet, Illinois. The expansion brings Amoco's total annual world-wide PIA capacity to 350,000 tons.
GeoQuest (Houston) announced it received Support Center Practices (SCP) certification for delivering exceptional customer support to its software clients.
Petroleum Helicopters, Inc. (Lafayette) announced the groundbreaking for a facility in Plaquernines Parish, which will serve as the new home the company's Venice Heliport. The 26,000 sq. ft. heliport will enhance capabilities for supporting oil and gas operations in the Gulf of Mexico a spokesman said.
Praxair (Danbury, Connecticut) announced the start up of a new helium transfill facility in Murbad, India. The new facility will supply liquid and gaseous helium to magnetic resonance imaging (MRI), research, and diving and other markets throughout India.
Copyright 1999 Oil & Gas Journal. All Rights Reserved.