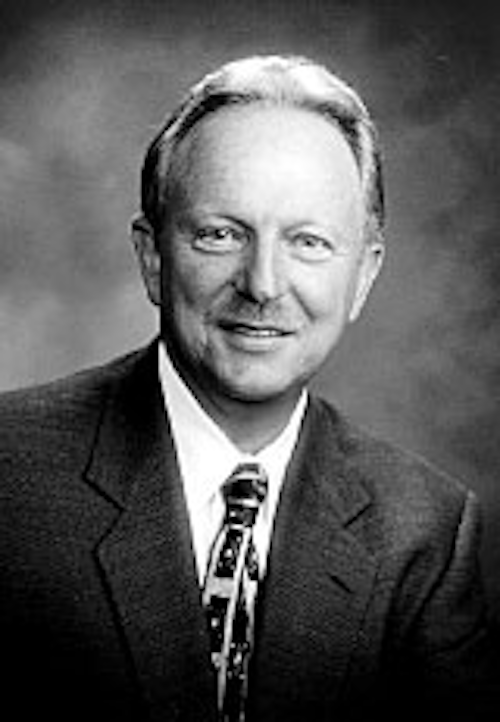 Contracts
FirstWave/Newpark Shipbuilding (Houston) has been awarded a contract by Canal Barge Company of New Orleans, for the construction of five 200 ft by 54 ft by 12 ft double skin tank barges and five 200 ft by 35 ft by 12 ft double skin tank barges. All 10 barges are scheduled for delivery this year. The company has also been awarded two additional contracts by Schlumberger/Sedco Forex, for upgrades and maintenance work on the offshore semisubmersible drilling rig Bill Shoemaker, and by Martin Gas Marine, for steel replacement, paint work, and other maintenance on the ocean barge Poseidon.
Total Gabon (Gatwick, England) has awarded Schlumberger Geco-Prakla the contract for a large 3D seismic survey offshore Gabon, West Africa.
People
Cliff Mock
, an industry leader in oil and gas measurement and services passed away February 16, 1999 at the age of 83, in Conroe, Texas.
Nova Technology (Lafayette) has named two new senior vice presidents:Ron Williams to Senior Vice President - Business Development; and Kerry Broussard to Senior Vice President - Operations.
Texaco recently made the following announcements:Charles R. Shoemate, Chairman, President, and CEO of Bestfoods to Texaco's Board of Directors; Kenneth Knatz to Director of New Business Development for Texaco Latin America; David C. Codd to Managing Director, Texaco Ltd. and Director of New Business Development for Europe, Africa, and the Caspian Region; Gregory M. Vesey to Assistant to the Chairman to Texaco; and Barbara J. Dunn to Assistant to the President of Texaco Worldwide Exploration.
Weatherford International (Houston) promotedE. Lee Colley, III to Senior Vice President of Weatherford and President, Artificial Lift System.
Paul Ching has been named President and General Manager of Shell Continental Companies.
McDermott International (New Orleans) announcedDr. Kathryn D. Sullivan, President and CEO of the Ohio Center for Science and Industry, and former astronaut, has been elected to the company's Board of Directors.
Nuevo Energy (Houston) announcedDavid H. Batchelder joined the Board of Directors.
Cal Dive (Houston) promoted Martin Ferron to President and COO.
South Natural Gas (Birmingham, Alabama) announcedL. Wayne Christian to Vice President - Operations Services, and Janice H. Parker to Vice President - Customer Services.
Expro Group (Aberdeen) has appointedGraeme Young as Technical Sales Manager for the Exal brand within the company, and John MacBeath to Regional Sales Manager, UKCS/Norway.
David B. Maher, Jr. has been appointed Senior Vice President of Supply Chain Management, Raytheon Engineers & Contractors (Cambridge, Massachusetts) announced.
Torch Energy (Houston) Advisors announcedFrost W. Cochranas Managing Director, Mergers & Acquisitions.
GeoGraphix announcedMike Weiss to Vice President of Development.
Oceaneering International (Houston) announced the promotion ofJoe Wadsworthto Vice President - Telecommunications/Commercial Operations Division.
Loy Upphas joined Daniel Measurement Services (Houston) as a Senior Consultant.
Mark Mulvihillhas been named Manager, Research and Development for Bestolife (Dallas).
Teledyne Electronic Technologies Hastings Instruments (Hampton, Virginia) announcedSteven J. Sorceto District Manager for Northern California.
| | | | | |
| --- | --- | --- | --- | --- |
| | | | | |
| Williams | Broussard | Young | MacBeath | Sorce |
Mergers, Acquisitions & New Companies
Coflexip Stena (Paris, France) announced it recently entered into negotiations with Petrobras regarding certain commercial disputes related to financial crisis affecting Brazil.
Company News
Nova Technology (Lafayette) has installed the first dual gauge continuous reservoir monitoring system in the Gulf of Mexico - for Chevron's Genesis project in Green Canyon Block 205.
Coflexip Stena Offshore (Paris) announced its decision to cease production at its flexible pipe plant, located in Fremantle, Western Australia.
Chevron UK, Ltd., operator of the Alba field in the North Sea, say it has observed a significantly clearer image of the reservoir on 3D multicomponent seismic data than previously available from streamer data.
Honeywell (Phoenix) has increased the performance of the Application Processing Platform (APP) and Global User Station (GUS) .
Teledyne Electronic Technologies, Hastings Instruments has relocated its website to:www.hastings-inst.com.
Ziff Energy will conduct the first broad-based study analyzing the combined impact of finding and development costs and technology effectiveness on companies operating in the Gulf of Mexico Shelf and Slope.
Environmental Management Consultancy, provided by SGS (United Kingdom), assisted Shell Petroleum Development Company of Nigeria (SPDC) in achieving double environmental certification; ISO 14001 and Eco-Management & Audit Scheme (EMAS) assessments.
McMoRan Exploration (New Orleans) announced that production began at Vermilion Block 160, #4 sidetrack well and the Vermilion Block 159 #3 well.
Solarex (Frederick, Maryland) announced it has opened a new 35,000 sq. ft. distribution center near its headquarters.
Contract awarded to PPL for construction of Cajun Xpress
PPL Shipyard has won a multi-million dollar contract from Sedco Forex to undertake detailed engineering, procurement, and construction of a 5th generation semi submersible drilling rig with dynamic positioning. The rig, Cajun Xpress, will operate in the Gulf of Mexico in up to 8,500 ft water depths. The rig is classed ABS Maltese Cross + A1 MODU Unrestricted Services with additional notation ACCU and DPS 3. The pontoon is 106 meters long with an upper hull 81 meters long by 69 meters wide, supported by four columns.
Keppel Smit's tugs commence Shell contract
Two new harbor tugs built for Keppel Smit Towage have commenced a long-term charter in Singapore for Shell Eastern Petroleum. The two newbuildings, KST Kijang and KST Kancil, were delivered January 1999 and now working at Palau Bukom tanker terminal and an adjacent SBM facility, to the southwest of Singapore. The tugs are required for the assistance of vessels calling at the terminal and mooring at the SBM.
Industry record
FMC Energy Systems' CBV Industria Mecanica and Petrobras, the Brazilian National Oil Company, have successfully installed a subsea tree on Well 1-RJS-436A at a world record water depth of 6,080 ft in the Roncador oil field offshore Brazil. Located in the Campos Basin, Roncador is in water depths ranging from 3,000 ft to 6,500 ft. FMC's scope of supply for the project includes two FMC/CBV ultra-deepwater subsea trees, an emergency disconnect package with FMC Kongsberg controls, and a drillpipe reduction riser.
Copyright 1999 Oil & Gas Journal. All Rights Reserved.