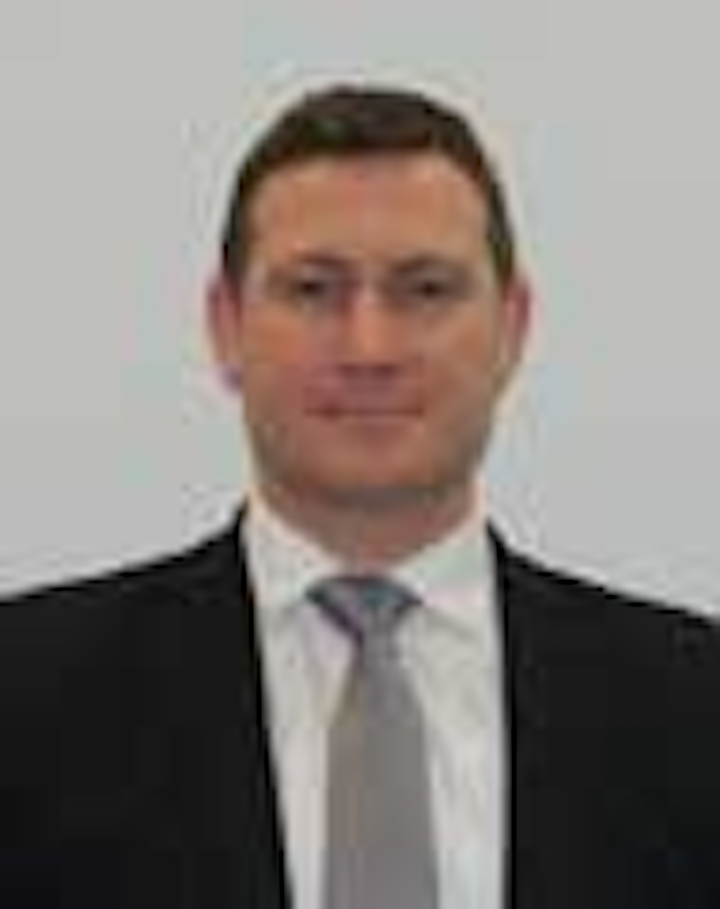 Roc Oil Co. Ltd. has appointedMike Harding as chairman of the board of directors. He succeeds Andrew Love, who has retired.
Jon M. Huntsman Jr. has been elected to Chevron's board of directors, and will serve on the company's Board Nominating and Governance Committee and Public Policy Committee.
McDermott International has namedD. Bradley McWilliams as non-executive chairman of the board of directors.
Pam Daley and Martin Ferguson have joined BG Group's board as non-executive directors, and Dr. John Hood will succeed Baroness Hogg as senior independent director.
William P. Utt has announced that he will retire as chairman, president and CEO of KBR in 2014.
Marathon Oil Corp. has appointedMorris R. Clark as vice president and treasurer.
Bureau of Ocean Energy Management has appointedDr. William Yancey Brown as chief environmental officer.
David Sneddon has joined Seadrill Management Ltd. as chief accounting officer and senior vice president.
Cobalt International Energy has elected former US SenatorKay Bailey Hutchison to its board of directors.
Saipem has appointedAlberto Chiarini as chief financial and compliance officer.
SBM Offshore has appointedBernard van Leggelo as group executive managing director. He will focus on the execution of the company's operational strategy and long-term planning.
Maersk Training has appointedDavid Bowyer as head of training and education.
Bowyer
Philippe Malzac has been elected chairman of the Energistics board of directors.
GL Oil & Gas has appointedMoss Daemi as director of the Middle East, India, and North Africa division.
Daemi
Ihab Toma has resigned as executive vice president and chief of staff of Transocean Ltd.
Peter A. Ragauss, senior vice president and CFO of Baker Hughes, has announced that he intends to retire by the end of 2014.
Hyperdynamics Corp. has appointedDavid Wesson as vice president and CFO, and Chris DePue as controller and principal accounting officer.
Adrian Salle has joined Fine Tubes as sales manager.
Deepwater Operations
TheDeepwater Operations Conference & Exhibition celebrated its 11th anniversary in Galveston, Texas, at the Moody Gardens Hotel and Convention Center Nov. 5-7, 2013. The event, hosted by Apache Corp., attracted more than 1,000 attendees. Patrick Cooke of Noble Energy became the first presenter at Deepwater Operations to receive both the best presenter and best presentation awards. His paper was titled "Starting up the Longest Tie-back: Tamar Field." The annual event returns to the Moody Gardens Hotel and Convention Center Nov. 5-7, 2014.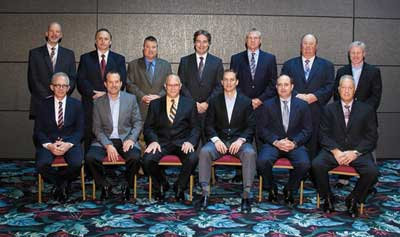 Standing from left to right: Gary Mitchell, Anadarko Petroleum Corp.; Wayland Christensen, Chevron Global Upstream & Gas; Kris Kallaway, ConocoPhillips; Dave Blackburn, Hess Corp.; John Glithero, Wood Group PSN; Ron Sloan, Murphy Exploration & Production USA; and Jeremy Burford, BHP Billiton Petroleum (Americas) Inc.
Sitting from left to right: Russell McCulley, Offshore; Donny Burleigh, FMC Technologies; Advisory Board Chairman Shawn Lurry, Apache Corp.; Paul Danos, Danos; Charles Hutto, Noble Energy Inc.; and Mike Lynch, Granherne/KBR. Not pictured: Tim Colwell, Shell Exploration & Production; Jay Hachen, W&T Offshore; Sergio Matos, Petrobras America Inc.; David Power, ConocoPhillips; Craig Sherer, Chevron; and Pete Stracke, Statoil.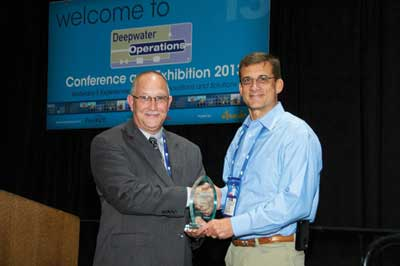 Advisory Board Chairman Shawn Lurry presented Patrick Cooke of Noble Energy with the best presentation and presenter awards.