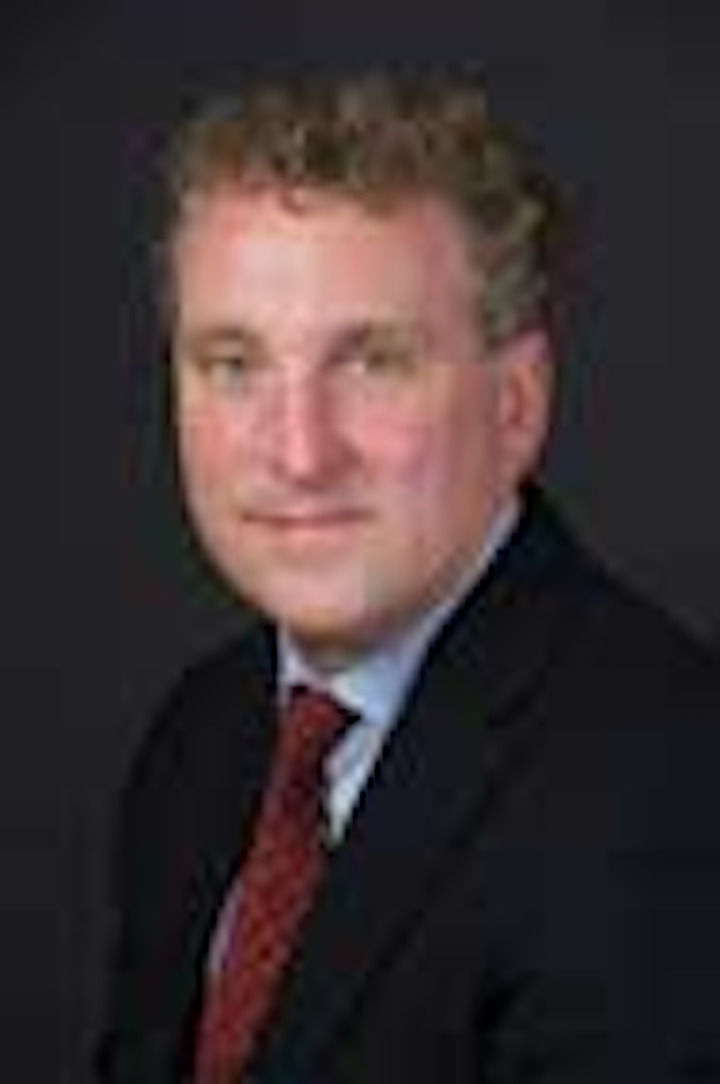 Diamond Offshore Drilling has appointedMarc Edwards as president and CEO and as a member of the board of directors.
National Oilwell Varco has electedClay Williams as president and CEO.
Hertel has appointedVictor Aquina as CEO.
Aquina
ARKeX has appointedJim White as president.
White
William Jacob Management has appointedRon Horton as vice president, operations; Charles Lee as vice president, business development – production facilities; and Michael Hutto as vice president, structural engineering and design.
Sudhendu Kashikar has joined MicroSeismic as vice president of completions evaluation.
Kashikar
DONG Energy has electedThomas Thune Andersen as chairman of the board of directors.
DNV GL has appointedHari Vamadevan as regional manager for the UK and southern Africa.
Vamadevan
Sir Bill Gammell will retire as non-executive chairman of Cairn Energy on May 15, 2014. He will be succeeded by Ian Tyler.
Scott Jamieson has joined Unique Maritime Group as business development manager for its diving division.
Gilberto Lima has been named managing director of HANSA HEAVY LIFT Do Brasil.
Lima
Hess Corp. has electedTerrence J. Checki to its board of directors.
FMC Technologies has appointedMaryann T. Seaman as executive vice president.
Santos has appointedScott D. Sheffield as an independent non-executive director.
Air2Work has appointedKevin O'Connor as CEO.
COSCO Corp. (Singapore) Ltd. has appointedTom Yee Lat Shing as lead independent director.
Bibby Subsea has hiredBarry Straughan as HSEQ manager and Daniel Wheeler as subsea business manager.
Andrea Hopkey has joined Talascend as COO.
Cobham SATCOM has appointedPaul H. Jona as senior vice president.
Impact Oil & Gas Ltd. has electedJames Berwick to its board of directors.
Atkins has appointedPeter Falconer as head of lifecycle management.
John Catanzaro has joined W&O as a service engineer. Marc Lagattuta has joined the company as a project manager for Hyde ballast water treatment systems and offshore supply vessels.
Falmouth Scientific has appointedBrian Wilson as sales and applications engineer.
RSCC Wire & Cable LLC has namedChristopher Venice as vice president, sales, RSCC Wire & Cable, Down Hole Metal Clad segment.
Chariot Oil & Gas Ltd. has appointedWilliam Trojan and David Bodecott as independent non-executive directors.
Premier Hytemp has appointedCampbell MacPherson as CEO and Gavin Rippe as chief commercial officer.
Wood Group PSN has appointedAndrew Stewart as Australia and Asia/Pacific managing director.
Roger Plank, president and chief corporate officer of Apache Corp., has elected to retire. The company has appointed Alfonso Leon as executive vice president and CFO, and Tom Chambers as senior vice president, finance.
Anadarko Petroleum Corp. has electedAnthony R. Chase to serve as an independent director. Luke R. Corbett has retired from the company's board of directors.
DNV GL - Oil & Gas has appointedLiv Hovem as director of its Europe and Southern Africa Division.
Jan Kopernicki has joined BMT Group Ltd.'s board of directors as a non-executive director.
Phil Dent and John Carter, corrosion specialists at Exova, have been appointed as chairmen of the Marine Corrosion Forum and STG44 - Marine Corrosion, respectively.
Company News
Greene's Energy Group has opened its pipeline training and test loop operations at its Houston Pipeline Services facility. The test loop includes 1,100 ft (335 m) of 6-in. (152-mm) standard wall piping and 1,345 psi (100 bar) working pressure with 2,017 psi (138 bar) test pressure.
It also includes 3D bend radius, 120 ft (37 m) underground, two replaceable 10-ft (3- m) spools for deflect detection, vertical/horizontal launch/receive capabilities, and various features for equipment and instrumentation hookup.
Directional Rentals Inc. has been renamed Drilling Tools International. The company also has acquired Reamco Inc., a company based in Lafayette, Louisiana, that manufactures, rents, and refurbishes downhole drilling tools and related products.
Mammoet has opened a branch in Cairo, Egypt.
Wellsite Rental Services has announced its formation. Headquartered in Broussard, Louisiana, the company provides rental products for the drilling and production sectors including multi-purpose trailers, cooling and heating trailers, automated slips, pneumatic mud buckets, variable bore rams, and other rental equipment.
Offshore marine and engineering consultancyAqualis Offshore has opened an office in Abu Dhabi, nine months after starting operations in the Middle East region. The company's regional headquarters are in Dubai, with other branches in Dammam, Kingdom of Saudi Arabia, and Bahrain.
DeepWater Buoyancy Inc. has re-launched the oceanography/marine measurements line of syntactic foam ADCP buoys, StableMoor floats, and trawl resistant bottom mounts formerly manufactured by Flotation Technologies (Flotec).
Cudd Energy Services has opened its newest affiliate office in Toowoomba, Queensland, Australia. Cudd Energy Services Australia Pty Ltd. will provide specialized engineering and operational support for hydraulic workover, snubbing, well control, hot tapping, freeze operations, and gate valve drilling applications in the region.
---
Topsides, Platforms & Hulls
The 2014Topsides, Platforms & Hulls Conference & Exhibition, in its fourth year, attracted more than 1,800 attendees and 133 exhibitors. Robert Patterson, Shell's vice president for deepwater projects, kicked off the two-day technical conference with a keynote address. The annual event returns to Galveston, Texas, Feb. 3-5, 2015. Renard Falcon of Chevron will serve as chairman of the advisory board, pictured below.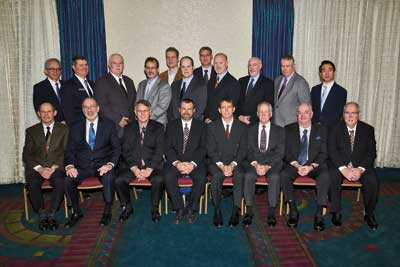 Standing, Left to Right: Russell McCulley, Offshore; Eric Wensel, Wood Group Mustang; Scott Key, WorleyParsons; William Taggart, Murphy E&P; Maarten van Strien, Eni Petroleum; Jonathan Brewer, Stress Engineering Services; Tad Mulder, Cameron; Kevin Raatz, Technip; Mike McEvilly, Hess Corp.; Dave Pope, KBR; George Gu, ConocoPhillips
Sitting, Left to Right: Stafford Menard, Williams Midstream; Ken Caldwell, Foster Wheeler Upstream; Renard Falcon, Chevron; Alec Johnson, Petrobras; David Brubaker, Shell Upstream Americas; Murray Burns, Consultant; Jim Britch, Hess Corp.; James Deaver, Black Elk Energy
Not Pictured: Mark Meunier, Kiewit Offshore Services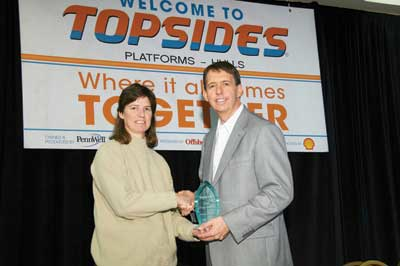 Advisory board chairman David Brubaker presented Susan Lajeunesse of Shell with the best presentation award for her presentation on "Perdido Early Days – Production System Optimization."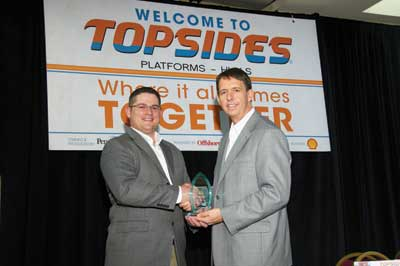 Advisory board chairman David Brubaker presented Ken Roberts of Shell E&P with the best presenter award for his presentation on "Floating New Ideas – Refining Offshore Turnarounds."