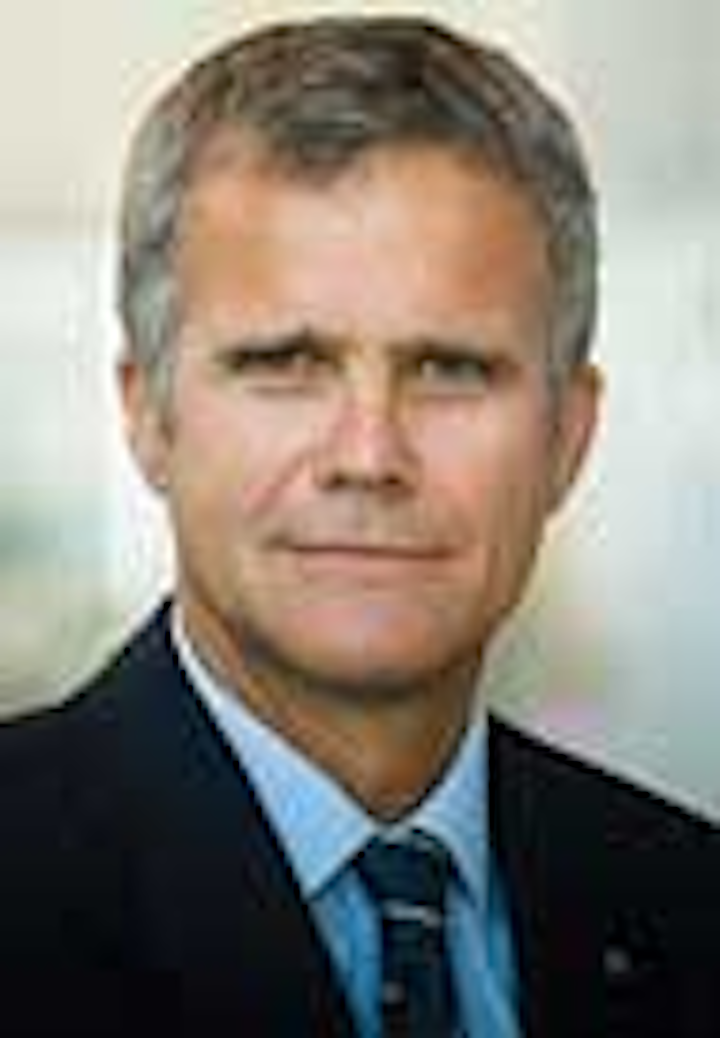 Helge Lund has resigned as president and CEO of Statoil. He has been appointed CEO and an executive director of BG Group, effective March 2, 2015. Statoil's board of directors has elected Eldar Sætre as acting president and CEO. The company has appointed Tor Martin Anfinnsen as acting executive vice president for Marketing, Processing and Renewable Energy.
Lund
Total Chairman and CEOChristophe de Margerie died in a plane crash in Moscow in late October. He was 63. He joined the company in 1974, was elected to the Executive Committee in 1999, named CEO on Feb. 14, 2007, and appointed chairman and CEO on May 21, 2010. Total has appointed Thierry Desmarest as chairman of the board of directors and Patrick Pouyanné as CEO and president of the Executive Committee.
Desmarest
Pouyanné
Noble Energy Inc.'s board of directors has electedDavid L. Stover as president and CEO. He succeeds Charles D. Davidson as CEO, who is retiring on May 1, 2015. Davidson will continue to serve as the company's chairman until the 2015 Annual Meeting at which time he will leave the board of directors. The board also announced that it intends to elect Stover as chairman of the board immediately following the 2015 Annual Meeting. Susan M. Cunningham has been elected executive vice president for Noble Energy's global Exploration, New Ventures, Frontier, Environmental, Health, Safety, Regulatory, and Business Innovation activities. In addition, Gary W. Willingham has been elected executive vice president for the company's global Production, Drilling, Major Projects, and Supply Chain activities.
Robert R. Harl has relinquished his CEO and director positions at Willbros ahead of his planned retirement on Jan. 2, 2015. The Willbros board of directors has elected John T. McNabb II as CEO. McNabb, who joined the board in August 2006, was appointed executive chairman on Aug. 29, 2014, and will continue as chairman. The board of directors also has elected Michael J. Fournier as president, in addition to the duties he assumed as COO on July 1, 2014. Earl Collins has resigned the position and will pursue opportunities outside of the company.
Oil & Gas UK CEOMalcolm Webb has announced his intentions to retire in 2015.
Cairn India has appointedMayank Ashar as managing director and CEO.
Offshore Operators Committee has appointedEvan H. Zimmerman as executive director. He has served as a volunteer co-chair for the Technical Subcommittee and active member of the organization's efforts for nearly a decade. Zimmerman first got involved with the OOC in the wake of hurricanes Ivan, Katrina, and Rita; and his efforts in improving safety of offshore operations earned him a Corporate Leadership Award from the Department of Interior in 2007. He succeeds Allen Verret, who will retire effective Dec. 31, 2014.
Zimmerman
Tim Martin has joined Ramboll Oil and Gas UK as managing director at the firm's new UK head office in Aberdeen.
Ferguson Group has appointedRichard Smith as CEO.
Golar LNG Ltd. has appointedSir Frank Joseph Chapman to the board of directors and will act as the company's chairman.
Well-Centric Oilfield Services has appointedChris Mawtus as CEO.
Transocean Ltd. has electedMerrill A. Miller Jr. to the board of directors and intends to designate him as vice chairman.
Niko Resources Ltd. has appointedKevin J. Clarke as chairman of the board and interim CEO.
Chevron Corp. announcedRhonda I. Zygocki, executive vice president, Policy and Planning, has elected to retire after 34 years effective Feb. 1, 2015. The company also announced that effective Jan. 1, 2015, Steve Green, vice president, Policy, Government and Public Affairs, and Joe Naylor, vice president, Strategic Planning, will report to John Watson, chairman and CEO; and Wes Lohec, vice president, Health, Environment and Safety, will report to Joe Geagea, senior vice president, Technology, Projects and Services. Mary A. Francis has been named corporate secretary and chief governance officer effective May 1, 2015. She succeeds Lydia I. Beebe, who is retiring on April 30 after 37 years with the company.
Thomas P. Chambers has joined Kosmos Energy as senior vice president and CFO. He succeeds Greg Dunlevy, who will retire from the company at the end of June 2015.
DNV GL has appointedArve Johan Kalleklev as regional manager for Oil & Gas in Southeast Asia.
Kalleklev
Energy XXI has appointedBruce W. Busmire as CFO. He will lead the company's corporate finance, accounting, information technology, investor relations, planning, and strategy functions.
Robert Hvide Macleod has joined Frontline Management AS as CEO.
Latif Benhaddad has joined Tidewater as vice president of Engineering. He is responsible for global engineering technical services, including fleet newbuild programs and fleet maintenance and repair.
Saipem has appointedFrancesco Gattei as a non-executive, non-independent director.
Tor Olav Trøim has decided not to stand for re-election to Seadrill's board of directors.
David Rhodes has been elected vice chairman of the International Marine Contractors Association's Remote Systems and ROV Division Management Committee.
Rhodes
MicroSeismic has appointedRick Luke as CFO. He succeeds Ron Mogul, who retired this year.
Luke
Petroleum Geo-Services has namedMagne Reiersgard as executive vice president Marine Contract and Per Arild Reksnes as executive vice president Operations.
Steve MacMillan has joined Unique Maritime Group as global project director for its Diving Division and the global QHSE director.
Peter Blake has taken up the role of chairman of the National Subsea Research Initiative and Dr. Gordon Drummond has joined as project director.
NCS Energy Services chief technology officerDon Getzlaf has received SPE's Regional Completions Optimization & Technology Award for Canada. He was a key contributor to development of the company's patented multistage unlimited frac-isolation system.
James C. Musselman has joined Glori Energy's board of directors.
Knight Oil Tools International has namedJoe Lee as executive vice president.
Lee
Wood Group Intetech has appointedOgo Ikenwilo as regional well integrity manager – North Sea.
Intertek has appointedNeil Cousland as business development director for its Exploration and Production business line.
Wireline Engineering has hiredJimmy Chong as service manager in Kuala Lumpur, Malaysia.
Cubility AS has appointedJose Limia as regional manager for North America based in Houston.
Greene's Energy Group has namedRobert Fraser as regional business development manager. Based in Dubai, Fraser will be responsible for business development initiatives within the Middle East, Africa, Asia/Pacific, and countries surrounding the Caspian Sea.
Company News
Marathon Oil Corp. has closed the transaction with Det norske oljeselskap ASA for the sale of Marathon Oil Norge AS for a total transaction value of $2.7 billion. The Norway sale includes the operated Alvheim FPSO vessel, 10 company-operated licenses, and a number of non-operated licenses on the Norwegian continental shelf.
Odfjell Drilling and William Jacob Management have signed a cooperation agreement to mutually deliver engineering services for offshore drilling facilities. The services will include conceptual and front-end engineering and design studies, project planning, procurement, commissioning/startup, construction management, and maintenance.
John Hoffman, former CEO and president of Black Elk Energy Offshore Operations, has launchedP3 Petroleum, an independent oil and gas company with a focus on undercapitalized assets.
IHS Inc. has provided $1.25 million of IHS Petra, geological, engineering and petrophysical analysis software, to Texas Tech University. The tool includes a database of more than 3.5 million current and historic well records from around the world. The license will allow up to 150 students to work on the software at the same time.
German software providerNemetschek AG has acquired Bluebeam Software Inc. for $100 million.
Pacific Rubiales Energy Corp. has entered into a three-year memorandum of understanding (MOU) with PEMEX, establishing the basis for discussions and analysis of potential oil and gas cooperation in Mexico. It includes exploration, deepwater projects, revitalization of mature fields, heavy and extra-heavy oil onshore and offshore fields, high-water production fields, and other upstream activities. The MOU establishes a cooperative framework in order to exchange technical knowledge, information, experiences, and practices, as well as any other mutually identified areas of interest. These may include upstream, midstream, human capital, environmental and safety, knowledge, and opportunities.
MacDermid Offshore Solutions has purchased Niche Products and its parent company Subsea Fluid Technologies Ltd.
Cameron has selected AUMA as a technology partner in developing the LEDEEN line of electric actuation offerings for the worldwide oil and gas industry. Cameron says this partnership helps complete its valve automation actuation product portfolio, providing package solutions, including LEDEEN electric, electrohydraulic, pneumatic, hydraulic, direct gas, gas-over-oil, subsea, and compact actuators.
FoundOcean Group has acquired a majority stake in vibro-piling specialist CAPE Holland Group based in the Netherlands. The two entities will continue to operate as separate businesses under the newly formed parent company, FoundOcean Group.
GE Capital Aviation Services is set to acquire Milestone Aviation Group, the Dublin, Ireland-based helicopter lessor, for $1.775 billion. The transaction is expected to close in 2015. Milestone's fleet includes 168 helicopters.
Waypoint Leasing (Ireland) Ltd., a global helicopter leasing company headquartered in Limerick, Ireland, has reached an agreement with Bristow Group Inc. for the sale and leaseback of two Sikorsky 92 helicopters. Both helicopters operate offshore in crew change configurations out of Scatsta airport on the Shetland Islands offshore Scotland.
Atkins has acquired Houston Offshore Engineering for $73 million.
SBM Offshore has launched two companies: Imodco Terminals S.A. and Imodco Services S.A. Imodco Terminals is responsible for sales and execution of catenary anchor leg mooring (CALM) terminals turnkey projects. The aftersales services are provided by Imodco Services. This company will provide parts sales and inspection and intervention services. Activities offered will include supervision of terminals construction; commissioning; installation and start-up; inspection; terminals maintenance (including repair and overhauls); and inspection and intervention on swivels and mechanical parts.
Mermaid Subsea Services (International) has increased its interest in Subtech Saudi Arabia from 70% to 95%. This follows the acquisition of 30% of the shares held by General Technology & Systems Co. and the subsequent sale of 5% to local company Integrated Trading Services Establishment. Subtech Saudi Arabia will be renamed Mermaid Subsea Services (Saudi Arabia).
Deep Sea Mooring has opened a new office in Perth, Australia. The company has also secured a 13,000-sq m (139,931-sq ft) yard in Karratha, located 1,500 km (932 mi) north of Perth.
GE Oil & Gas has selected Jacksonville for its advanced manufacturing facility for the design, engineering, and manufacturing of GE's Mooney regulators and Becker control valves, among other oil and gas industry products. The company expects to create 500 new jobs over the next three years at the plant, and to invest up to $91 million in capital, real estate construction, and manufacturing equipment. The new 500,000-sq ft (46,452-sq m) facility is located near the city's deepwater port, known as JAXPORT.
UAE-based private equity firmGulf Capital has completed an investment worth $25 million in Egyptian firm Amak Group through its regional fund Gulf Credit Partners. Amak provides petroleum services for the onshore and offshore sectors in Egypt, along with drilling and workover services to oil companies.
Saipem has joined with Xodus Group and Chiyoda Corp. to establish a stand-alone company, named Xodus Subsea. It will provide studies, engineering, and consultancy services focusing mainly on the early phase of the projects, such as front-end engineering, conceptual studies, and basic design. While Xodus Subsea will be an independent, autonomous, and self-sustaining company with its own resources and assets, Saipem will continue to manage the bidding and the execution of engineering, procurement, construction, and installation contracts on subsea and pipeline projects.
Offshore Joint Services has changed its name to RAE Energy.
CHI Aviation has won a five-year contract to provide search and rescue services and helicopter emergency medical services using a Sikorsky S-92 for a major oil and gas producer in the Gulf of Mexico.
DNV GL has opened a new office in Malaysia. The new office will house its four core business areas – Maritime, Oil & Gas, Energy, and Business Assurance.
Freudenberg Oil & Gas Technologies has opened its new 116,000-sq ft (10,777-sq m) UK facility in Port Talbot, Wales.
Tendeka has entered an exclusive strategic agreement with Beijing Wallgate Information Technology Ltd. to deliver digital oil field capabilities in China. The agreement will see the company's intelligent well technology installed in multiple wells over a minimum period of two years.
Aberdeen-based energy services groupICR Integrity Ltd. has added Norwegian pipeline company Quickflange AS to its portfolio.
Geospace Technologies Corp. has entered into an agreement with a major international seismic contractor to rent 4,000 stations of its cableless OBX ocean bottom nodal system. The contract term is for 180 days, and delivery is expected in January 2015.
Peak Well Systems has developed a new Multi-Action Pulling (MAP) tool to simplify offshore slickline operations and reduce inventory. The Peak MAP tool is able to pin up, release, or recover a range of downhole equipment fitted with external fishnecks, the company said, without the need for specialized tooling, thus simplifying inventory, improving operational efficiency, and reducing overall cost. The new MAP tool complements the company's existing range of Multi-Action Tools, which are designed to increase functionality and flexibility for slickline operations.