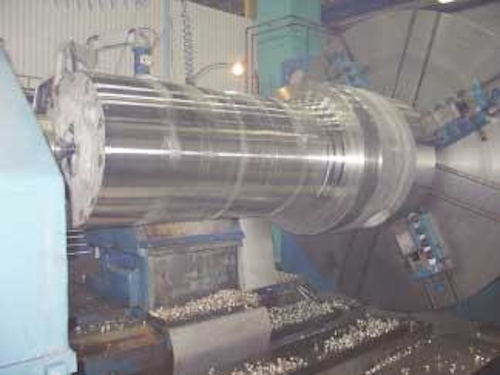 The benefits of using hot isostatic processing (HIP) to fabricate structures with complex internal geometries can be seen in recent orders for FPSO swivels. HIP specialist Metso Powdermet, which has delivered swivels since the mid 1990s, has won new orders this year, reports Göte Björman, product manager offshore.
All the orders have been placed by Framo Engineering, and all the swivels are made in duplex 2205. Metso Powdermet is able to supply swivels in a wide range of dimensions, and in weights ranging from 3 tonnes to a maximum of around 20 tonnes.
The HIP method, in which structures and components are made from powdered metal shaped in a steel can or mold, allows for the complex geometry of parts such as swivels with their multiple flow paths. Forging such a structure presents difficulties – if made in a single piece, it is no easy task to drill out the complex channels, while if made in two or more pieces, it is difficult to check and qualify the internal welds.
null
The HIP process is suitable for use with a wide range of metals, including high-alloyed steels, stainless steels, and super alloys. The resulting products are near net shape (NNS) – completely dense – and have very even mechanical properties. Their fine microstructure makes them easy to inspect by ultrasonic techniques.
The can is made somewhat larger than the finished product to allow for shrinkage. Experience in making this calculation means that the finished product normally differs from specification by no more than 2%, thus minimizing the machining task.
Once the can is filled with the metal powder, the air is evacuated and the can sealed. It is then placed in the hot isostatic press where it is subjected for several hours to temperatures of around 1,150° C and pressures of around 1,000 bar created by the presence of argon gas. It then undergoes heat treatment and quenching, after which the mould is pickled away.
Manifold acclaimed
Last year, Metso Powerdmet was awarded the Grand Prize for Advanced Particular Materials from the Metal Powder Industries Federation of the US for a 14-in. water injection manifold in duplex 2205 supplied to Statoil's Heidrun platform. The 10-tonne manifold, which included hubs and ground support, was made in four 2.5-m sections welded together.
"This is a standard product for us," Björman says. "It requires less machining and less welding and provides cost savings of 8% compared with a conventional manufacturing method." Welding was reduced by 80%, as it was only necessary to weld the four sections together.
Substantial weight savings can also be achieved through the ability of the HIP process to optimize the design. A 2-tonne duplex wye-piece supplied to Rockwater would have weighed an estimated 3.5 tonnes if produced by casting or forging, due to the need to over-dimension it.
For more information, contact Göte Björman, Metso Powdermet. Tel: +46 220 34821, fax: +46 220 33490. gote.bjorman@metso.com, www.powdermet.com