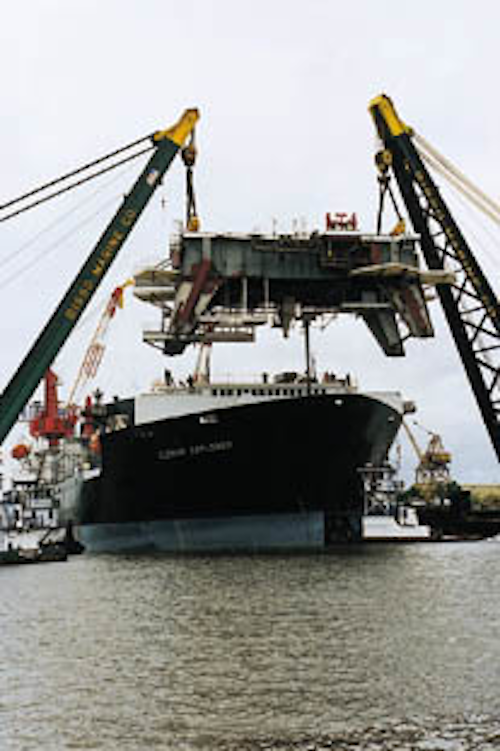 Marshall DeLuca
Houston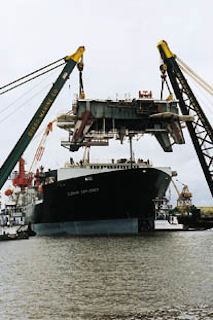 Outfitting the Glomar Explorer with a 725 ton drill floor structure.
Glomar Explorer lift
Bisso Marine recently completed a major lifting job for Global Marine at the Atlantic Marine Mobile, Alabama facility. Bisso used the 700-ton derrick barge Cappy Bisso and 600-ton derrick barge Lili Bisso to lift a 725-ton drill floor structure onto four hinge-pinned platforms on the main deck of the Glomar Explorer ultra deepwater drillship.
Ingalls gets license for R-450
Ingalls Shipbuilding of Pascagoula, Mississippi has signed a licensing agreement with Zentech of Houston, Texas under which Ingalls will market a new design for a new, state-of-the-art deepwater jackup. The agreement allows Ingalls to design and build the Zentech R-450 design jackups. Ingalls says the agreement allows for a much more economical and practical solution to providing a world-class rig design, rather than developing a competing design.
Contracts
Raytheon Engineers & Constructors has been awarded a lump-sum, turnkey contract over $300 million from Atlantic Methanol Production for a methanol plant to be located on Bioko Island, Equatorial Guinea, Africa.
Transocean has reached an agreement with Shell Deepwater Development for the third year of a five-year contract on the fourth-generation semi Transocean Richardson. Revenues from the contract are estimated at $67.5 million.
Bouygues Offshore with its subsidiary SAIBOS, has been awarded three installation contracts in the Gulf of Mexico worth a total value of $55 million.
Global Industries has been awarded a contract by Cabinda Gulf Oil for the installation of a platform and pipelines for Phase 1 of the Banzala Field Development offshore Cabinda, Angola. The contract is valued in excess of $30 million.
Hydralift has been awarded the contracts to supply the BOP handling, riser gantry crane, and HPU systems for the Diamond Offshore Ocean Confidence semisubmersible. Hydralift has also been awarded the contracts to supply the drilling riser tensioner system, two crown mounted compensator, and a Series 4000 Knuckleboom crane for the newbuild Smedvig CADS II drillship.
Vector International has completed a contract to supply 600 Techlok clamp connectors to the Mobile Bay Field.
Hitec has received an order from R&B Falcon for an active heave-compensated drawwork and Cyberbase drilling control systems for the company's new semisubmersible drilling rig. The order is worth approximately NOK 60 million.
ABB has delivered the first subsea trees to ARCO British Limited under a five-year framework agreement that covers 13-5/8-in. subsea wellheads, rental surface wellhead equipment, and Xmas trees for the ARCO's southern North Sea operations.
Statoil has awarded Tideland Signal a contract to supply Syncolan IV fog and warning light systems for two FPSO conversions in the UK sector of the North Sea and South China Sea.
NKK has signed a contract with Mitsui OSK Lines and Nusantara Shipping for the construction of a 22,500 cu meter LNG carrier.
TransCoastal Marine Services has won a contract from Dauphin Island Gathering Partners to install about nine miles of pipeline that will bring additional Gulf of Mexico gas supplies onshore in Alabama.
Oceaneering International has been awarded a turnkey contract by Kerr-McGee for the tieback of a subsea well in West Cameron 638 to a platform in West Cameron 648 in the Gulf of Mexico.
OPC Design has completed three design projects for their Drizo Gas Dehydaration Process at Nrosky Hydro's Oseberg, Texaco's Buckeye, and the M.O.L. Szeged.
Benthos has received a $900,000 order from Canyon Offshore for an upgraded version of the company's Openframe ROV system.
Bouygues Offshore, ROSBOS, and SAIBOS CML have signed a turnkey contract with Elf Congo for the supply of two platforms and the laying of pipelines and related electrical cables worth $69 million.
Delmar Systems will provide the first complete suction anchor system in the Gulf of Mexico for Shell Deepwater Development. The system will provide the anchor system that will be used for rig mooring in water depths up to 8,000 ft.
People
Robert E. Rose has signed a six year agreement to join Cardinal Services as President and Chief Executive Officer. Rose will also be a member of the board of directors.
Schlumberger Oilfield Services has announced the following appointments to the worldwide Solutions group: David Baillie, Asia, located in Jakarta; Rene Huck, Europe and C.I.S., located in Paris; and, Rex Ross, North America, located in Houston. They will report to Chad Deaton, Executive Vice President of Solutions.
Global Marine has appointed Christophe Raimbault to Manager of Sales and Contracts for the West African region and Aldert van Nieuwkoop Jr. to Manager of Sales and Contracts for the North Sea.
Ole Melberg has resigned as CEO of Smedvig (Stavanger). Staale Roed will act as CEO until a replacement can be found.
Expro Group (Aberdeen) has appointed Philippe Ghez as Client Account Manager responsible for the UKCS/Norway region.
Senior consultants Rhonda May and Daniel Nedland are transferring from Gaffney, Cline & Associates' Dallas office to Singapore office.
Staffan Jufors is the new President of Volvo Penta (Gothenburg).
Kv?rner Masa-Yards has named Martin Landtman as Manager of the Helsinki New Shipyard (Finland), while Seppo Kuosa becomes manager of the Turku New Shipyard.
London Marine Group (London), a new company providing support services, has named George Kynoch as its non-executive Chairman.
John Merret has joined Crowcon Detection Instruments (Abingdon, UK) as project Sales Manager.
Anne Marie Cannon has been named Business Development Director of Hardy Oil & Gas (London).
ITP InTerPipe has named Christian Bonigen Technical Manager and Ludovic Villate Operations Manager.
Ian Chambers has been appointed to the position of Executive Vice President and Chief Operating Officer of Fiber Options.
Jeff Harrison was appointed North American Director of Marketing and Business Development for Sun Drilling Products (New Orleans).
Gary Clemens was named Product and Marketing Manager of the new Coring Division of Diamond Products International.
Sonat Exploration has named Robert A. Lane President and Chief Operating Officer.
Enterprise Oil (London) has appointed Kevin Watts an Executive Director.
Halter Marine has appointed Tim Colton to Senior Vice President, Production Support.
Premier Oil (London) has appointed David John as Non-Executive Chairman.
Westfalia Separator (Milton Keynes, UK) has promoted Richard Montanaro to Managing Director, and has given John Ward responsibility for mineral oil systems sales.
Bristow Helicopters (Aberdeen) has named Willie Toner as Commercial Manager and Captain Peter Barnes as head of flight operations in Scotland.
Texaco International Production has appointed James LeJeune General Manager, Asset Development, Frederick Gibson to General Manager - Brazil Development, and Corla Davis Asset Development Manager - Trinidad for the company's Latin America region.
Texaco has appointed Robert Galbraith to Senior Vice President of Sumatra for Caltex Pacific Indonesia, Alan Halsey to Country Manager of Columbia, and Larry Toombs to Country Manager of Angola for Texaco International Production.
Brandt has named Doug Miller as Brandt/WMCO Products Division Manager, and Brian Williams as Brandt/NuTec Products Line Division Manager.
Coiled Tubing Engineering Services has expanded its staff with the addition of Claude Bryant as Engineering Manager, Bharath Rao as Project Engineer, and Joanna Zernell as Software Engineer.
IT services group CMG (London) has appointed Marion Stern as Associate Director within its oil division.
Roy Jarman is the new Group Director of Coastal Geosciences (Great Yarmouth, UK).
Pogo Producing has named six to senior management positions: Stuart Burbach to Executive Vice President - Exploration; Kenneth R. Good to Executive Vice President; Jerry Cooper to Senior Vice President and Western Division Manager; R. Phil Laney to Senior Vice President and Manager of Worldwide New Ventures; John McCoy, Jr. to Senior Vice President and Chief Administrative Officer; J.D. McGregor to Senior Vice President - Sales.
Crowley Maritime Chairman, President, and CEO Tom Crowley, Jr. awarded the Thomas Crowley Trophy to 16-year employee Sandy Teng.
Ingersoll-Rand has elected Charles R. Hoge Vice President of the company.
Rick Billings has been named Vice President and General Manager of AMBAR Chemical. Also, the company has appointed Russell Freed to Vice President of Marketing, and David Sullivant to Vice President of Sales.
Sir John Coles has become a Non-Executive Director of British Gas (Reading, UK).
Sir James Hamilton is the new Chairman of Brown & Root (Leatherhead, UK).
Veritas DGC has announced the addition of Jim Martin as Marketing Geophysicist and the promotion of Heather Pratt as Marketing Support Manager.
Ceanic has appointed Tom Thomas as Vice President - Commercial, Paul Shotton as Corporate Vessel Manager, and Ted Roche as Vice President and General Manager of the West Coast office of Ceanic's General Contracting division.
Coflexip Stena Offshore (Paris) has reorganized management: Thomas Ehret is now Chief Operating Officer, with additional responsibility for offshore resources and robotics. Jean-Pierre Veslot is Senior Executive VP, operations and projects for Brazil, Africa and the Mediterranean. Kevin Wood is Executive VP for North American, North Sea and Asia-Pacific operations and projects.
Craig McDonald has become head of Maritime Hydraulics' Canadian operation (Calgary).
Aker Maritime Group's Jon Lund, formerly with Aker Stord, is the new Technical Director and Executive VP at Otto Soeberg's shipyard group, and A. Korporaal is the new Director, Business Development and Acquisition at Stork Engineers & Contractors (Amsterdam).
Mergers, acquisitions & new companies
KeppelFELS Shipyard (Singapore) and Bennett & Associates (New Orleans, Louisiana) have announced the signing of a Technical/Marketing Alliance that combines the Keppel MOD V and MOD VI jackup designs with Bennett's T-Bass Class designs.
PGS and Awilco have approved the acquisition by PGS of the FPSO operations of Awilco.
Aker Maritime has announced plans to take over the engineering business of McDermott Marine Construction in Aberdeen, Scotland.
IWL Communications has entered into a definitive agreement to merge with CapRock Communications and CapRock Fiber Network (Dallas, Texas). The combined company will be known as CapRock Communications.
Mustang Engineering and Van Kirk & Riles Interests have entered into an alliance agreement to pursue opportunities associated with the decommissioning and salvage of offshore platforms.
Diamond Products International has expanded its drilling products and services capabilities with the purchase of all assets of Weatherford Enterra Coring Services Division. The new division, based in Houston, will operate under the name of DPI Coring Services.
Coflexip Stena Offshore and Cal Dive International have announced the formation of a joint venture company established to pursue subsea projects in the US Gulf of Mexico. The company will be named Quantum Offshore Contractors.
TGS-CALIBRE Geophysical and Nopec International have signed a letter of intent to combine the two companies into an entity named TGS-NOPEC Geophysical.
Pool Energy Services has acquired Sea Mar of New Iberia, Louisiana, an offshore support vessel company with operations in the Gulf of Mexico.
Torch and Canyon Offshore have formed a Deepwater Intervention Alliance Agreement to offer joint services, with Canyon diverless equipment installed onboard Torch vessels.
Aquatica has announced a strategic investment in the company by Cal Dive International in exchange for a minority ownership position in Aquatica.
EEX and FMC have formed an alliance for engineering, design, and supply of subsea production systems equipment in support if EEX's exploration and production activities on a worldwide basis.
Western Atlas has entered into an agreement to acquire Wedge Dia-Log from Wedge Energy Group for approximately $218 million.
IRI International and Hitec have announced a strategic business combination to create a new company called IRI Hitec to provide design, engineering, and manufacturing drilling equipment services.
Company news
Heerema Group's installation division has changed its name to Heerema Marine Contractors Holding B.V.
Tube-Alloy is building a new manufacturing facility and office complex in Houston and moving its headquarters to Houston from Louisiana.
Aquatica has recently opened a new 50,000 sq ft facility in Harvey, Louisiana to serve the New Orleans area.
Equitable Resources has developed a plan to sell its natural gas midstream operations, located in Louisiana and Texas, to continue building its exploration and production business.
TransCoastal Marine Services has signed a long-term lease for a manufacturing facility in New Orleans where it will perform fabrication work for deepwater oil and gas developments.
Industry records
Western Geophysical
has set a new industry record for seismic data turnaround by delivering 1,800 sq km of fully processed 3D data to Conoco Indonesia 27 day after the last shotpoint. This cuts the previous record for data delivery by 43 days.
Coflexip Stena has announced that the CSO Apache pipelay and subsea construction vessels has established the new rigid reeled world depth record for deepwater oil and gas flowlines in Brazil at a water depth of 1,373 meters.
Ambar Production Services has been recognized for successfully navigating, disassociating, and removing a five-mile pipeline wax blockage with coiled tubing. The company now is working on an eight-mile record.
Copyright 1998 Oil & Gas Journal. All Rights Reserved.