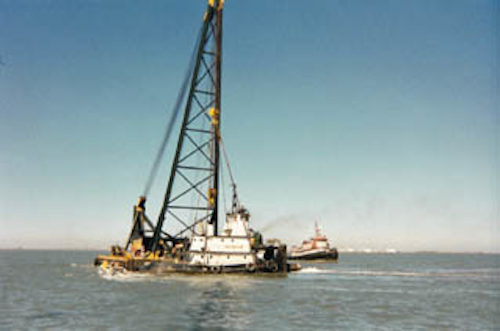 Marshall DeLuca
Houston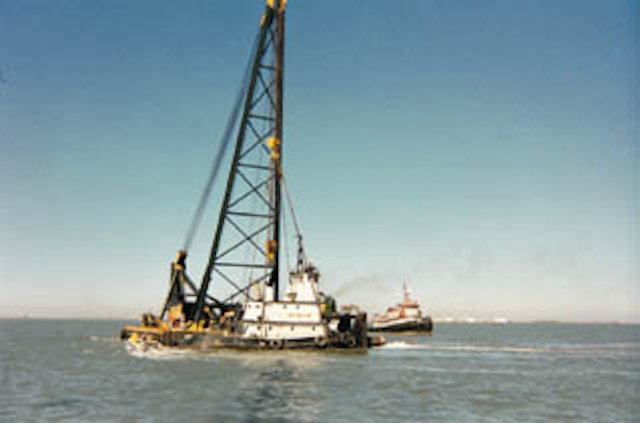 Bisso Marine salvages the MV Stone Fueler.
Port Fourchon
Bisso Marine salvage crews recently raised the
MV Stone Fueler
which sank in 20 ft of water new Port Fourchon, Louisiana utilizing the 250 ton derrick barge
Ajax
and offshore construction barge
Big Chief
. The
MV Stone Fueler
is a 65 ft long, 1,250 hp tug.
Also, theUS Army Corps of Engineers has awarded T.L. James a contract to dredge up to 2.5 million cubic yards of material from Bayou Lafourche, Louisiana and use it to build 184 acres of marsh on the west side of Belle Pass, Louisiana. Belle Pass is the main entrance for vessels to Port Fourchon. Dredging will deepen the channel to 27 ft, allowing for accommodation of deeper-draft vessels for use in deepwater.
Contracts
Dresser Industries
has announced that its Wellstream unit has finalized a contract with
J. Ray McDermott
to design and manufacture four risers at its Panama City, Florida facility for British Borneo Exploration's Morpeth development in Ewing Bank 965 in the Gulf of Mexico. The contract is valued at nearly $4 million.
Shell Deepwater Development Systems has awarded a contract to Ceanicfor the design, construction, testing, and operation of a deepwater pipeline burial system for the Ursa and Angus project pipelines.
TheSignet Companies has been awarded an affreightment contract with Strachan Shipping for the transport of steel fabrication plate from Europe destined for J. Ray McDermott in Morgan City, Louisiana. The steel will be used for the manufacture of rigs, marine equipment, barges, and other vessels.
Elsag Bailey (Canada) has been awarded a US$28 million contract from the Sable Offshore Energy Project for the use of the company's systems and services for automation and telecommunications on the project.
Kværner Oilfield Products has been awarded a contract by Soekor for the supply of a subsea production system for the Soekor E-AR Project offshore South Africa. The contract will consist of two side-valve Xmas trees and the electro-hydraulic control system.
TransCoastal Marine Services has expanded its oil and gas pipeline installation capabilities with the acquisition of the LB-207 pipelaying barge fromEssar Oil. The vessel will be renamed Vermilion Bay and can handle 48-in. diameter pipe and operate in 300 ft of water.
John E. Chance & Associates has been awarded a contract to operate a US government-developed laser system capable of performing bathymetric surveys from the air. Chance will operate this system for the US Army Corps of Engineers for one year plus the option for four additional years.
Apache announced it has signed a letter of intent to supply approximately 700 bcf of gas over 15 years to An Feng Kingstream Steel in Western Australia.
Raytheon Engineers & Constructors has been awarded a lump-sum, turnkey contract over $300 million fromAtlantic Methanol Production for a methanol plant to be located on Bioko Island, Equatorial Guinea, Africa.
Transocean has reached an agreement with Shell Deepwater Developmentfor the third year of a five-year contract on the fourth-generation semi Transocean Richardson. Revenues from the contract are estimated at $67.5 million.
Vector Internationalhas completed a contract to supply 600 Techlok clamp connectors to the Mobile Bay Field.
Hitec has received an order from R&B Falcon for an active heave compensated drawwork and Cyberbase drilling control systems for the company's new semisubmersible drilling rig. The order is worth approximately NOK 60 million.
Statoilhas awardedTideland Signal a contract to supply Syncolan IV fog and warning light systems for two FPSO conversions in the UK sector of the North Sea and South China Sea.
People
Dresser Industries has appointed
Linda S. Silinsky
as Director, Marketing Communications, responsible for media relations, advertising, customer promotions, and sales support.
Aker Engineering has appointedDag Jennsen to President.
Aker Marine Contractors has named Jim Darby as Manager of Marketing and Business Development.
Robert Rose has resigned as President, Chief Executive Officer, and Director of Diamond Offshore.Lawrence Dickerson has been named the new President, Chief Operating Officer, and Director of the company.
Schlumberger has appointedAndrew Gould as Executive Vice President of the newly formed Products group, and Chad Deaton as Executive Vice President of the newly formed Solutions group.
Bettis has announced that George Chandler has been named President of Bettis Canada based in Edmonton, Alberta.
Tuskar Resources of Dublin, Ireland, has appointedJohn Lander to Managing Director of the company.
Carl B. King has been elected Senior Vice President and General Counsel of Seagull Energy of Houston, Texas.
Saga Petroleum (Norway) is the first oil company to set up an exploration office in the Faeroe Islands.Terje Hagevang is President of the new subsidiary, which has been named Saga Petroleum Foeroyar (Torshavn). In London, Werner Karlsson is the new Managing Director of Saga Petroleum UK.
Gary Jones has become Managing Director and Chief Executive of Total Oil Great Britain (London).
BHP (Melbourne) has made several changes to its oil and gas sector executive team:Philip Aiken is now Executive General Manager and CEO; Howard Paver becomes Group General Manager, Business Development and Exploration; Keith Huntertakes charge of operations and technology; Bryan Griffiths becomes General Manager, Exploration.
Anne Marie Cannon has been named Business Development Director of Hardy Oil & Gas (London).
Coflexip Stena has announced a new management structure withThomas Ehret as Chief Operating Officer, Jean-Pierre Veslot as Senior Executive Vice President, Kevin Wood as Executive Vice President,Jean-Francois Mattei as Senior Executive Vice President, Jean-Bernard Fay as Senior Executive Vice President, and Claire Giraut as Executive Vice President.
Ambar has appointed Jerald A. Blumberg to the position of Chief Executive Officer.
ITP InTerPipe has named Christian Bonigen Technical Manager and Ludovic Villate Operations Manager.
Ian Chambers has been appointed to the position of Executive Vice President and Chief Operating Officer of Fiber Options.
Hydril has announced that Philip Burguieres and L.O. Ward were recently elected to Hydril's Board of Directors.
Jeff Harrison was appointed North American Director of Marketing and Business Development for Sun Drilling Products (New Orleans).
Gary Clemens was named Product and Marketing Manager of the new Coring Division of Diamond Products International, responsible for all domestic and international operations.
Sonat Exploration has named Robert A. Lane President and Chief Operating Officer.
Paragon Engineering has promoted Robert Spencer to Manager - Project Operations and Bill Wittner to Manager - Finance and Administration.
Enterprise Oil (London) has appointed Kevin Watts an Executive Director.
Premier Oil (London) has appointed David John as Non-Executive Chairman.
Westfalia Separator (Milton Keynes, UK) has promoted Richard Montanaro to Managing Director, and has given John Ward responsibility for mineral oil systems sales.
Steve McIntosh has joined Polaris International (Gloucester, UK) as Marketing Manager for the company's range of seismic products.
Bristow Helicopters (Aberdeen) has named Willie Toner as Commercial Manager and Captain Peter Barnes as head of flight operations in Scotland.
IT services group CMG (London) has appointed Marion Stern as Associate Director within its oil division.
Roy Jarman is the new Group Director of Coastal Geosciences (Great Yarmouth, UK).
Gas analysis company Crowcon Detection Instruments (Abingdon, UK) has recruited Adrian Beasley as Development Manager.
Pogo Producing has named six to senior management positions: Stuart Burbach to Executive Vice President - Exploration; Kenneth R. Good to Executive Vice President; Jerry Cooper to Senior Vice President and Western Division Manager; R. Phil Laney to Senior Vice President and Manager of Worldwide New Ventures; John McCoy, Jr. to Senior Vice President and Chief Administrative Officer; J.D. McGregor to Senior Vice President - Sales.
Crowley Maritime Chairman, President, and CEO Tom Crowley, Jr. awarded the company's highest honor, the Thomas Crowley Trophy, to 16-year employee Sandy Teng.
Ingersoll-Rand has elected Charles R. Hoge Vice President of the company.
Sir John Coles has become a Non-Executive Director of British Gas (Reading, UK).
Sir James Hamilton is the new Chairman of Brown & Root (Leatherhead, UK).
Coflexip Stena Offshore (Paris) has reorganized its management structure. Among the changes, Thomas Ehret is now Chief Operating Officer, with additional responsibility for offshore resources and robotics.
Jean-Pierre Veslot is Senior Executive VP, operations and projects for Brazil, Africa and the Mediterranean. And Kevin Wood is Executive VP for North American, North Sea and Asia-Pacific operations and projects.
Craig McDonald has become head of Maritime Hydraulics' Canadian operation (Calgary). Also, from Aker Maritime Group, Jon Lund, formerly with Aker Stord, is the new Technical Director and executive VP at Otto Soeberg's shipyard group, and A. Korporaal is the new Director, Business Development and Acquisition at Stork Engineers & Contractors (Amsterdam).
Mergers, Acquisitions & New Companies
Halliburton and Dresser Industries
have announced a strategic merger to create an oilfield services and engineering and construction company with the broadest range of services to the petroleum industry worldwide. Under the agreement, Dresser Industries' shareholders will receive one newly issued share of Halliburton common stock for each Dresser common share, valued at $7.7 billion.
EVI and Weatherford Enterra announced a strategic combination that will create the fourth largest oilfield service company. The merger will create a combined company called EVI Weatherford.
Landmark Graphics has announced that it is integrating Halliburton's EnerTech division into Landmark's Drilling and Well Services group to create the industry's broadest suite of drilling and well services software solutions.
EEX has formed a deepwater field development alliance with Aker Maritime for engineering, construction, and installation of floating production systems in support of EEX's exploration and production activities on a worldwide basis.
ETPM has reached an agreement to take over 100% of J. Ray McDermott Subsea Construction in Aberdeen. The LB 200 derrick laybarge will become the property of ETPM. The DLB 1601 derrick laybarge will become the property of McDermott. Also under the agreement, ETPM will take control of the JV West while McDermott will control JV East and Far East.
IWL Communications has entered into a definitive agreement to merge with CapRock Communications and CapRock Fiber Network (Dallas, Texas). The combined company will be known as CapRock Communications.
Mustang Engineering and Van Kirk & Riles Interests have announced that they have entered into an alliance agreement to pursue opportunities associated with the decommissioning and salvage of offshore platforms.
Diamond Products International has expanded its drilling products and services capabilities with the purchase of all assets of Weatherford Enterra Coring Services Division. The new division, based in Houston, will operate under the name of DPI Coring Services.
Coflexip Stena Offshore and Cal Dive International have announced the formation of a joint venture company established to pursue projects related to the subsea development of oil and gas fields in the US Gulf. The joint venture company will be named Quantum Offshore Contractors.
Pool Energy Services has signed an agreement to acquire Sea Mar of New Iberia, Louisiana, an offshore support vessel company with operations primarily in the Gulf of Mexico.
Torch and Canyon Offshore have formed a Deepwater Intervention Alliance Agreement to offer joint services, with Canyon diverless equipment installed onboard Torch vessels.
Aquatica has announced a strategic investment in the company by Cal Dive International in exchange for a minority ownership position in Aquatica.
EEX and FMC have formed an alliance for engineering, design, and supply of subsea production systems equipment in support if EEX's exploration and production activities on a worldwide basis.
Company news
Schlumberger Limited has announced that its Oilfield Services unit has organized into two groups: Products and Solutions. The Products group is responsible for the product development of Schlumberger product lines and for training and technical support to the worldwide operating locations. The Solutions group will develop, sell, and implement customized solutions and provide oilfield management and field development.
Alliance Marine Services has obtained accreditation for the operation and management of FPSO vessels according to the requirements of the International Management Code for the Safe Operations of Ships and Pollution Prevention.
Editor's Note: Offshore Magazine wishes to thank Continental Holdings of Alberta, Canada for their sponsorship and support of the Offshore Western Australia '98 Conference & Exhibition held in Perth, Western Australia last month.
Copyright 1998 Oil & Gas Journal. All Rights Reserved.