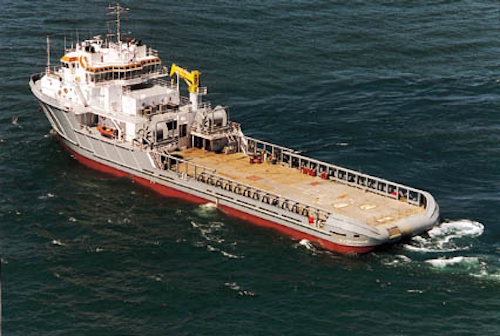 DOT'98 part of deepwater thrust
Over 680 delegates and 84 exhibiting companies representing 20 countries with deepwater operations attended the Deep Offshore Technology '98, held in New Orleans in November, indicating the growing importance of deepwater. This attendance makes DOT'98 the most successful in the show's history, says DOT Chairman John R. Schirra. Exhibitors, visitors, and press, as well as delegates from nations around the globe brought total attendance to 1,640. Attitudes were low due to declining oil prices, but the technology was remarkable, Schirra said. DOT '99 is scheduled to be held at the Stavanger Forum Conference Centre, 19-21 October, in Stavanger, Norway.
Halter delivers supply boat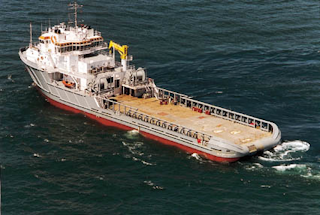 Halter Marine Group (Gulfport, Mississippi) has delivered the Seacor Vanguard, a 255 ft, 14,000 hp anchor handling/tug supply boat to Seacor Marine (Houston). Based out of Port Fouchon, Louisiana, the boat is working in the Gulf of Mexico under charter to an oil company supporting their deepwater drilling program. The Seacor Vanguard can carry 260,000 gal of fuel and 300,000 gal of drill water. She can also carry 1,200 tons of cargo on her 7,250 sq ft clear deck area, equipped with two tugger winches.
Contracts
Friede Goldman International (Jackson, Mississippi), has announced a contract for its subsidiary Friede Goldman Offshore from R&B Falcon (Houston) for the Phoenix IV jackup rig.
Predict/DLI (Bainbridge Island, Washington), has been awarded a 5-year engineering services contract for the U.S. Navy.
APS Technology (Cromwell, Connecticut), has signed and begun research on a Department of Energy 3-year contract for a Downhole Fluid Analyzer.
Leica (Torrance, California), has won a contract from the Royal Danish Administration of Navigation and Hydrography for an additional DGPS beacon system recently installed in the Faroe Islands.
Petrolsoft (San Diego, California), has been selected to manage Tosco's nationwide supply chain, including Circle K, Union 76, BP's West Coast Assets, and others.
Schlumberger (Houston) and Smith International (Houston), have announced the signing of a memorandum of understanding for the creation of a drilling fluids joint venture. The transaction is expected to close in the first quarter of 1999, and is subject to signing a definitive agreement and to regulatory and Board approvals.
Nautronix (San Diego, California), has been awarded a DP contract from Harland & Wolf, to provide dynamic positioning systems for Global Marine Drilling's ultra-deepwater drillships - Glomar C.R. Luigs and Glomar Irish Sea.
People
Coflexip's former President and CEO, Henri Boccaccio, died October 4 in Paris, France.
Operators and Consulting Services (Lafayette, Louisiana), have announced recent organizational changes:Tommy Johnson [6,770 bytes], Chairman of the Board and CEO; Jerry Artigue [5,680 bytes], President and COO; Wayne Robertson, Vice President; Francis Broussard, Production Manager and J. Oran Richard, Secretary/Treasurer.
John G. Beckett recently joined the Zurich-American Insurance Group ( Schaumburg, Illinois), as Director of Energy Casualty in the company's Diversified Products Strategic Business Unit.
Michael J. Debaillon [19,159 bytes] has been named Engineering Manager of Oceanic Engineering's Lafayette office.
Compressor Systems, Inc.(Midland, Texas), has promoted two of its employees:David Murdock [9,161 bytes]has been promoted to Executive Vice President; and, Dennis Weisgerber [10,545 bytes]has been promoted to Vice President of Compression Services.
Tadpole Technology (Cambridge, U.K.), has named the management team of its new flagship subsidiary Tadpole-RDI: Carl Baldini, President; Philip Gioia, Senior Vice-President of Operations; Martin Greasley, Vice President-Finance; Una Richens, Vice President-Marketing and Business Development; Frank Smaldino, Vice President-Sales and Paul Sweere, Vice President-Product Development.
Ambar Inc. (Houston), has named F.B. "Bud" Hamilton as Vice President, overseeing Ambar Production Services.
Noreen G. Wilson has been promoted to Senior Vice President-New Business Ventures, and will continue to serve as the Chief Financial Officer for Environmental Remediation Holding Corporation (Lafayette, Louisiana).
K. Peter Hammer has taken over as Director, Management of Marine Engine Sales of Deutz AG (Cologne, Germany). The Board of Management of Deutz AG has expanded and experienced restructuring as well: Anton Schneider, Chairman of the Board, will oversee after-sales business, material management and production; Klaus Edelmann, Finance and Controlling; Rainer Breidenbach, Engine Sales Worldwide and Leopold Mikulic, R&D and quality management.
Stolway (Unanderra, Australia), has appointed Paul Bonaretti as Business Development Manager, responsible for the company's international markets.
Western Well Tool (Houston) has promoted Gordon Reid to Area Manager for the continental US.
Hoover Materials Handling Group (Alpharetta, Georgia), after acquiring Florida Drum Company in June, has announced several promotions and new positions to its team: David Humphrey has been named to the newly created position of Senior Vice President-Sales and Marketing; Chris Long has been named Vice President-Manufacturing, Steel Operations; Peter Suttoni will oversee Plastics Manufacturing Operations in Anniston, Alabama, and Howard Weathersby has been promoted to Director of Logistics.
Dailey International (Conroe, Texas), has elected Owen Katz, Chairman, Chief Executive Officer and President of Cal Dive International (to serve on Dailey's Board of Directors.
Expro Group (Aberdeen) has appointed Bob Will as Marketing and Business Development Manager, responsible for cased hole intervention services. Other assignments are Alex Dodds, as Director of Marketing and Development, and Graeme Coutts, now Chief Operating Officer for the group.
Ethyl Corporation's (Richmond, Virginia), board of directors has elected Daniel J. Bradley Vice President, Sales & Marketing.
Racal NCS (Houston), has announced the appointment of Mark Michell to the position of Construction Sales & Marketing Manager, based in Houston.
Schroeder Industries (McKees Rocks, Pennsylvania), announced Harry O. Conn as Regional Sales Manager in its Fluid Power Division.
Sonsub International (Houston), has appointed Derek Cruickshank as Regional Sales & Marketing Manager, based in Houston, a move from Sales & Marketing Manager for its UK office.
BJ Services has appointed Dee Maclean to the newly created post of Marketing Coordinator for the company's BJ Process and Pipeline Services Division.
Mergers, Acquisitions & New Companies
Exxon and Mobil have announced the agreement to merge the two companies. The new company will be called Exxon-Mobil Corporation.
Ocean Energy and Seagull have agreed to combine the two companies. The combined entity will retain the name Ocean Energy.
Texaco and Chevron have announced the formation and operational start-up of Fuel and Marine Marketing LLC, a joint venture combining the global residual fuel and marine lubricants marketing businesses of both companies.
Kerr-McGee (Oklahoma City, Oklahoma) and Oryx Energy ( Dallas), have signed an agreement to combine in a transaction valued at about $4 billion.
MDC Technology (Middlesburough, UK), has entered into an agreement to acquire Profitpoint Solutions (Houston).
AGRA and Halliburton have announced that their respective business units, AGRA Monenco Atlantic and Brown & Root Energy Services have extended their long-term working relationship to a new 50/50 joint venture, called AGRA-Brown & Root.
Perkinson Oil and Gas (Brentwood, California), has announced a consolidated venture between its wholly owned subsidiary, Perkinson PetroDigital and Collarini Engineering International, both of Houston.
Geokinetics (Houston), has entered into a definitive agreement to acquire Advanced Data Solutions (Houston), a seismic data processing and software company.
Valley Gear & Machine (Bad Axe, Michigan), has acquired the "Ramsey" line of Multi-Speed Industrial Transmissions from Ramsey Winch (Tulsa, Oklahoma).
Telektron Hazardous Area Products (Surrey, UK) and Expo Safety Systems (Chagrin Falls, Ohio) have merged to
form a new company, Expo-Telektron Safety Systems, headquartered in Cleveland, Ohio.
Dresser-Rand Energy Systems (Wellsville, New York), and Kvaerner Process Systems (Oslo, Norway), have joined to form Multiphase Power and Processing Technologies.
Baker Hughes (Houston), has announced that
the operating companies within Baker Hughes Process Equipment Company - EIMCO Process Equipment, BIRD Machine and Baker Hughes Process - will combine to form one new operating organization - Baker Process.
Gulf Oxygen (Deer Park, Texas), has purchased Reliable Technical Services.
OnSite Columbia (Bogata), a subsidiary of Environmental Safeguards (Houston), has signed a joint cooperation agreement with the Institute of Columbian Petroleum (Bucaramanga, Columbia), a division of the state oil company, Ecopetrol (Bogata).
South New Jersey Industries (Folsom, New Jersey), and Conectiv (Wilmington, Delaware), has announced plans for a joint customer account services venture, Millennium Account Services, that will begin to provide meter reading services by the end of the year.
Company News
Landmark Graphics (Houston), a wholly owned business unit of Halliburton, has been awarded Support Center Practices (SCP) Certification.
Meyers & Crow (Dallas), announced its plan to build a total of 367,800 sq ft of speculative office space at three suburban Houston sites to fulfill the needs of companies requiring larger back-office space - like petroleum engineering firms - and who want to be located near strong labor pools.
Cal Dive International (Houston), with the support of Racal NCS and MPS International, recently completed an acoustic metrology for shallow water riser to pipeline connections for Shell Oil Company's Ursa Project.
Grinnell Supply Sales and Manufacturing will soon open its new warehouse and distribution facility at 2600 W. 42nd Street in Odessa, Texas.
Industrial Environmental Coatings has completed its most recent expansion of its manufacturing facilities in Pompano Beach, Florida.
Waukesha Engine Division has established a remote parts support warehouse in Singapore, to meet and support the emergency parts requirements of customers in the Far East territories.
Industry records
Statoil has set a new world record for the world's longest designer well drilled from a floating rig. The Transocean Arctic semisubmersible drilled a 22,705-ft well on the Åsgard Field in the Norwegian sector of the North Sea. The well was drilled in 70 days and marks the fourth well Statoil has drilled longer than 19,686 ft on the field in the past two years.
First heave delivery
Hitec has announced the first delivery of the ActiveHeave Drillingtrademark heave compensating drawworks, to the Samsung yard in Korea for use on the drillship Deepwater Pathfinder. Experiences gained during the development, test and installation phases all confirm the design of the AHD concept. The new technology combines active heave motion compensation and conventional drawworks operations for drillships and semisubmersible drilling rigs. Eight new deepwater drillships and semisubmersibles currently under construction, base their drilling systems on the AHD drawworks. Of these, four are being built for R&B Falcon, three for Sedco Forex and one for Navis.
Copyright 1998 Oil & Gas Journal. All Rights Reserved.