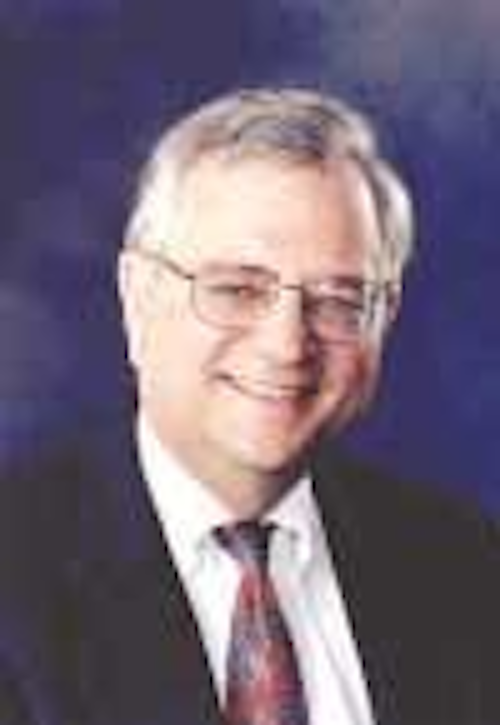 People
Representatives of various Houston engineering organizations have selectedKenneth E. Arnold, P.E., as the 2003 Houston Area Engineer of the Year. The organizations selected Arnold based on his outstanding educational, professional, technical, civic, and humanitarian achievements and contributions. He will be honored during the nationwide celebration of Engineers Week in February and at a formal presentation banquet in Houston.
Nils-Arne Soelvik and Lars-Petter Sollie of ABB won an award for best presentation at the Deep Offshore Technology Conference 2002 in New Orleans for Nu Deep Deepwater Production System – A Novel System Design Enabling Ultra-deepwater Field Developments. DOT gave an honorable mention award for best technical paper to Ian Frazer and Andre Bursaux of Stolt Offshore for Bridging the Technology Gap between Today and Tomorrow's Requirements: A Contractor's View. The DOT best technical paper award went to Laurence Abney, C. Headworth, D. Adams, and M. Kalman of Subsea 7 for Enabling Flow Assurance Solution for Deepwater Extended Subsea Tiebacks. DOT gave two George Murray honorable mention awards for best young engineer. Keith Williams and John Strutt of BP and Cranfield University won honorable mention for A Reliability Strategy for the Subsea Industry: an Operator's Impressions, and Marin and Single Bouy Moorings' Arjan Voogt and Mamoun Naciri won honorable mention for Extensive Model Testing of a Dry Tree Spread Moored Barge in Brazilian Waters. Joint winners of the George Murray award for best young engineer were The McPipe Extended Cooldown System: One Week (and more) of Safe Cooldown, written by Jennifer Bell and Christian Geertsen of Mentor Subsea Technology and InTerPipe, and Flexible Pipe Development in Brazilian Ultra-deepwater Fields: A Proven Solution, by Adriano Novitsky and Sergio Serta of Technip-Coflexip.
BJ Services has appointedGary Broiles as CIS area manager for its Middle East region Well Services Division. The company also promoted Bruce Campbell to the post of UK country manager for the Well Services Division within the Europe and Africa region. In his new role, Campbell manages all operations activities related to well services in the UK and North Sea, with emphasis on specialist services, such as coiled tubing, cementing, and other pumping services.
Burlington Resources Inc. has appointedRandy L. Limbacher as executive vice president and CEO, and Steven J. Shapiro as executive vice president in addition to his role as CFO. Both previously served as senior vice presidents.
Global Divers and Contractors has appointedCraig Milburn as diving operations manager. He will be assigned to the New Iberia, Louisiana, facility.
Occidental Petroleum Corp. elected R.Chad Dreier to its board of directors. Dreier joins nine other independent, outside directors and two members of management who comprise the current board.
Sproule Associates Inc. has hiredMark A. Clemans as manager of their Houston office.
Thomas C. O'Neill has joined the board of directors of Nexen Inc.
Itron Inc. electedThomas S. Foley, former Speaker of the House and Ambassador to Japan, to the company's board of directors. Itron also named Steve Helmbrecht vice president and general manager of its international business unit.
Sonsub President and CEOBruce C. Gilman has left the company after a long and distinguished tenure. Gilman was one of the founders of Sonat Subsea Services, which later became Sonsub. He has been an active participant in the marine/offshore industry for over 40 years, including holding several patents and being a Marine Technology Society Fellow. Max Ferraris will serve as interim president and CEO until the Eni board of directors confirms appointment.
Richard L. Rankin has joined Paragon Engineering Services Inc. as vice president of midstream projects in the company's Houston headquarters. Rankin is in charge of bolstering Paragon's presence in the emerging areas of LNG, LPG, GTL, gas-to-methanol, and CNG technology.
Deloitte and Touche has appointedDavid Holt as assurance and advisory partner and Neil MacLeod as tax director. As well as advising on tax issues, finance raising, strategic alliances, divestitures, and acquisitions, the team offers a consultancy service aimed at helping companies face the challenges of the maturing North Sea oil and gas sector.
EnCana Corp. has appointedRandall K. Eresman as senior executive vice president and CEO. With this appointment Eresman assumes leadership of EnCana's worldwide oil and gas exploration and production activities.
The Bayou Co. has promotedMike Kress to vice president of business development and marketing, Danny Hebert to vice president commercial, Richard Clement to director of sales for The Bayou Co. and Bayou LLC, and Bobby Donaldsonto operations director, international for commercial coating services international.
The Interstate Oil and Gas Compact Commission installed a new slate of officers at the commission's annual meeting. The new officers will serve under the leadership of North Dakota Gov.John Hoeven, who succeeds Arkansas Gov. Mike Huckabee. Russell J. Harding is the organization's vice chairman. Lynn Helms is now the Iogcc's second vice chairman. Don Mason is the new second vice chairman-elect.
ABB Inc. has namedKen Graber senior public relations coordinator for the drives, motors, and machines business area of Automation Technologies.
Noble Energy Inc. has hiredDavid L. Stover as vice president of business development. In this position, Stover will lead the business unit responsible for pursuing new business opportunities as well as managing global acquisition and divestiture activities.
Tenaris SA appointed the following as new members of the board of directors:Roberto Bonatti, Carlos Franck, Pedro Pablo Kuczynski, Bruno Marchettini, Gianfelice Mario Rocca, Paolo Rocca, Roberto Rocca, Jaime Serra Puche, Amadeo Vazquez y Vazquez, and Guillermo F. Vogel.
Unocal Corp. has namedTony Best president and CEO of its Pure Resources, Inc., subsidiary.
POSC appointed new directors:Gary Lore, Yogesh B. Sinha, Ihab Toma, Andy Lane, Steve Peacock, Eldad Weiss, and Herb Yuan.
Steinar Stotvig, Shell Canada's CFO, will retire, effective March 31.Cathy Williams, currently controller, Shell Europe Oil Products in London, will take the position of CFO, effective April 1.
Companies
Anadarko Petroleum Corp. has completed the acquisition of Howell Corp., a Houston-based oil and gas exploration and production company.
Sonardyne International Ltd. sold its first Streamer Asset Tracking System to Veritas DCG for its latest vessel the Veritas Vantage. The system uses the radio frequency identification tags already found in many seismic streamers to automatically record the serial number of each section as it passes onto and off the vessel.
OAO Lukoil, Moscow, has ordered electrical equipment for a new offshore platform from Siemens. The value of the contract is around ¤5 million, and delivery of all the equipment to Lukoil is to be completed by March.
CRC-Evans has completed three major 13% chrome corrosion resistant flowline welding projects – Sigyn, Valhall, and Farm Vest – awarded by Coflexip Stena Offshore Norway. CRC-Evans supplied the automatic welding equipment, consumable parts, welding wire, and technical support. Horizon Offshore Contractors Inc. selected the CRC-Evans automatic welding system for use on their lay barge, Gulf Horizon.
Petroleum Geo-Services ASA has completed the sale of its PGS Production Group Ltd. to Petrofac Ltd. under the Oct. 8, 2002, share sale agreement.
TheUS Minerals Management Service'sregional internet online ordering system will now have a new section where customers can purchase fixed CD sets. Unlike custom CDs, in which the customer could choose what files to put on each CD, these new fixed CD sets will offer specific information. There are 43 new CD sets. The new CD sets going online include the Seismic Data Release 2001 CDs, the Seismic Data Release 2002 CDs, the Paleo CD, and the Production CD.
McMoRan Exploration Co. and K1 USA Energy Production Corp. have completed the K-Mc Venture I LLC. K-Mc acquired certain of McMoRan's Main Pass block 299 facilities in the Gulf of Mexico, which it will use to pursue new business activities using the site's unique infrastructue, and will also continue to produce oil at Main Pass.