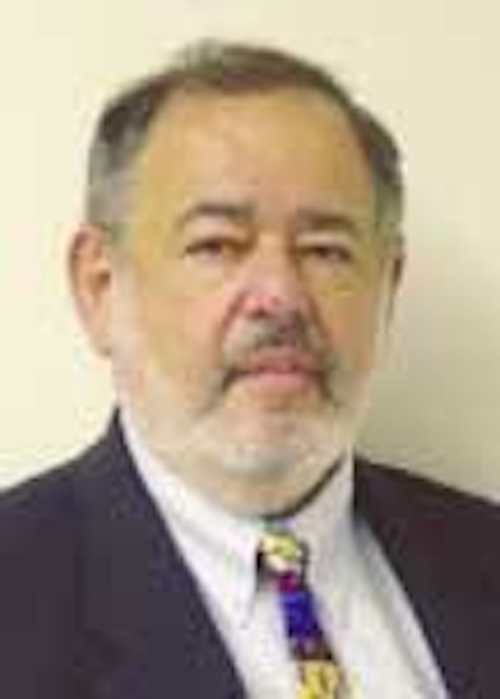 Jaime Kammerzell • Associate Editor
People
Nova Technology Corp., an engineering and service company that manufactures high-resolution, high-pressure, high-temperature electronic gauges and subsurface flow meters, has appointedBob Reesand Seb Patoutto vice president of global operations and vice president of global business development, respectively.
Ensco International Inc. has namedJames "Jay" W. Swentas senior vice president and CFO. Swent previously held various financial executive positions at Memorex Corp. and Nortel Networks and served as CFO and CEO of Cyrix Corp. and American Pad and Paper Corp.
Ernst & Young has appointed Scottish-based partnerHywel Ballas the firm's national head of energy, chemicals, and utilities (ECU). Ball will be responsible for all ECU business, dividing his time between Aberdeen and London. Neil Campbellis the director of corporate finance. Promoted from assistant director position to director, Campbell will focus on national opportunities in the oilfield services sector and private equity in the oil and gas market.
John Molberthas joined Nova Technology Corp. as subsea systems engineer, reporting to Cully Firmin,director of research, development, and engineering. Molbert is responsible for the development and commercialization for cost-effective subsea instrumentation complementing permanently deployed electro-optical reservoir monitoring technology offered by Nova. Steve Kellyalso has joined the company as manager, administration, and finance, reporting to Bob Dartez,president and CEO. Kelly is responsible for financial planning and administration, while serving as a member and facilitator for the strategic planning committees.
Landmark has appointedMurray Rothas its executive vice president of marketing and systems. Roth was previously executive vice president of R&D and joined Landmark in 1989. Dean Witteis Landmark's new executive vice president of R&D. He began his career with Landmark 10 years ago and has held a variety of technical and technical management roles in R&D.
Seamap of Houston has appointedRich Schiffmanas president. Schiffman brings over 30 years of experience in the seismic and survey industries. He is tasked with further developing Seamap's sales and support in the Americas. Seamap has also promoted Craig Douglasto vice president technology at Seamap Pte. Ltd. in Singapore. Douglas has led the development of Seamap's passive acoustic monitoring system for the past two years. His new job is to further develop the company's existing and next generation products.
null
WellCut Inc., an abandonment service provider, has appointedNeil McKayas general manager. Neil will report to WellCut President Paul Alcock.
Superior Energy Services Inc. has electedEnoch Dawkinsto the company's board of directors. Dawkins has 40 years of experience in the energy industry. From 1991 until his retirement in March 2003, Dawkins served as president of Murphy Exploration and Production Co., a subsidiary of Murphy Oil.
Marathon Oil Corp. has announced the retirement ofJohn T. Mills,Marathon CFO, effective Dec. 1, 2003, following 27 years of service.
Shell Nigeria has appointedChris Finlaysonto replace outgoing Managing Director Ron van den Bergin October. Finlayson will be appointed chairman of Shell Co. in Nigeria, which is a new position.
Companies
The 15th AnnualDeep Offshore Technology International Conference and Exhibition (DOT)will be held at the Parc Chanot Conference Center in Marseille, France, Nov. 19-21, 2003. This year's theme is Consolidating Experience, Enabling Ultradeep.
Sonsubhas signed a one-year frame agreement with Torch Offshoreto provide ROV support onboard the Midnight Wrangler. Sonsub will supply a 200-hp Innovator work class ROV with a depth rating of 3,000 m. The Midnight Wrangler is a deepwater construction/pipelay vessel capable of laying rigid pipe, flexible pipe, coiled tubing, and umbilicals, using up to four reels, in 3,000 m of water.
Bridon Ropes Ltd., manufacturers of the Xtreme range of wire ropes, will re-open a sales outlet in Aberdeen to build up its service to customers in the North Sea.
Sakhalin Energyhas signed an agreement with Sakhalin Shelf Service,a joint venture limited liability company, for facilities and equipment services at Kholmsk Marine Fishing Port (now Sakhalin Western Marine Port) for the next five years. Valued at $40 million, the service agreement includes an associated 30-month contract, with an option to extend for a further 30 months, for the provision of port labor during the construction period of the Sakhalin II, Phase 2 project. This associated labor contract is valued at $16 million.
New Offshore Inc. has expanded its business capabilities to include geotechnical services for clients operating on the Gulf of Mexico shelf. Operating out of the company's Morgan City, Louisiana, facility, New Offshore will provide subsea soil sampling, testing, and analysis for all soil types, ranging from soft clays to hard rock, in water depths up to 1,000 ft. Offshore positioning services and onshore laboratory testing will be provided through an alliance with C&C Technologies.
Keppel FELS Ltd. has awarded Varco International Inc. a drilling-equipment package order for the $105 million Ensco 106 jackup drilling rig being constructed in Singapore under a joint venture with Ensco International. The package includes three Varco VMP-2215 triplex mud pumps, which LeTourneau Ellis Williams Co. will manufacture.
ABShas signed a memorandum of understanding (MOU) with state mining safety committee Gosgor-technadzorof the Azerbaijan Republic, establishing a formal framework for technical collaboration between the two organizations with respect to offshore oil and gas operations. The MOU recognizes ABS classification and certification services for offshore oil and gas facilities in the Azerbaijan sector of the Caspian Sea and establishes compliance with the relevant rules and guides of ABS.
Wood Group Trinidad and Tobago Ltd. and Neal and Massy Energy Ltd. of Trinidad, have formed NM Wood Group Ltd.,a joint venture to provide services to the oil and gas industry in Trinidad and Tobago.
Apache North Sea Ltd. has awarded CHC Helicoptera three-year contract, plus two one-year options for offshore helicopter support services. The three-year contract began in August and replaces a contract formerly held with BP, which had been due to expire in August 2004.
Aberdeen-basedDuffy and McGovernhas secured contracts to provide offshore accommodation to projects in Brazil. A £60,000 contract with Subsea 7in Rio and an order of £70,000 with SGS (UK) Ltd. will see Duffy and McGovern provide mobile laboratory units for use on two Petrobras projects in the area.
Hoover Materials Handling Group Inc. has sold its blow-molding operations to Mauser GMBH,allowing Hoover to focus its resources on its primary businesses. Under the agreement, Mauser will purchase Hoover's Industrial Packaging Business Unit, including Hoover's limited-use intermediate bulk container facilities in Mt. Vernon, Ohio, and Anniston, Alabama; in addition to the company's plastic drum plants in Charlotte, North Carolina, and Pine Bluff, Arkansas. Hoover will continue to own and operate its metal IBC plant in Beatrice, Nebraska.
Superior Energy Services Inc. has acquired Premier Oilfield Services Ltd., an oilfield equipment rental company based in Aberdeen, Scotland. Premier provides tubular handling equipment, drill pipe, tubing, downhole tools, and associated products to key oil and gas regions, including the North Sea and other European markets, northern Africa, and the Middle East.
The American Society of Mechanical Engineers (ASME) has designated the Cameron MO BOP an ASME Historic Mechanical Engineering Landmark. The MO BOP was the first ram-type blowout preventer, which sealed the wellhead and controlled pressure during drilling and oil production operations. The MO BOP is not in use today. The original MO BOP was displayed at the Smithsonian's energy center in the early 1980s, but was returned to Cameron headquarters, in Houston, where it is now on display in the lobby.