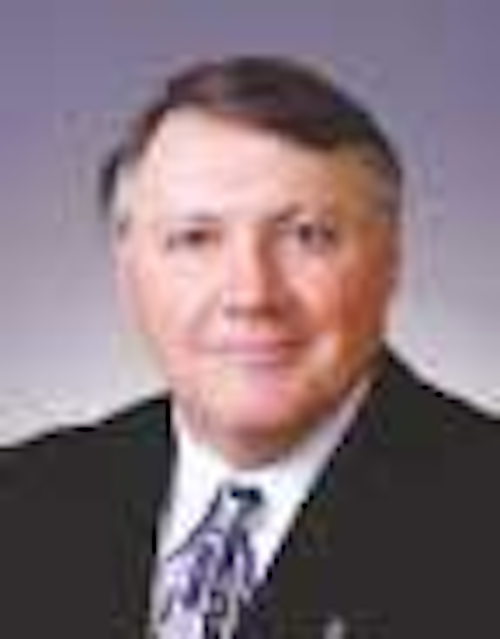 Jaime Kammerzell Associate Editor
The board of West Oil NL has reported thatCharles Morgan, Craig Burton, and Bevan Warrishave resigned as directors of West Oil and Gary Steinepreishas resigned as company secretary. Ian Middlemashas been appointed an executive director, and Mark Pearcehas been appointed director and company secretary of West Oil.
OPE Inc. has announced the hire of several new employees, includingLarry Aertker,senior controller; Tom Connor,flow assurance engineering manager; Timothy Lee,business development manager; Nicolaas Vandenworm,vice-president of marketing; Johnny Wu,flow assurance specialist; and Ray Young,manager of engineering.
Atlantia Offshore Ltd., a member of the IHC Caland Group, has announced thatJoseph W. Blandford,president and CEO of Atlantia Offshore is to retire on July 3. Kenneth A. Caldwell,the company's COO will take over as president. Blandford will continue to serve as CEO until the end of 2003, at which time he will leave the company.
J. Ray McDermott has namedKurt S. Nelsonsenior vice president, sales, marketing, and strategic planning. Nelson, who has held his current position of vice president and general manager, Eastern Hemisphere since 1999, will report to Robert A. Deason,president and COO of J. Ray McDermott. Nelson will be relocating to Houston.
Enventure Global Techno- logy has appointedRob McKee IIIchairman of the board. McKee recently retired from ConocoPhillips as executive vice president, exploration, and production.
David Crowleyhas joined Todco as vice president of marketing. Todco contains Transocean's Gulf of Mexico shallow and inland water business segment.
Maritime Telecommunications Network, provider of satellite-based communications, networking, and other services to the offshore oil and gas industries, has announced thatRonald Hayshas joined the company as CFO. He will report to David Kagan,CEO and president.
Woodside Petroleum Ltd. said thatJohn Akehurstwill be replaced within six months, two years before his contract expires, as CEO of the Australian oil and gas producer.
Knowledge Systems, a provider of advanced geopressure analysis software and services, has namedDr. Gemma Keaneygeomechanics solutions manager with responsibility for the company's worldwide geomechanics solution activities.
GlobalSantaFe Corp. reports that its board of directors has electedJon A. Marshallas president and CEO of the company. In addition, Marshall was elected a director at the company's annual meeting of shareholders. Marshall, who previously held the title of COO, succeeds C. Stedman "Sted" Garber Jr.,who, earlier this year, announced his intention to retire from his position as president, CEO, and a director.
Parker Drilling Co. has announced the retirement ofJames W. Linnand David L. Fist,17-year members of the board of directors.
OPS Ltd. has promotedCerys Johns to head of marketing and media relations. In her new role, Johns over-sees the marketing department and all associated OPS Group marketing communications activities, including advertising, media relations, e-marketing, production of communications materials, and corporate website redesign and maintenance.
Weatherford International's board of directors has electedKeith Morleyas vice president of enterprise excellence.
ASCO, providers of managed supply chain solutions, has appointedTony Powellas CEO and Bill Grahamas CFO.
BJ Process and Pipeline Services has appointedEwen Kleppangto the newly created position of area manager – Northern Europe and West Africa. Kleppang oversees all work carried out by BJ Process and Pipeline Services in the Northern North Sea, Scandinavia, Russia, Nigeria, and West African countries. The company also has appointed Julian Manningto area manager – Continental Europe and North Africa Region, which includes the Southern North Sea.
Companies
Alstom,specialist in energy and transport infra-structure, has won a contract to supply marine auto-mation equipment to the India-based ABG Shipyard.
AMEC,an engineering services company, has purchased Ipedex SAS,an integrated services provider to the international oil and gas industry.
Baker Energyhas opened an office in the Port of Spain and has begun offering its total line of compre-hensive operations and maintenance services to the Trinidad and Tobago oil and gas market place.
BUE Vikinghas secured a new three-year contract with operator BP. The Viking Endeavour will provide standby support between BP's North West Hutton platform and another operator's assets and will offer support should drilling rigs be introduced in either field. The company has also secured a contract with operator Total. The BUE Stronsay will provide standby support to the Dunbar platform in the northern North Sea sector. The contract has been confirmed for two years, with options for another three. In addition, the BUE Westray will provide similar services to the North Alwyn platform, over the same period.
Marathon Oil Corp. and Khanty Mansiysk Oil Corp. have entered into a definitive merger agreement under which Marathon will acquire KMOC in a cash merger transaction. Under the terms of the merger agreement, a wholly owned Marathon subsidiary will be merged with KMOC, with KMOC continuing as the surviving corporation and a wholly owned subsidiary of Marathon.
OPS (North Sea) Ltd. has changed its name to OPS Group Ltd. as part of its strategic initiative to expand globally and to offer improved integrated services to its clients world-wide.
TheSalvage Association(a trading style of BMT Salvage Ltd.) has established an office in Houston to provide full marine and offshore consultancy services. The services include project risk management, all types of surveys, including hull and machinery, cargo, P&I, draft, and bunker surveys, pollution response, collision investigation, and speed and angle-of-blow surveys.
Wood Mackenziehas announced the acquisition of Oil Price Assessments Ltd. from listed specialist publisher and information services group Metal Bulletin PLC.
Devon Energy Corp. and Ocean Energy Inc. have completed their merger. The merger has made Devon the largest US-based independent producer of oil and gas.
El Paso Energy Partnershas changed its name to GulfTerra Energy Partnersand will trade on the New York Stock Exchange under the symbol GTM.
The shareholders ofTotalFinaElf SAhave approved a resolution to change the company's name to Total SA. The company says the new name is part of an effort to improve the company's image and will be part of a wider program to create an image as an environmentally and socially conscious citizen of the world.
Sonsub and C & C Technologies Inc. have signed an agreement to collaborate in providing their expertise, personnel, equipment, and facilities to support their respective services to the oil and gas industry.
FMC Technologies Inc. and UK-based Accentus plc, a subsidiary of AEA Technology plc,have established a joint venture company, GTL Micro-Systems, for the commercial development of gas-to-liquids technology. FMC Technologies has a majority ownership interest in GTL MicroSystems.
Alstomhas been awarded an order for a 30 MW GT10C gas turbine in mechanical drive application offshore. Under the terms of the contract, the GT10C will drive a Dresser-Randcompressor train comprising one model D16R8BMP and one model DO8R9SHP compressor. The equipment will be on a fixed platform in the Al Shargi field, offshore the State of Qatar in the Arabian Gulf.
TheUK Offshore Operators Association(Ukooa) has revised its joint industry guidelines for the management of offshore helidecks to incorporate new developments in operational practices, regu-latory changes, and topics arising from recent research. The new edition is available on CD Rom.
John Wood Group PLChas acquired the assets of Barber Industries,a subsidiary of Precision Castparts Corp.,for $10.7 million. Barber will operate within the pressure control business of Wood Group's well support division.