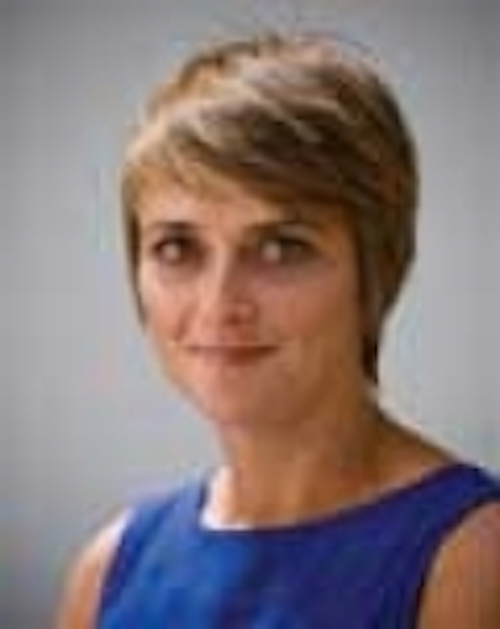 PD&MS Energy has appointedDave MacKay as CEO, and Simon Rio as managing director.
Apollo Offshore Engineering has appointedSteve Leaper as support director.
| | | |
| --- | --- | --- |
| King | Tendeka has appointedGillian King as vice president of the Asia-Pacific region, and Derren Simpson as vice president of Middle East and North Africa. | Simpson |
Fabio Colletti Barbosa has resigned from the Petrobras board of directors.
| | | |
| --- | --- | --- |
| Arvelo | UTEC Survey has appointedLuciano Arvelo as senior project manager, and Marcia Rainer as chief geophysicist in the new UTEC Rio de Janeiro, Brazil office. | Rainer |
Carl Hughes has been appointed as the Deloitte Touche Tohmatsu Ltd. global industry leader for energy and resources.
| | |
| --- | --- |
| Hopkins | Paul Hopkins has been named managing director of AUMA Actuators Ltd. |
IRO – The Association of Dutch Suppliers in the Oil and Gas Industry – has announced that effective Jan. 1, 2012,Gert-Jan Kramer will resign as chairman and Pieter van Oord will take over the chairmanship. In addition, Hans de Boer will resign as managing director and Sander Vergroesen will be appointed as managing director.
Aminex has appointedStuard Detmer as CEO.
Mermaid Maritime Public Co. Ltd. has announced the cessation ofDenis William Welch as CEO. The company has also appointed Graham Cooper as commercial director, and Bruce Saunders as projects director for Mermaid Offshore Services.
Northern Petroleum has appointedMaurice Le Gai Eaton as executive director to the board.
| | |
| --- | --- |
| Lyall | UTEC Survey has appointedGordon Lyall as general manager for the Middle East and Caspian region. |
Noreco has appointedJohn Bogen as VP commercial.
Sindre Rotevatn has been appointed finance manager and deputy managing director of Ulstein Verft AS.
DONG Energy has namedThomas Dalsgaard as executive vice president.
| | |
| --- | --- |
| Pryor | H2O, Inc. has namedIra Pryoras Gulf Coast sales consultant. |
Solomon Associates has appointedPaul Kennedy as vice president of Asia operations, based in Singapore.
After four years as head of oil and gas at the international law firm Eversheds, partnerStephen Mackin has handed over the reins to Eversheds partner David Sellers.
ADIL has appointedChris Hamlet as operations and improvement manager, Michael Fuery as developments consultancy manager, and Euan Mushet as HSEQ manager.
GAC has appointedMonica Chaves as oil and gas and logistics manager based in Rio de Janeiro, and Valdecia Pires as key account coordinator in Macaé, Brazil.
| | |
| --- | --- |
| Mair | CHC Helicopter has namedNick Mair as regional vice president for the western North Sea division, Rob Pendle as vice president of maintenance and technical services, and Dave Stewart as finance director. |
Badger Explorer ASA has appointedDavid Blacklaw as CEO.
dGB Earth Sciences has appointedKristofer Tingdahl as CEO. He takes on the role from dGB founder, Paul de Groot, who will remain as president of the company and focus on business development. Nanne Hemstra has been named executive VP – Americas. Jan Stellingwerff Beintema has been named executive VP – Asia Pacific.
Total E&P UK has appointedPhilippe Guys as managing director.
The Underwater Centre in Tasmania has appointedAllan Brown as general manager to oversee a period of significant investment in the subsea training facility.
Cal Dive International has appointedJohn R. Abadie, Jr. as executive VP and COO, and G. Kregg Lunsford has been named executive VP and chief strategy and business development officer.
Tracerco has appointedGary Phillips as the new head of its operations in Aberdeen.
Bahamas Petroleum has appointedSimon Potter as CEO.
CairnToul Well Equipment Services has namedAllan Pritt as general manager of its well integrity service.
Ashtead Technology has appointedMartyn Conroy as sales director of the offshore division.
David McManus has been named chair of the board of directors for FLEX LNG.
qedi has appointedBarry Cann as general director to head up the company's Europe business division, and David Hickey has been named operations director and will oversee qedi's international portfolio of high-profile projects. Tony Davies has been appointed as technical director. He will be responsible for boosting the company's internal engineering and quality assurance, and leading the next generation of Go Technology upgrades.
T&T Bisso has appointedOscar Lopez as assistant project manager and on-site coordinator.
| | |
| --- | --- |
| Smith | EnerMech has appointedStuart Smith as UK country manager. |
| | |
| --- | --- |
| Yule | The Ferguson Group has appointedGraham Cowperthwaite as CEO of the Group's Ferguson Modular division. Hayley Yule has joined the company as group marketing manager. |
PanAmerican GeoExchange, Inc. has appointedTony Clark as its president.
RLC, the largest privately-held helicopter operator in the Gulf of Mexico, has appointedDru Milke as CEO.
Company news
Kongsberg Maritime has completed the acquisition of Evotech.
Independent Risk Management Systems B.V. (IRM Systems), suppliers of independent guidance and hands-on support for emergency pipeline repair systems and pipeline repair, has opened its doors for business. Based in Capelle Aan Den Ijssel near Rotterdam, the Netherlands, the company was founded in 2011 by general manager Rutger Schouten.
Sevan Marine has agreed in principle to sell three FPSOs to marine services provider Teekay Corp.
SBM Offshore has signed a shareholders' agreement with Synergy Group's Naval Ventures concerning new operations in Brazil. The duo have agreed to develop and operate a yard and a quayside at Niterói for fabrication and pre-commissioning of topside modules and other offshore oil and gas systems and equipment, and also for FPSO integration and commissioning.
Bluefin Robotics has acquired Hawkes Remotes Inc. Bluefin says it plans to use its AUV and subsea vehicle experience to add hybrid capabilities to Hawkes ROVs. Bluefin and Hawkes Ocean Technologies also entered a strategic relationship to not only bring the HRI ROV technology to market, but also to continuously advance the design and development of ROV platforms and technology.
Delta Rigging & Tools, Inc. has received the Gold Safety Training and Evaluation Process (STEP) national award from Associated Builders and Contractors, Inc. for the third consecutive year. The STEP award recognizes Delta Rigging & Tools for the achievement and ongoing success of the company's safety programs.
Members of theInternational Technology Facilitator have set the top priorities for investment in 2012. ITF also said it expects to invest £9 million ($14 million) in joint industry projects next year.
Saipem and Russian company United Shipbuilding Corp. have agreed to cooperate on oil and gas project developments in the Russian Federation and elsewhere. They plan to establish a 50/50 joint venture, with the scope of work including oil and gas project management, engineering, procurement, and construction.
Aker Solutions has secured a contract for maintenance, modifications and operations work with an undisclosed customer in the UK sector of the North Sea. The two-year contract will guarantee more than 180 jobs annually for Aker Solutions in Aberdeen, UK.
Petrofac has selected Finning to provide a custom-engineered, hazardous area generator package to power a submersible fire pump and motor. The Finning diesel generator set, comprising a Caterpillar 3512B marine engine and driving an alternator will provide dedicated power at 6,600 v to a floating production, storage and offloading unit, operating offshore Malaysia.
CHC Helicopter has ordered and will incorporate 20 more Eurocopter EC225 Super Puma twin-engine helicopters into its operations over the next several years.
FMC Technologies has launched a recruitment drive to fill 240 jobs. The positions will be located at FMC's Scottish manufacturing facility in Dunfermline, its engineering research and development facility in Glasgow, and its engineering design center in Aberdeen.
Veripos has extended its operations in China with the opening of a new office in Tianjin in association with Tianjin YaXi Offshore Oilfield Technical Services Co Ltd.
PD&MS Energy has launched two new operations in Brazil as part of an international strategy to grow the oil and gas design, fabrication, installation and maintenance specialist. PDeMS Energy (Brazil) Soluções de Energia Ltda has already secured rig upgrade contracts with a global drilling specialist. The company, which now has bases in Rio de Janeiro and Macaé, delivers a range of solutions from initial survey work to upgrades, repair and client specific modifications.
Thrane & Thrane, the Inmarsat FleetBroadband terminal developer, has been selected as the launch manufacturer for the forthcoming Inmarsat Global Xpress service. Inmarsat Global Xpress expects to go live in 2013 with brand-new SAILOR terminals designed specifically for use with this new maritime Ka-band service.
ROC subsidiariesRoc Oil (Mauritania) Co. and Roc Oil (Chinguetti) BV have agreed to sell for $4 million their interests offshore Mauritania to Tullow Mauritania Ltd., Tullow Petroleum (Mauritania) Pty Ltd., and Tullow Chinguetti Production Pty Ltd.
Apache North Sea Ltd. has agreed to acquire ExxonMobil Corp.'s Mobil North Sea LLC assets for $1.75 billion.
Petrofac and China Petroleum Engineering & Construction Corp. have established a joint venture company, China Petroleum Petrofac Engineering Services. The Sharjah-based venture will provide project management and engineering services for oil and gas projects, mainly for Chinese oil and gas companies.
Reflex Marine has launched a global accredited service center program, for its FROG and TORO devices in Dubai. Enermech FZE has been appointed as the first accredited service centre and distributor for the FROG and TORO in the region.
Tentec has been selected as the exclusive supplier of bolt tensioning equipment to PNS UK.
Salamander Energy has selected AVEVA WorkMate, AVEVA's Enterprise Asset Management (EAM) solution to be used across all of its operations in Indonesia and Thailand.
AV Dawson is investing more than £3 million ($4.7 million) to develop the facilities and services it supplies to the oil and gas industries. The company has invested £120,000 ($188,000) this year on increasing water depths to 8 m (26 ft). In addition, it is spending a further £3 million on extending its quayside by a further 200 m (656 ft) to allow larger vessels to access its 1,000-ft (305-m) wharf.
Brinker Technology has secured an exclusive distribution deal with Alaskan Energy Resources Inc. whereby the company will supply Platelet Barrier Technology and Micro-Platelet Plasma to customers across the region.
Kongsberg Maritime Mexico has started operations from its new facility in the city of Veracruz.
Aker Solutions has established an office for its subsea business in Gothenburg, Sweden.
Harris CapRock has selected Paradox Engineering's PE.WSNi as wireless sensor network solution for industrial data acquisition. PE.WSNi technology will be integrated in Harris CapRock's TConnect solution to provide a cost effective and high performance connectivity platform.
Greene's Energy Group has acquired Pro-Valve Services, Inc.
Spectrum has completed the purchase of CGGVeritas' marine 2D multi-client library for $40 million.
The American Pollution Control Corp. (AMPOL) has secured a contract to complete an asbestos abatement procedure in Equatorial Guinea.
BAE Systems plans to upgrade its waterfront facilities in Western Australia to provide new services in support of local offshore operations. It will invest more than $8.2 million at its complex in Henderson. Phase I is designed to widen services for vessel support and offshore fabrication. The program will include extending rail lines, upgrading the main construction shed with a new blast and paint area, refurbishing of the vessel turntable, yard sealing, and a new office complex.
Halliburton has agreed to acquire Multi-Chem Group LLC.
The board of directors ofDNO International and RAK Petroleum have signed definitive documents to merge RAK Petroleum's oil and gas operating companies into DNO International in exchange for DNO International shares. The transaction values DNO International at $1.64 billion corresponding to NOK 9.50 ($1.67) per share and RAK Petroleum's operating subsidiaries at $250 million (before working capital adjustments).
Flexlife has expanded its operations in Brazil to increase its capacity across South America. The company is targeting initial revenue of approximately £4million ($6.3 million) per year, but that is expected to increase by 30-60% per year within two years.
EV has established its regional headquarters in Houston's energy corridor. New operational bases have also been set up in Oklahoma, Texas, and Colorado to complement EV's existing operational base in Lafayette, Louisiana, which services the Gulf of Mexico. An additional base in West Virginia is due to open soon.
More Offshore Issue Articles
Offshore Articles Archives
View Oil and Gas Articles on PennEnergy.com