Business Briefs
May 4th, 2016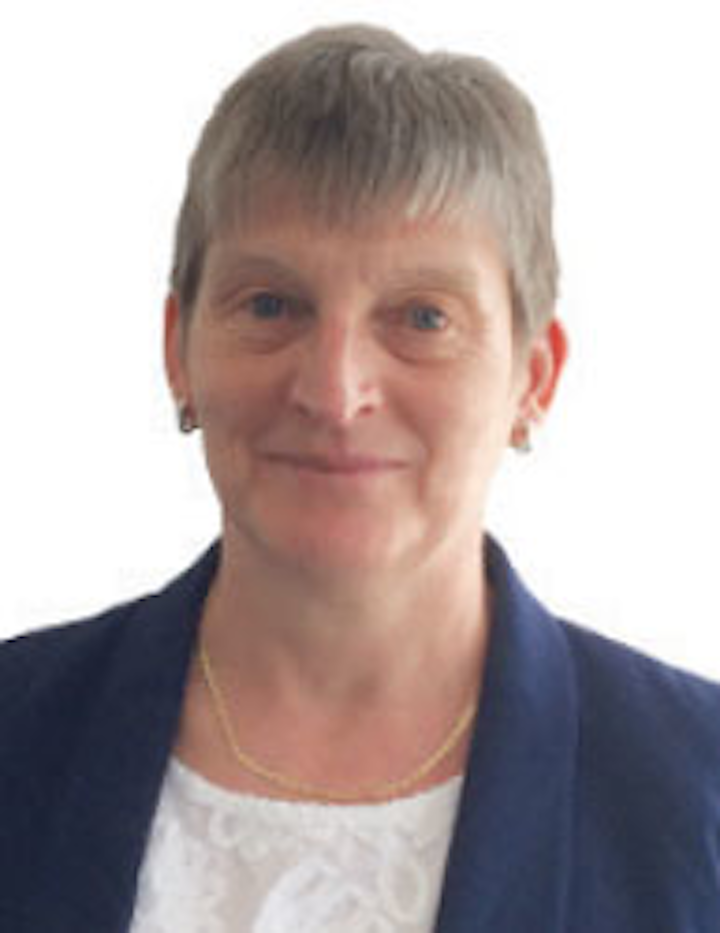 People
Chevron Corp. has appointedRandolph S. Richardsas corporate vice president and treasurer. He replacesPaul V. Bennett, who is retiring from the position after 36 years of service with the company.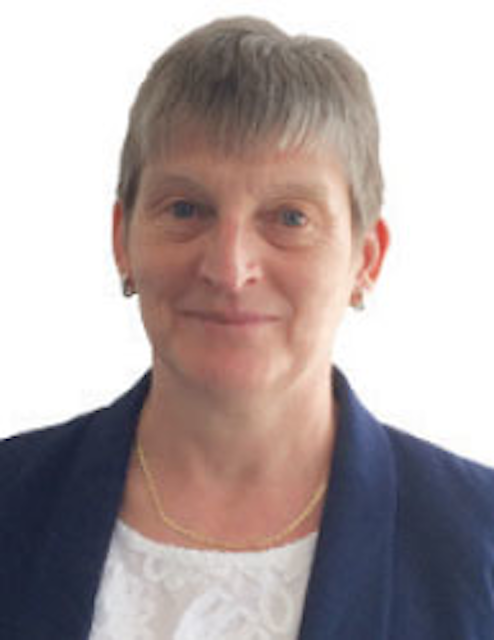 Smallman
The Institute of Marine Engineering, Science and Technology has appointedJane Smallman as its 114th president. She is the first female to hold the position in the institute's 127-year history.
Idar Eikrem has succeededEiliv Gjesdal as executive vice president and CFO of Kvaerner.
MODEC has appointedTakehiko Tsubokawa and Yasuhiro Takano as executive managing officers and Minoru Sawada as director and executive officer.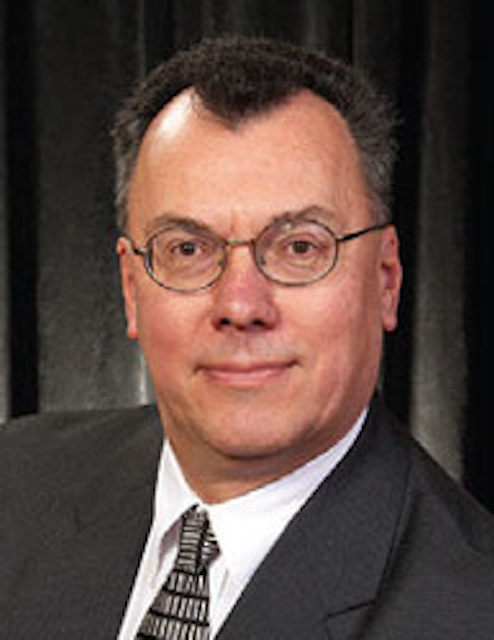 Didas
Jeffrey L. Didas has been elected vice president elect for NACE International. Didas will serve as ex-officio member of the NACE finance and policy committees and the NACE Foundation board of directors. This position is a five-year commitment where he will serve one year each as vice president elect, vice president, president, and past president followed by one year on the nominating committee.
Conductor Installation Services Ltd. has namedJames Chadd as managing director.
Prysmian Group has appointedCristiano Tortellito lead the newly created Oil & Gas Business Area that incorporates all of the group's activities in the industry, including umbilicals and flexible systems, downhole technologies and core cables.
DeepOcean has electedPhilippe Barril to its board of directors as non-executive director.
Trelleborg Sealing Solutions has appointedLinda Muroski as president of marketing Americas.
Hoover Container Solutions has appointedScott Meints as vice president of service operations and Adolfo Aguilera as vice president of manufacturing.
Lokring Northern (UK) has promotedDonal Heery to technical sales manager and appointedJake Rowley as technical sales engineer for Aberdeen.
Company News
Wood Group has acquired SVT Engineering Consultants, a Perth, Australia-based piping and rotating equipment vibration, noise, integrity engineering and asset integrity services provider.
Maersk Oilplans to slim down its organizations in Angola and the US, closing its Houston office and reducing its team in Luanda. These measures will impact around 100 staff positions cross the two sites.
Schlumbergerhas inaugurated its new regional Center for Reliability and Efficiency in Saudi Arabia. This will be used for maintenance and servicing of equipment including drilling tools and hydraulic fracturing pumps. It also features large high-pressure wash bays that can handle repairs of equipment ranging from mud shakers to coiled tubing units.
Greene's Energy Group LLChas received the American Petroleum Institute specification Q2 certification for its flagship operations center in Lafayette, Louisiana. API Q2 is a new, risk-based quality management system approach that focuses on supply chain controls, service design, competency, preventive maintenance, contingency planning and service quality plans, inspection activities, equipment repair and maintenance, well construction and servicing and abandonment.
WellPerformhas acquired Chris Dykes International Ltd., a UK-based well examination services provider.
GE Oil & Gashas started construction of a new manufacturing and service facility at its MODON (Saudi Industrial Property Authority) site in Dammam. The new investment will occupy 18,000 sq m (193,750 sq ft) and will serve as a manufacturing, assembly, repair, services and training facility for advanced gas turbines and mechanical drives.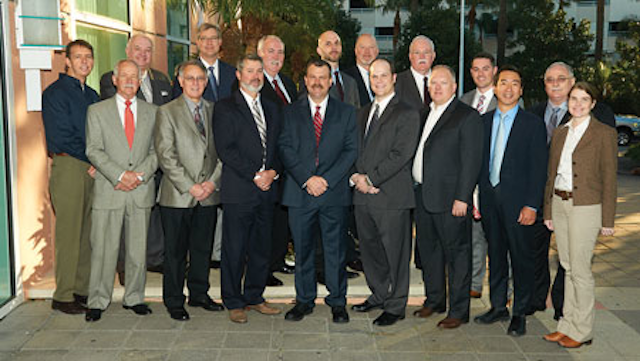 2016 Topsides, Platforms & Hulls Advisory Board
Back row from left to right: David Brubaker, Jacobs Engineering; James Britch, UniversalPegasus; Tad Mulder, Cameron; James Deaver, Oil Field Development Engineering; Ross Hancock, Anadarko Petroleum Corp.; Kevin Raatz, Technip; Scott Key, WorleyParsons; Nathan Davidson, Williams; David Castle, Hess Corp.
Front row: Murray Burns, Consultant; Renard Falcon, Chevron; Eric Wensel, Frontier by Wood Group; Advisory Board Chairman Alec Johnson, Petrobras; Jonathan Brewer, Stress Engineering Services; Jeff Dice, Consultant; George Gu, NOV; Loriana Morris, KBR
Not pictured; Robin Dupre,Offshore; Boyd Howell, MODEC International; Thomas Kolanski, BW Offshore; Peter Lovie, Peter M. Lovie PE, LLC; Carlos Mastrangelo, SBM Offshore; Mark Meunier, Kiewit Offshore Services; Curtis Lohr, Shell International E&P; Lars Ronning, Statoil; Jeff Rushing, Noble Energy; Maarten van Strien, Eni Petroleum; William "Butch" Taggart, Murphy E&P
The 2016 Topsides, Platforms & Hulls Conference and Exhibition, which was held at the Moody Gardens Hotel & Convention Center on Feb. 9-11, attracted 1,774 attendees. Hundreds of colleagues and exhibiting companies benefitted from this high-level technical conference and exhibition and connected with key decision makers and technical experts directly involved in the topsides industry. Over three days, the event featured presentations covering technical issues, business challenges and future trends, plus showcased an exhibition of products and services from dozens of key engineering firms, contractors, suppliers and service providers.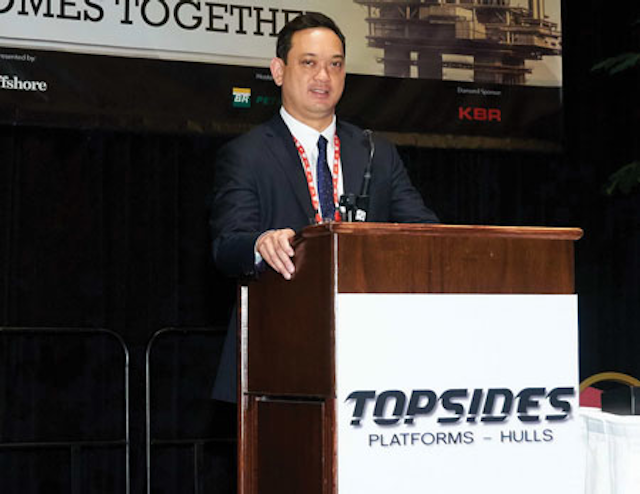 Best presenter award winner David Lim of Exmar Offshore.
Richard Westney, founder/director and Justin Dahl, principal of Westney Consulting Group won the best presentation award. Their presentation provided an overview of the current economy.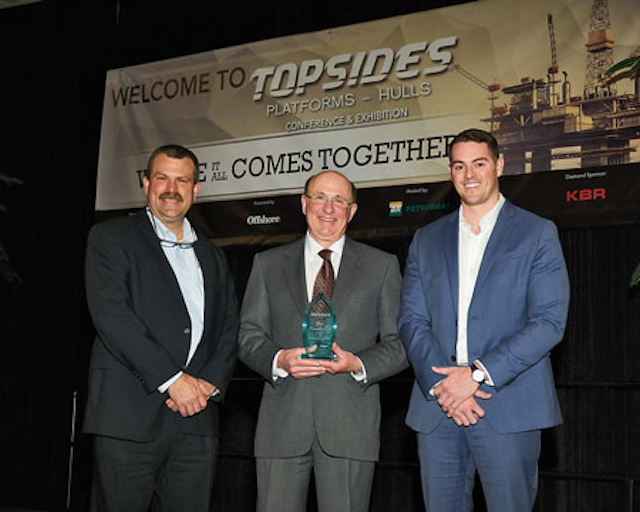 2016 Advisory Board Chairman Alec Johnson, best presentation award winner Richard Westney, and 2017 Advisory Board Chairman Nathan Davidson.
David Lim, managing director of Exmar Offshore, received the best presenter award for his presentation, "Exmar OPTI FPS - Exmar's Experience with Optimized FPS Development Projects." The annual event will be held on Feb. 21-23, 2017, at the Ernest N. Morial Convention Center in New Orleans.