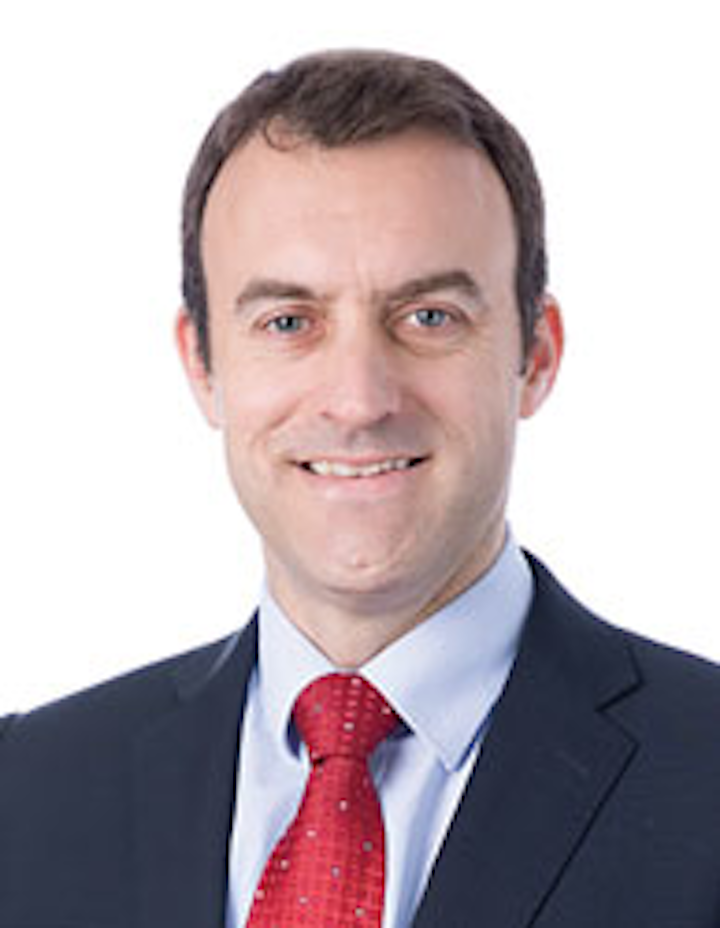 People
Peter Bennetthas been appointed as CEO of the Murray & Roberts Oil & Gas business platform and of Clough Ltd. He also joined the Murray & Roberts Ltd. board. He succeeds Kevin Gallagher, who was appointed CEO of Santos Ltd. in November 2015.
Wood Group has namedRobin Watson as CEO.
Ithaca Energy has appointedDr. Richard Smithas chief commercial officer.
Samir Brikho has stepped down as CEO of Amec Foster Wheeler. CFOIan McHoul has been appointed into the role of interim CEO and will chair the Group Leadership Team while the search for the new CEO is conducted. McHoul is not putting himself forward for the role.
James R. Moffett, chairman of the board, co-founder, and long-time executive, has stepped down from the Freeport-McMoRan Inc. board of directors and as executive chairman. He has been named chairman emeritus. The board has elected Gerald J. Ford as non-executive chairman.
Port of Den Helder has appointedJacoba Bolderheijas CEO, effective in April 2016.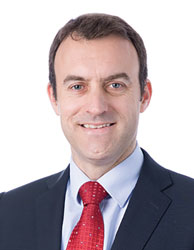 Young
JDR has hiredJames Young as chief technology officer.
Electromagnetic Geoservices ASA has appointedHege A. Veiseth as acting CFO, following the resignation of Svein Knudsen.
McDermott International has namedKathy Murray as vice president, treasurer and investor relations.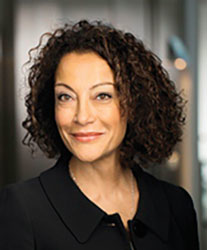 Hill
Dana Gas has hiredChris Hearne as CFO,Iman Hillas technical director, and Duncan Maclean as legal and commercial director.
Geraint West has joined Sonardyne International Ltd. UK as global business manager for oceanography.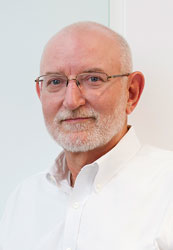 Measamer
io oil & gas consulting has appointedJeff Measamer as general manager of Americas, Ed Hernandez as vice president of operations, and Jerry Toth as director of business development.
Cameron Mitchell, technical disciplines assurance manager for Shell UK; and Mark Richardson, projects group manager for Apache North Sea, have joined the board of Subsea UK.
Neil Poxon has joined Peak Well Systems as global business development director.
Zennor Petroleum has namedGraham Cooperas commercial director.
Delmar Systems Pty Ltd. has hiredMark Mithran as lead marine engineer and Gopi Chillamcharlaas AU technical manager.
SPP Pumps has appointedIan Mavers as business development manager, Engineering Services division for Scotland.
ProfessorAnna Gervasonihas resigned as statutory auditor of Saipem S.p.A. She is succeeded by Giulia De Martino.
Nicky Tan Ng Kuang has joined the Sembcorp Industries board as an independent director.
Trelleborg's offshore operation in Brazil has hiredRafael Campos as project manager andBruno Matos as sales manager.
Peterson has appointedChris Coull as regional director.
Flexlife has hiredRichard Gibson as business development manager for engineering, delivery, and integrity services in the UK/Europe region.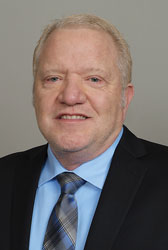 Langley
Borets has namedDavid Langley as North American HSE manager.
Daniel P. LeFort has joined Sutherland Asbill & Brennan LLP's Energy, Environmental and Commodities Practice Group as a counsel in the Houston office.
Deepwater Operations Advisory Board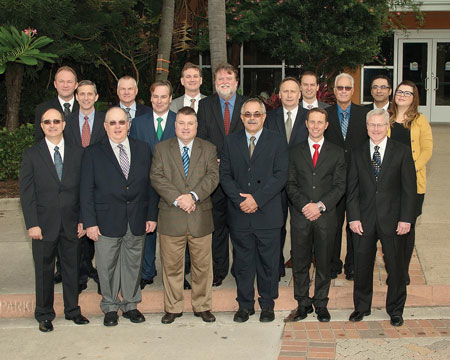 Back row from left to right: Tim Colwell, Shell Brazil; Richard Loveland, BP; John Glithero, Wood Group PSN; Advisory Board Chairman Dave Blackburn, Hess Corp.; Rick Francis, Consultant; Pete Stracke, Statoil; Wayland Christensen, Chevron Global Upstream & Gas; Paul Danos, Danos; Mike Lynch, Granherne/KBR; Amro Hamza, Anadarko Petroleum Corp.; Conference Director Robin Dupre,Offshore
Front row from left to right: Charles Hutto, Noble Energy Inc.; Craig Sherer, Chevron North America; Kris Kallaway, ConocoPhillips; Gerhard Visser, Williams; Rusty Desormeaux, Murphy Exploration & Production USA; Jeremy Burford, BHP Billiton Petroleum (Americas) Inc.
Not pictured: Jay Hachen, W&T Offshore; Sergio Matos, Petrobras America Inc.; Donal Rajasingam, Shell Exploraiton & Production Co.
Deepwater Operations
Despite the downturn in the oil and gas market, the 2015 Deepwater Operations Conference and Exhibition, which was held Nov. 3-5, still experienced the second-highest attendance in the history of the event.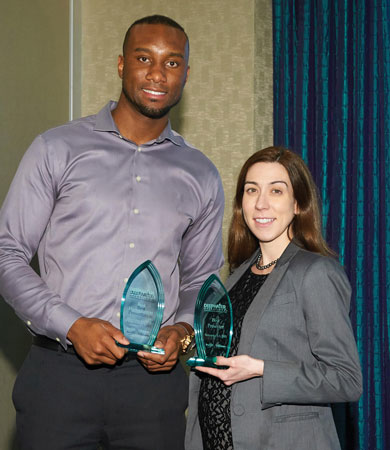 Best presentation award winner Jay Odom of Anadarko and best presenter award winner Elizabeth Mann of Shell.">
Best presentation award winner Jay Odom of Anadarko and best presenter award winner Elizabeth Mann of Shell.
Elizabeth Mann of Shell received the best presenter award for her presentation "Perdido Subsea Caisson Challenges." Perdido's record- breaking depths required 1,600-hp electrical submersible pumps to produce the reservoirs. Those pumps meant that the well fluids needed to be separated at the seafloor using 350-ft deep caissons. Her presentation detailed the challenges and innovations of the project team in operating the subsea caissons. Mann is the Lead for Shell's Deepwater Enhanced Problem Solving Team.
Jay Odom of Anadarko Petroleum Corp. received the best presentation award. His presentation "15K Riserless Stimulation and Flowback" focused on the first 15ksi riserless acid stimulation in the Gulf of Mexico. He discussed the operation as a whole, which includes planning and execution, as well as the operational and well performance results of the 15 ksi riserless stimulation, and the flowback to the host platform. Odom is a senior GoM production engineer. The annual event returns Nov. 8-10, 2016, at the Moody Gardens Hotel & Convention Center in Galveston, Texas.
Company News
TheEuropean Commission has initiated a Phase II review ofHalliburton's pending acquisition ofBaker Hughes. This decision is a normal step in the commission's review process, and the views expressed by the commission at this stage are preliminary only, Halliburton said. Pursuant to applicable regulations, Phase II generally provides the commission with 90 working days to review the pending transaction. The companies said they will continue to work constructively with the commission.
Statoilhas acquired 11.93% ofLundin Petroleum's shares for around SEK 4.6 billion ($539 million). The Norwegian major says the move increases its exposure to core field development projects and growth assets on the Norwegian continental shelf, notably Johan Sverdrup and Edvard Grieg in the North Sea.
PA Resources has decreased its corporate organization in order to reduce its costs. The company's cost reduction efforts entailed several organizational and management changes. The company's London office, which managed its North Sea assets and group exploration activities, closed at the end of 2015. The corporate headquarters in Stockholm, Sweden, remains but with reduced manpower to manage completion of the sales process and to handle the administration.
Aramco Asia Japan has formed a partnership with seven inspection service providers to support the company's engineering services operations in Asia over the next five years. The seven inspection firms are SGS, Japan Inspection Co., ABS Consulting, Bureau Veritas, Intertek, Tuboscope,and Edif NDE. The contractors will perform inspection activities mandated by Saudi Aramcoengineering standards on all inspectable materials procured from Asia, either directly by the company or through projects and joint ventures.
Well Control Schoolhas received accreditation from International Well Control Forum for its System 21 e‐Learning drilling course. The course is a level 2 basic well control course that uses interactive tasks and role‐play scenarios to familiarize the learners with well control concepts while emphasizing proper procedures and teamwork.
ABShas signed a strategic cooperation agreement withMarine Design & Research Institute of China. Through this agreement, the companies will collaborate on technical support, classification, certification, training and statutory guidance for merchant vessels and offshore units. The agreement creates opportunities to form joint development projects in areas such as energy efficiency, environmental performance, techno economic evaluation, design considerations for harsh environment operations, novel design concepts, and technology performance assessment.
Alaska Governor Bill Walker has announcedFugroas the winner of the 2015 Governor's North Star Award for International Excellence in the category of scientific exchange. The company was honored for its development of an airborne sea-ice management capability that enables ice thickness mapping, characterization, and monitoring over large geographic areas. Using a unique radar mapping system known as GeoSAR, the ice management capability is designed to reduce risk in Arctic operations.
ExxonMobil has awarded engineering services provider Fircroft a five-year contract to supply around 250 business services contractors for operations on Sakhalin Island offshore northeast Russia.
Maersk Training and eDrilling have partnered to assist E&P companies, drilling contractors, and services companies worldwide make informed drilling decisions and enhance drilling efficiency. The companies will provide well specific drilling consultancy services, also called Real Time Decision Support. Services will range from drilling the well and testing new technology to verifying procedures.
Statoil has awarded Schlumberger subsidiary M-I SWACO a four-year NOK 500-million ($56-million) contract to provide tank cleaning on its support vessels.
Kongsberg Maritimehas acquired the Trondheim-based ship simulation and consultancy company, Ship Modelling & Simulation Centre AS.
Maersk Oil has awarded logistics group Peterson a five-year contract to support the operator's UK North Sea assets. Services will include warehousing, inventory control, transport, fuel and quayside logistics, crew changes and walk-to-work facilities.
Serimaxand Techniphave signed an agreement in principle to develop a strategic partnership in the domain of pipeline welding. The plans envisage that Technip would acquire a minority stake in Serimax. The companies will combine their expertise and will deploy the Serimax welding technology at Technip's spoolbases and s-lay vessels. The partnership, which is subject to regulatory approvals, will include exclusive arrangements in the reel-lay welding pipeline market as well as research and development-related programs.
Trelleborg Sealing Solutionshas opened a climate-controlled swivel stack seal inspection facility for validation of bespoke seals. The facility provides a temperature-controlled environment to avoid fluctuations in the dimensions of the seals caused by temperature changes, with specialist storage racks allowing the seals to be acclimatized prior to inspection.
Churchill Drilling Toolshas opened an office in Dubai to support the company's operations in the Middle East, North Africa, and Asia/Pacific regions.
Ashtead Technology has secured a worldwide agreement with nCentricto provide broadband communications between rigs and vessels and onshore facilities. The deal will see the company supply video streaming and data transmissions for large-scale, wireless dynamic mesh networks from its offices across the globe.
Power Feed-Thru Systems and Connectors LLChas acquired Flowell Oil Tools Ltd. of Aberdeen, Scotland. The acquisition expands the Black Gator product line to include a wide-range of advanced, customized completion tools and accessories for electrical submersible pump installations.
Flowserve Corp.has signed a new agreement withVeolia Groupthat makes Flowserve a preferred supplier of deep-well submersible pumps, clear-water single and multistage pumps, and associated services. The agreement is in effect through August 2018.
Craig International has opened offices in Doha, Qatar, and Dubai.
The National Chapter ofAmerican Association of Drilling Engineers(AADE) and the Lafayette Chapter have donated more than $76,500 to the University of Louisiana at Lafayette to go toward its Petroleum Engineering Department Equipment Fund. The fund is used to support the Mud Lab, which offers petroleum engineering students the opportunity to gain hands-on experience beyond classroom instruction. The AADE Lafayette Chapter donated $38,934 to purchase equipment such as laboratory mixers, hot plates, hand-held balances, a Garrett gas train, a permeability plugging tester, interval timers, centrifuges and other required supplies. The AADE National Chapter donated $37,638 to purchase gas porosimeters.