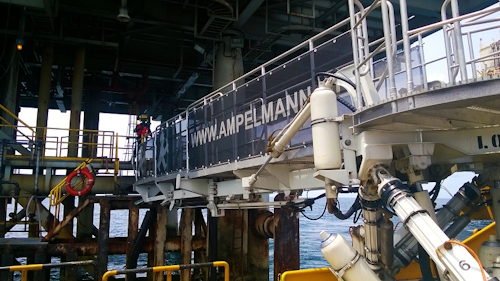 Offshore staff
HOUSTON – Ampelmann has contracts from vessel owner L.A.T.C. Marine, on behalf of ExxonMobil, to provide two L-type gangway systems, offshore Nigeria.
Following successful sea trials, L.A.T.C. Marine has installed the personnel transfer system on its Damen FCS-5009 fast crew supplier vesselDijama for infield operations with ExxonMobil.
The L-type is said to particularly suit small, crew change vessels, allowing a continuous transfer of up to 50 personnel every five minutes.
An updated version of the L-type is currently under construction in Rotterdam, for installation onboard the Damen-built FCS-5009Chilosco, to support further maintenance operations offshore Nigeria for L.A.T.C.
Compared to the original L-type, the enhanced version is said to be lighter, with a smaller footprint and higher working range.
Ampelmann is exhibiting in the Dutch Pavilion at booth #1425.
05/01/2018