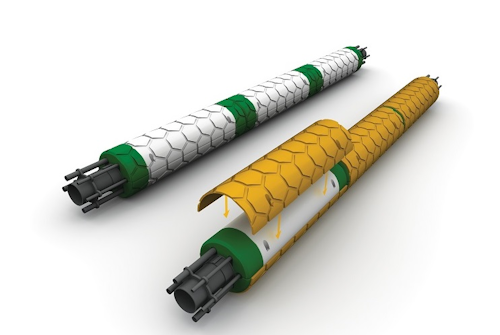 Offshore staff
HOUSTON – Balmoral Offshore Engineering has introduced a drill riser buoyancy system that incorporates low drag vibration and suppression capabilities at this year's OTC.
During the development, the company conducted wide-ranging computational fluid dynamics and fluent modeling, with SINTEF Ocean performing tank trials to provide information needed for the final product design.
Drilling risers extend from the drilling vessel to the BOP, their main function being to provide fluid communications between the well and the vessel.
Buoyancy modules fitted around the riser provide uplift while reducing the joints' submerged weight. However, drilling risers are at risk of potentially catastrophic motions caused by subsurface vortex-induced vibration and drag.
Balmoral DuraFloat LDV and Balmoral DuraGuard LDV, respectively integrated and retrofit VIV suppression solutions, are designed to prevent such motion occurring in all water depths encountered in E&P.
Both products have patents pending.
"The new system offers optimum uplift while eliminating riser motion and high drag levels without compromising performance, safety, or structural integrity," said Jim Milne, Balmoral's chairman and managing director.
The LDV profile was influenced by the outer structure of a sea turtle's upper shell which provides an efficient and low-drag hydrodynamic structure.
Balmoral's team simulated this natural structure by implementing biomimetic engineering to achieve the required VIV and low drag performance.
The company claims the hex design eliminates the need for ancillary suppression equipment to be attached to the riser, offering improved timings when running and removing drill stacks.
Another benefit of reduced riser motion is improved fatigue performance of subsea equipment, which helps cut costs by extending the service lives of wellhead and conductor/casing equipment.
Balmoral DuraFloat LDV is an integral part of the riser buoyancy module that is molded into the product during manufacture; Balmoral DuraGuard LDV is a retrofit option that is applied to existing infrastructure.
The products are said to be suited to marine drilling and production risers, umbilicals, flowlines and power cables.
Balmoral Offshore Engineering is exhibiting at booth #1339-A in the UK pavilion.
05/02/2018