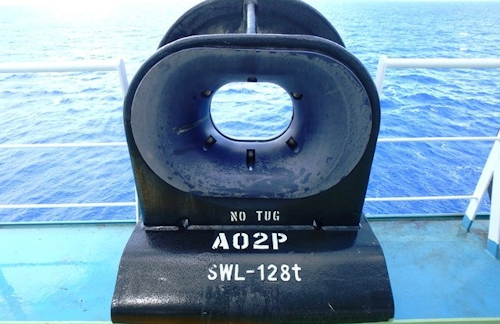 Offshore staff
LONDON – Nylacast has introduced the Chock Liner, patented low friction technology said to support safe and reliable moorings of offshore vessels.
According to the company, there has been a widespread transition across the offshore market from steel wire to fiber rope, which provides a high strength to weight ratio and ease of handling, lowering the risk of injury.
However, fiber rope offers poor resistance to external abuse and abrasion through everyday operations and surface contact. Abrasion continues to be one of the most common root causes of rope failure and reduction of its residual strength, Nylacast added.
Synthetic rope cannot perform to its maximum capabilities when used with inadequately maintained deck equipment, often rusted or with a rough surface finish. Rope manufacturers therefore recommend that surfaces are correctly prepared, maintained and routinely inspected before and after rope installation.
They advise a 300-microinch finish (7.62 microns) for all deck hardware that comes into contact with the rope, and avoidance of chocks heavily scored from previous wire rope use.
The Chock Liner technology is said to offer numerous benefits. It can be fitted to brand new vessels and retrofitted to existing chocks and panama fairleads with no hot works or dry docking.
It is also said to reduce rope wear and abrasion, limiting the risk of breaking or failure, and there is no need for crew members to be near mooring lines under tension, as minimal (if any) chafe protection is required following installation of the Chock Liner, the company claimed.
The smooth surface and finish and its material characteristics are said to provide better equalization of mooring loads, especially during periods of swell. The self-lubricating, low friction material requires little or no maintenance and no painting, coating or external protection.
Chock Liner also incorporates corrosion-resistant materials technology to protect against hazardous offshore environments.
This allows for the accommodation of HMPE fiber rope with a lower risk of abrasion and wear when in contact with the chock or panama fairlead. In addition, Chock Liner is suitable for polyester/polypropylene, polyester and nylon ropes, as required for FLNG and FSRU vessels where a specific synthetic pennant may pass through the fairlead.
07/24/2018